Porto Antico - The Old Harbour
Despite its name, Porto Antico means the old port, it definately doesn't feel old as much as been renovated and many futuristic and innovative new structures have been built for the 1992 Columbus Expo, most of them deigned by Renzo Piano. Porto Antico also has Europe's second largest aquarium, a large ship museum, a lift designed by Renzo Piano with views (Bigo, the symbol of the Expo), a ship from a Polanski movie and is one of the few places where you can find many palms in Genoa. Many restaurants, hotels, cinemas, shops are also situated in Porto Antico.
The white structures and the pink long building have been designed by the world famous architect Renzo Piano. In the background you can see some towers of the city center. Towers from the left: Torre Cantore, the Opera House Tower, Grimaldi Tower at the Ducal Palace, St Lawrence Cathedral, Dante 2 building, Torre Piacentini (Martini Tower) and some unknown medieval towers.
The ship from Roman Polanski's Italian 80s movie "Pirates" has been moved to Porto Antico. A tourist trap?
It is easy to walk in Porto Antico if you don't walk in the wrong part.
Renzo Piano's pink Porto Antico mall (to the left).
Renzo Piano's roof for an (almost) open air restaurant.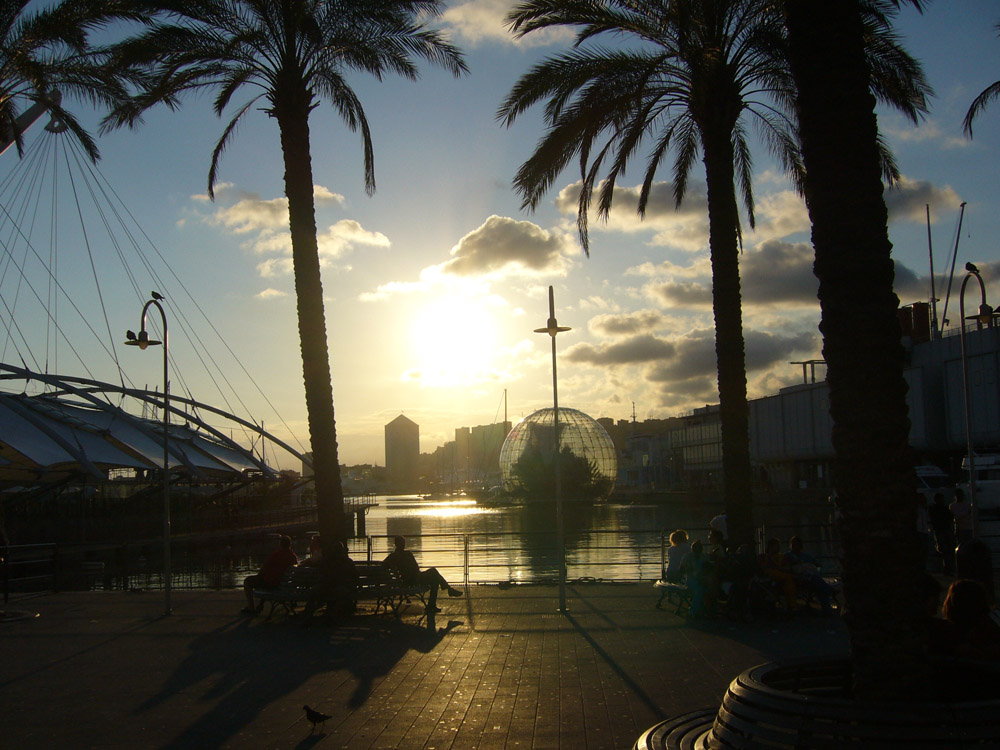 Sunset over Genova, seen from Porto Antico witth the glass globe Biosfera and the skyline of the new harbour, Porto Vecchia in the distance.
Biosfera is a glass globe with tropical trees and greenery inside, just next to the aquarium.
The octopusy like arms hold up the roof of the open air restaurant, all designed by Renzo Piano.
The Bigo is the lift to the left, designed by Renzo Piano, that can take you up to see views over the city. The Bigo was the symbol of the 1992 expo.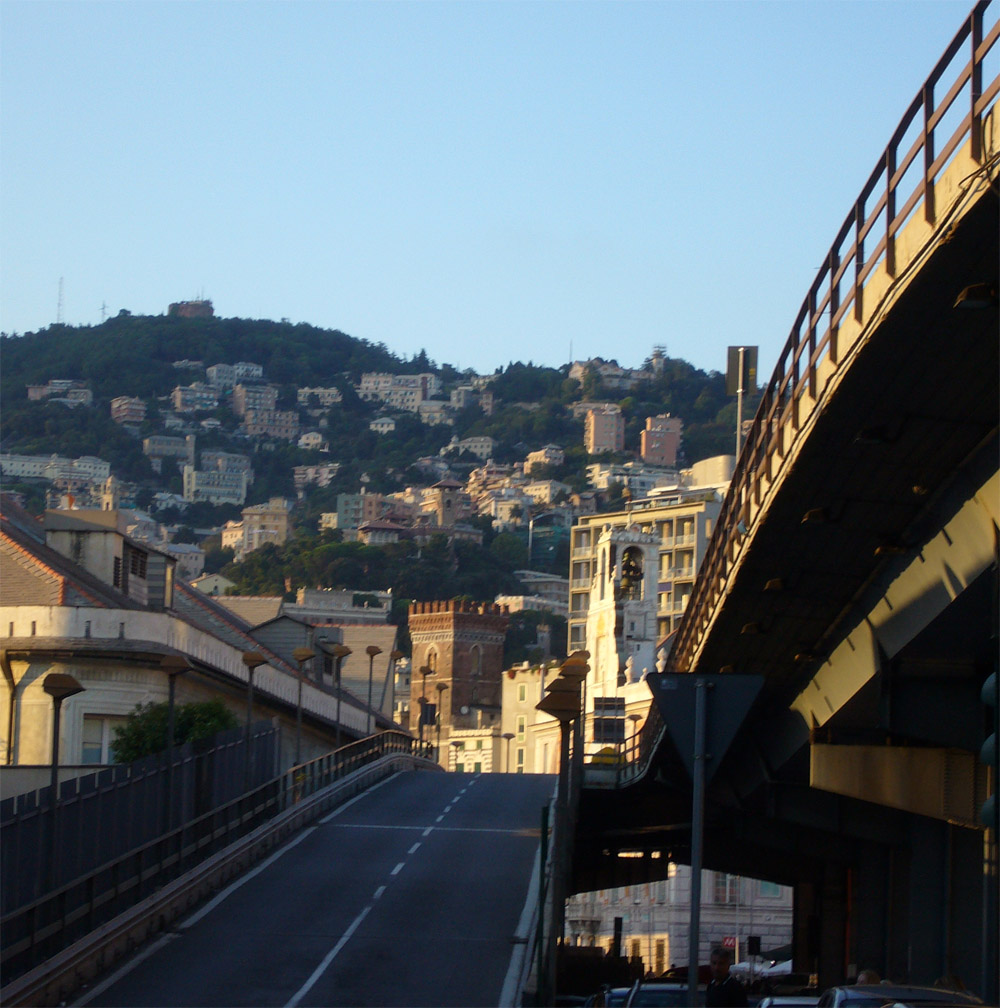 Up to the hills or down to the harbour?
The highway divides Porto Antico from the old town. The road somewhat ruins the overall feeling.
Porto Antico with Porto Vecchio and its famous lighthouse in the distance.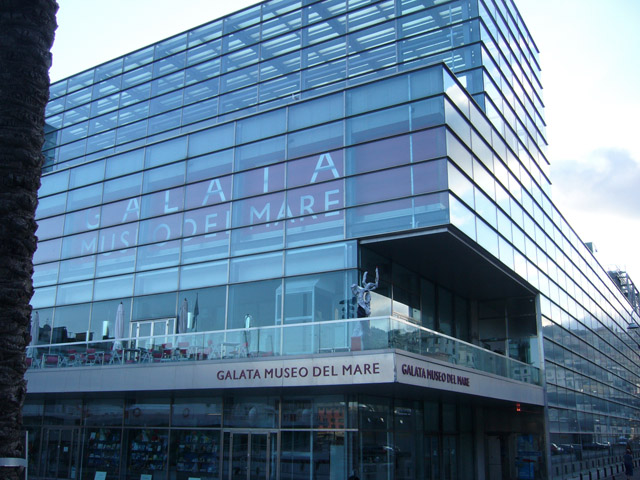 Galata Museo del Mare, a sea and ship museum.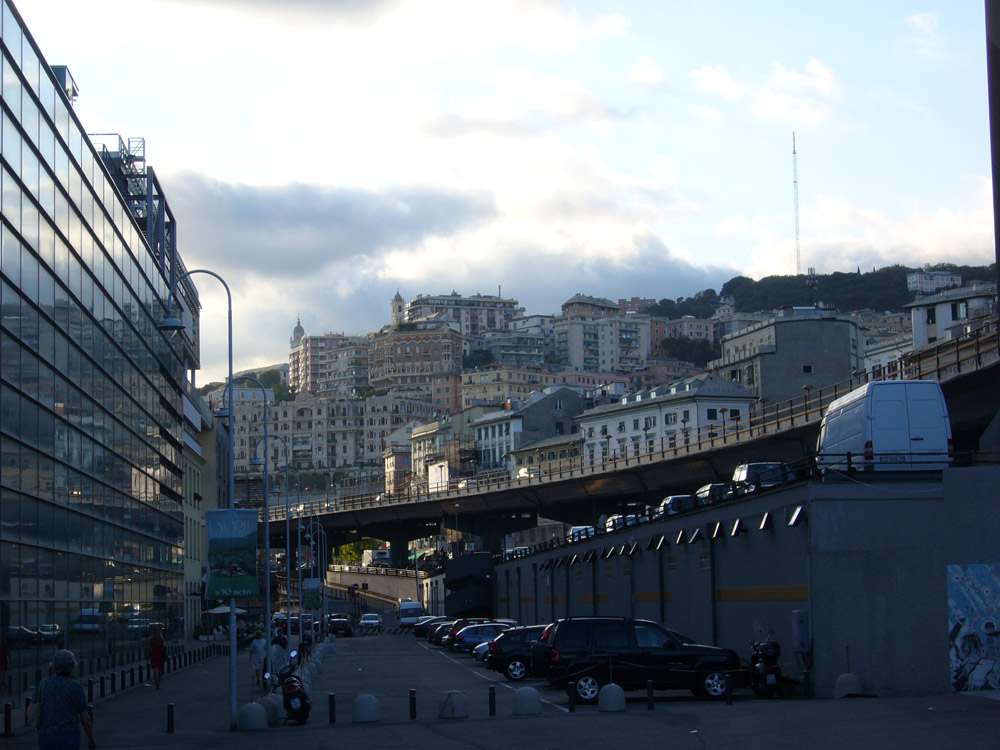 We walked behind to find a store where you can buy food or something like that, but only found ugly warehouses, fences, crap and parking lots.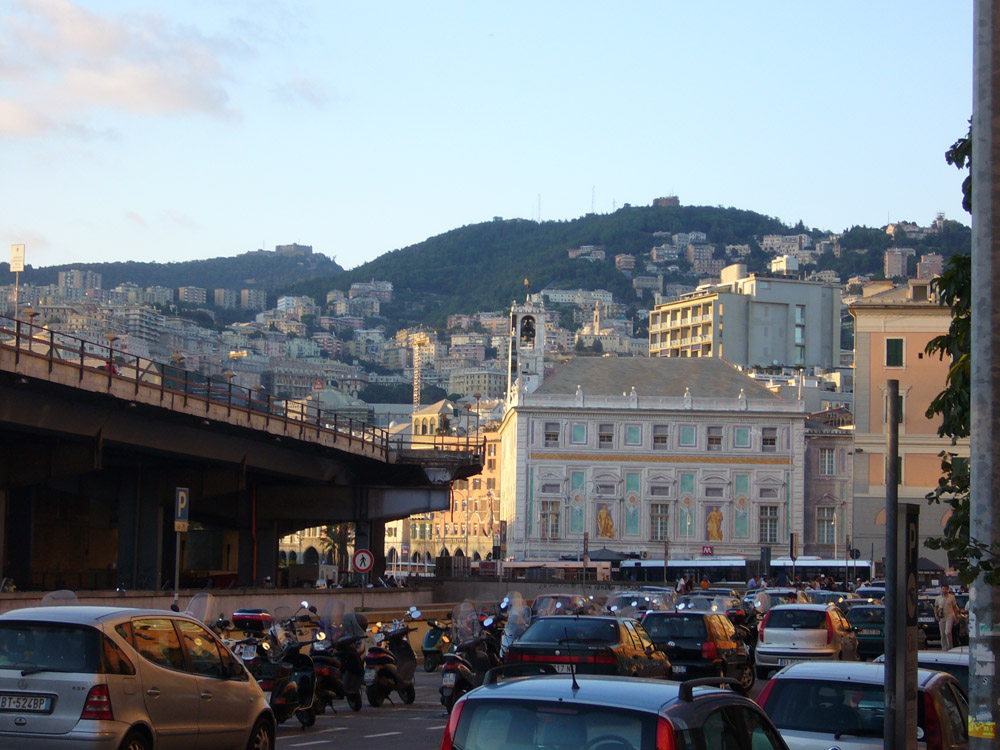 Christopher Columbus?
Renzo Piano's Porto Antico after dark.
This restaurant in Porto Antico looks good and the pasta with seafood was very good, but the staff is extremely stressful and the prices are too high.
The Aquarium of Genova: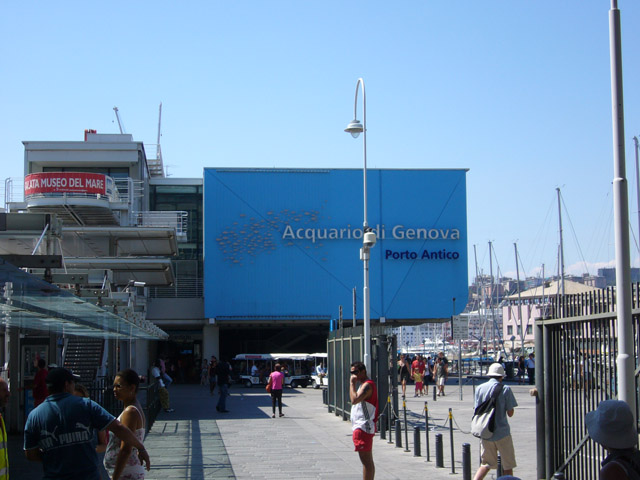 Acquario di Genova, The Aquarium of Genoa. It is the 2nd largest in Europe (after Valencia).
The walkway of the aquarium.
We visited the aquarium on my girlfriend's birthday. It has dolphins, moranons, seals, swordfishes and even penguins (but too many children everywhere!). Enjoy: