Along Paseo del Prado
- Plaza de Cibeles, Plaza de Canovas del Castillo, Plaza Lealtad, Plaza Independencia, Puerta de Alcalá and Museo del Prado

The green boulevard Paseo del Prado borders the East part of Madrid's city center from Parque del Retiro, in a North-South direction. Along the avenue some of the most magnificent, and also most trafficated, plazas of Madrid are located. The most important of them is Plaza de Cibeles were the beautiful City Hall is. And Museo del Prado, one of the world's most famous art museums, is of course located along Museo del Prado, as well as the Botanical Garden. Paseo del Prado begins at Plaza del Emperador Carlos V, where Atocha, Madrid's largest station is, and ends at Plaza de Cibeles, where it changes name to Paseo de Recoletos, and then changes name again to Paseo de la Castellana, and continues to the skyscraper districts in the North. Despite it is very trafficated, Paseo del Prado is a nice place to stroll.
Plaza de Cibeles
Plaza de Cibeles is where both Gran Via and Calle Alcalá ends. It is also the North end of Paseo del Prado, so it is a really busy, but also very beautiful
plaza, despite all the traffic. In the middle of the square there is an imposing sculpture with a fountain. The impressive City Hall, or Palacio de
Communicationes is also here, just like Banco de Espana, the great national bank, Palacio Linares and Palacio de Buenavista. Edifico Metropolis is
just a few blocks from, and is visible from, the plaza. The Alcalá Gate can also be seen.
Palacio de Communicaciones, the current City Hall of Madrid. This impressive neo Gothic building draws attention like a magnet. Palacio de Communicaciones was
built in 1909 and drawn by Antonio Palacios as the main post office of Madrid. It is also called Correos. Note Alcalá Gate to the left.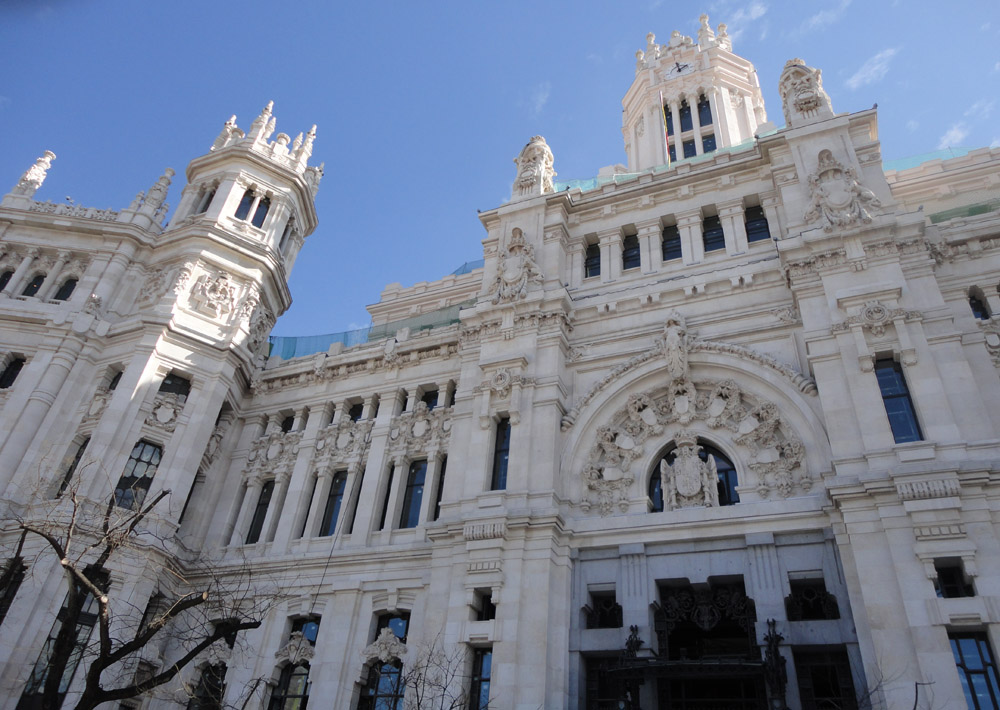 The interior is also very impressive, ufortunately we missed to go inside. It was a postal museum until 2007, when it became the City Hall, Ayuntamiento de Madrid.
The fountain of Cibeles is drawn by Ventura Rodríguez and is the most famous sculpture. It represents Cibeles, the roman godess of nature in a carriage driven by horses.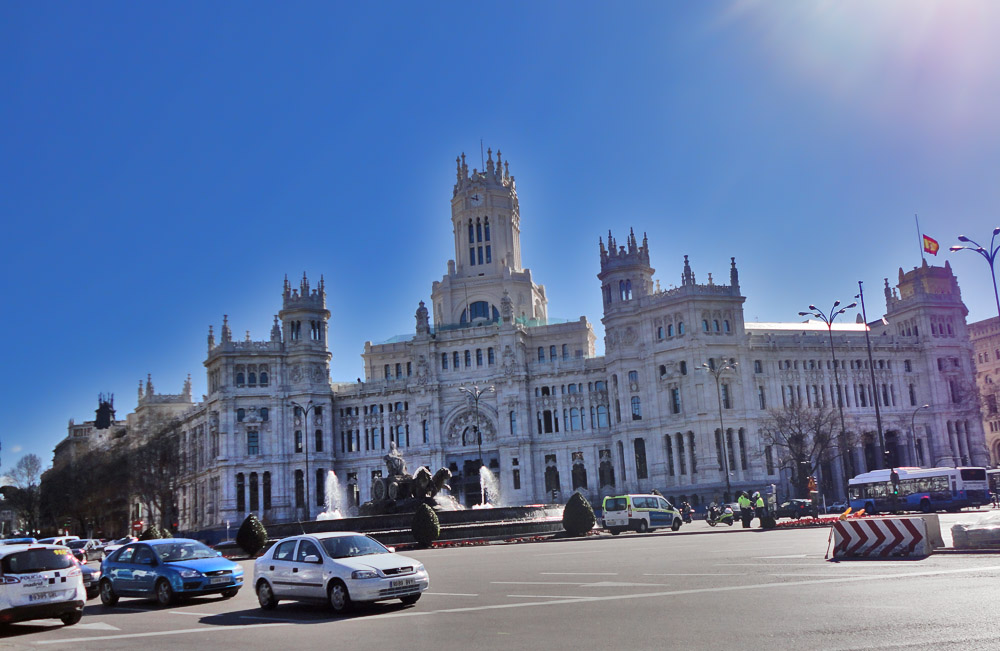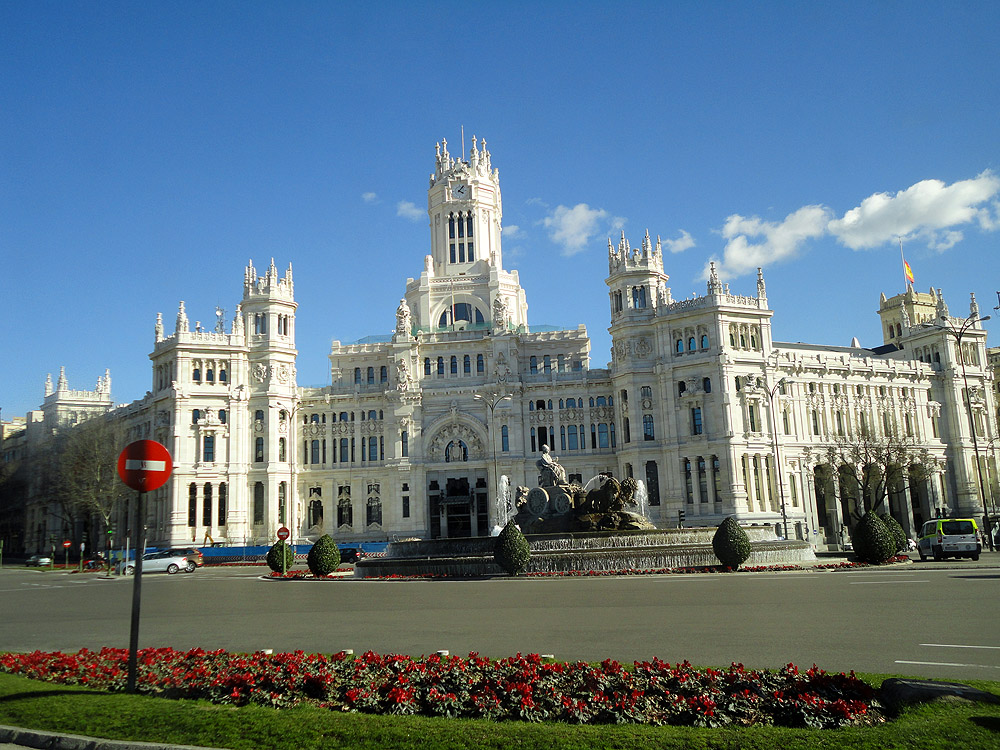 The Cibeles fountain in front of the Palacio de Communicaciones. The presence of the police is very obvious at the plaza.
Banco de España, The National Bank of Spain. Spain's golden reserves are preserved underneath Plaza de Cibeles (to the left). An art collection with famous paintings
by Goya and other artists is also inside the building, but to be able to see it you must write a personal letter to the bank first.
The traffic at Plaza Cibeles is really heavy. Here a vintage Mercedes.
Museo Naval, the Naval Museum. A beautiful building that houses a museum unknown to many.
Palacio de Communicaciones (left) and Museo Naval, along Calle de Montalbán.
Paseo del Prado, just south of Plaza Cibeles.
A palace at Plaza Cibeles.
The Metropolis Building and some other landmarks seen from Plaza Cibeles. To the left is Calle Alcalá and to the right is Gran Via.
Banco de Espana, Metropolis and Palacio de Buenavista are some of the famous buildings in this picture. Palacio de Buenavista (righ), is a palace built for the Alba family,
but now occupied by the army. The Duches of Alba, rumoured to be one of Goya's lovers, lived here.
The gardens of the Palacio Buenavista.
Palacio de Linares (here under renovation and covered by scaffolds) is a neo Baroque building that houses Casa de America, a center for Latin American culture.
Alcalá Gate seen from Plaza Cibeles.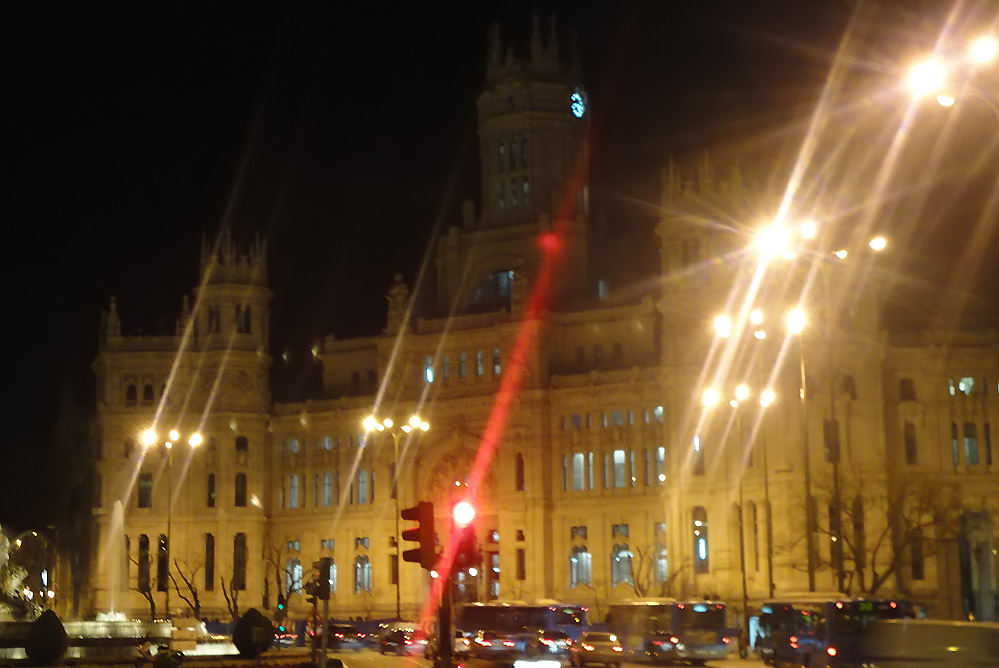 Palacio de Communicaciones, the City Hall by night.
Banco de Espana at Plaza de Cibeles.
Alcalá Gate at Plaza Independencia. In front is the Cibeles fountain at Plaza Cibeles, illuminated by night.
Plaza Independencia
Plaza Independencia is a heavy trafficated circlular plaza next to the main gate to Parque del Retiro, close to Plaza Cibeles. It is mostly famous for that
the Alcalá Gate is situated in the middle, before all the traffic.
Puerta de Alcalá, or Alcala Gate, is a gate on Plaza Independencia. This neoclassical gate, now a national monument, was designed by the Italian architect Sabatini and
completed in 1778.
Puerta del Alcalá seen from the northwest gate to Retiro. King Carlos III thought the previous gate was too small. Each of the archways is decorated with a lion's head
sculpted by Roberto Michel. The top of the gate is decorated with statues by Francisco Guttiérre.
Residential buildings at Plaza Independencia.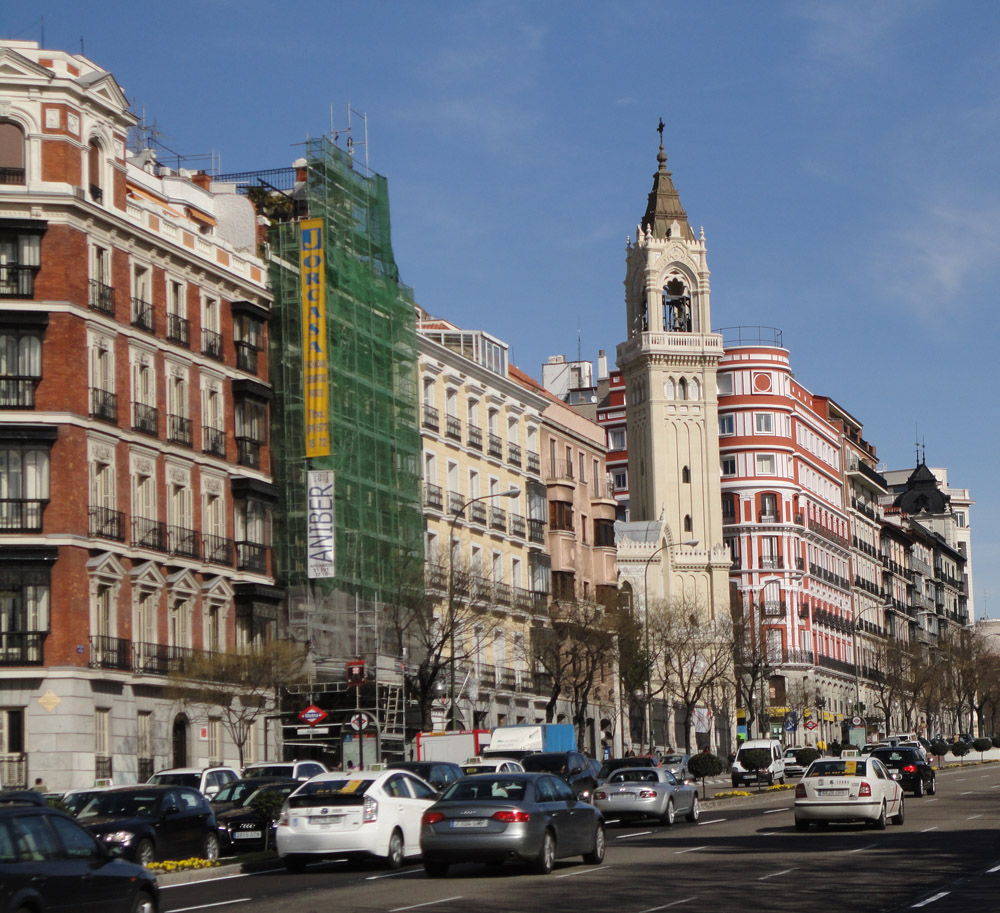 Iglesia Parroquial de San Manuel y San Benito at Calle de Alcalá.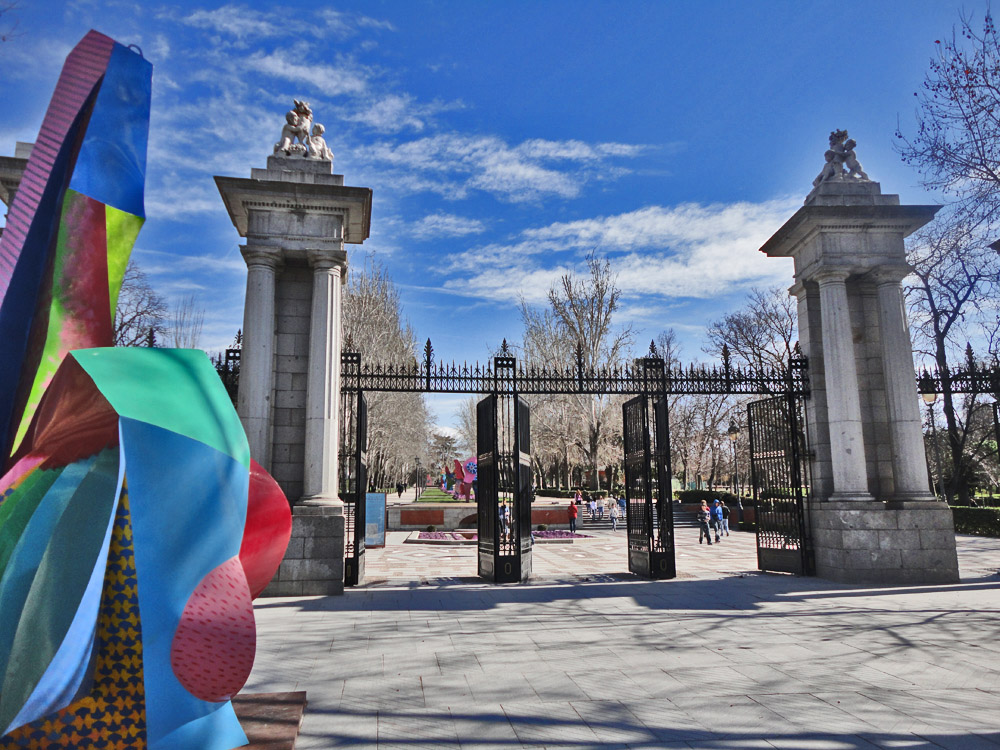 Puerta de la Independencia, the northwest gate to Retiro park. It was originally meant to be placed at a palace dedicated to Fernando VII:s wife.
Plaza de Cánovas del Castillo
This square is very similar to Plaza Cibeles; a plaza with a sculpture fountain (Neptuno) surrounded by trafficated roads and magnificent buildings.
4 of Madrid's most exclusive hotels, Hotel Ritz, Hotel Palace, Hotel del Prado and Villa Real, are situated here. It is just next to the Prado Museum,
Museo Thyssen Bornemisza and Plaza Lealtad. The buildings and sculptures at Cánovas del Castillo are illuminated after dark.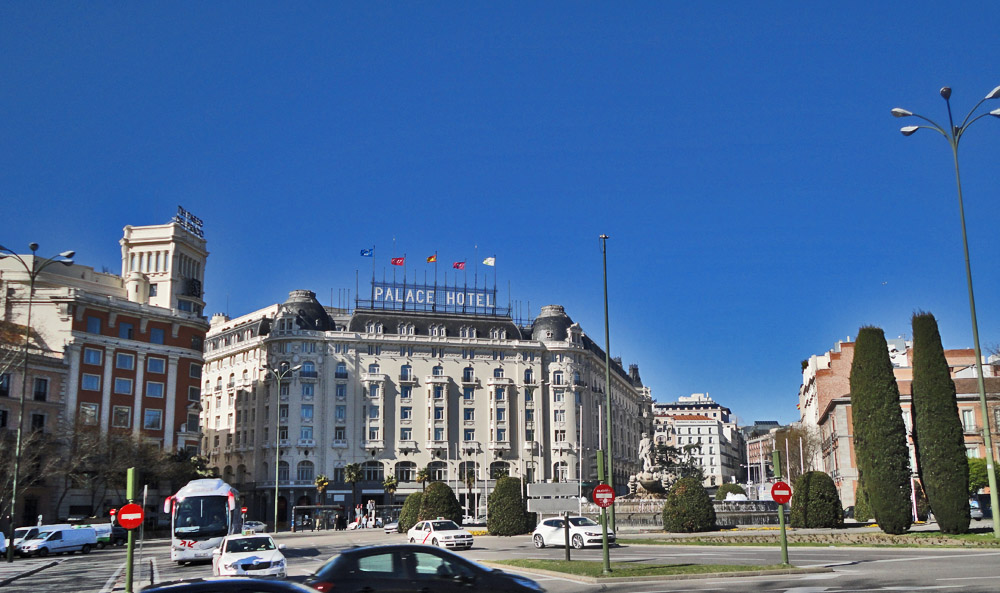 Plaza de Cánovas del Castillo is sometimes called just Plaza Neptuno. Here you can see the Palace Hotel from 1913 and the Neptune fountain. Looking West.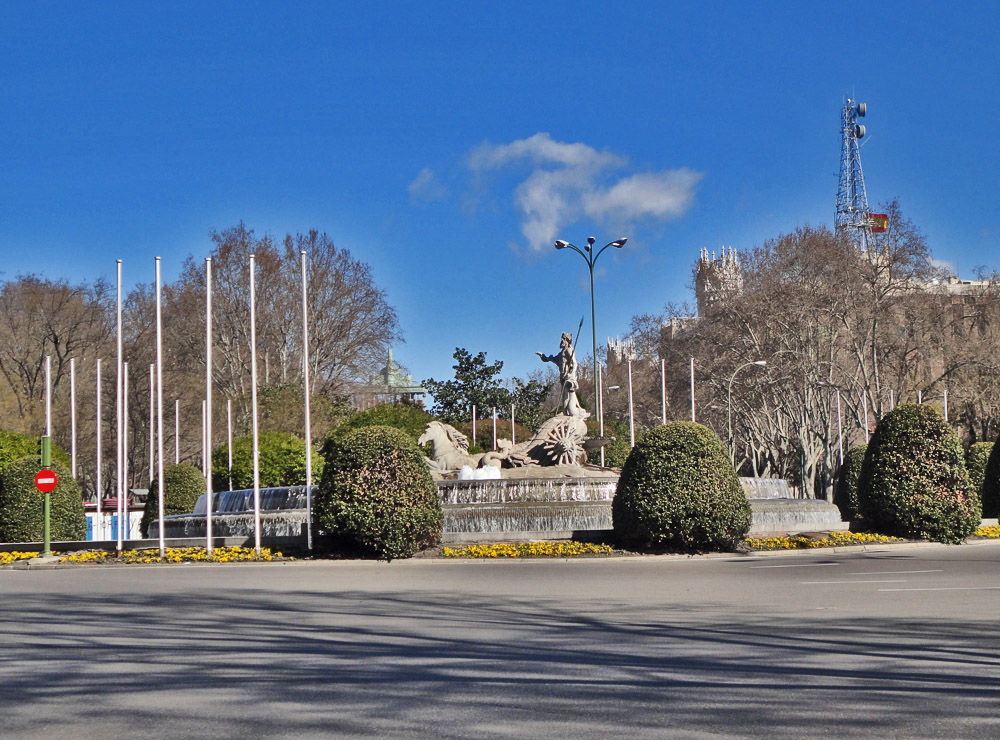 Fuente de Neptuno, The Neptune fountain, is in the middle of the square. Looking to the East.
Hotel Ritz, Madrid's oldest luxury hotel.
Some of the luxury hotels at Plaza Cánovas del Castillo; Palace and Villa Real.
Museo del Prado.
Museo Thyssen-Bornemisza, Madrid's 3rd largest art museum. Housed in Palacio de Villahermosa.
Congreso de los Diputados, a legislavitve government, has both an old classical (right) and a curvy modern part (left).
A rare souvenirs store at Plaza Canovas.
Caixa Forum. A modern art museum famous for its rare architecture.
Prado Museum and the Goya statue seen from Plaza Canovas.
Iglesias de San Jerónimo el Real. This is were the current king, Juan Carlos, were coroned. The royal church is just next to Prado. It was originally built in the 16th
century, but has been changed many times.
Plaza Canovas del Castillo with the Palace Hotel.
The Ritz Hotel is situated between Plaza Canovas del Castillo and Plaza Lealtad.
The luxury hotels at Plaza Canovas del Castillo, seen from Carrera de San Jeronimo.
The Neptune fountain at Plaza Canovas del Castillo.
Hotel Villa Real.
Westin Palace Hotel.
Congreso de los Diputados, modern part.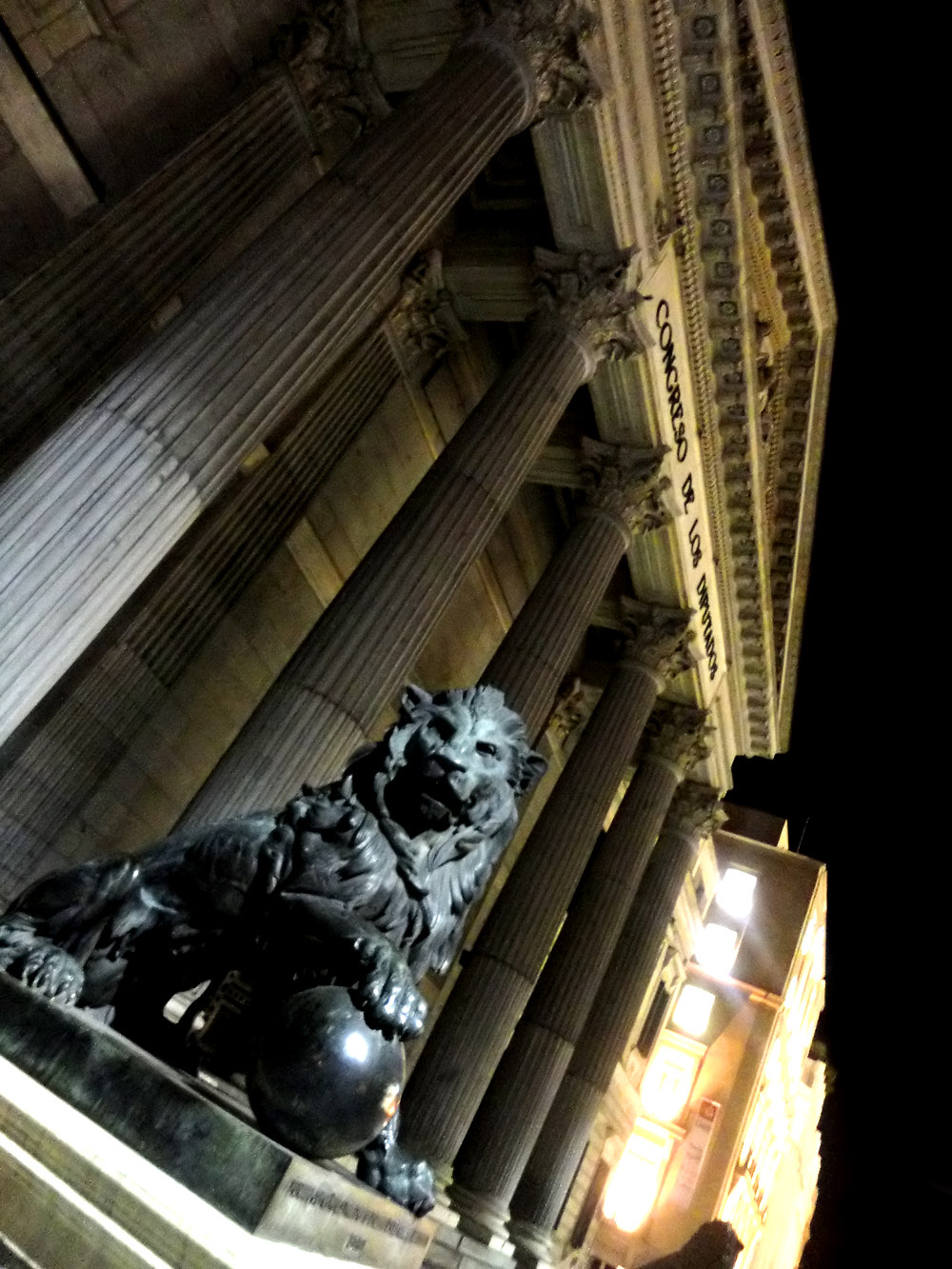 Congreso de los Diputados, old part.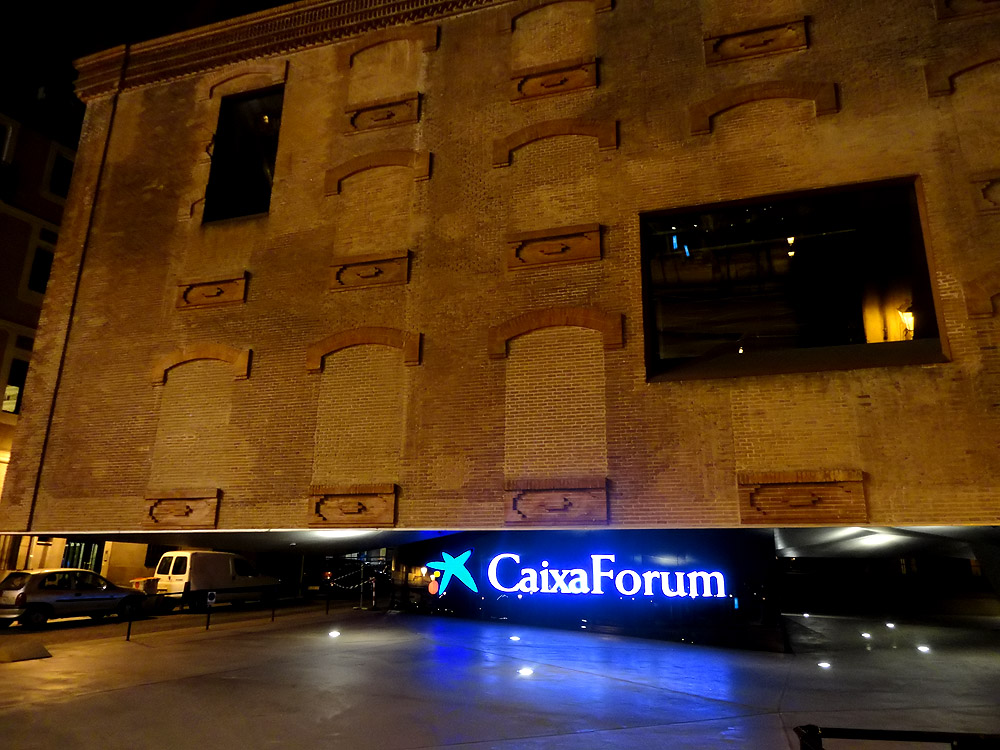 Caixa Forum.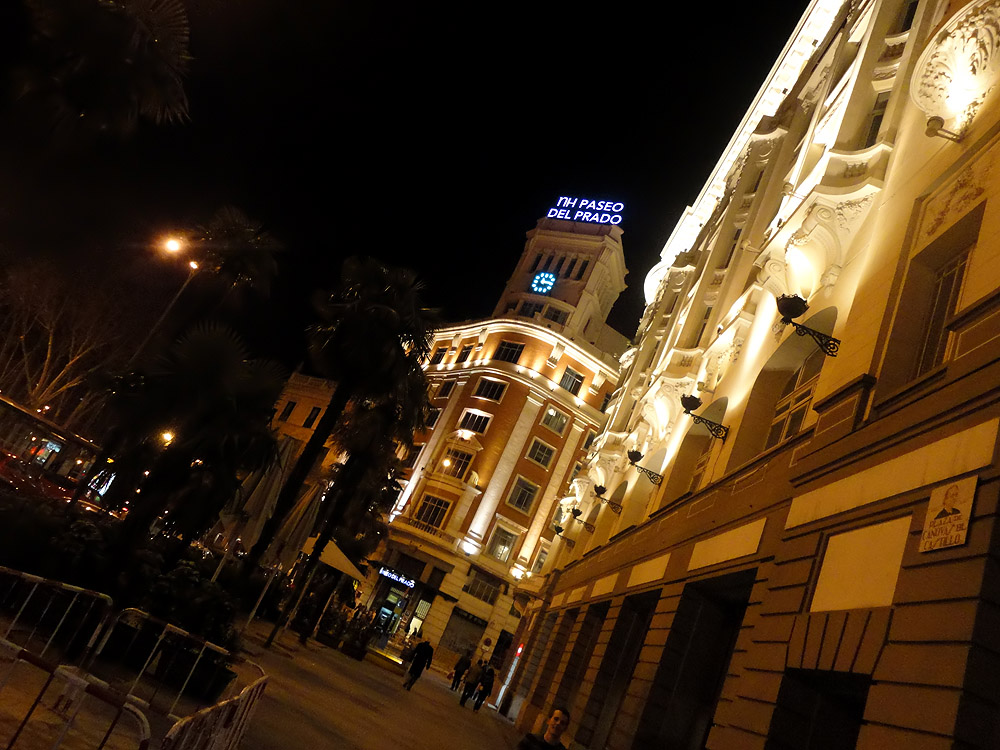 Hotel del Prado.
Alcalá Gate after dark.
Iglesias de San Jerónimo el Real.
Plaza de la Lealtad
Plaza Lealtad is a small square just next to Plaza Cánovas del Castillo, along Paseo del Prado. It is mostly famous for the 2nd of May monument and is
also were Madrid's stock exchange and Hotel Ritz is. The plaza has palms greenery.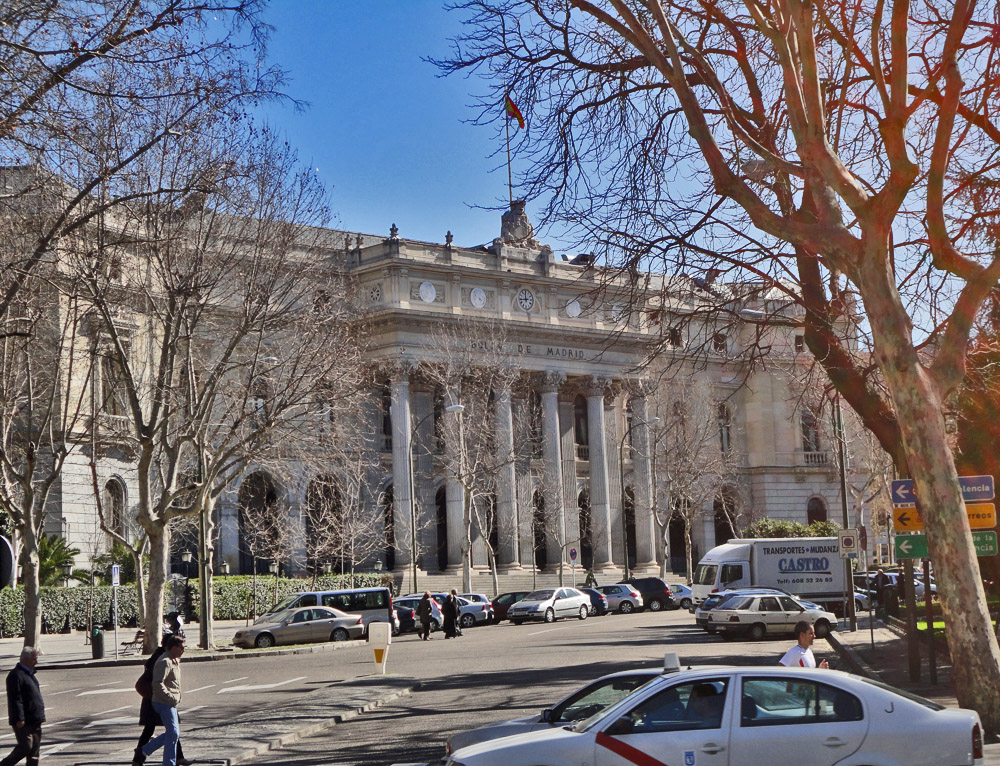 Bolsa de Madrid, Madrid Stock Exchange, at Plaza Lealtad. This classicist building is the largest and most international of Spain's 4 stock exchanges. It was founded in 1831.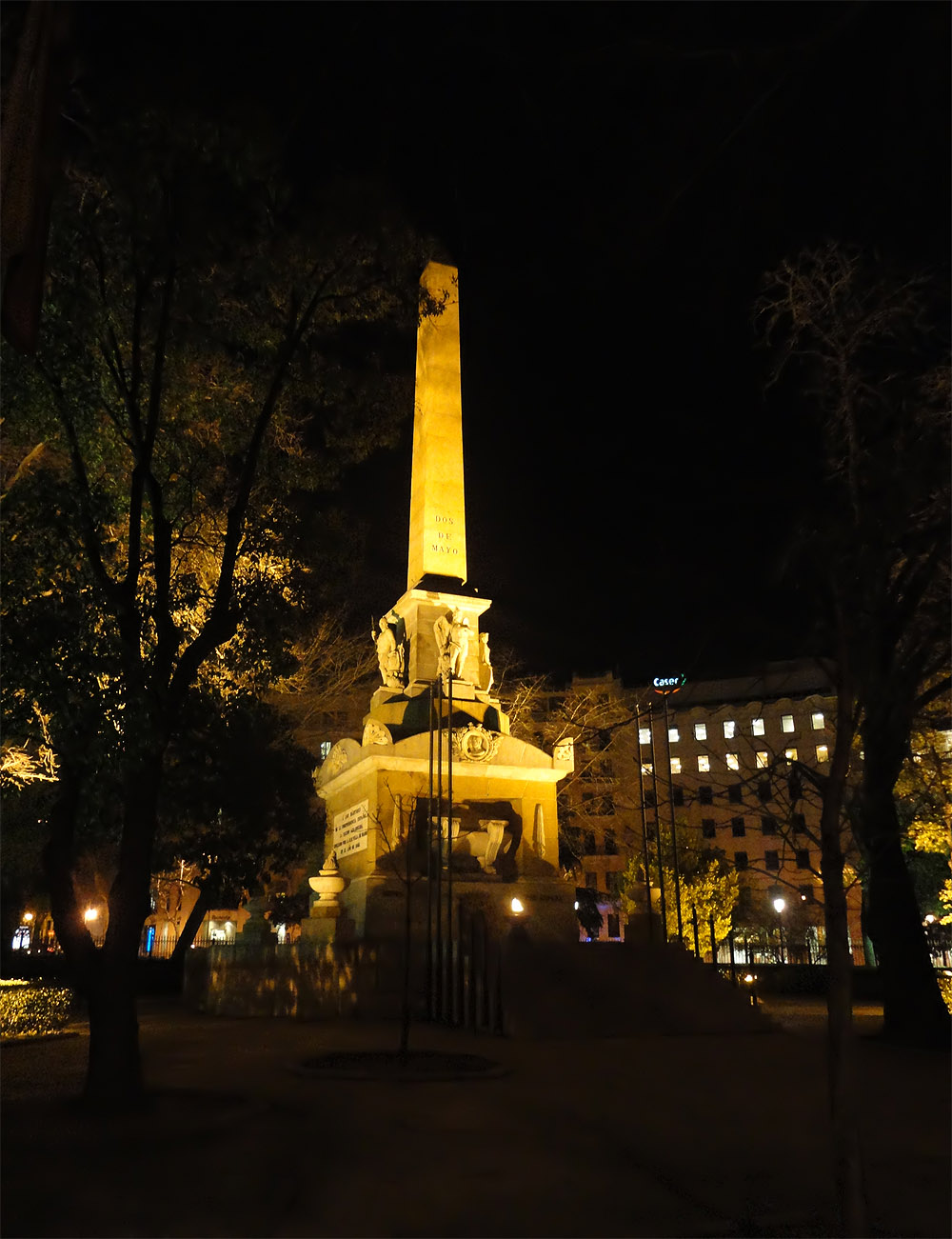 Mto. Dos De Mayo (Monument to the 2nd of May) honors the heroes that died in the revolt towards France in 1808. The remnants of the heroes are buried beneath the obelisque.
Hotel Ritz seen from Plaza Lealtad.
Paseo de Recoletos:
Here Paseo de Prado changes name to Paseo de Recoletos and goes North towards Plaza de Colón, seen in the distance.
Beautiful sculptures along Paseo de Recoletos.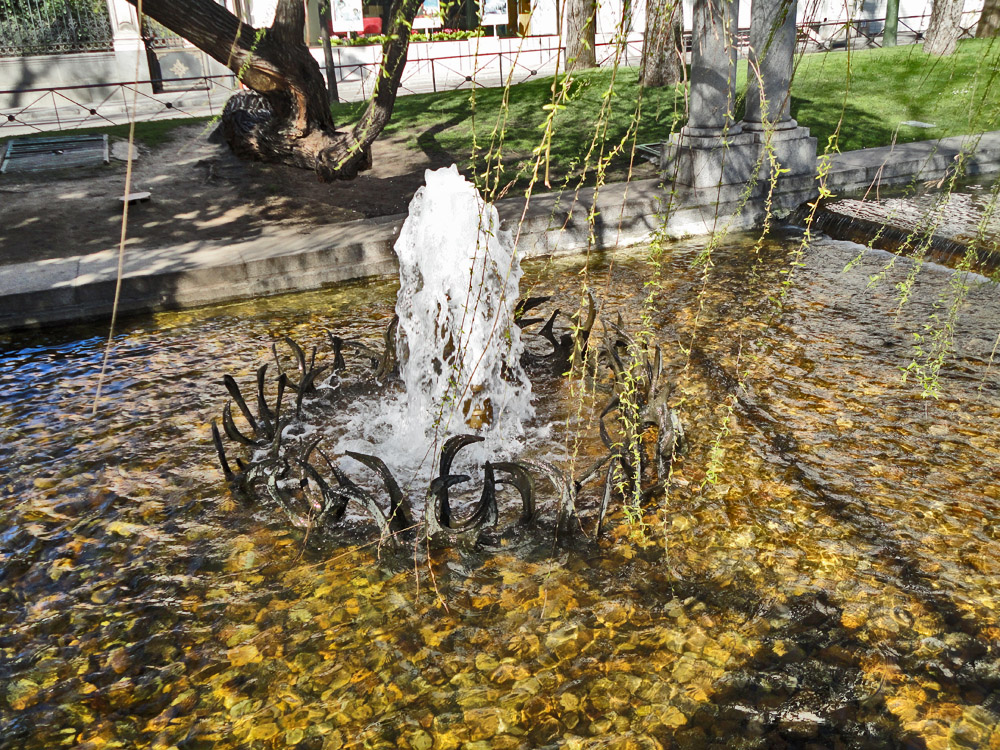 Palms and classicism sculptures along the promenade just next to the heavy traffic of Paseo de Recoletos.
Museo Thyssen-Bornemisza has art from the 1200s-1900s.
The Juan Valera monument.
Museo del Prado
Prado is one of the world's most famous art museums and Madrid's most visited art museum. It is mostly famous for the royal collections and the many famous paintings
by Goya, Velázquez and Rubens. Photographs are not allowed inside, so I don't have a single picture of the interior or any of the famous paintings.
Really a shame and very disappointing!
The Velazquez statue in front of Museo del Prado. The earliest collections were added in the 16th -17th centuries.
The Goya statue next to Prado. Goya is somewhat of a national symbol of Spain, and many of his most famous paintings are located inside Prado.
The modern annex to Prado, were the main entrance is. The museum has been renovated by the architect Rafael Moneo.
Some of the sculpture's standing on Museo del Prado's exterior.
Spruces next to Prado.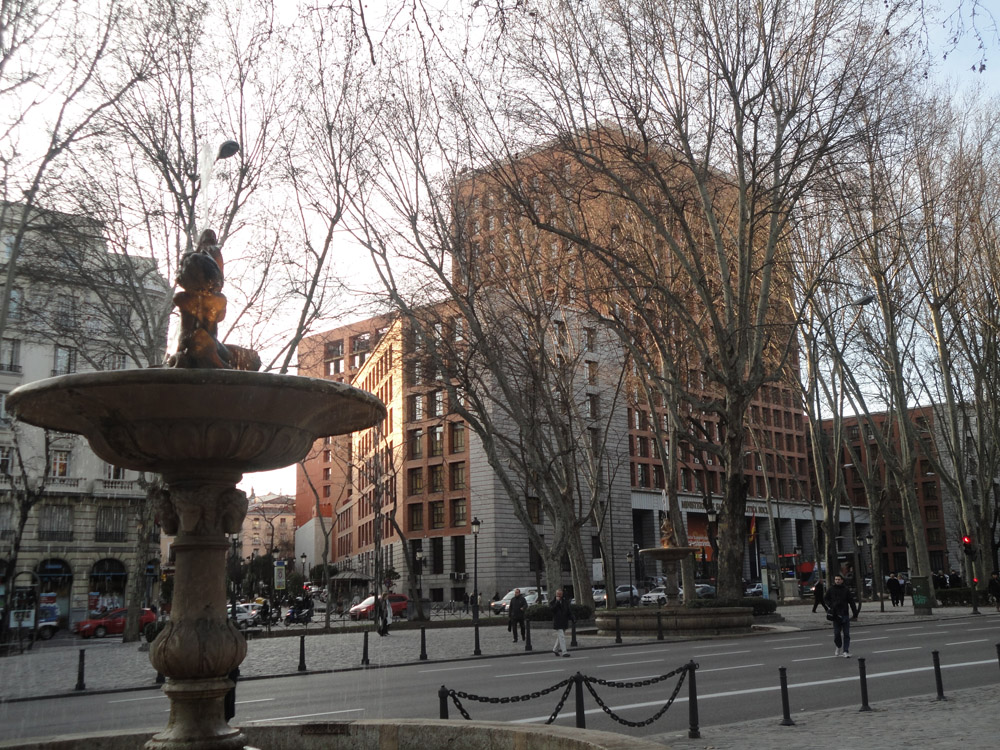 Paseo del Prado.