Central Milano
This page is about central Milano, about the sites that are not directly around Piazza Duomo. From the area around the huge central station and Pirelli Tower to the Porta Venezia and Corso Buenos Aires, the area where we stayed. Around the central station, many new skyscrapers are planned and under construction, that will beat the current tallest, Pirelli Tower.
Stazione Centrale is Milan's largest train station and is the place where we arrived. The proportions of this monumental station from 1931 are enormous. It was designed by Ulisse Stacchini. It was very hot when we arrived, 30 degrees.
Stazione Centrale. The train we arrived with after a 2 hour trip from Genova.
Stazione Centrale has decorations as well as Ikea adds.
The interior of the station is huge!
The entrance to the railtracks at the central station.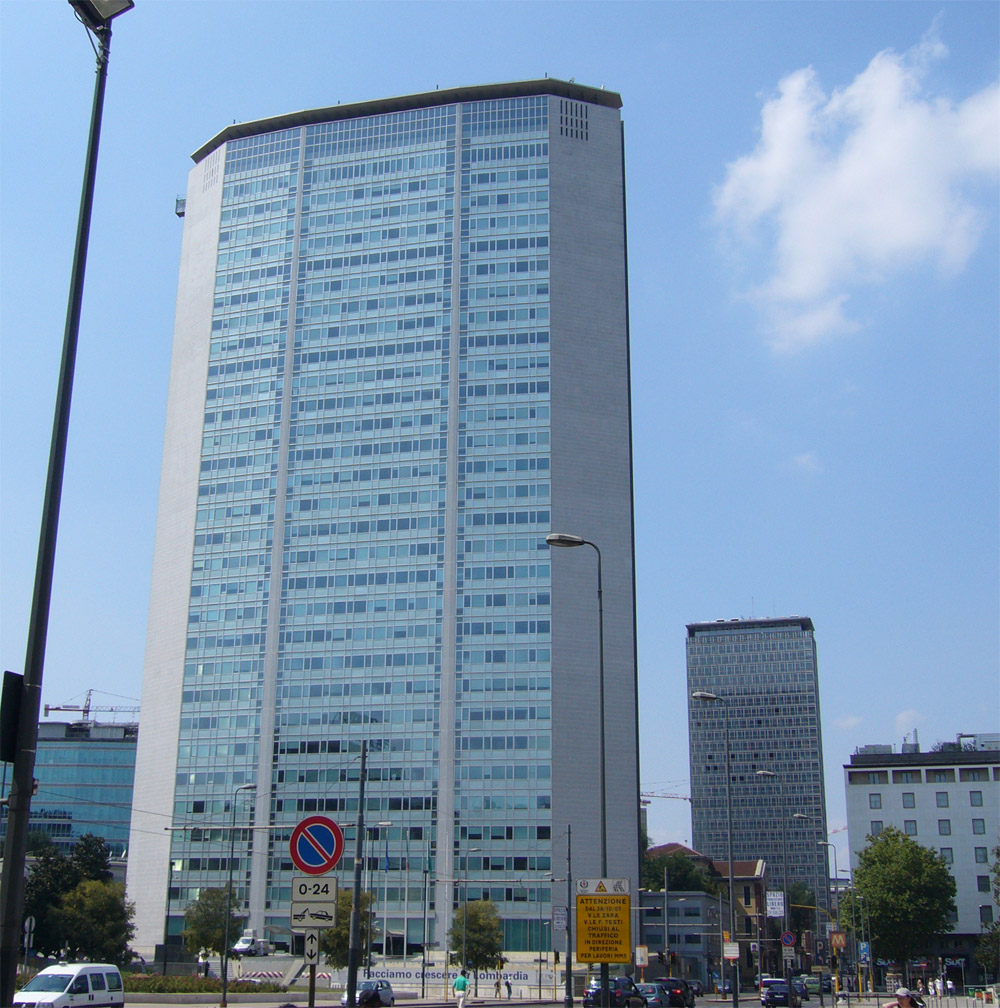 Pirelli Tower, the tallest building in Milano at the moment, most famous skyscraper in Italy and a landmark of the city that was the 2nd tallest building in Europe when completed. It is 124m tall (127m to the spire) and has 32 floors. Pirelli Tower has been Milan's tallest building since it was completed in 1958, but several new skyscrapers (at least four) that will be completed in 2009, will beat it in size. Pirelli Tower was built as the headquarters of the Pirelli tire company, but is today owned by Regione Lombardia. It is so famous partly because it is counted as the first skyscraper in Europe with a striking modernist design and the first skyscraper in the world to use a long-span frame structure.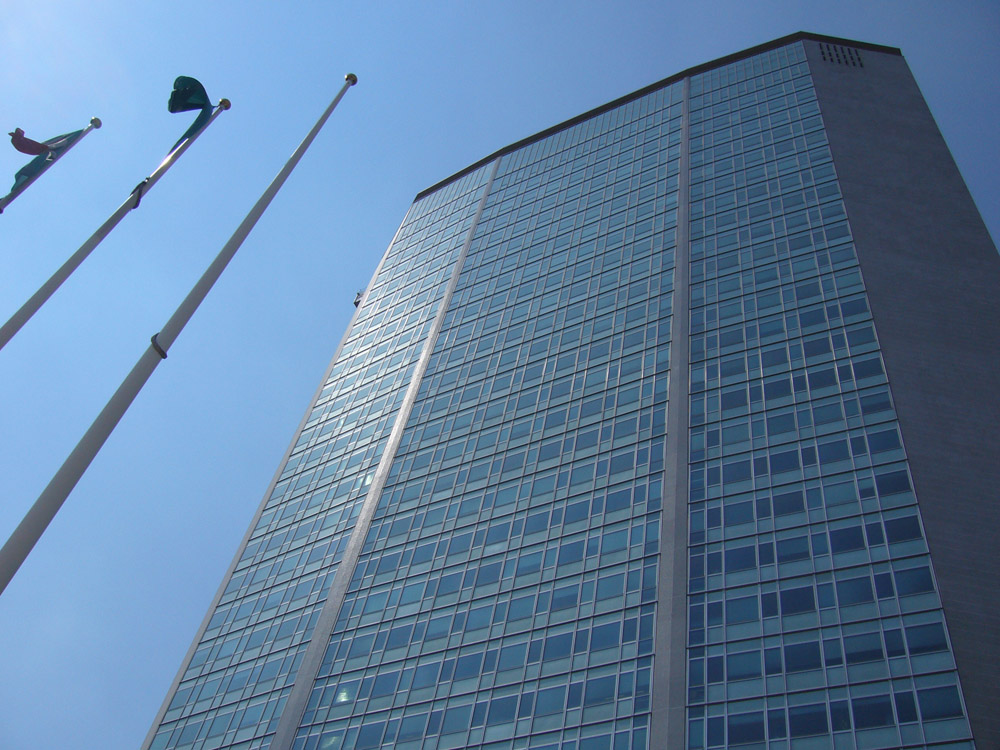 A small private plane crashed in the upper floors of the Pirelli Building in April 2002, setting the 24th and the 25th floor on fire. At first people thought that it was a new terrorist attack, but it turned out it was just an accident. 3 people were killed. It is hard to see now that large parts of the exterior were destroyed.
Piazza Duca d'Aosta is the square between the central station and Pirelli. To the right behind Pirelli Tower is the 109 m tall Galfa Building from 1956.
Pisani Street, looking towards Torre Breda and some other tall buildings. Seen from Piazza Duca d'Aosta.
Torre Breda is 117m tall and has 30 floors. It has been Milano's 2nd tallest building from its completion until 2009. Built in 1954 and now under renovation, it is an example of even earlier futuristic skyscraper design than Pirelli, but it is 10 m shorter.
Some more towers can be seen in the distance to the left of Pirelli.
The central station seen from Piazza Duca d'Aosta.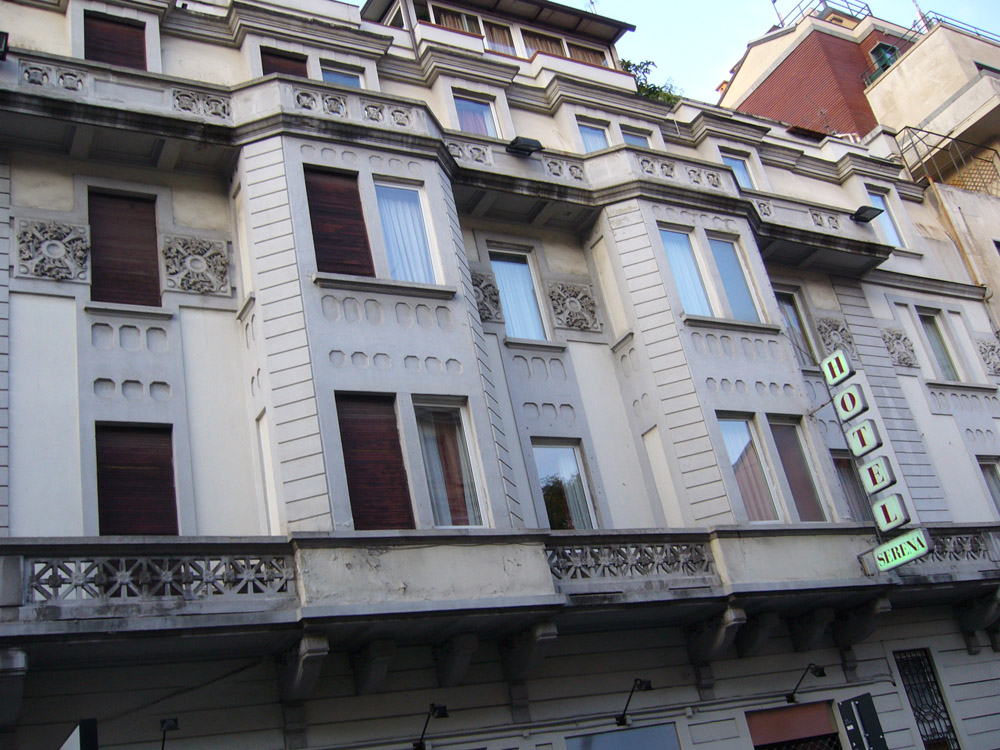 Hotel Serena is the 3 star hotel where we stayed, located a few blocks from Corso Buenos Aires.
The view from our room at Hotel Serena.
Orange trams of Milano.
There are also really old ones from as earlt as 1928, some of them are yellow...
...but the new trams are green and grey.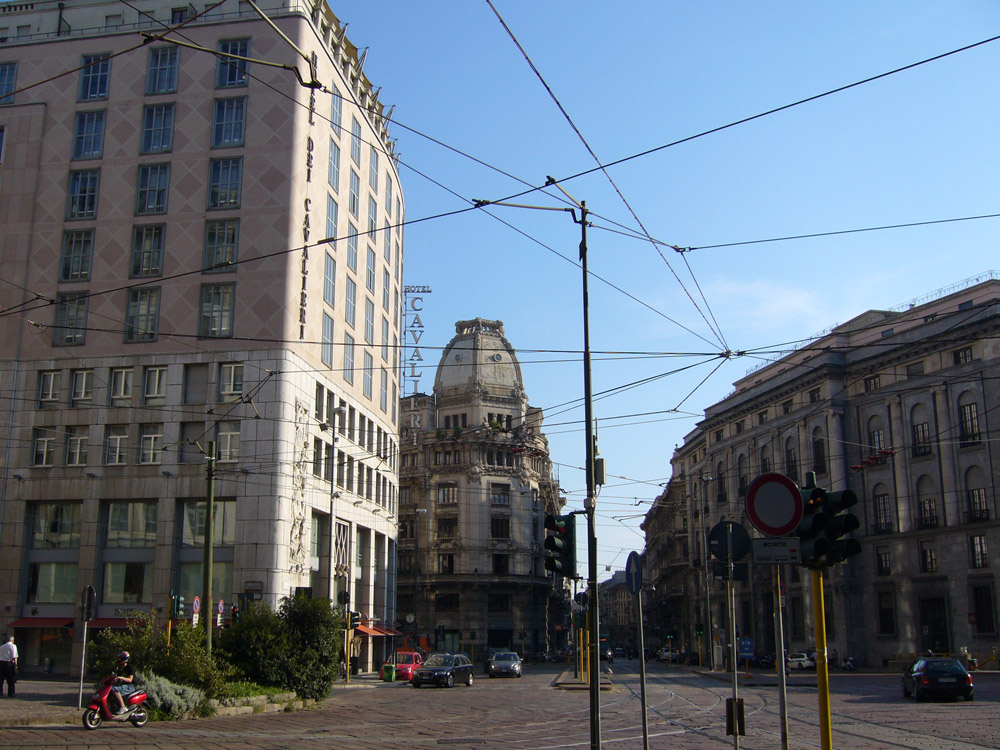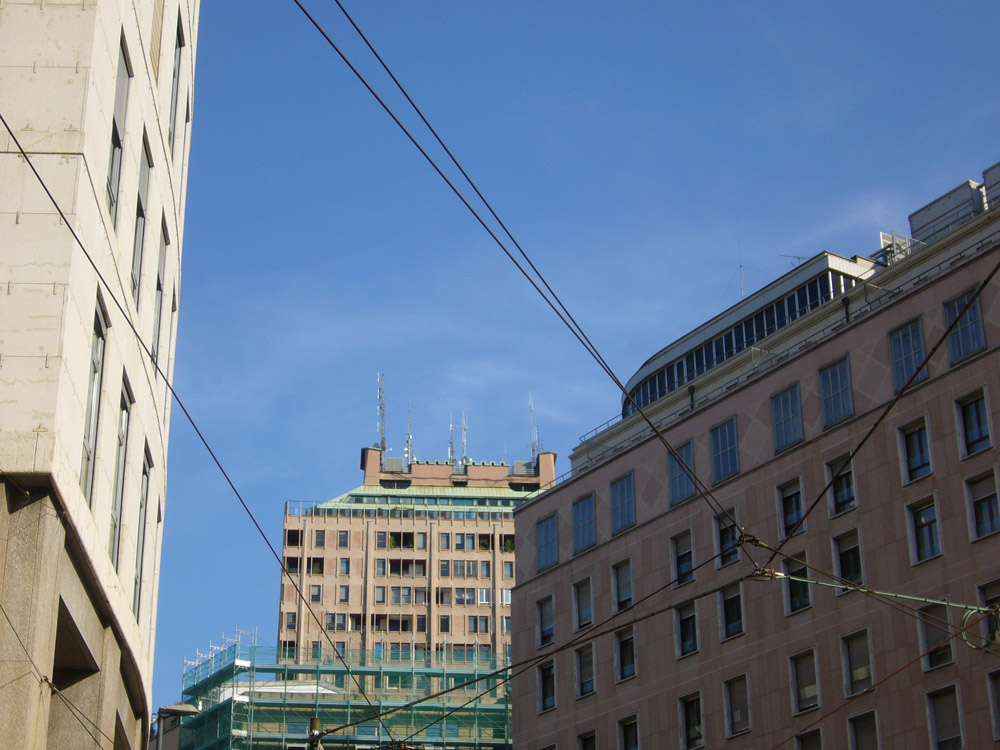 Looking towards Torre Velasca.
Torre Velasca is one of Milano's most famous landmarks, it has 26 floors and is 106 m tall. It was built in 1958, the same year as the Pirelli Tower. Velasca has a more old fashioned design than Pirelli, that is very characteristic. It is located at Piazza Velasca.
Torre Velasca follows the Lombardian tradition of buildings that are wider on the top than on the lower parts, often compared to a castle. It is used both for commercial and residential use.
San Gottardo il Corte is a church tower from 1336, close to Duomo.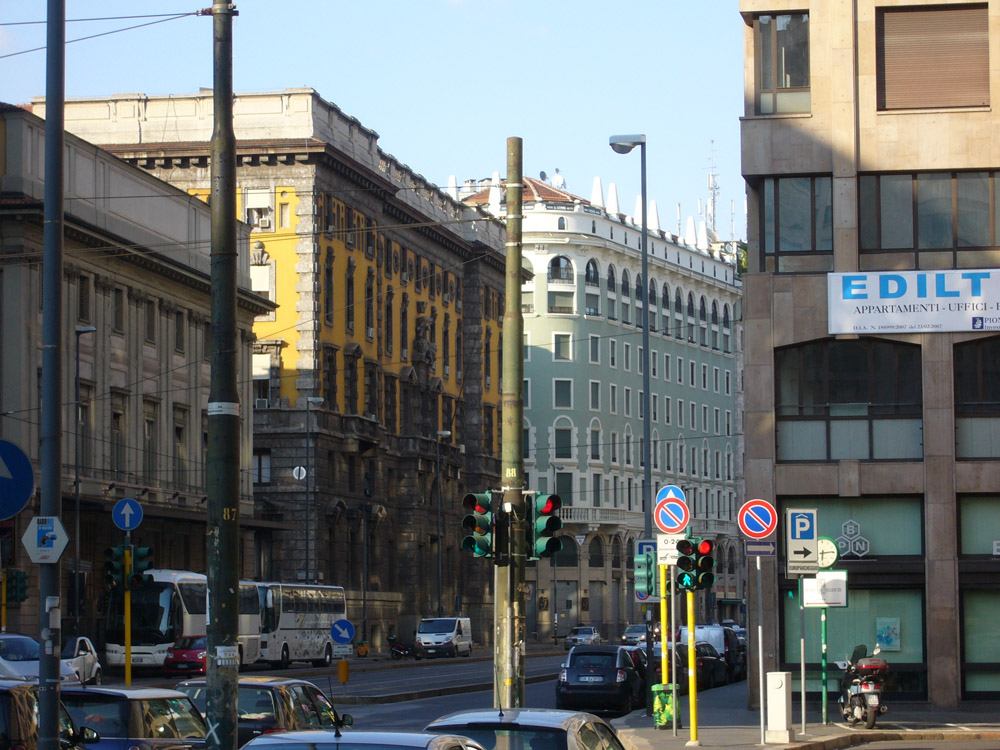 Basilica di San Lorenzo at Piazza della Vetra is one of Milano's most famous churches. It is an early Christian basilica, built between the 1300s and 1400s.
Santa Maria at San Satiro. From this side it is confusingly alike San Lorenzo Maggiore with its mix of styles.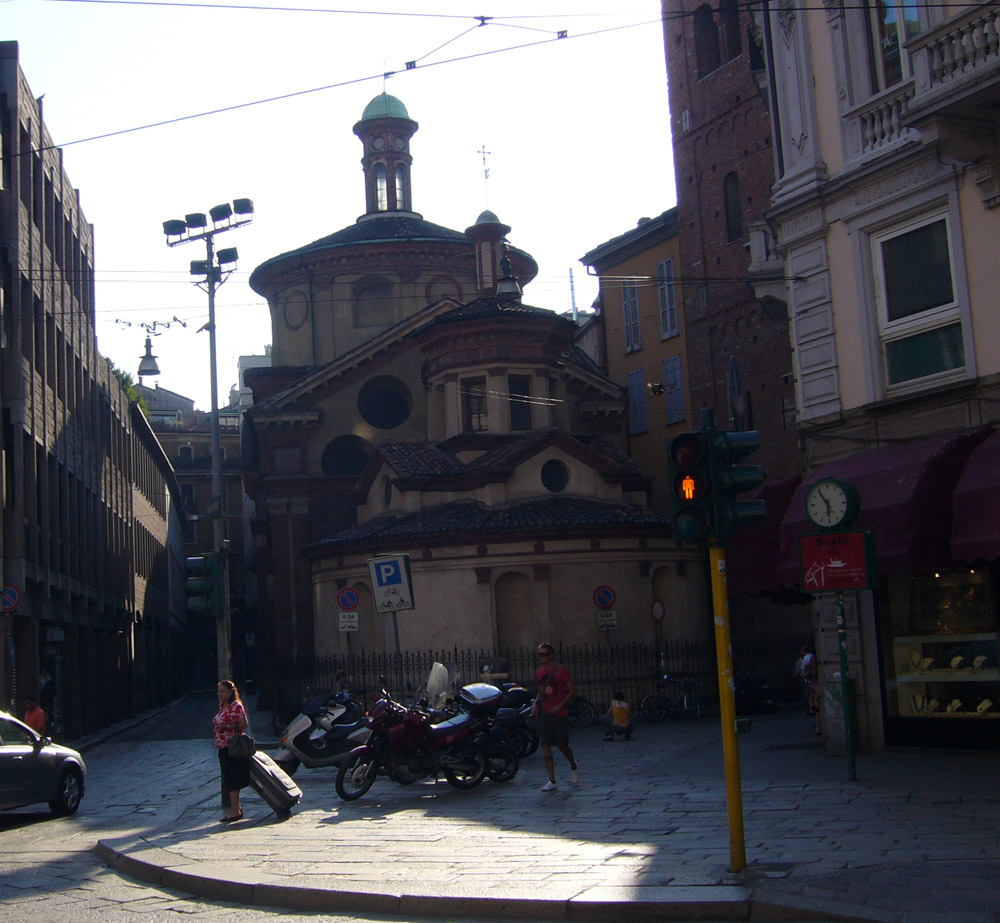 Santa Maria at San Satiro was built with the beginning in 1478 and is very close to Piazza Duomo.
Giardino Guastalla, beautiful gardens near Torre Velasca and Duomo.
Il Duomo.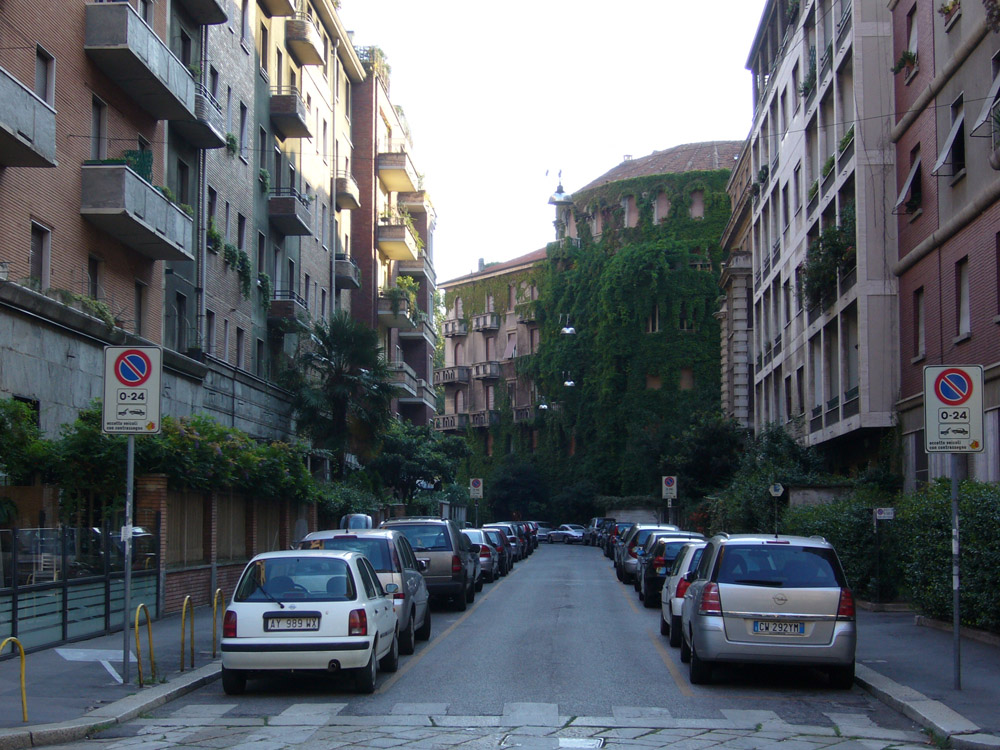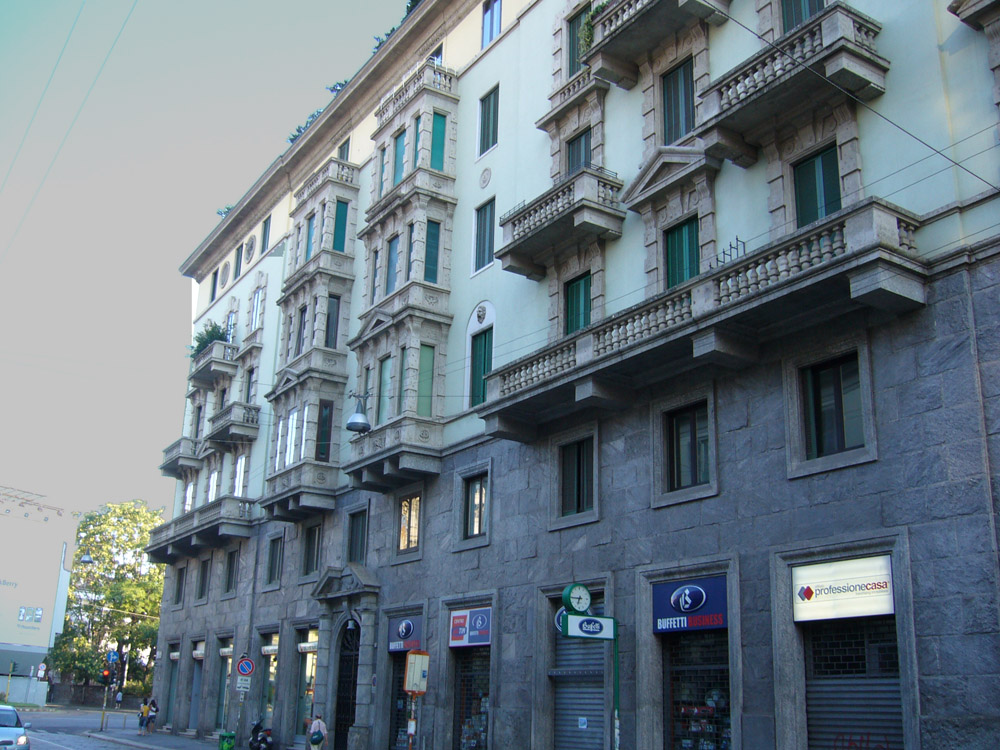 Torre di Porta Romana. At 89 m and 25 floors it is not very tall, but at the place were it stands it looks tall.
Porta Venezia at Piazza Oberdan. In the background is the park Giardini Pubblici (Public Garden).
The oldest and the most modern trams of Milano, seen at the same time at Porta Venezia.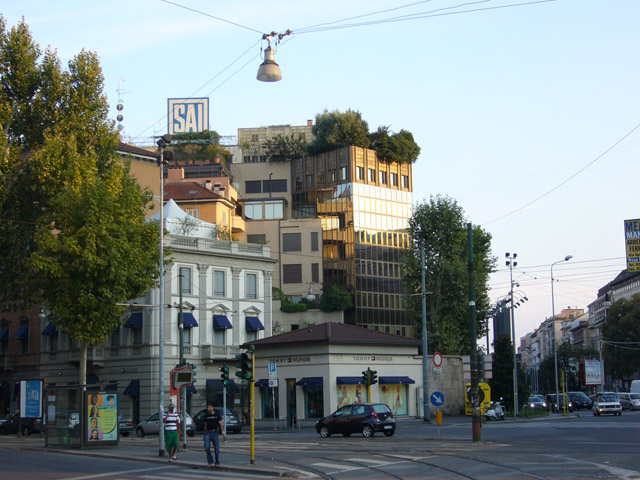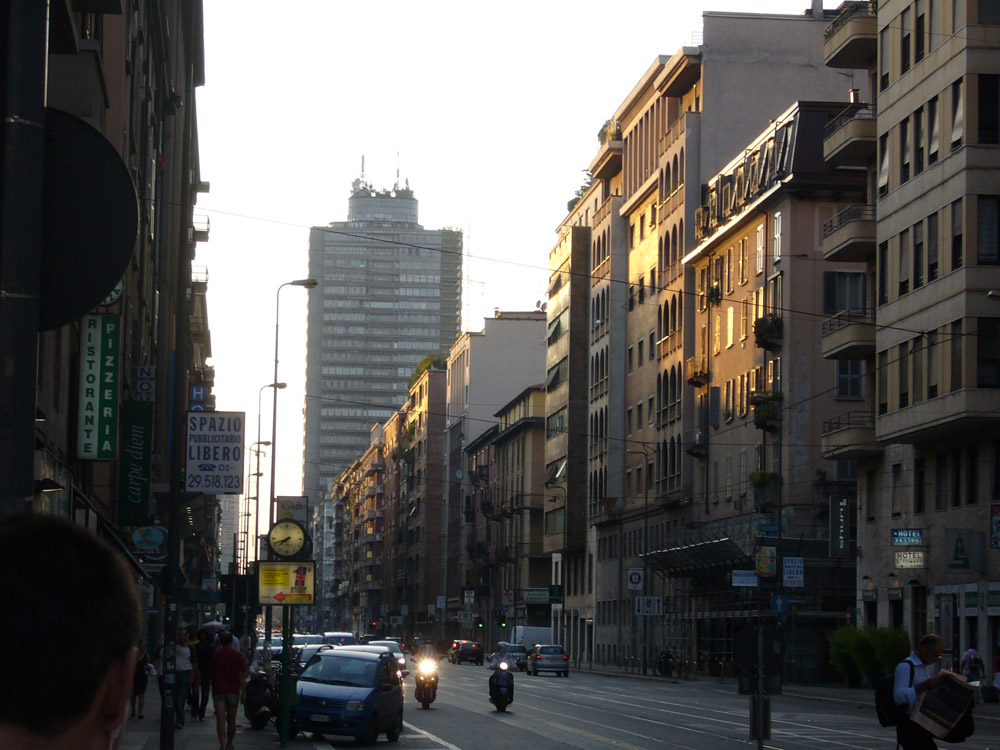 Looking towards Torre Breda.
Corso Buenos Aires, a large road near our hotel with many brand stores.
Houses at Corso Buenos Aires.
Via Vitruvio towards Pirelli Building.
Via Manzoni, named after the famous poet Alessandro Manzoni. There are many police cars on the streets of Milano, most of them Alfa Romeos.
The arch at the end of Via Manzoni, seen from a double decked city sightseeing bus.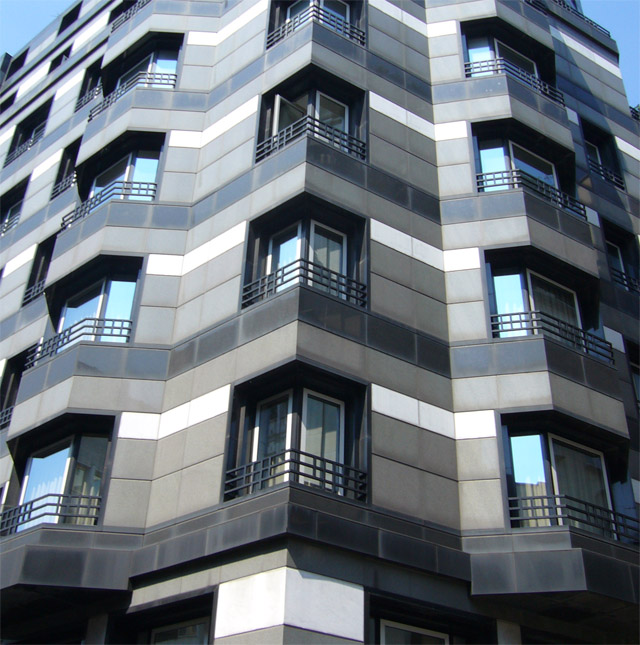 An exciting monument a couple of blocks from Duomo.
More Milano churches.
Via Dante towards Piazza Cordusio with Palazzo della Ragione to the left.
Palazzo della Ragione is a medieval complex with vaults from 1223, that is the former seat of the governor.
A building opposite Palazzo della Ragione at Via Dante.
Piazza Cordusio. A small square with beautiful buildings.
Piazza Cordusio is just one block from Piazza Duomo (so you can see both the Duomo and the galleria in the background).
The entrance to the Galleria from Piazza Cordusio.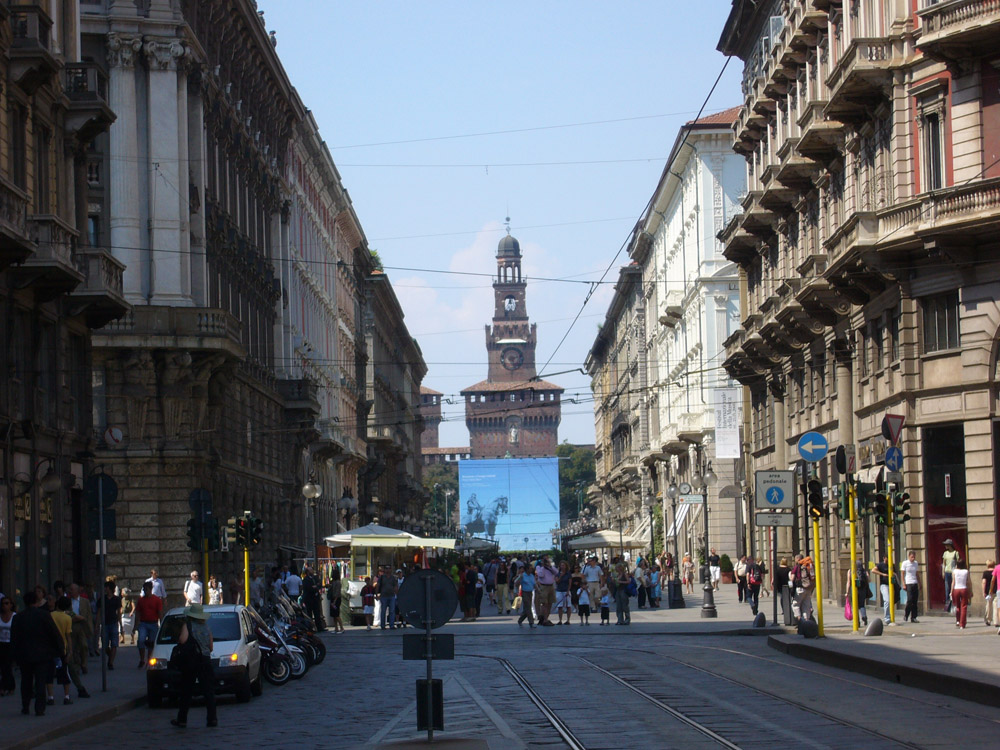 Via Dante towards Castello Sforzesco.
Greenery at Piazza Cordusio.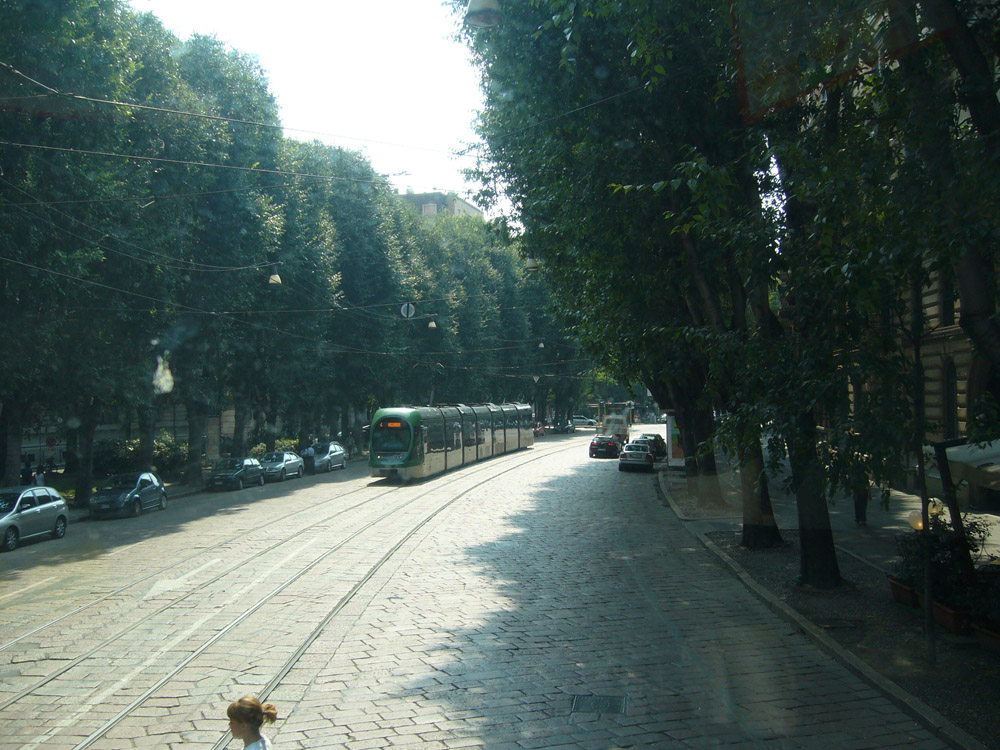 Foro Buonaparte is a boulevard that goes in a halfcircle near Paco Sempione.
Foro Buonaparte. These pictures were taken from the tourist double decker. We found out that a better and cheaper way to see the city is to use the local traffic.
Piazza Cadorna. A secret monument is under construction, that soon will be revealed.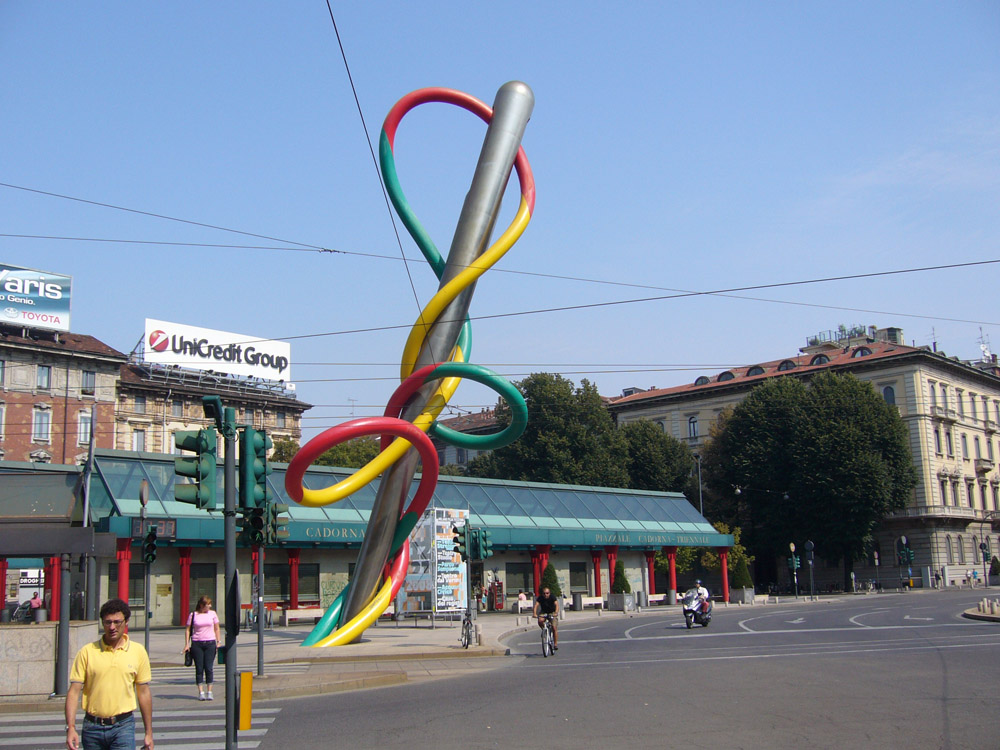 Piazza Cadorna. This square has a couple of modern sculpturers in childish colours.
Another sculpoture in the same colours at Piazza Cadorna.
Castello Sforzesco seen from Piazza Cadorna.
Piazza Liberty.
The Ferrari store at Piazza Liberty! Opened in 2005. It has 8 floors and is one of only 9 in the world!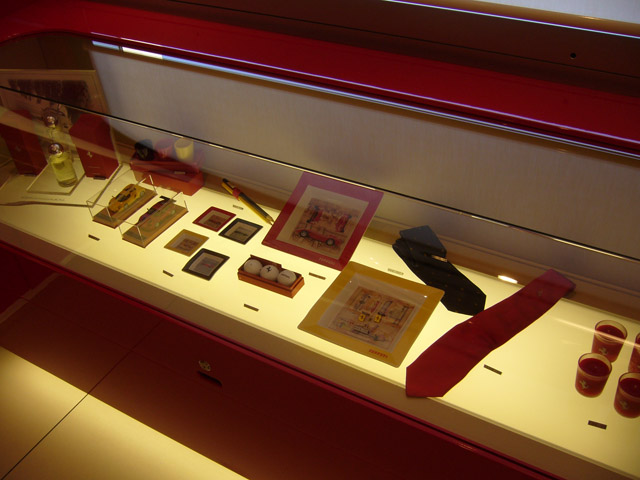 Ferrari ties, perfume and pencils.
In the Ferrari store you can buy everything related to Ferrari.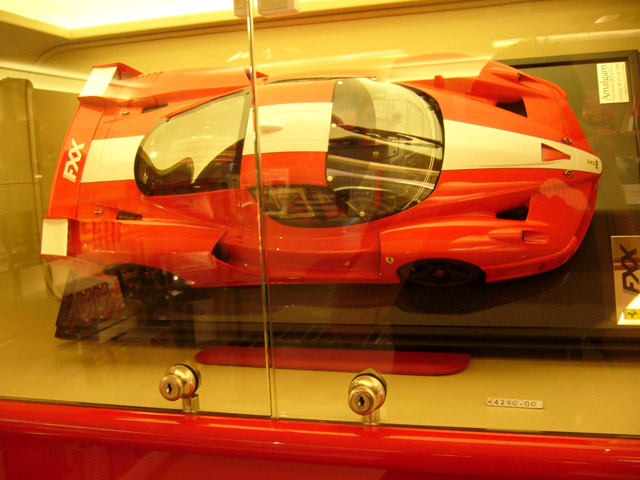 A model car for 4290 euro!
A Ferrari engine.
And of course a real Formula 1 car!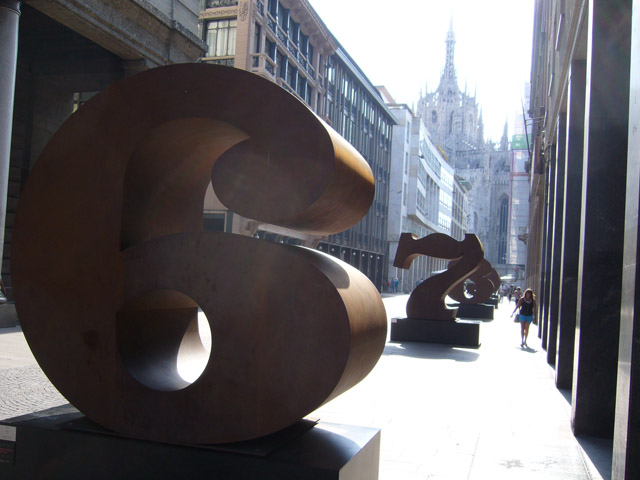 Numbers at Via Vittorio Emanuelle.
A smaller galleria close to the larger one.
San Carolo Church.
Via Montenapoleone. This famous street might not look special at the first glance.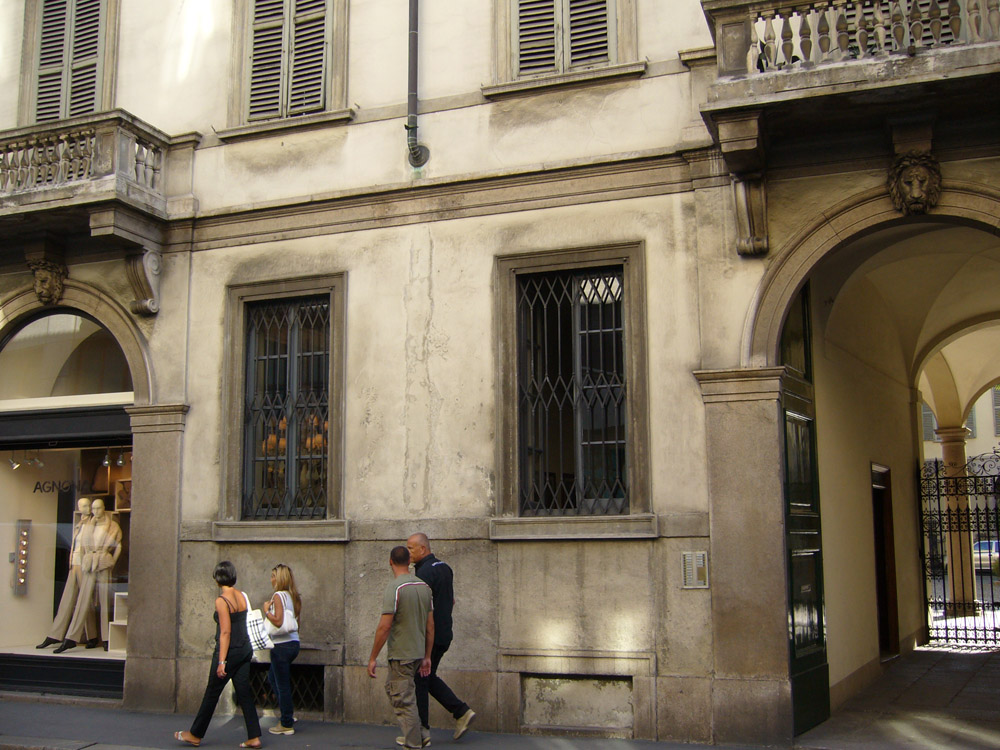 But it is one of the most exclusive streets in Europe with luxorious brand stores where you have to ring on a bell before you get in.
Cartier, Rolex as well as Gucci and many other expensive brands are represented on Via Montenapoleone.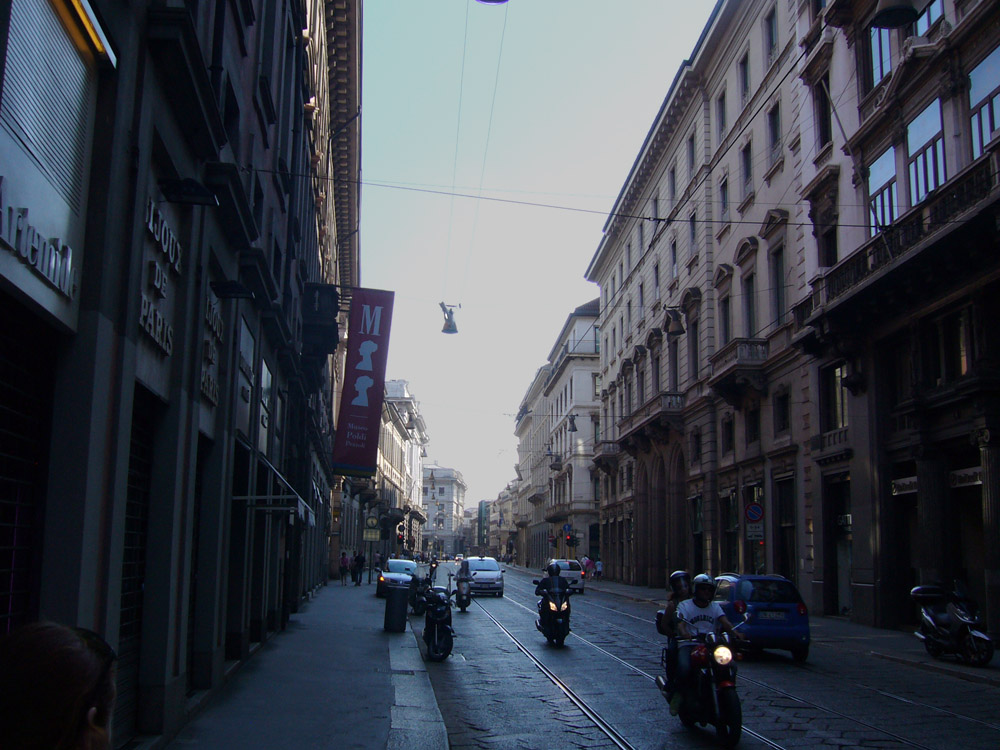 Many 2-wheeled vehicles can be seen on the streets of Milano, like in most other cities.
Stazione Centrale at dark.