WEST OF CITY CENTER: JORDAAN AND GRACHTENGORDEL
Jordaan:
Jordaan is a former working-class quarter with bad living conditions, that is now considered one of the hippest places to live in Amsterdam. It is home to many immigrants, artists, musicians and writers. The gentrification was made after plans to demolish large parts of it in the 1970s. I only made a short trip to Jordaan and ate a not so good, but very expensive hamburger at a middle east restaurant. And as it was in the evening, it was pretty empty. Noorderkerk and Noordermarkt can be found here (that I didn't visit). Westerkerk and Anne Frank House are situated opposite Jordaan, on the other side of the Princengracht Canal. It is bordering Grachtengordel district, close to downtown.
Rozengracht, one of the main streets in Jordaan.
There are many narrow side streets in Jordaan.
Westerkerk can be seen from here.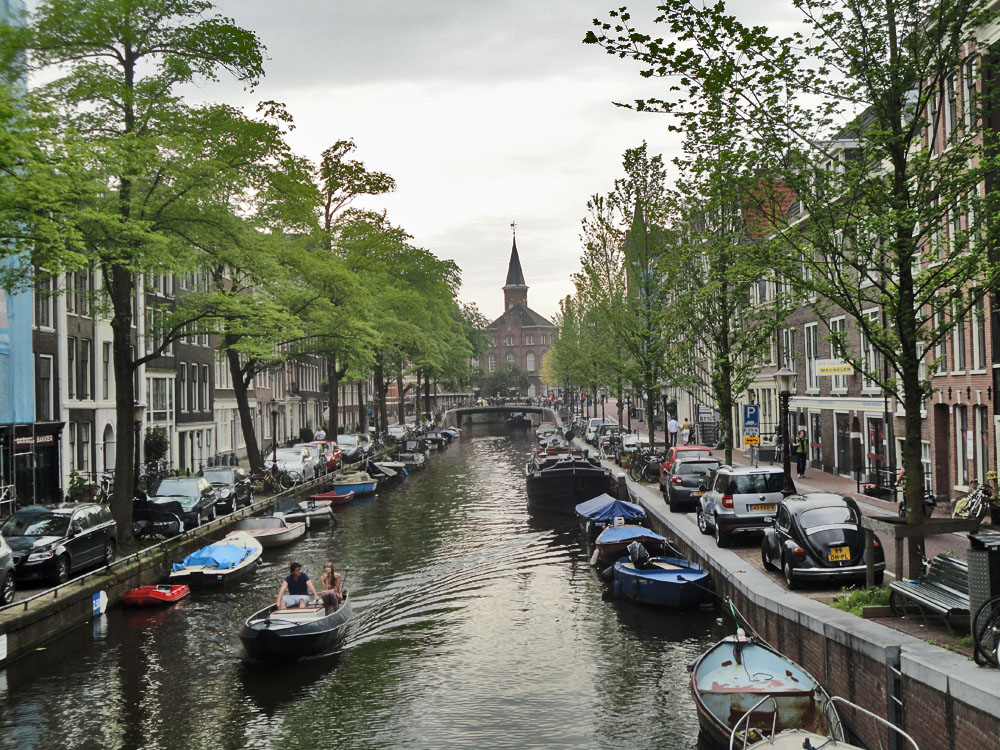 Bloemgracht Canal in Jordaan, looking towards the police house (Politie Amsterdam-Amstelland).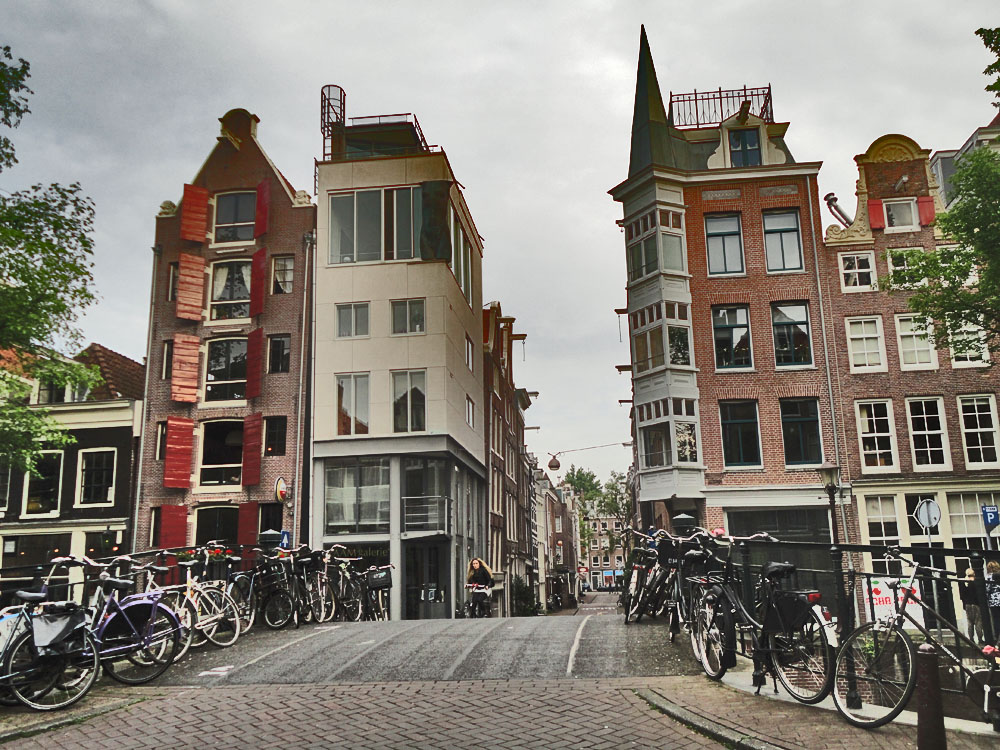 A sloping canal bridge above Singel in Jordaan.
Grachtengordel:
The Grachtengrodel district is situated just west of the city center and the Singel canal. The area is part of the so called Canalring, named so because of the many canals; Singel, Herengracht, Keizersgracht and Prinsensgracht. You can find Anne Frank House, Westerkerk and Hotel Di-Ann here. The popular Leidseplein is also considered a part of Grachtengordel, but is presented on a separate page.
Hotel Di-Ann, located in a very nice palace like old canalhouse. But the curved grand facade can be a bit misleading, it is only a 2 star hotel.
Hotel Di-Ann at Raadhuisstraat, close to Cana lring and downtown.
The curved Raadhuisstraat towards Westerkerk.
Canal ring.
Boat house at Prinsengracht Canal, with an add for the Tulip museum.
Westerkerk, a tall protestant church, built in 1620. At a height of 85 m to the spire, this is the tallest church in Amsterdam.
The tall church tower of Westerkerk, situated just next to Prinsengracht Canal, Jordaan and Anne Frank Huis (it is mentioned frequently in Anne Frank's diary, it could be seen from the attic where she hide from the nazis).
Rembrandt van Rijn is buried in Westerkerk, as well as his son and other painters. In 1966 Queen Beatrix married Prince Claus in the church.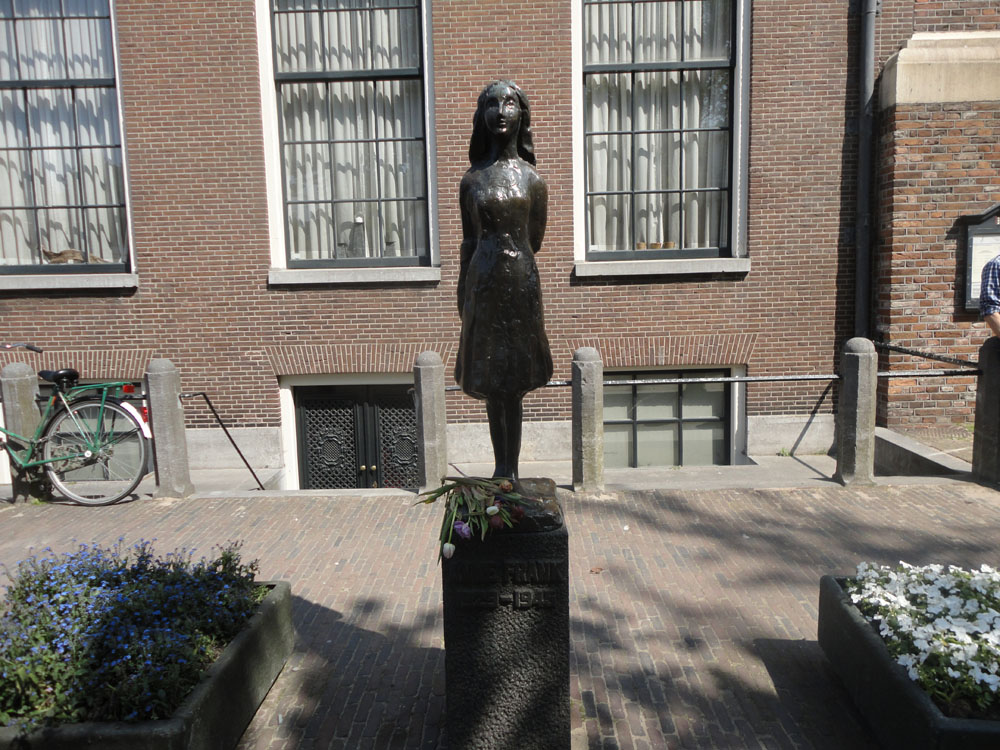 The statue of Anne Frank on the church square. She lived 1929-1945 and wrote many books and stories inside the house. After a traitor told where she hid, she was executed by the Nazis on the Auschwitz concentration camp.
Canal boats passing on Prinsengracht.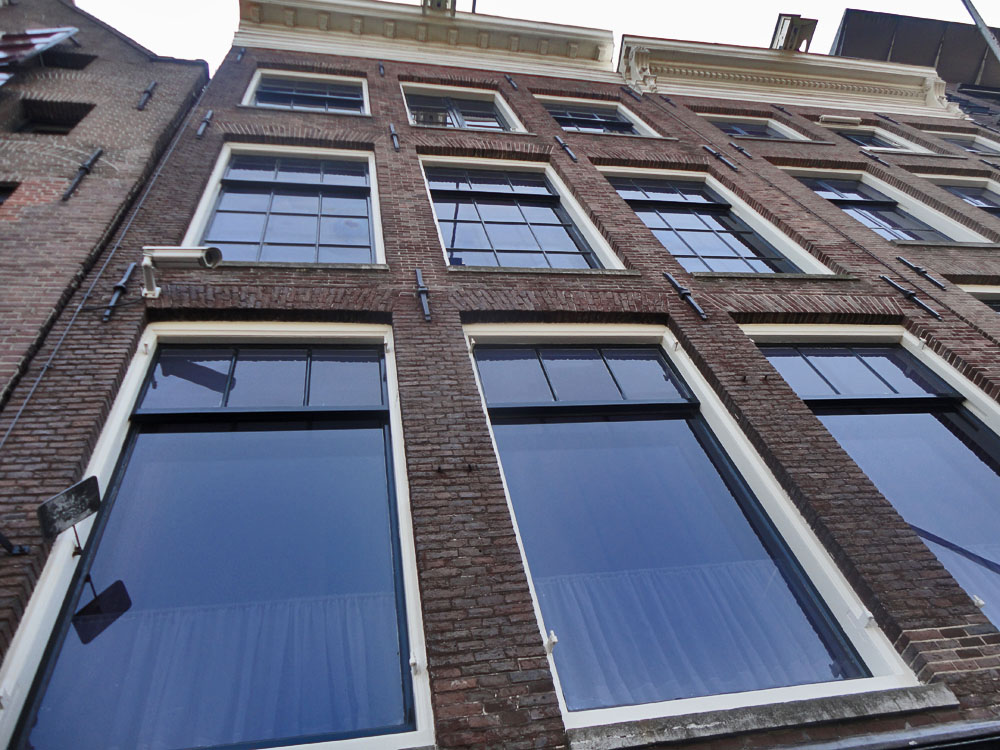 Anne Frank Huis. This is where the Jewish girl Anne Frank lived while she was hiding from the Nazi Germans. It is not allowed to take pictures inside, so I only have photos of the exterior. It is situated in a canalhouse from 1635 at Prinsengracht canal, one block from Westerkerk.
The museum opened in 1960. It presents the story of Anne Frank and her family and higlights discrimination, especially of jews. A bookcase covered the entrance to the secret loft, that can be seen in the famous movie Schindler's List. The rear part was called the Achterhuis, "The Secret Annex" in English.
Towed away car at an outdoor café opposite Anne Frank House.
Statue of Multatuli at the Singel canal. Multatuli was a Dutch writer living between 1820-1887. He is considered the most important Dutch writer of all times.
The arched Torensluis Bridge above Singel.
Singel canal with Ronde Lutherse Kerk (Round Lutherian Church) from 1671 with its dome in the end. It is no longer used as a church, it serves as a conference center for the nearby Renaissance Hotel.
Towering building at singel canal, near Grachtengordel distrct.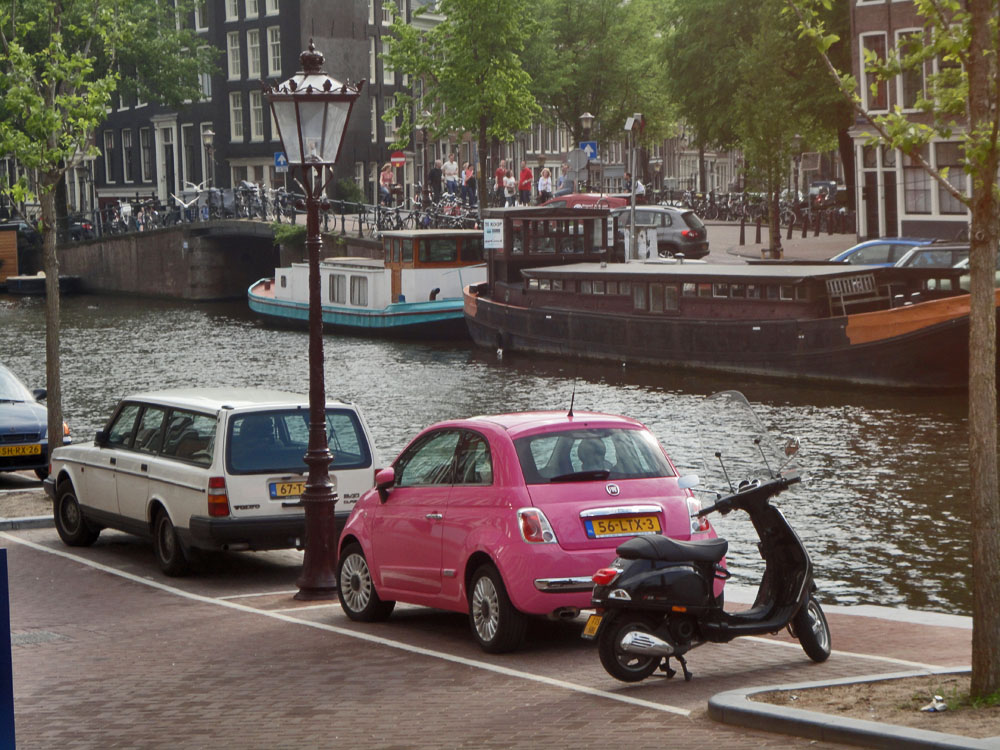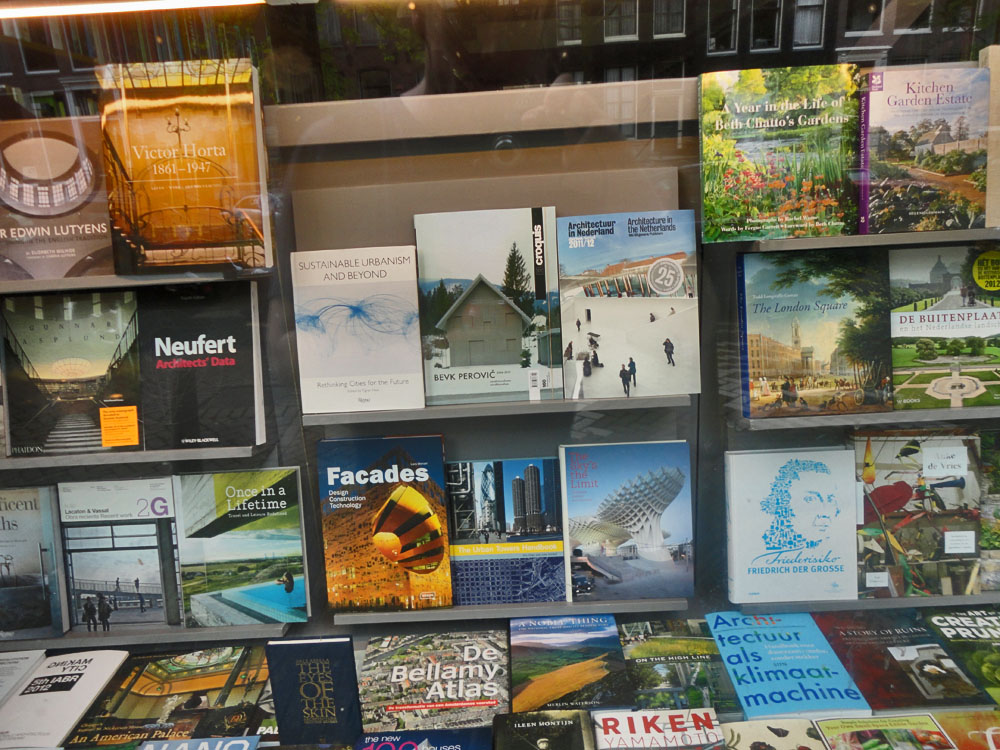 An architecture book store.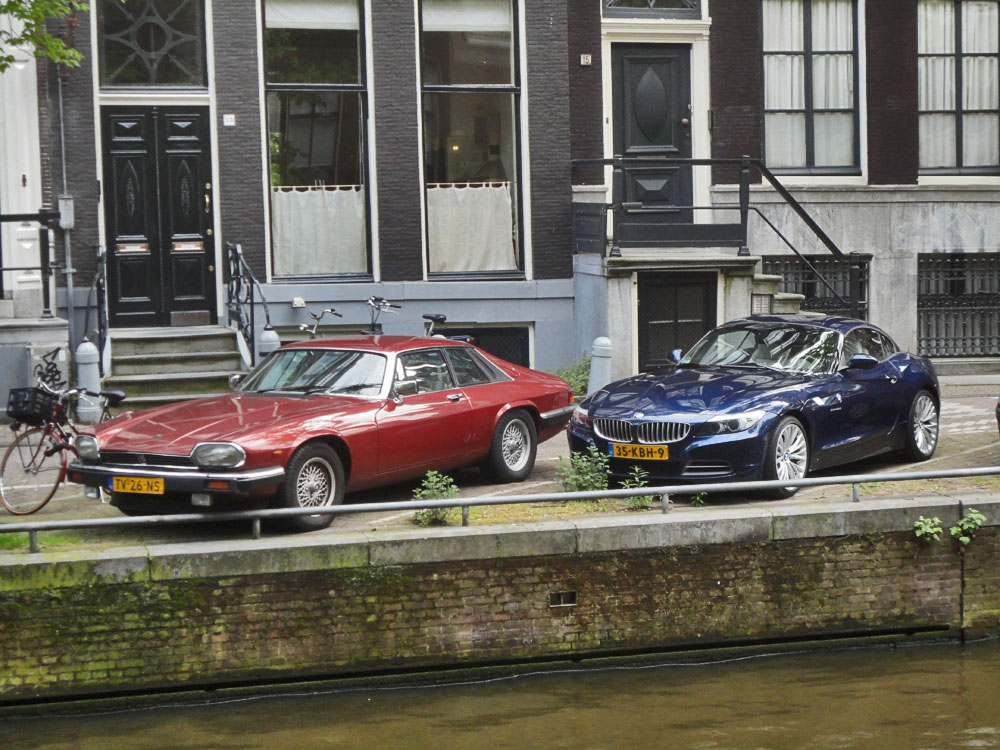 Exclusive sport cars at the canal.