Kreuzberg
VIKTORIAPARK, ORANIENSTRASSE, ORANIENPLATZ, MORITZPLATZ, KOTTBUSSER TOR
Kreuzberg is a large district south of Mitte, Berlin's city center, where you can find rundown buildings, graffiti, one of the youngest populations in Europe and squats as well as de luxe restaurants. It belonged to West Germany during the division of Germany, but it was isolated from the rest of the city after WWII, so it was much poorer then the rest of west. In 2001 Friedrichshein and Kreuzberg was merged into one borough, but two districts. It is a multi cultural district and home to many Turkish immigrants (around 32 percent has no German citizenship) as well as a lot of punks, artists and hipsters. Its low rents has made it a center for many independent cultures, such as gay, lesbian, African and more. The SO36 club is located here, an important part of the punk movement. Lately the area has seen a gentrification with modern de luxe restauants and buildings coming up. Despite the gentrification, the district still attract artists. Checkpoint Charlie is located between Kreuzberg and Mitte, but can be found on the Friedrichstrasse section. The beautful Viktoriapark with its impressive waterfall is also part of Kreuzberg, but is located a bit away from the busy parts. Viktoriapark's hill gave name to Kreuzberg. To get directly to the Viktoriapark section on this page, click here. To see the neighbouring borugh Tempelhof-Schöneberg, where the Tempelhof Airport was, click here.
Oranienplatz:
Oranienplatz, the cultural center of Kreuzberg.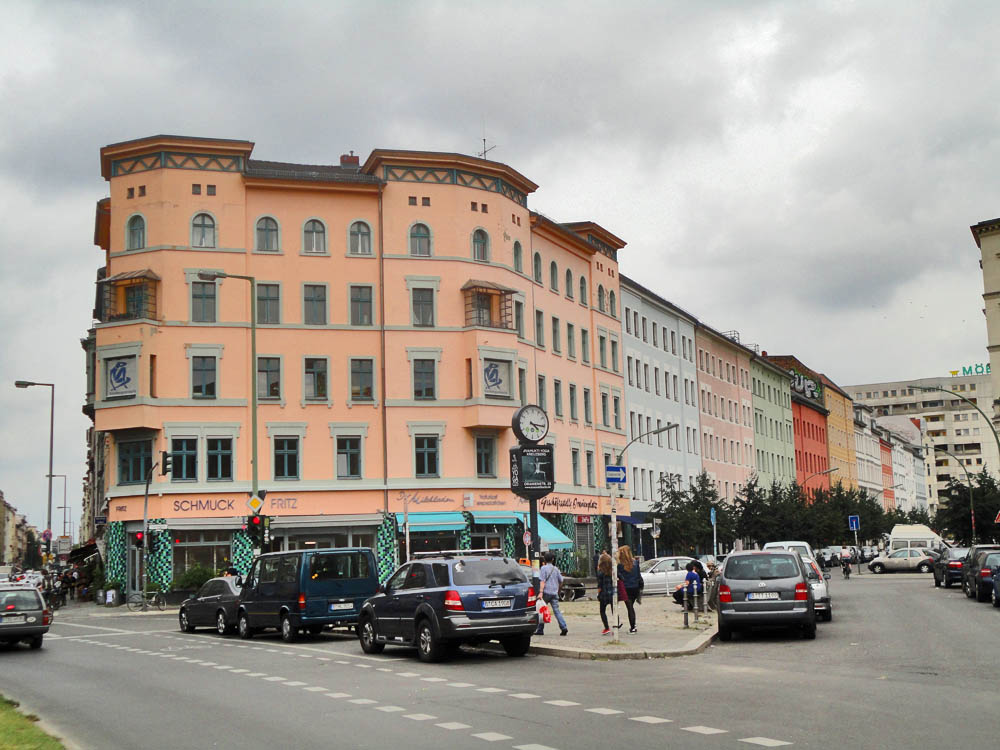 Close-up of Oranienplatz.
Kottbuser Tor:
Kottbusser Tor is an ugly grey square in Kreuzberg.
Zentrum Kreuzberg, a rundown apartment block at Kottbusser Tor.
Oranienstrasse: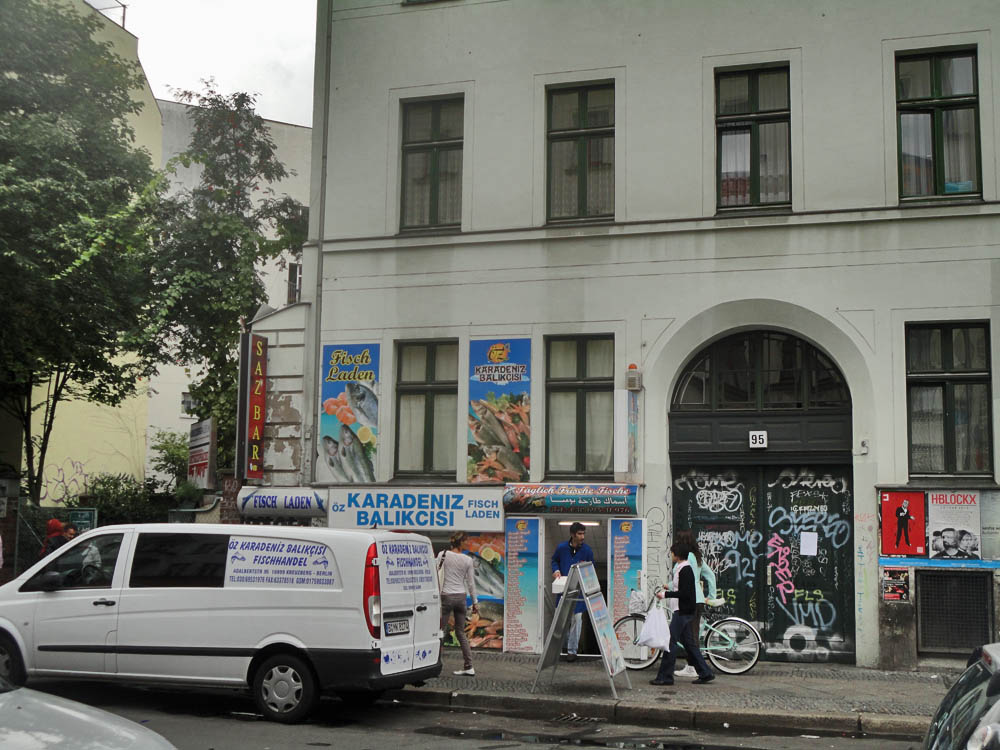 Oranienstrasse is one of the most important streets in Kreuzberg. Here you can find the legendary punk club SO 36.
Here you can find rock clubs, restaurants, designer stores and independent stores.
An Italian restaurant at Oranienstrasse.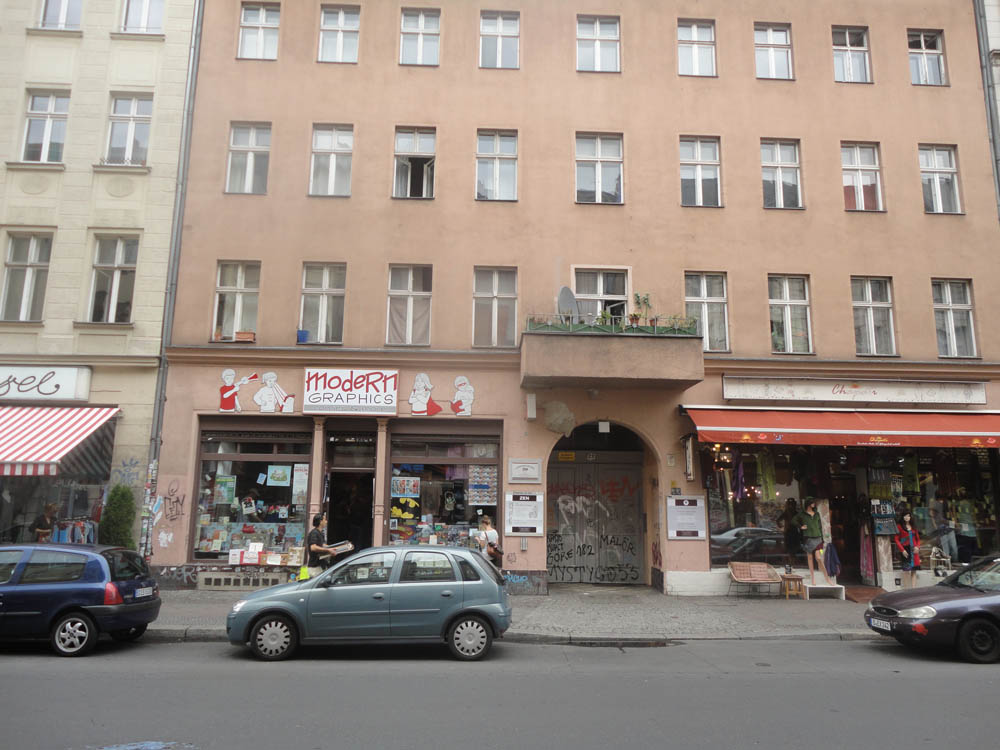 Many specialized designer stores can be found on Oranienstrasse, as well as graffiti.
Music stores and bars...
...and pubs.
Some stores have made their signs of graffiti.
Restaurants from all over the world can be found on Oranienstrasse in Kreuzberg.
This nice restautant is part of the gentrification.
Graffiti is common in the many rundown front doors of apartment buildings.
Core Tex punk store at Oranienstrasse.
The spirit of Kreuzberg.
Mevlana Mosque, a mosque right in the urban area at the busy intersection Oraienstrasse/Skalitzerstrasse!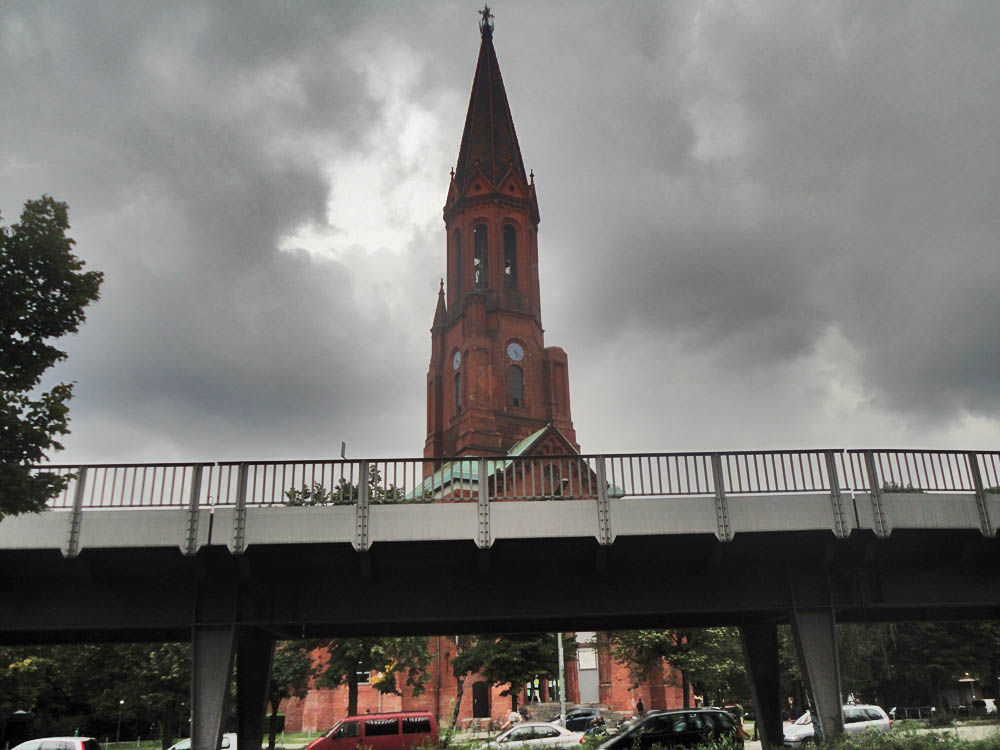 Skalitzer Strasse is parallel to the elevated railway.
A church called Emmaus-Ölberg Kirchengemeinde seen beneath the elevated metro line at Lausitzer Platz.
Görlitzer Parkteich.
Skalitzer Strasse with its colourful painted houses.
Schlesisches Tor. This square has an elevated metro train station.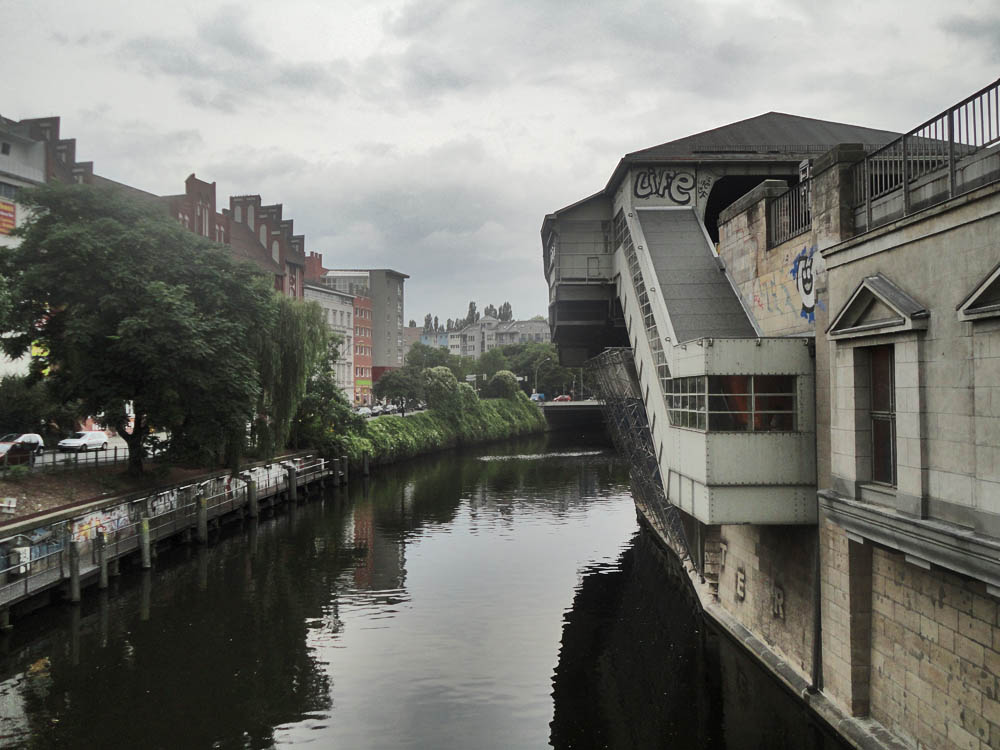 Tempelhofer Ufer, a canal in the south of Kreuzberg/Tempelhof that changes name to Schöneberger Ufer when it reaches Schöneberg.
Heilig-Kreuz-Kirche (Holy Cross Church) is a beautiful Gothic church from 1888 in Kreuzberg.
Tempelhof:
Tempelhof is a district that borders Kreuzberg, in the south. Viktoripark is just next to Tempelhof. It is mostly famous for the Tempelhof Airport that once was one of 3 super airports in Europe, the main terminal's entrance hall was the world's largest. It was the world's oldest still operating airport until it was closed for traffic in 2008.
Entrance to the Tempelhof district at Platz der Luftbrücke. Part of the former airport Tempelhof can be seen to the far left, behind the trees.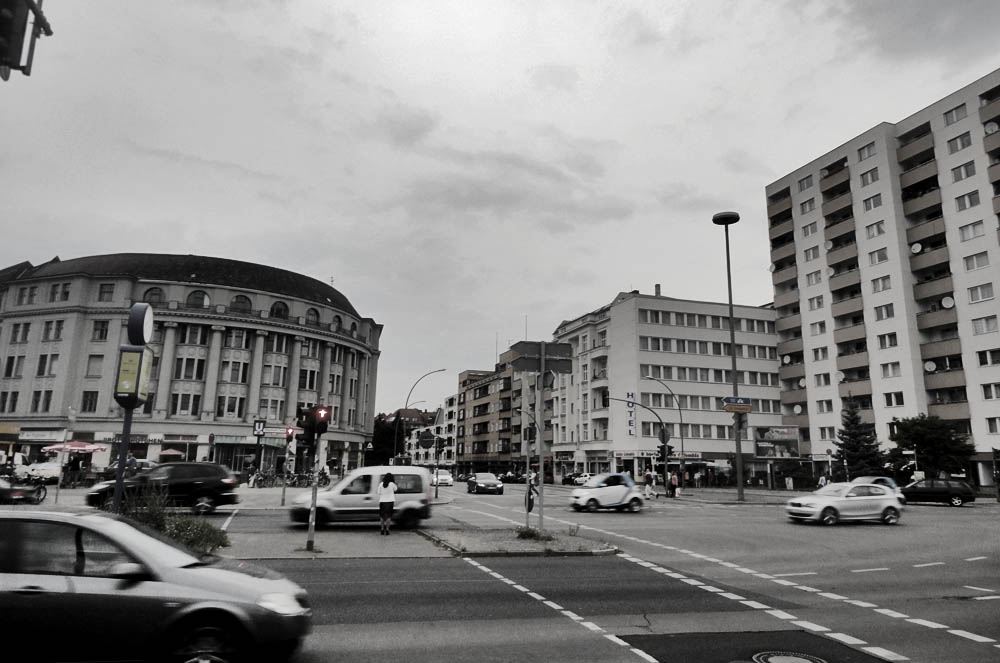 Platz der Luftbrücke, Tempelhof.
Jugend residential buildings in Tempelhof, near Viktoripark in Kreuzberg.
Viktoriapark:
Berlin's most beautiful park is situated in Kreuzberg's outskirts, near the district of Tempelhof. Here you can find everything that you won't expect to find in the city of Berlin: an impressive waterfall, hills and a castle. It opened in 1894. The park's Kreuzberg hill is where the district and borough took its name.
The beautitful Viktoriapark with its waterfall on the Kreuzberg hill, that named the bourough. The green spire is not the top of a church as I thought, but a cast iron monument ( Nationaldenkmal), dedicated by the King Frederick William III of Prussia to the liberation wars, that offers views over the city.
Unexpected to find this beautiful nature in Berlin's Kreuzberg district!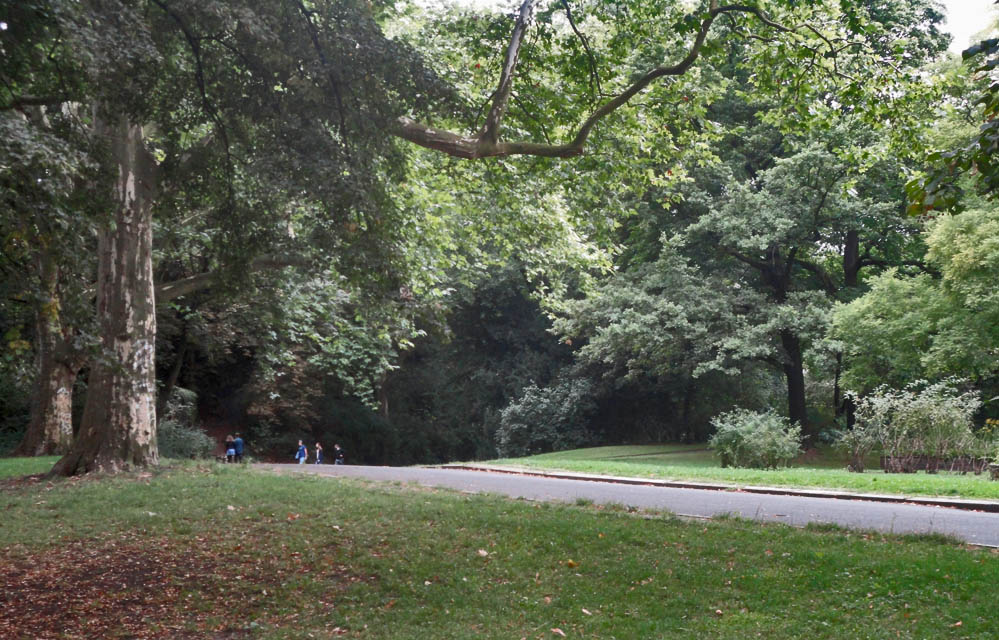 Viktoriapark is one of the few hilly parts of Berlin.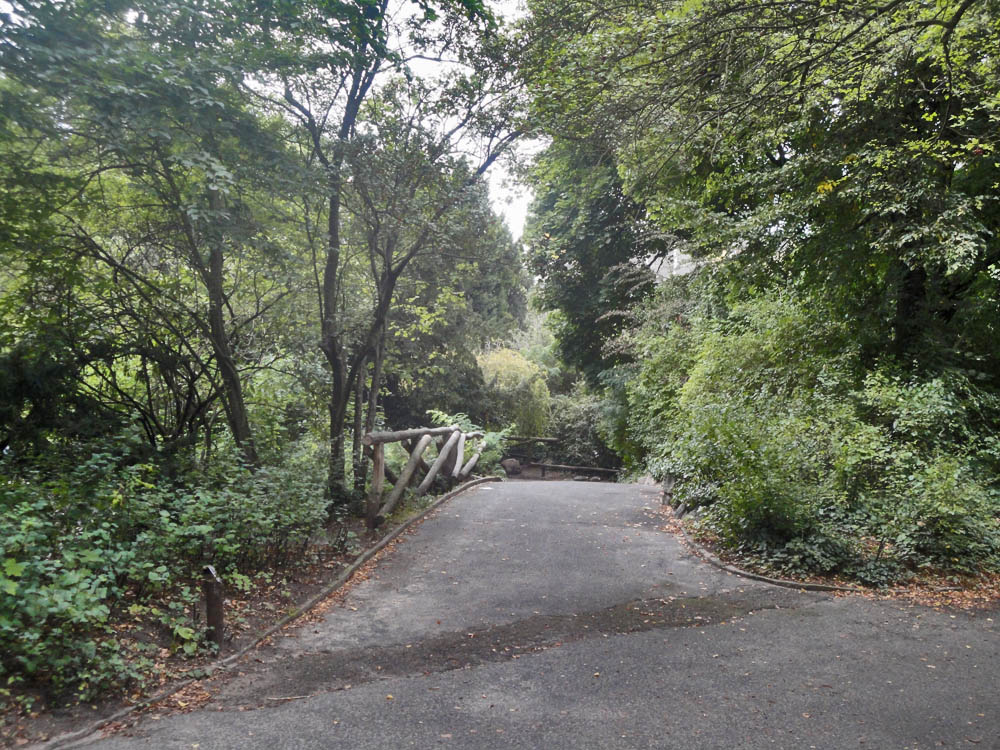 Today the park is neighbouring two small vineyards.
Flushing water at the foot of the waterfall.
Grossbeerenstrasse is just underneath the waterfall.
Viktoriapark was the last sight I visited in Berlin.
Skyline of church spires and Fernsehturm with Tempelhof residential buildings in the front, seen from Viktoriapark.