London skyline from the bridges at Thames
This section is about London's skyline. And the skyline can best be seen from the famous river Thames. The whole city center, Soho and the famous parks, most famous buildings and monuments plus the Canary Wharf cluster are on the north/west side of the Thames. There are many highrises in Greater London, but most of them are just around 20 floors high. The largest clusters of real skyscrapers though, are City of London (the east part of the city center) and Canary Wharf in Docklands. The rest are spread out all over the city, but there is also a cluster south of Thames from central London. But since last I visited London (in 1999), the number of tall buildings have heavily increased. After decades of conservative architecture where numbers of tall buildings have been cancelled, London is now preparing for the future. In City, the new innovative 30 St Mary Axe has just been completed and in Canary Wharf, 7 new skyscrapers around 200m tall now makes Great Britain's tallest building One Canada Square company. And just south of Thames, The London Eye, Europe's tallest ferris wheel has just arisen 135m above the river. And many new skyscrapers are planned in the whole city. The most remarkable one is the Shard, that is Europe´s tallest building outside Russia since 2013. At 310m
and 66 floors it stands on the south side of Thames near Guys Hospital (at the site of Southwark Towers, that will be demolished), so it can be
seen from the city center and the rest of London. The Shard was completed several years after my visit, though new visits to London are planned. Some churches and monuments also help London giving the city an almost impressive skyline,
at least from some angles. Updates 2017: 22 Bishopsgate, the Pride and Newfoundland are some skyscrapers u/c that will reach over 200m.

City of London skyline as seen from Waterloo Bridge above Thames. From the left: Shakespeare Tower, Lauderdale Tower, Cromwell Tower, CityPoint, St Paul's Cathedral, Tower 42 (NatWest Tower), 30 St Mary Axe (Swiss Re) (central London's tallest and 2nd buildings) and Kings Reach Tower (just east of Thames).

A closer look towards St Paul's Cathedral (111m) from 1710, Tower 42 (183m, 43 floors) from 1980 and Swiss Re(180m, 41 floors) from 2003.

Canary Wharf skyline. Canary Wharf is the cluster of the developed harbour Docklands, that used to be slum. One Canada Square alias Canary Wharf Tower is not only dominating the skyline with its silver facade and pyramid top, it is also Great Britain's tallest building and one of Europe's tallest (235m, 50 floors). This picture is taken from Greenwich. From the left: 40 Bank Street, 25 Bank Street, One Canada Square(Canary Wharf Tower), 25 Canada Square(Citygroup Centre), 8 Canada Square(HSBC Center) - (these 2 are 200m each and are London's 2nd and 3rd tallest buildings), 10 Upper Bank Street (front), 5 Canada Square (Bank of America) and One Churchill Place (Barclays Bank).
I didn't go to Canary Wharf when I was in London in 1999, I just saw it from a distance. One Canada Square stood there alone then. It had been alone since 1991. But as late as in 2003 the other buildings were completed.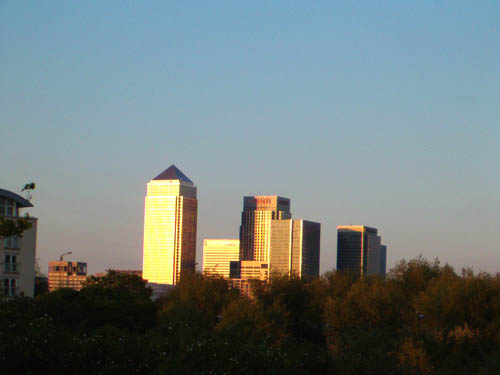 Canary Wharf from a bus station south of Thames near Greenwich.



Panorama from a hill in the park Hamsted Heth in the northern suburb of Hamsted. Here you can see both the Canary Wharf cluster dominated by One Canada Square,
HSBC and Citygroup and the City of London cluster dominated by Tower 42 and Swiss Re.

Houses of Parliament makes its own skyline from Thames with the towering Clock Tower "Big Ben", Central Tower and Victoria Tower.


City of London as as as seen from the famous Tower Bridge. The Tower of London has now got company from modern buildings such as Swiss Re, St Helen's and Tower 42.


From the opposite side (south) of Thames from The Tower of London. The futuritic glass building is the new 10-story City Hall by Norman Foster, completed as late
as in 2002. The tall building in the background is Guys Hospital, the world's tallest hospital.

The new City Hall with the huge robot sculpture "Weeman" made of trash and Guys Hospital to the left.


Skyline from the southern edge of Tower Bridge. The south and north side of Thames seem almost "melting together" creating a large Americanised skyline.

Canary Wharf/Docklands skyline with One Canada Square and its cousins from the Tower Bridge. In the center is a brandnew apartment complex with green windows, part of the Vauxhall district.

Canary Wharf as seen from the lightrail on its way to...Canary Wharf.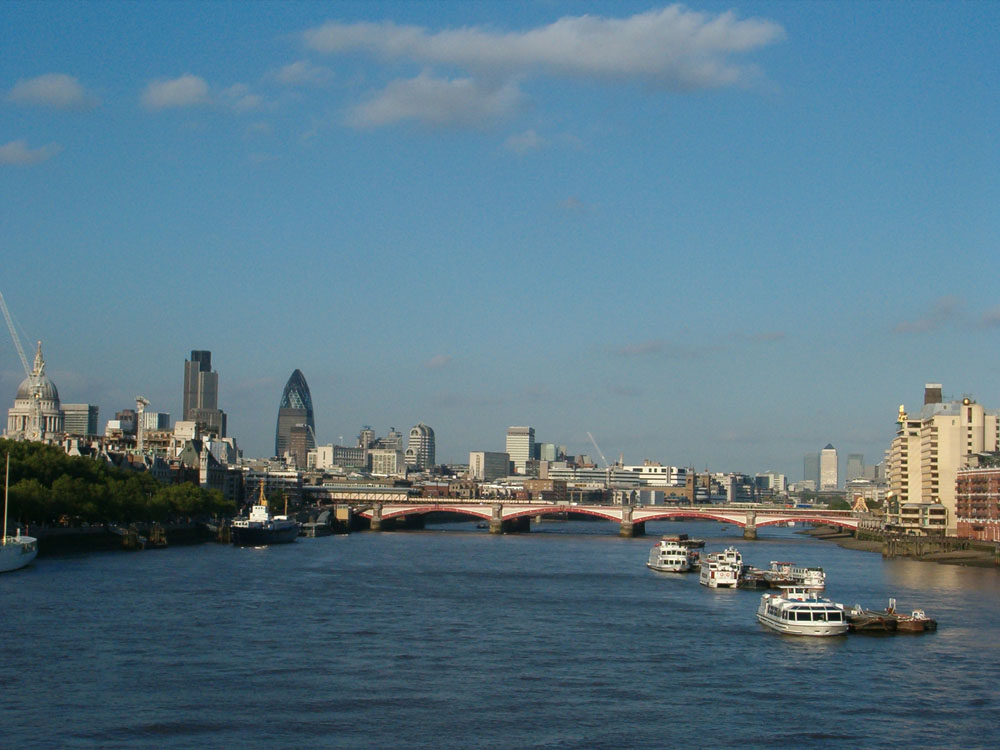 City of London´s skyline with Canary Wharf's skyline in the background.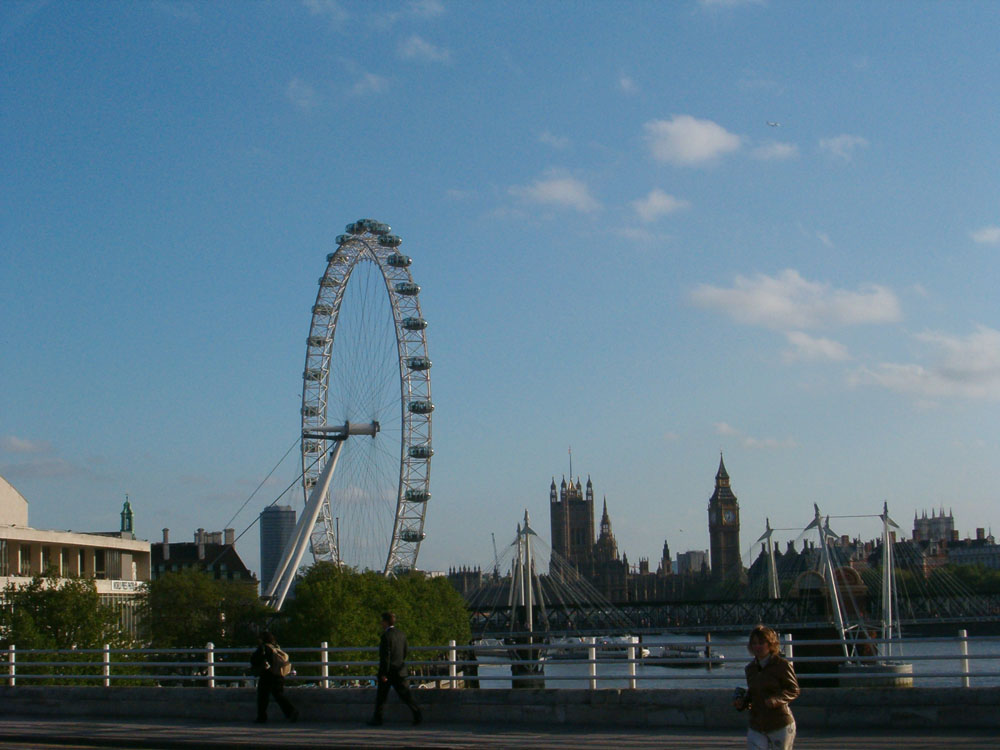 The London Eye, Millibank and Houses of Parliament.

London Bridge, a large ship, Millibank and BT Tower as seen from Tower Bridge. The ship is HMS Belfast, that has been home ot a number of events, like a concert with Eminem for BBC!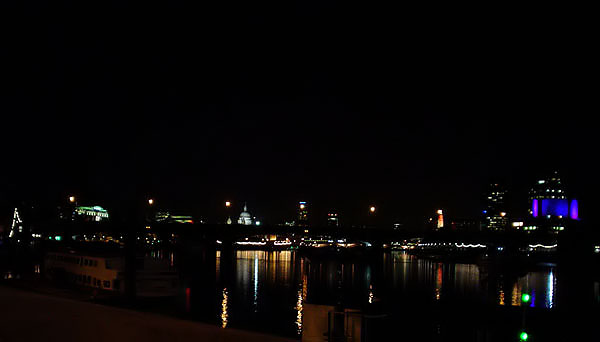 City of London skyline as seen from the Thames after dark.

Looking to the west from Westminster Bridge. Millibank Tower (119m, 32 floors) from 1963 is dominating the skyline. And St George's Wharf, the 22 -story long residence building from 2003 and an unknown building u/c.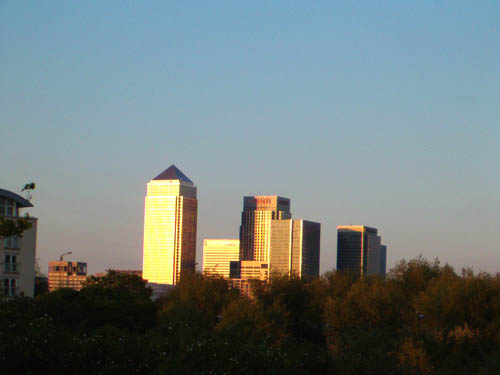 Millennium Dome as seen from Greenwich.

Views from Chelsea Bridge that connects Chelsea with Battersea Park south of the Thames: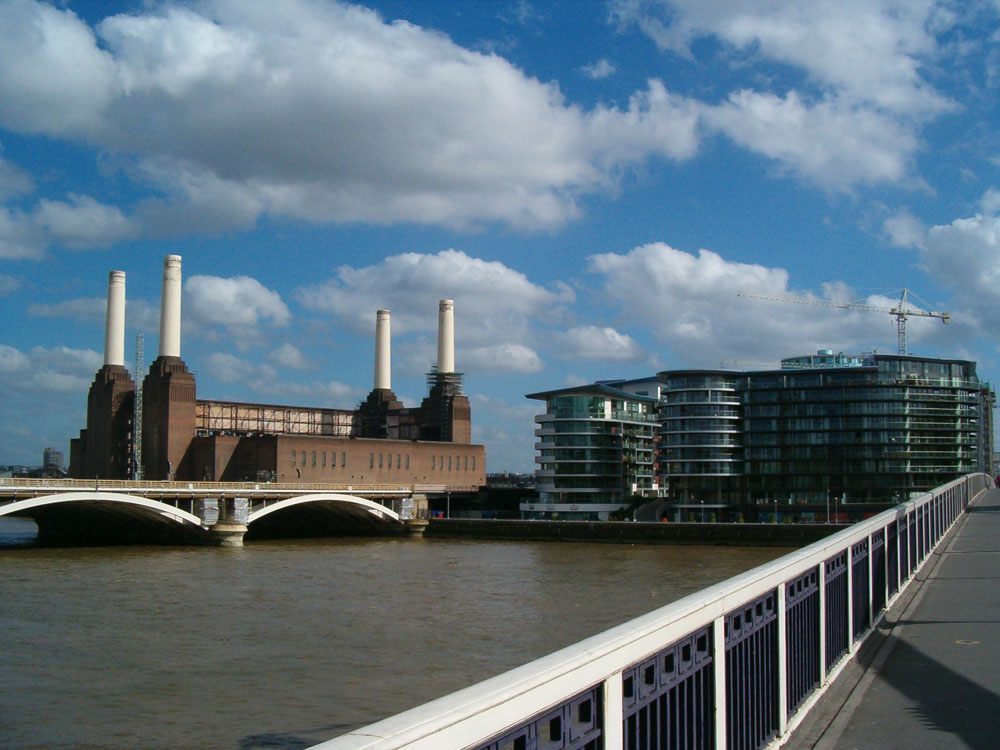 Battersea Power Station, the famous marble factory from 1955 that was the front cover of Pink Floyd's 1977 album Animals and a nice brandnew apartment complex
with courtyard pounds. The intersting thing is that I was thinking that the power station reminded me of the cover of this album, but
I didn't know it actually was.



A train passing by in front of Guys Hospital and Southwark Tower, that in 2010 will be replaced by the 310m tall London Bridge Tower if it gets built.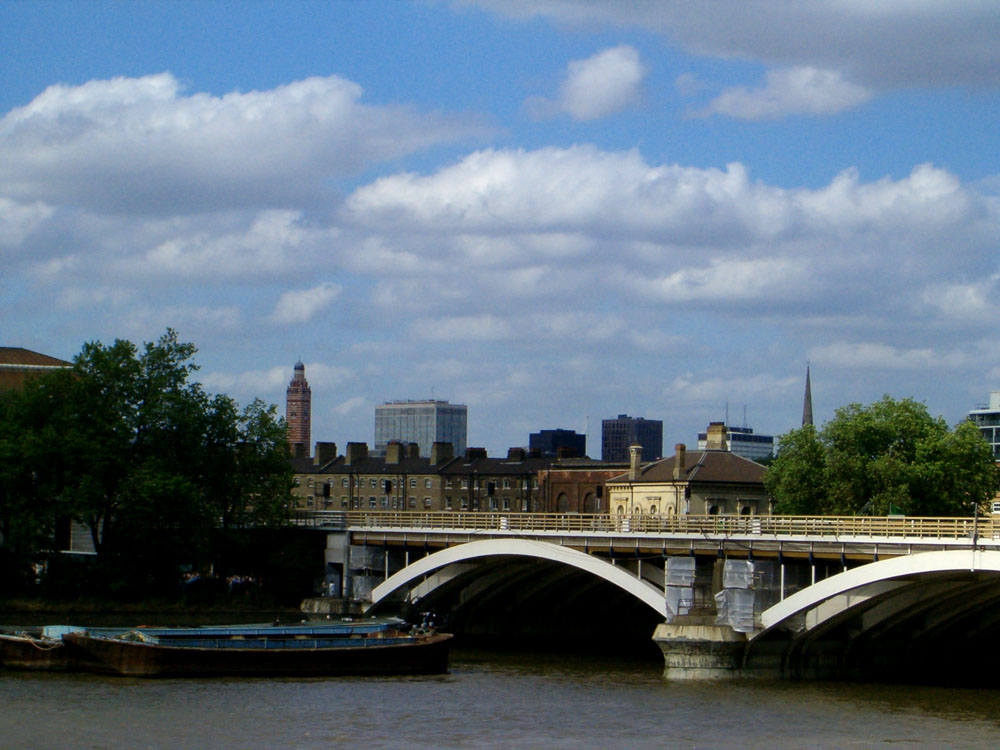 Westminster Cathedral and a part of Chelsea (or may be Pimlico).

I was surprised by the great views from Primrose Hill. You can see the whole London skyline with almost all tall buildings from there.
Unfortunately it was starting to get dark and grey just when we reached the top of the hill.


A closer look towards City (Tower 42, Swiss Re), Docklands (Canary Wharf Tower etc) and St Paul's Cathedral.


A closer look towards Euston Tower, CentrePoint, British Telecom Tower in Camden and London Eye. Even though these structures look very close to each other in this picture, they are actually spread out over different districts, far from each other on different sides of Thames.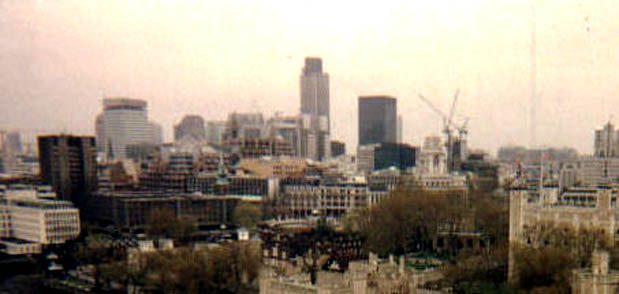 This is how City of London's skyline looked in 1999 from the higher deck of Tower Bridge, without the Swiss Re and many other newer buildings.
To find out more info about London's tall buildings, visit the London part of Emporis.