AZCA Business Area
- Bernabéu Stadium, Hospital de Maudes, Nuevos Ministerios and Paseo de Castellana
AZCA, sometimes called "Madrid's Manhattan", is a business district situated a couple of blocks North of the city center, along Paseo de Castellana, the road that continues through the Kio Towers and then passes the 4 towers of Cuatro Torres, just next to the huge Santiago Bernabéu Stadium. Since it was built in the 70s, the designs of the towers are a bit more traditional and boxy, and also lower, then Cuatro Torres.
But still it is the area with the largest number of skyscrapers concentrated and it looks beautiful in a special way. The area is dominated by the famous Torre Picasso, Madrid's tallest building before Cuatro Torres were built. The area was pretty empty during my visit, except for a few skateboarding youngsters, since I was there on a Sunday. The area has much greenery as a contrast to the concrete towers, especially on Plaza Picasso, the cubistic square that is the heart of the district. In the last part of this page you can read about Hospital de Maudes, a beautiful hidden architectural gem.
AZCA is the short form for the Spanish words meaning "Mixed Association for Compensation of the A Block of the Commercial Area of the Avenue of Paseo de la Castellana". The original conception dates back from 1946, but nothing happend for decades. In the 1970s, the construction finally begun.
2 large disasters have been taking place in the area: In February 2005 the 106m tall Windsor Tower was destroyed by a fire, but a replacing tower is under construction (you can read more about it further below). In 2002 a car bomb damaged Torre Europa and 16 persons.
AZCA district skyline.
Torre Picasso is the tallest, most beautiful and most famous skyscraper in the AZCA district. With a height of 157m it is currently the 5th tallest Madrid building, but it was
the tallest when it was completed in 1989 and held the title as Spain's tallest building until it was overshadowed by Gran Hotel Bali in Benidorm in 2002, and in 2008 by
the 4 skyscrapers forming Cuatro Towers further North.
Torre Picasso was designed by Minoru Yamasaki, who also designed the now destroyed WTC in New York. From beneath you can clearly see it resembles WTC.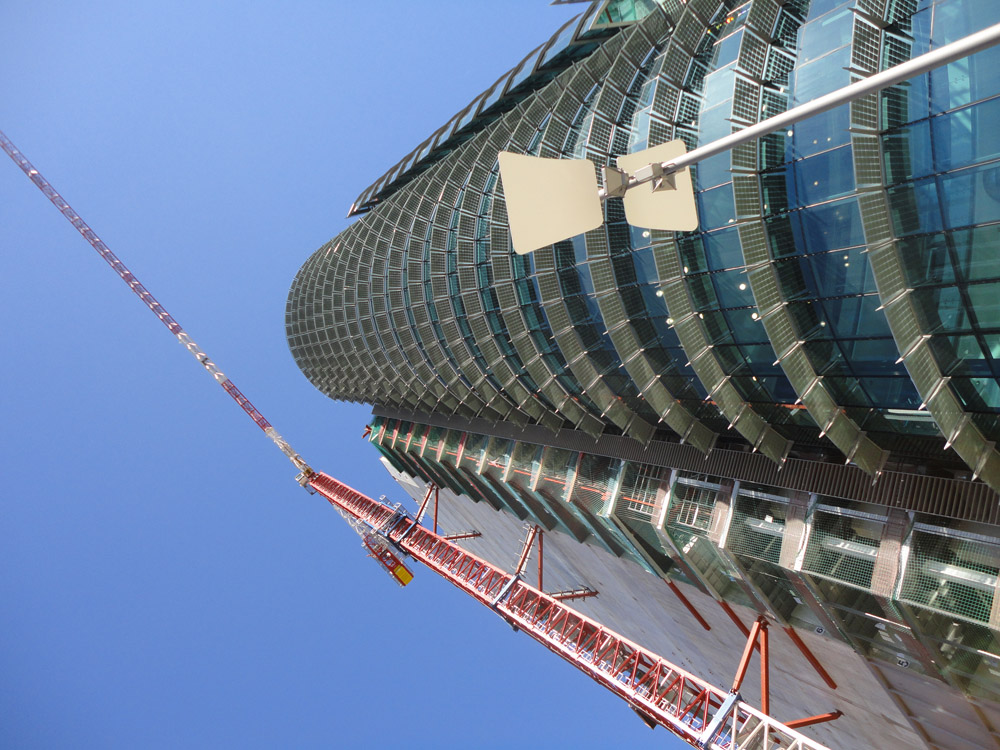 Nueva Edifico Windsor, New Windsor Tower. This circular green glass skyscraper will replace the destroyed Windsor Tower, that was a more boxy tower with a golden
glass exterior. It will be just 94 m tall, 10m lower then the original, and have 21 floors.

In February 2005 the 106m tall the old Windsor Tower from 1979 was destroyed by a fire, one of the worst fires in Madrid. Because of the damage it had to
be torn down. Fortunately noone died, since the building was closed, because of renovation works. It was initially thought that the cause of the fire was an
electrical fault, but evidence from video tapes show that it could have been an arson.
A large brande of the department store El Corte Inglés is just next to the new Windsor Tower that is under construction (2011).
Torre Europa has 30 stories and is 121m tall. The round glass structure with external concrete columns was built between 1975 and 1985. On May 1, 2002 a car bomb
with explosives was set off in front of the Torre Europa, injuring 16 people and damaging the exterior.
Torre Europa and Edificio Masters, seen from the North end of the district.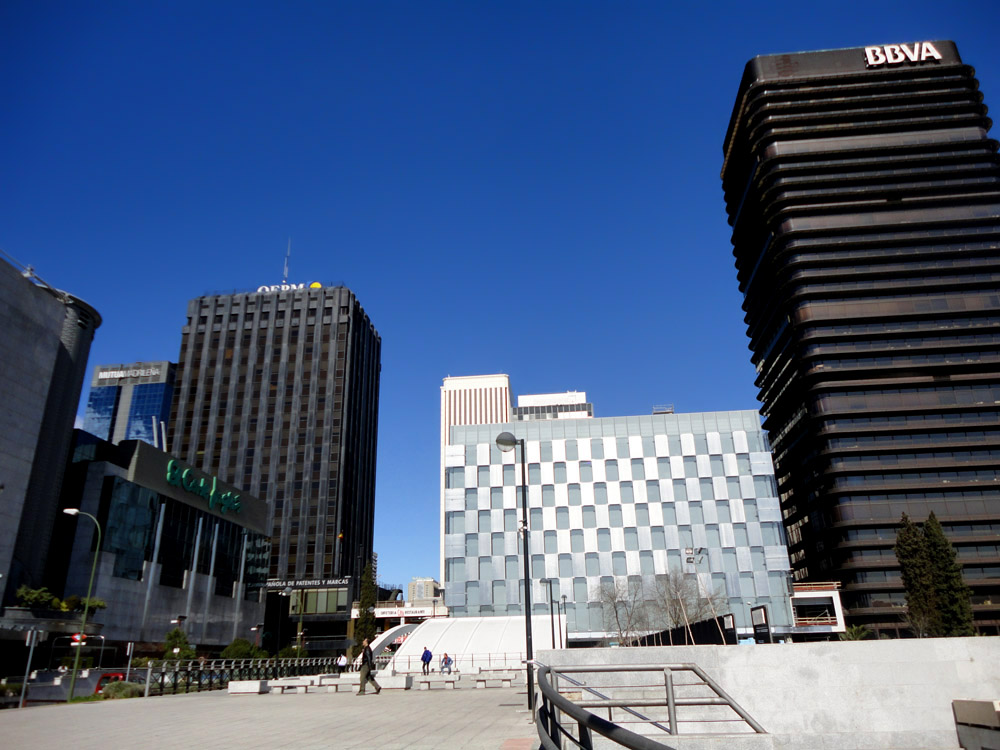 El Corte Inglés and the rust-colored Torre de Bilbao, or BBVA building (right). BBVA stands for Banco Bilbao Vizcaya Argentaria. It was built in 1980 and designed by the
Spanish architect Francisco Javier Saenz de Oiza.

Manhattan looking view with Torre Picasso in the back.
Nuevos Ministerios. A large ministerial complex.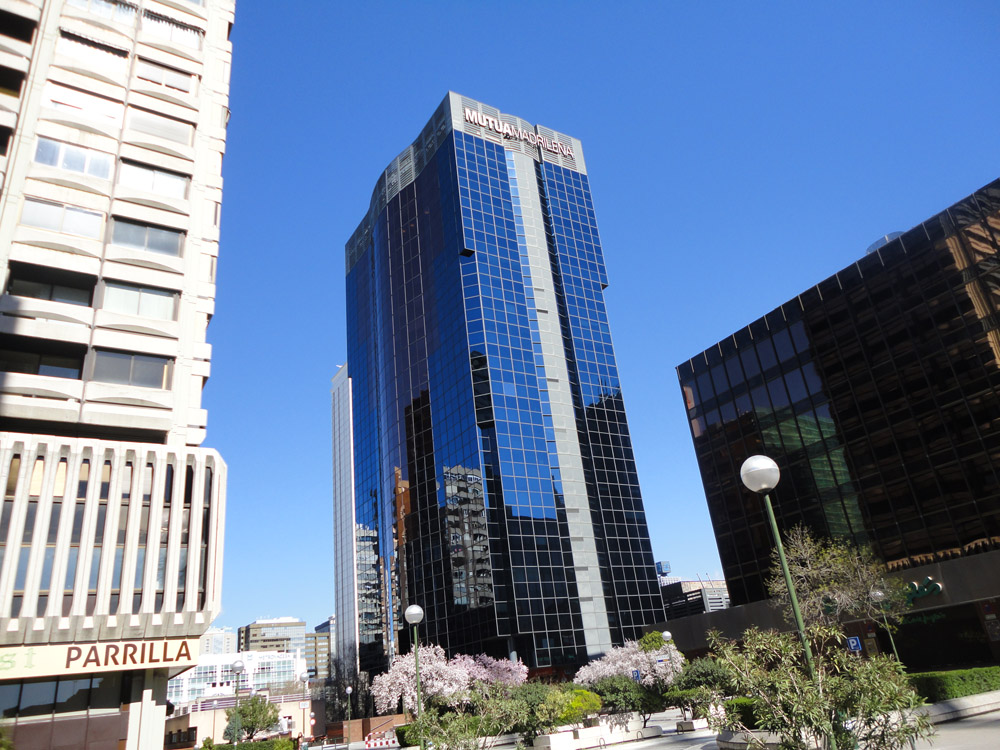 Torre Mahou. A postmodern 29-storey highrise from 1989. It stands 105m tall and has a curvy blue glass exterior.
Nueva Edificio Windsor.
Torre Generali.
Residential buildings just next to the office towers.
Torre Picasso dominating AZCA:s skyline.
Torre Europa behind the greenery.
Plaza de Picasso.
A fountain at Plaza Picasso.
Plaza Picasso, the modern cubistic square named after Picasso, the father of cubism, is the heart of the AZCA district.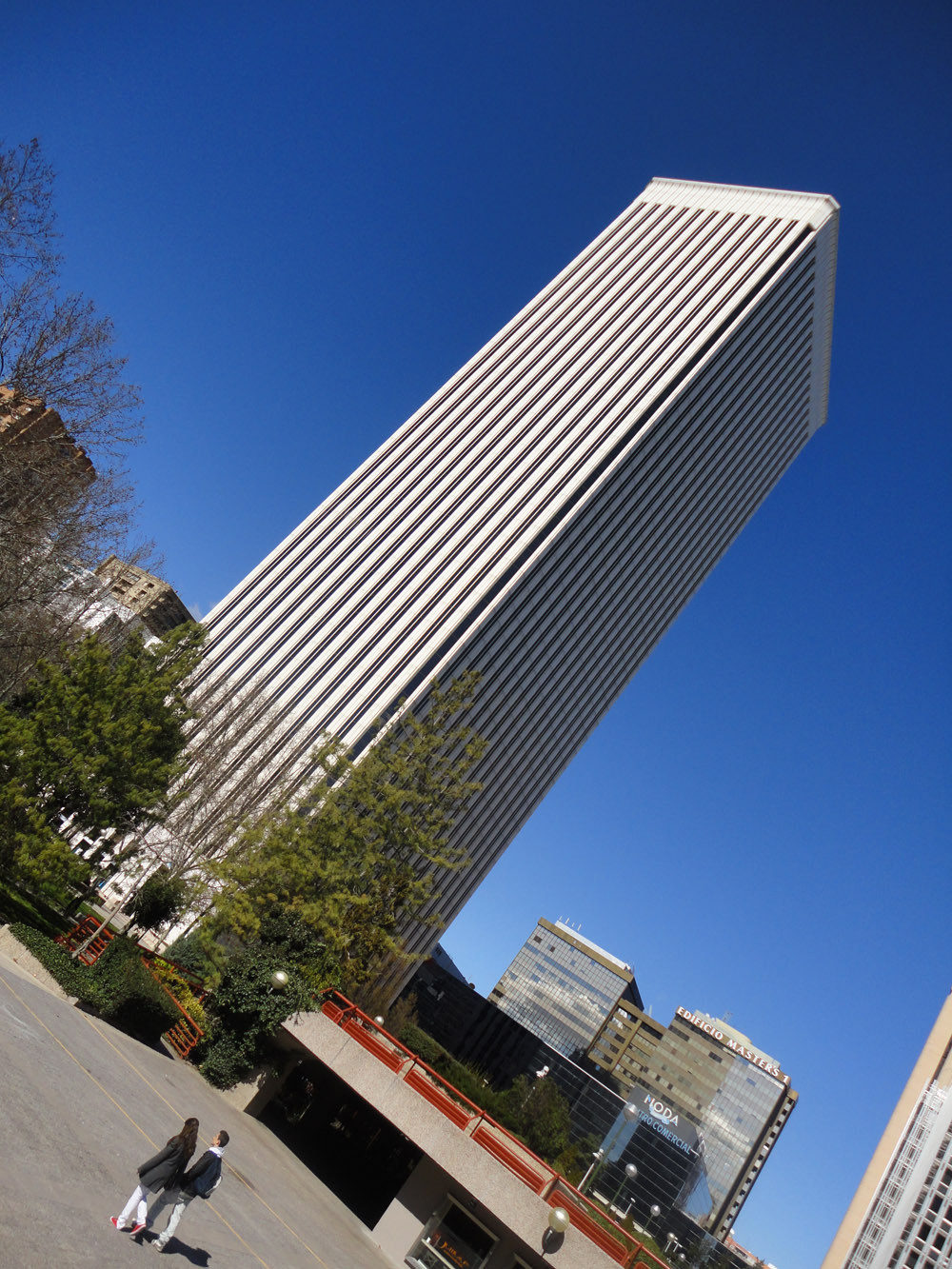 Flowers in front of the half moon shaped base of Torre Picasso.
An aluminium sculpture at Plaza Picasso.
Holiday Inn seen from Plaza Picasso.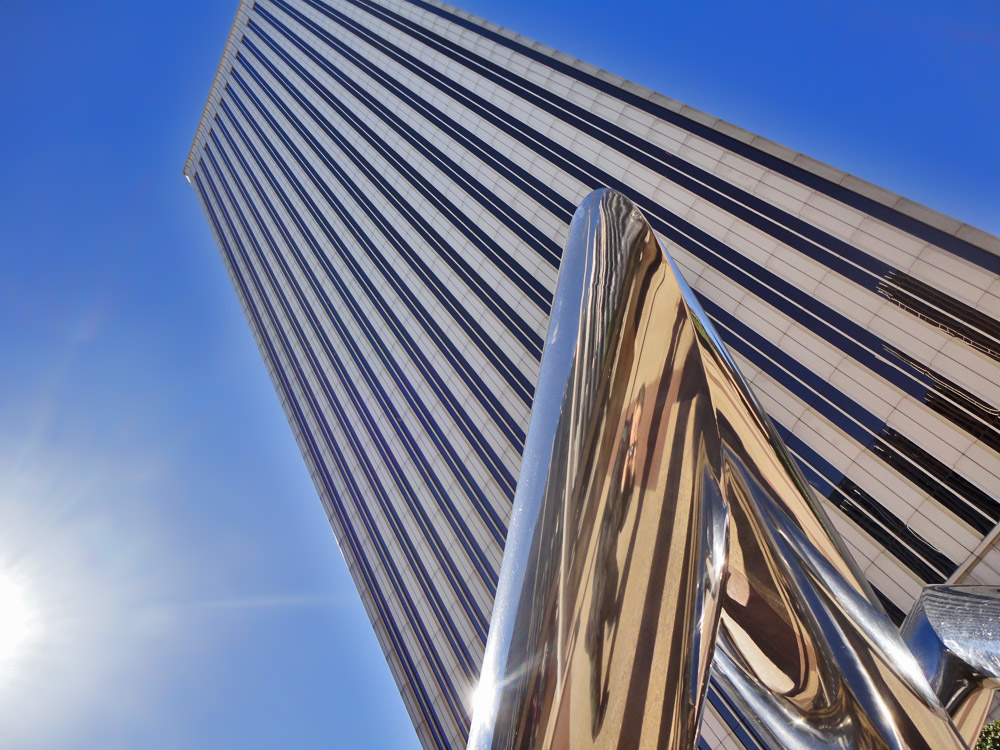 Torre Picasso.
Centro Moda, a large shopping center in AZCA. Everything was closed since it was a Sunday.
AZCA:s skyline from Plaza de Picasso.
Edificio Longview, a 13-storey postmodern office building just across Paseo de la Castellana from AZCA.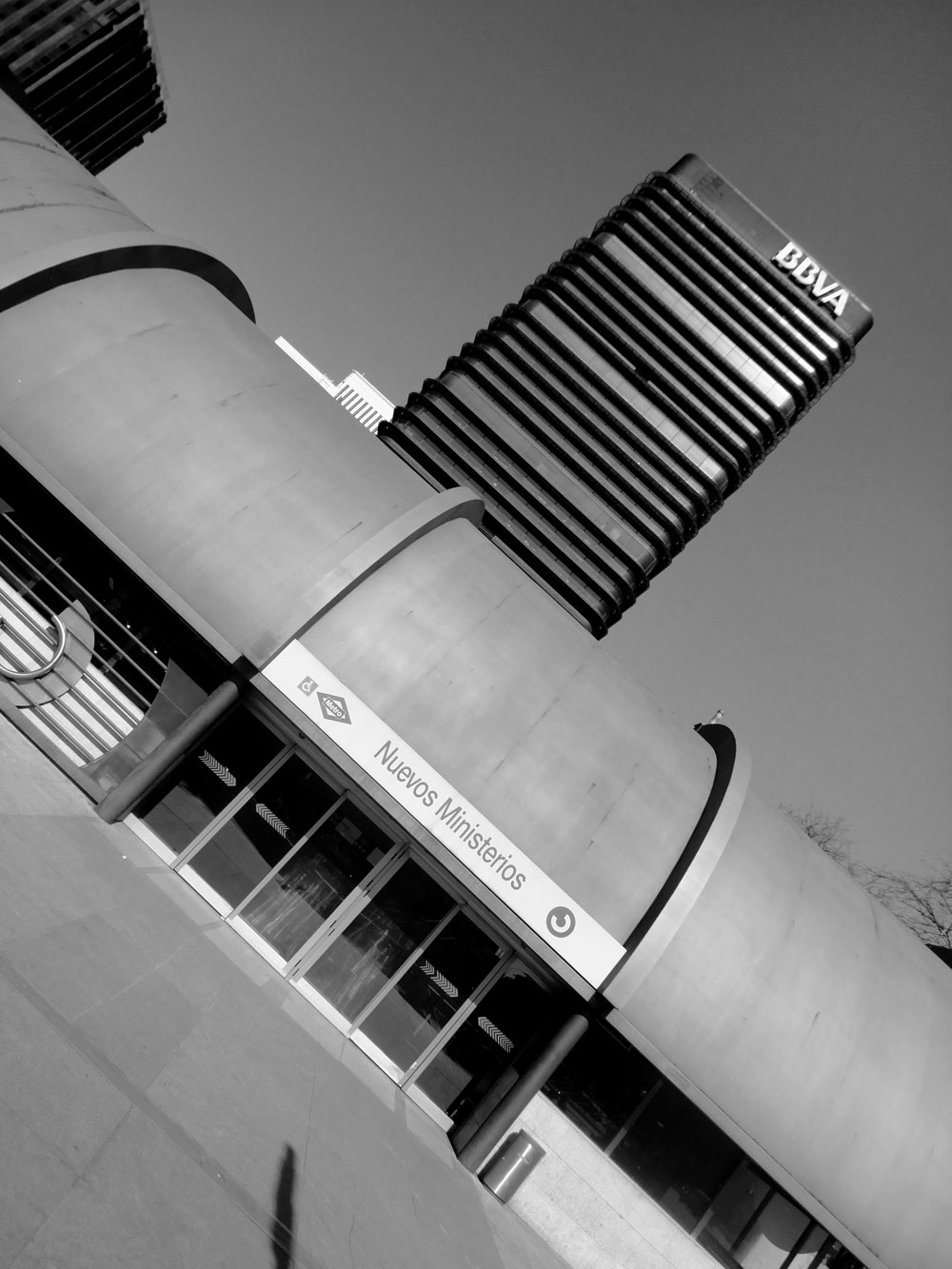 The large metro hub Nuevos Ministerios is where I finally get off, after passing it several times to change trains. Torre de Bilbao pops up beneath.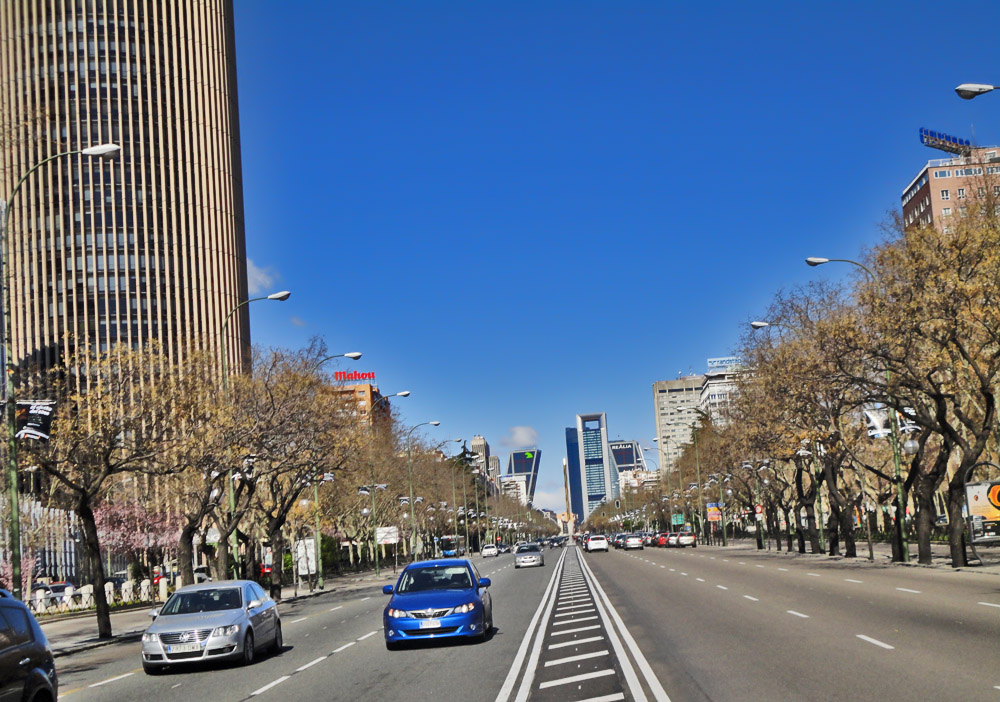 Paseo de la Castellana towards Torres Kio and Cuatro Torres. Torre Europa to the left.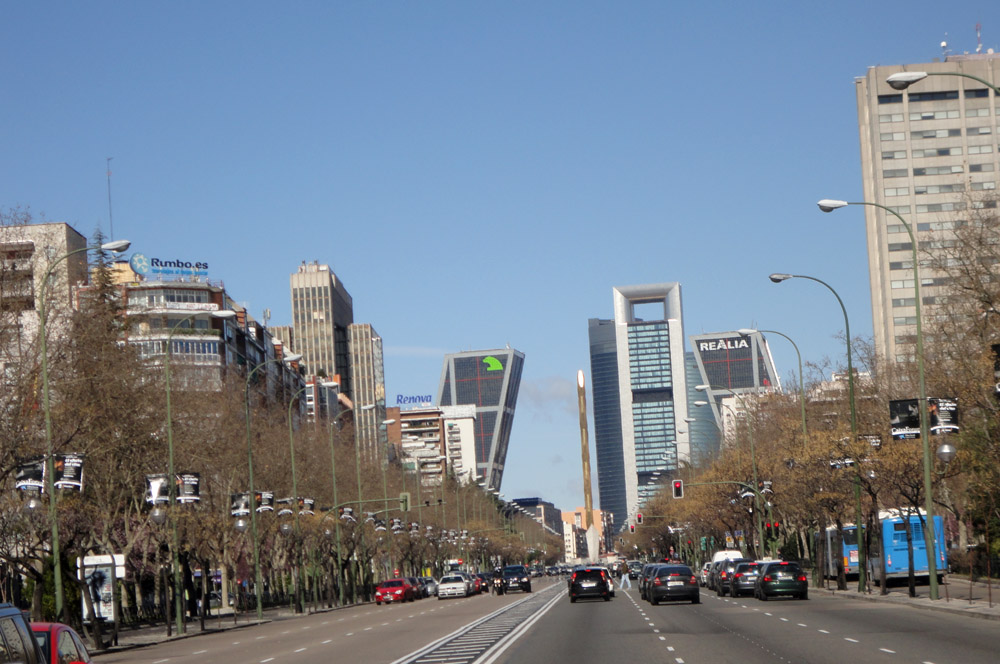 Paseo de la Castellana towards Torres Kio and Cuatro Torres.
Edifcio Euro Centro.
Estadio Santiago Bernabéu, or Bernabéu Stadium. It was inaugurated in 1947 and is the home of one of the world's most famous football teams, Real Madrid.
It has a capacity of 80 354 visitors, all seated. There are plans to reconstruct the stadium, a competition will be held with architects like IM Pei and Calatrava.
Real Madrid's logo on Santiago Bernabéu Stadium. The latest large events taking place on Bernabéu are UEFA Champions League Final in 2010 and the World Cup in 1982.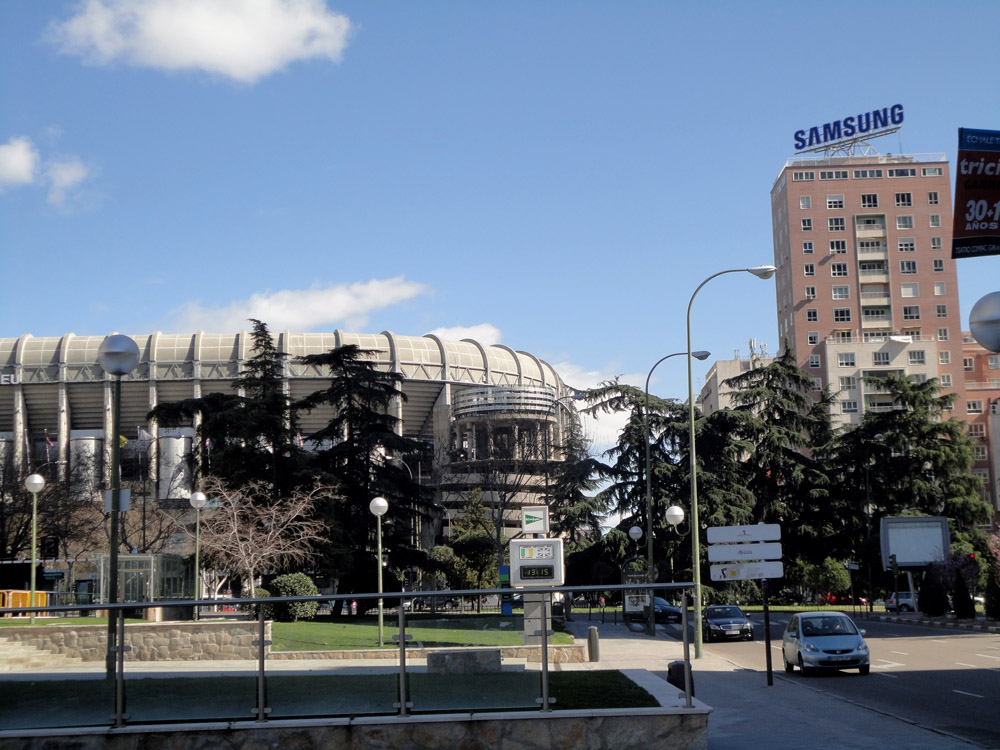 Plaza de Lima with Bernabéu Stadium and Torre de Lima.


Hospital de Maudes and the blocks just North of AZCA: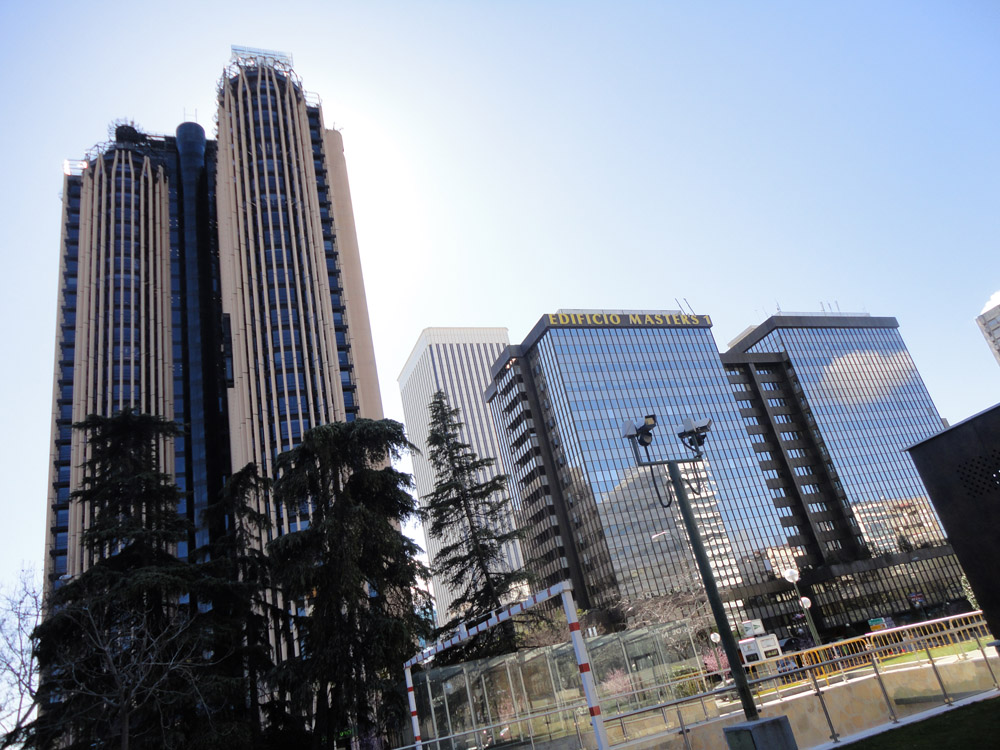 Torre Europa and Edificio Masters.
Palacio de Congresos de Madrid, the Congress Hall of Madrid, decorated by Miró.. On the gable is Sala de Exposiciones de Joan Miro.
A futuristic pavilion.
Avenida del General Perón is on the North side of AZCA.
The cherry trees blossoms already in February, a contrast to the grey concrete buildings.
Private balconies with palms, an unusual sight for a Swede.

Hospital de Maudes. A beautiful hidden gem on the south side of Calle de Raimundo Fernendes Villaverde, 3 blocks west of AZCA.
Hospital de Maudes from 1916 is rarely mentioned in the guide books, may be because it is a bit far from downtown.
It is currently housing the ministry for public works, planning and infrastructre.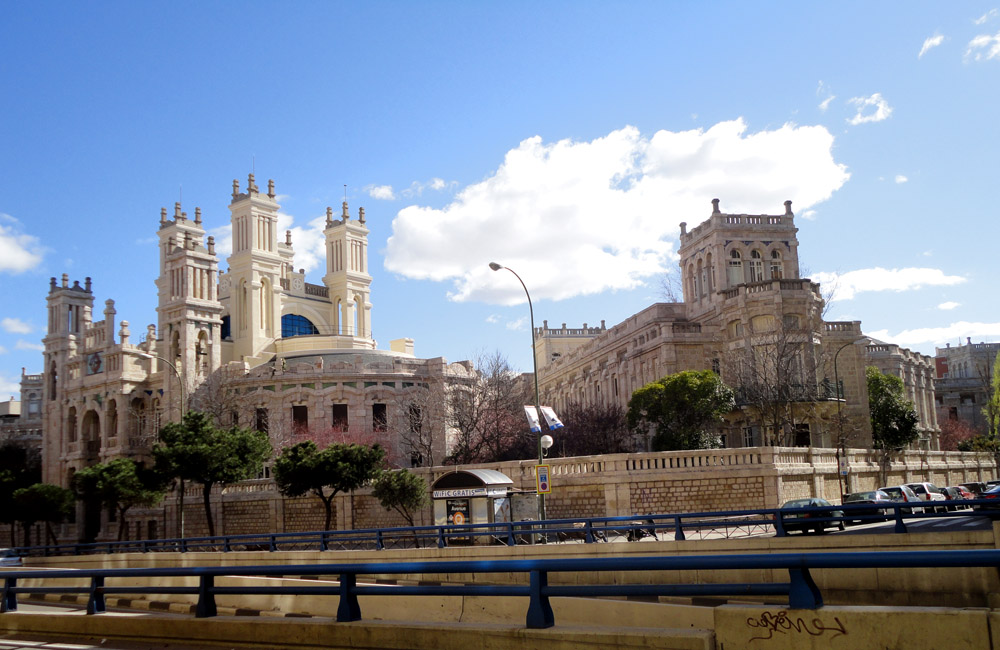 The official name is El Hospital de Jornaleros de San Francisco de Paula. The architect was Antionio Palacios.
Calle de Raimundo Fernendes Villaverde towards New Tower Windsor and Edifico Longview. To the right is Hospital de Maudes.