Turning Torso in Västra Hamnen
Pictures form the rest of Västra Hamnen, excluding Turning Torso, can be found on this page.
Turning Torso is 190m tall and has 54 stories. It is based on a sculpture by world famous architect Santiago Calatrava. TT will mainly serve as Europe´s 2nd tallest residential building (after Triumph Palace in Moscow), but will also include some offices on the lower 10 floors. Since it surpassed Kista Science Tower in Stockholm in June 2004 and it is Scandinavia´s tallest building. The building reached its full height in August 2004 and was officially declared open in August 2005. Also look at the parks and greenery section and the skylines section. , to see more photos of TT, mainly from a distance. Don't forget to also look at the rest of Västra Hamnen incl. some TT shots in this page.
Website: www.turningtorso.com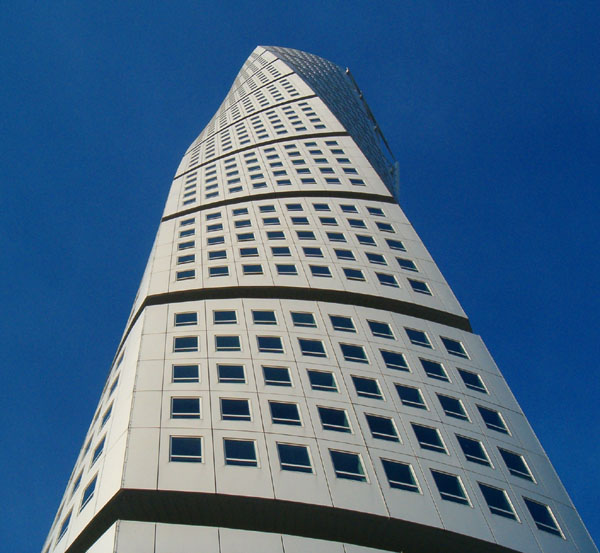 Turning Torso in June 2006. Not only totally completed, the first residents have also moved in.



The first picture of the entrance.


A moat now surrounds the building.

The new parking garage of Turning Torso. Can you spot the Ferrari?
Under construction pictures:

The first picture after the exterior was completed, taken in July 2005.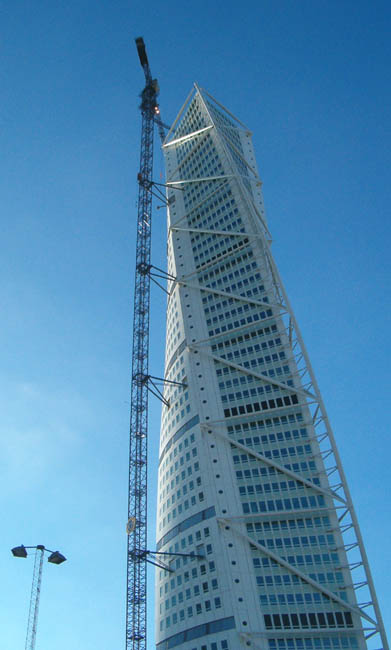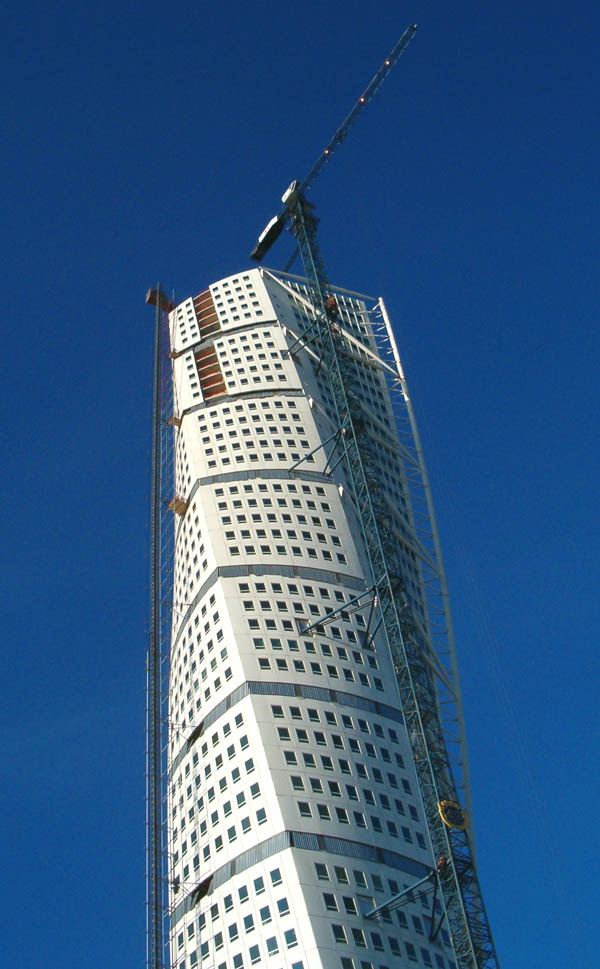 March 2005. The facade is almost completed.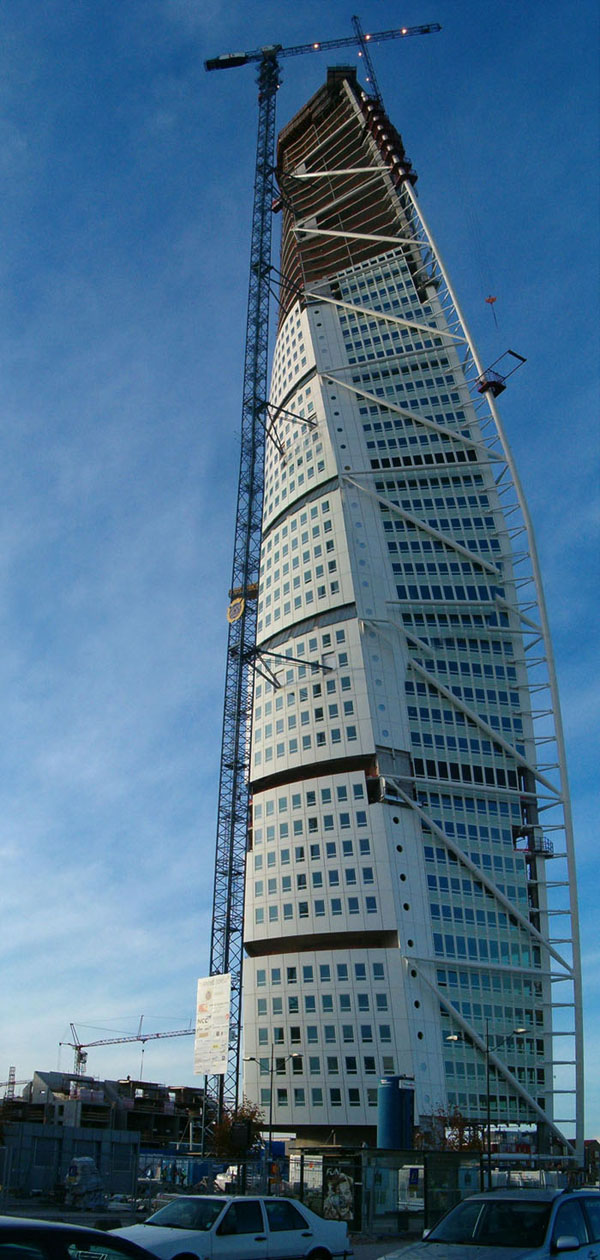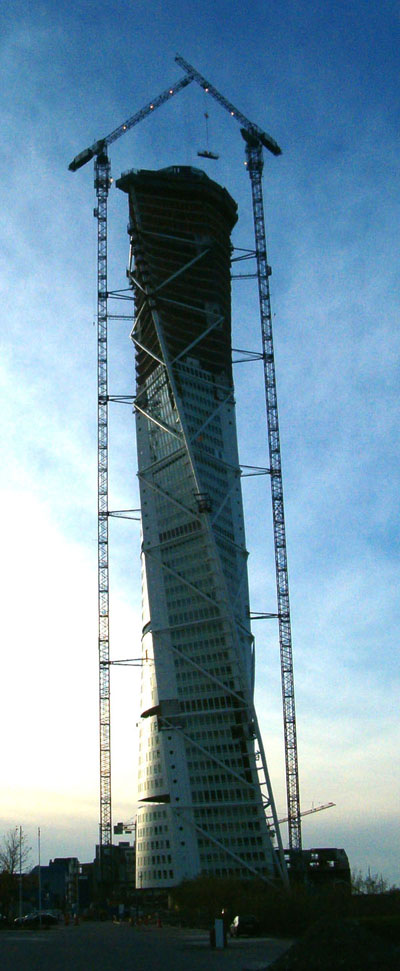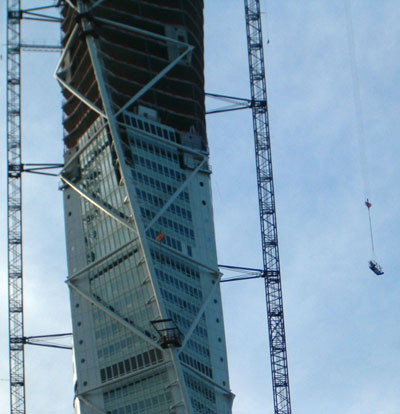 November 2004. Photos taken some weeks after Turning Torso has reached it's full height.

Turning Torso under construction late August 2004.

Construction parts that soon will be mounted on Turning Torso.

The skyline of Västra hamnen (formerly Bo01 exhibition) with Turning Torso seen to the left. Also see the skylines section.
Close up of the Västra Hamnen skyline, dominated by Turning Torso, seen from Ribbersborg beach.

A closer look from the same site while TT was about to be topped out.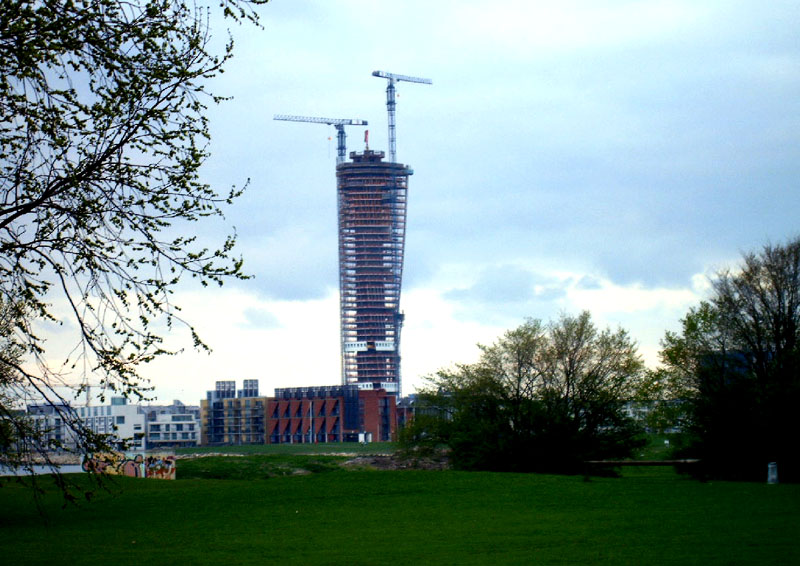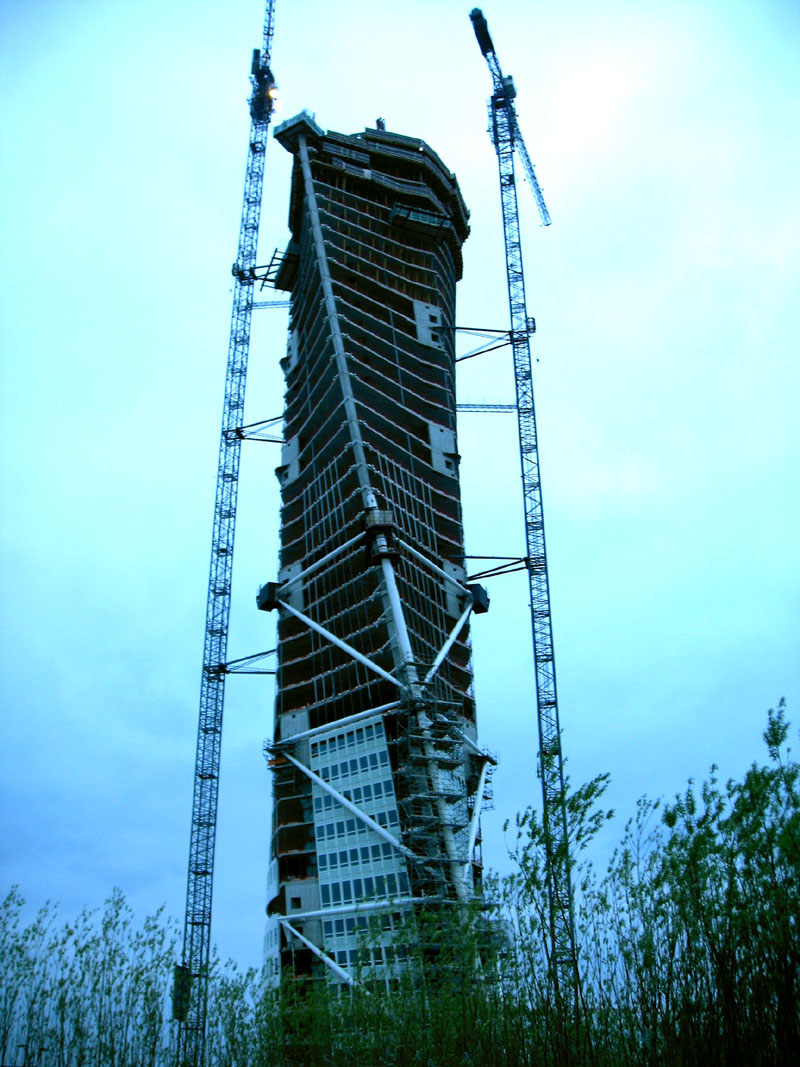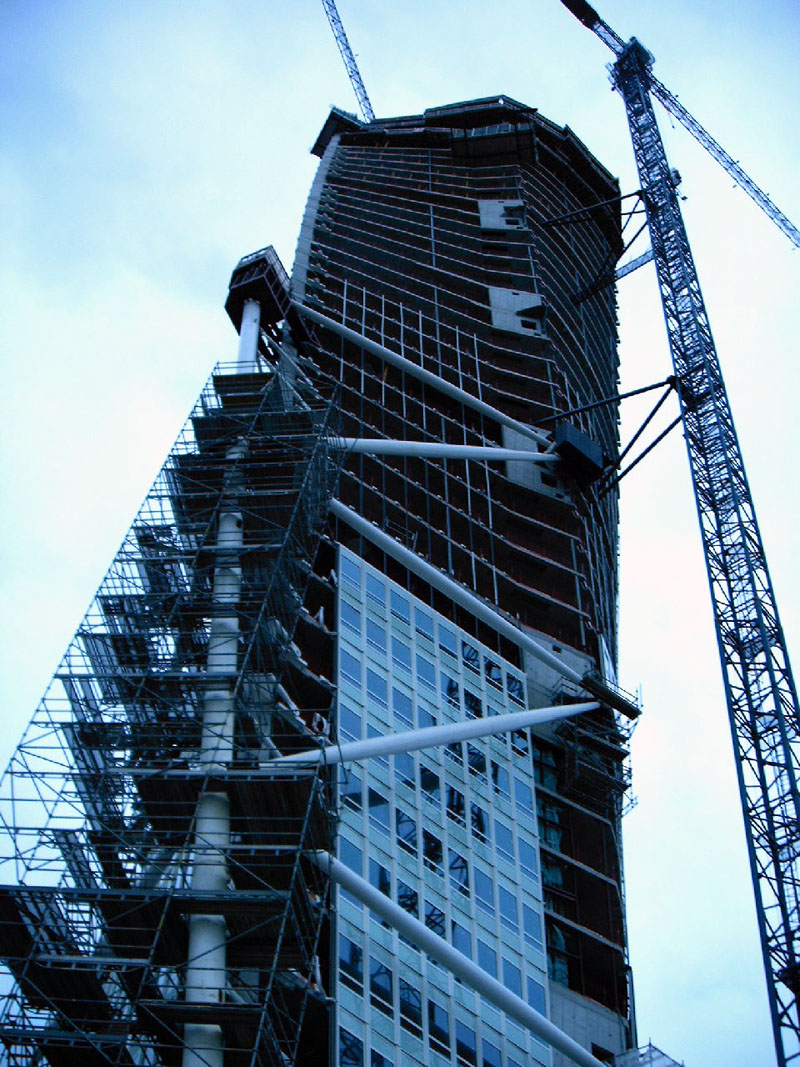 Construction photos of Turning Torso the 4th of april 2004.

Yes, Turning Torso already has an own bus stop!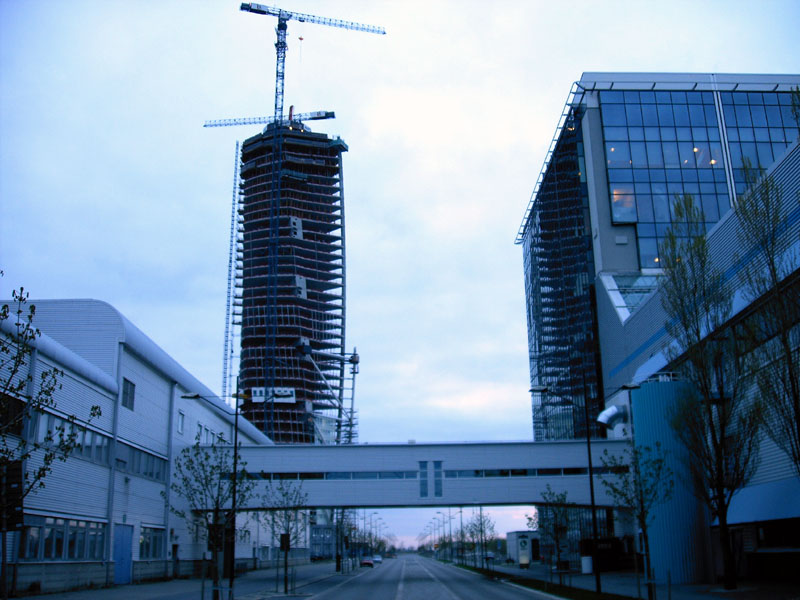 Turning Torso mirroring in a nearby office building.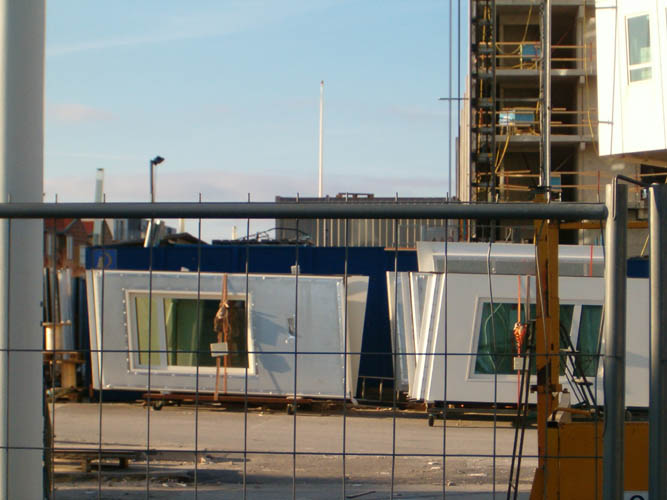 These windows will become part of the building.
Old construction photos: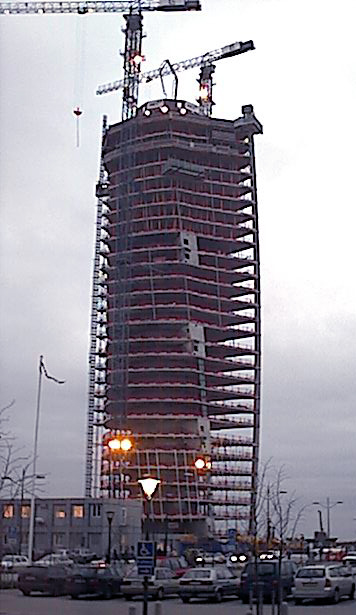 Turning Torso had reached half of its full height December
7th 2003 - 27 floors of 54! That means it is now Malmö´s
and the whole region of Skåne´s tallest residence building.
That was celebrated with great fireworks and a small "party"
in a tent with gingerbread biscuits and "glögg".

Turning Torso under construction in August 2003 in the Bo01 area. When taking these pics TT had 18 floors.
The surrounding buildings are both office and residential buildings.

I discovered this brand new glass sphere recently and find it very cool, especially in front of Turning Torso!

Yes, the mirror is what you think it is!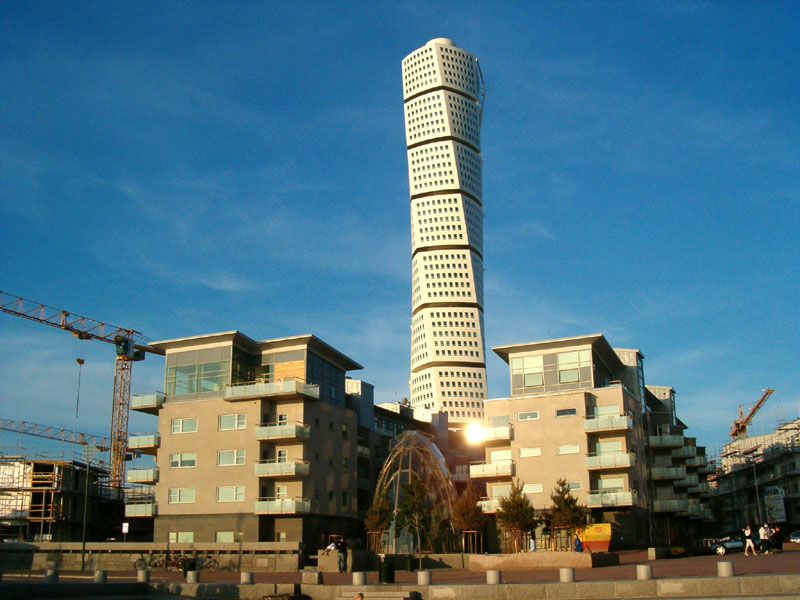 The most exotic view in Sweden?
TURNING TORSO AFTER DARK:
Turning Torso.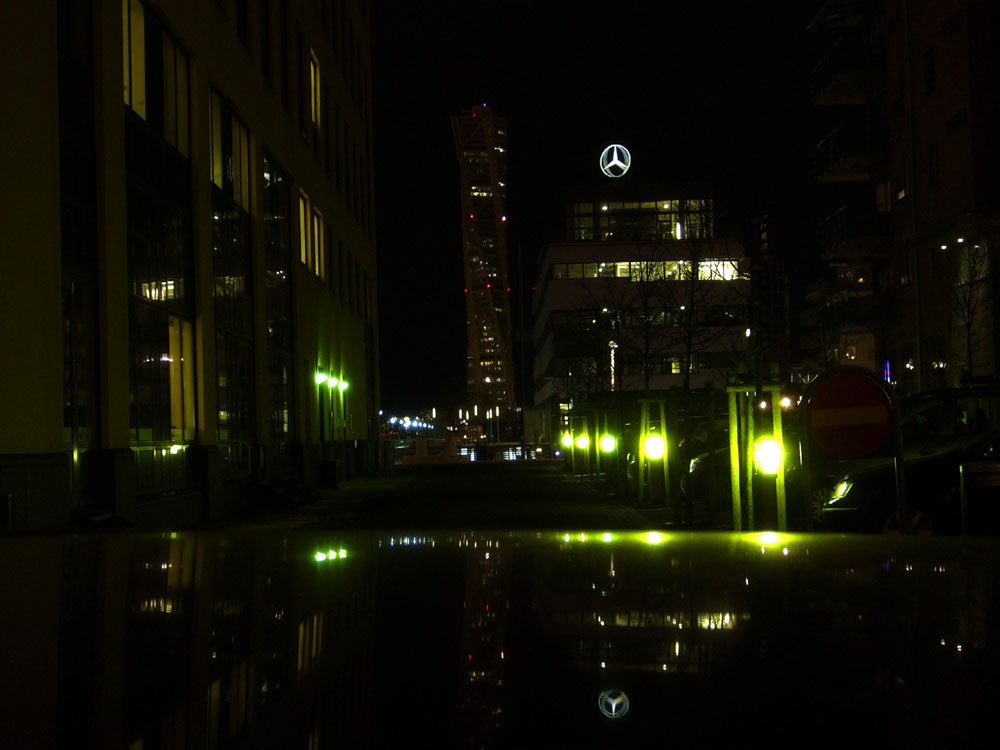 Turning Torso and the Mercedes building seen form Dockan.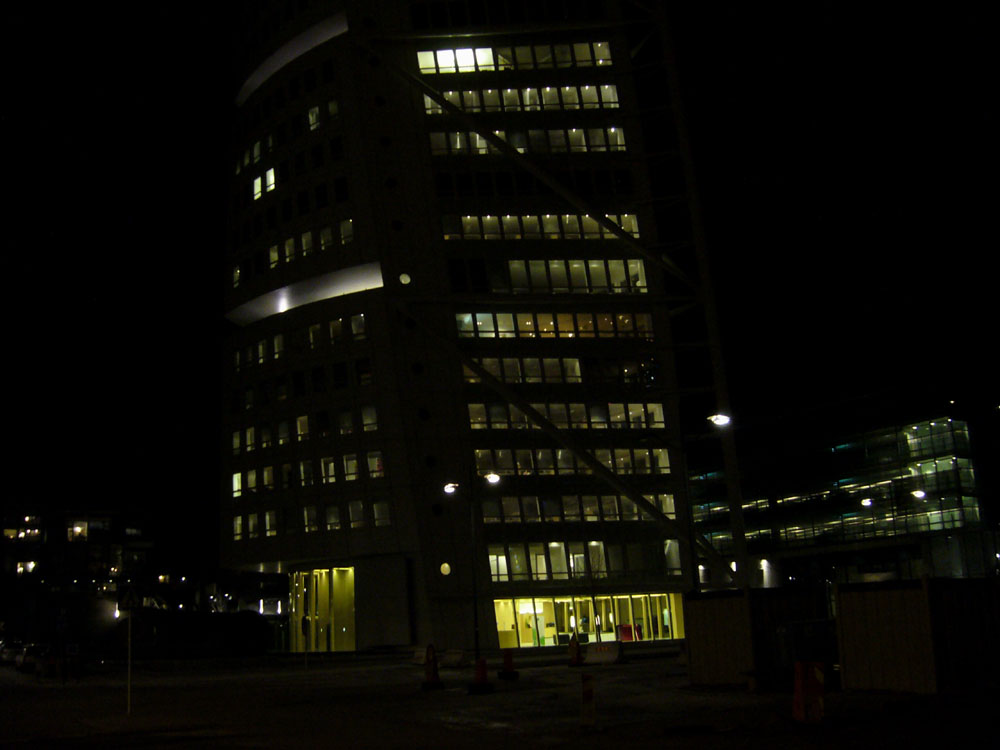 The model of Turning Torso inside the lobby of Turning Torso.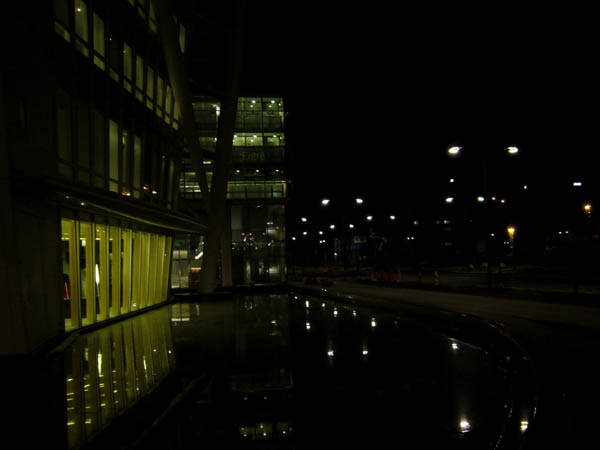 Turning Torso from below.
Turning Torso seen from Ribersborg on a cold winter day.