Brooklyn
Brooklyn is a borough just to the East of Manhattan and East River. It is the most populous of New York's 5 boroughs and the second largest (183 sq km) after Queens. It is the westernmost county on Long Island and was an independent city until 1898. Brooklyn Bridge that connects Brooklyn with Manhattan is New York's most famous bridge. Brooklyn was settled by Dutchmen in 1624 and the name comes from Brooklein. Today Brooklyn is a melting point for many cultures, especially black and hispanic, living in particular neighbourhoods. It has diverse neighbourhood, for example downtown Brooklyn, where some of the tallest buildings are, looks a bit rough, Williamsburg is the cultural area for creative people, while Brooklyn Heights and Greenport are upscale with nice townhousees. Brooklyn has the same boundaries as Kings County, the most populous county in New York State after New York County.
We planned to visit Brooklyn in full, but only visited it very briefly after taking the wrong subway train (actually they suddenly changed route). The reason we didn't see more, like the historic Brooklyn Heights with its town houses and views of Manhattan, Coney Island, the nice Prospect Park or taking the walk over Brooklyn Bridge, is that we had to leave New York a few days earlier because of the threat from the hurricane Irene!
Population: 2 600 000. Part of New York City since 1898.
Downtown Brooklyn:
Brooklyn Borough Hall (the white building with the golden statue on top) was completed in 1849 as Brooklyn's City Hall. Brooklyn was once the 4th largest city in the USA.
The tall 37-storey building is Montague-Court Building from 1927.
Downtown Brooklyn with the Borough Hall across Adams Street. To the right is the west edge of Columbus Park.
Fulton Mall, a central shopping street. I think it looks more similar to Los Angeles then Manhattan.
1 Pierrepoint Plaza. 19-storey postmodern highrise from 1987 in downtown Brooklyn.
This is The Brooklyner, a 51-storey, 157 m tall skyscraper built in 2010. It is the tallest building in Brooklyn, here seen from the rough looking crossing of Pearl St and Fulton Mall.
We had diner at this rough Wendy´s at the intersection of Fulton St and Pearl St. To the left is Renaissance Plaza/Marriott Hotel from 1998.
Fulton Mall with its many stores and a bit rough facades.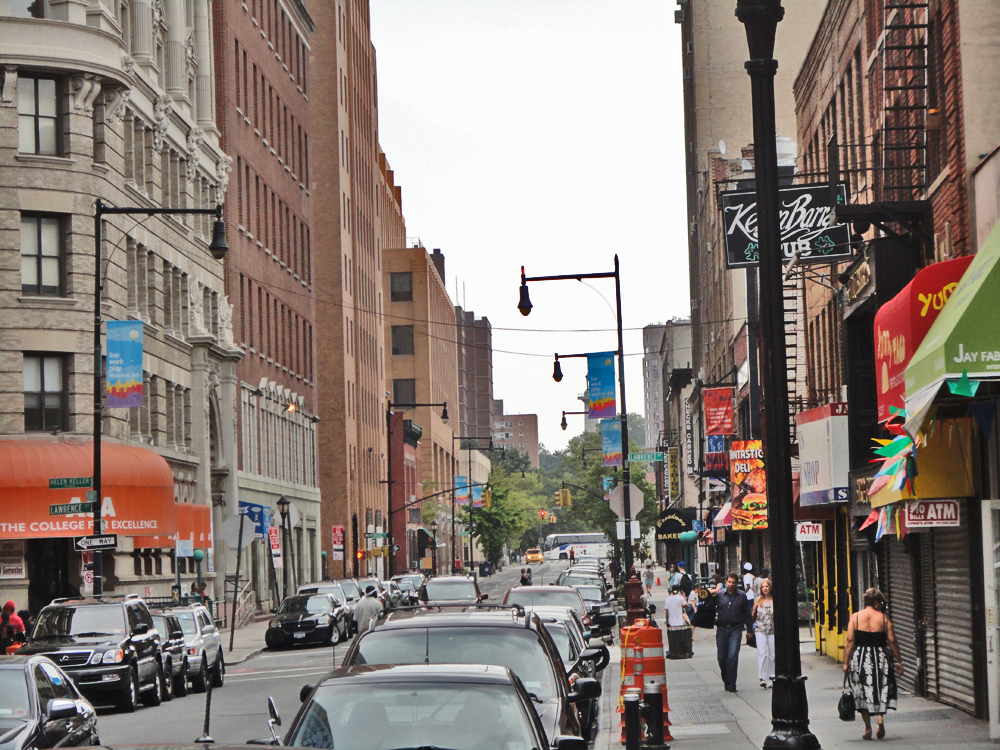 Diverse architecture in downtown Brooklyn.
Brooklyn Bridge:
Brooklyn Bridge is one of the oldest suspension bridges in the USA. It was completed in 1883 and connects the boroughs of Manhattan and Brooklyn. It spans the East River and was designed in a neo-gothic style. It is featured in an endless number of movies. It is a National Historic Landmark and one of New York's most famous symbols. It was designed by John August Roebling. There is a walkway over the bridge.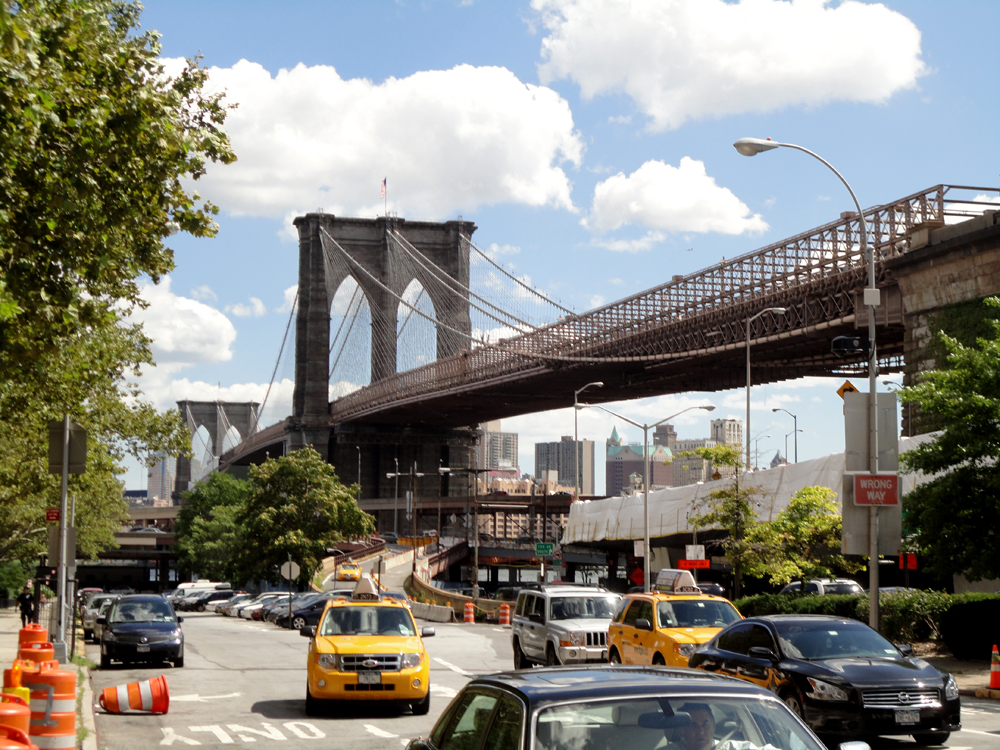 Brooklyn Bridge was the longest suspension bridge in the world when it opened in 1883. It is 84m tall. Here seen from Manhattan.
3 bridges: Brooklyn, Manhattan and Williamsburg bridges. To the right is Williamsburg in Brooklyn and to the left is Lower Manhattan.
Brooklyn skyline, seen from Manhattan:
Downtown Brooklyn and Brooklyn Bridge, seen from South Street Seaport across East River.
Downtown Brooklyn, close-up. Note the roads that goes in 4 different levels. The highest level has a promenade with views of Manhattan.
Water taxi on East River seen from South St Seaport, with downtown Brooklyn in the background.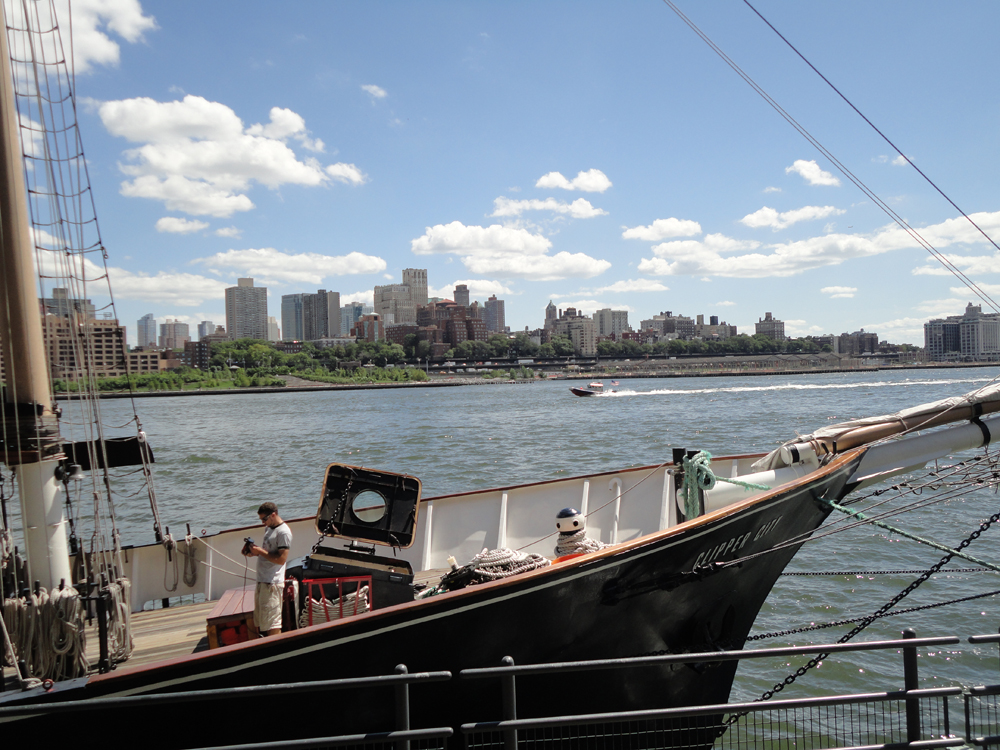 A black ship with the skyline of Brooklyn Heights in the background.
View towards Brooklyn Heights.
Watchtower's headquarters next to the Brooklyn Bridge.
Downtown Brooklyn has some classic looking skyscrapers, but many new ones are under construction. The beige older building in the middle is the 30-storey St George Hotel from 1930.
Downtown Brooklyn seen from Lower Manhattan.
Brooklyn behind Trump World Tower on Manhattan. Seen from GE Building.
Brooklyn skyline seen from Staten Island ferry:
Brooklyn Bridge.
New York skyline seen from Staten Island, from the left: Jersey City, Liberty Island (Statue of Liberty), Midtown Manhattan, Lower Manhattan, the bridges and Brooklyn.