Bryant Park
- Public Library, Bank of America Tower, American Radiator Bldg, Fifth Avenue, West 42nd Street
Bryant Park is a small, but beautiful park in Midtown Manhattan, surrounded by skyscrapers. It is in my opinion one of New York's nicest, since there are tables and chairs that are available to borrow for lunch or breakfast. It also features a great lawn and poetry by W.C. Bryant can be read in the park. Bryant Park, a privately managed public park, is situated between Fifth Avenue and Avenue of the Americas and 40th to 42nd Streets. Times Square is only one block to the west of the park. Sometimes you can see people practice yoga and tai chi here, as well as office workers having lunch.
Some of the tables and chairs in café style that can be borrowed for free.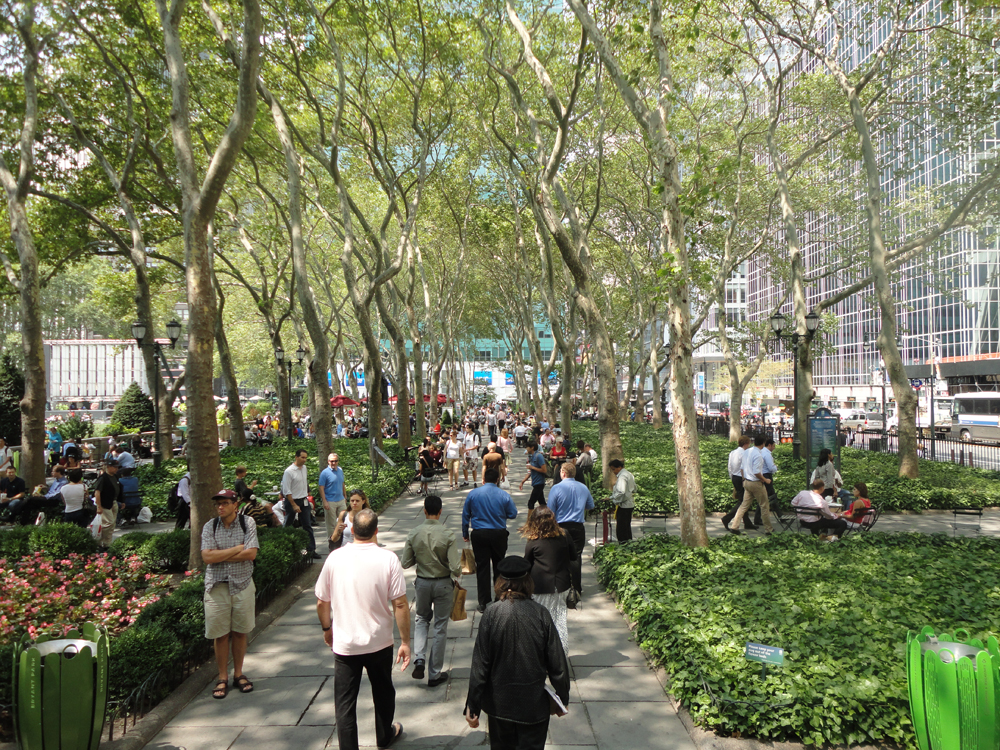 It is hard to believe today that in the 1970s the beautiful Bryant Park was filled with drugdealers. In 1982 the park was cleaned and security increased. Hedges were tored and the ground was lowered to nearly street level in 1987. I photographed one family here, something they were pleased with.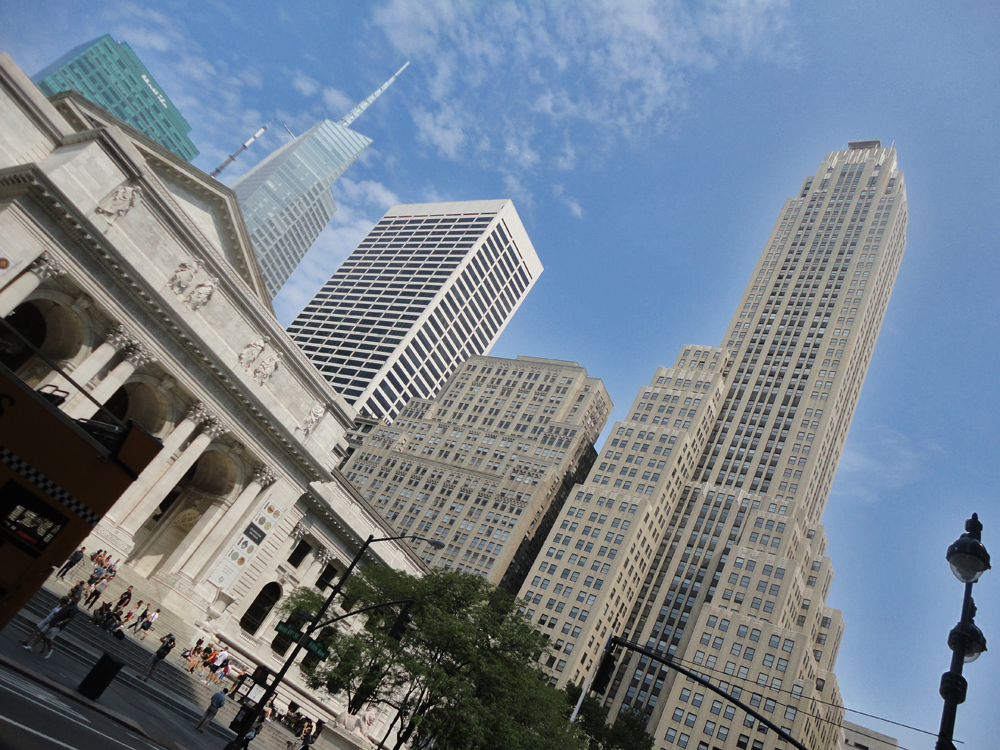 The building to the right is 500 Fifth Ave, a classic looking skyscraper from 1931 with some art deco elements. It has 58 floors and is 216m tall.
New York Public Library:
This is North America's largest public library. The building is called Stephen A. Schwarzman Building and was completed in 1911. We visited this classic library several times, because it has free internet and we needed to find information about the hurricane Irene. Because of that the mood was a bit similar to the ones in disaster movies, such as Day after tomorrow and Escape from New York, where this building has been featured. It has also been featured in The Adjustment Burea, Ghostbusters, Planet of the Apes and many more movies.
Bryant Park seen from Fifth Avenue with New York Public Library. The skyscraper with the spire is Bank of America Tower.
This lion sculpture, now a famous NY symbol, stands in front of New York Public Library. It is one of 2 that guards the library on each side of the entrance.
The entrance to the Art Beaux style library contrasts with the gleaming skyscrapers that surround it.
NY Public Library's entrance hall resembles historical museum buildings in Europe with its large walls, sculptures and columns, all in with marble.
A LEGO version of the lion lies just at the main entrance. A guard looks inside your bag when you leave.
The library was drawn by Carrère and Hastings.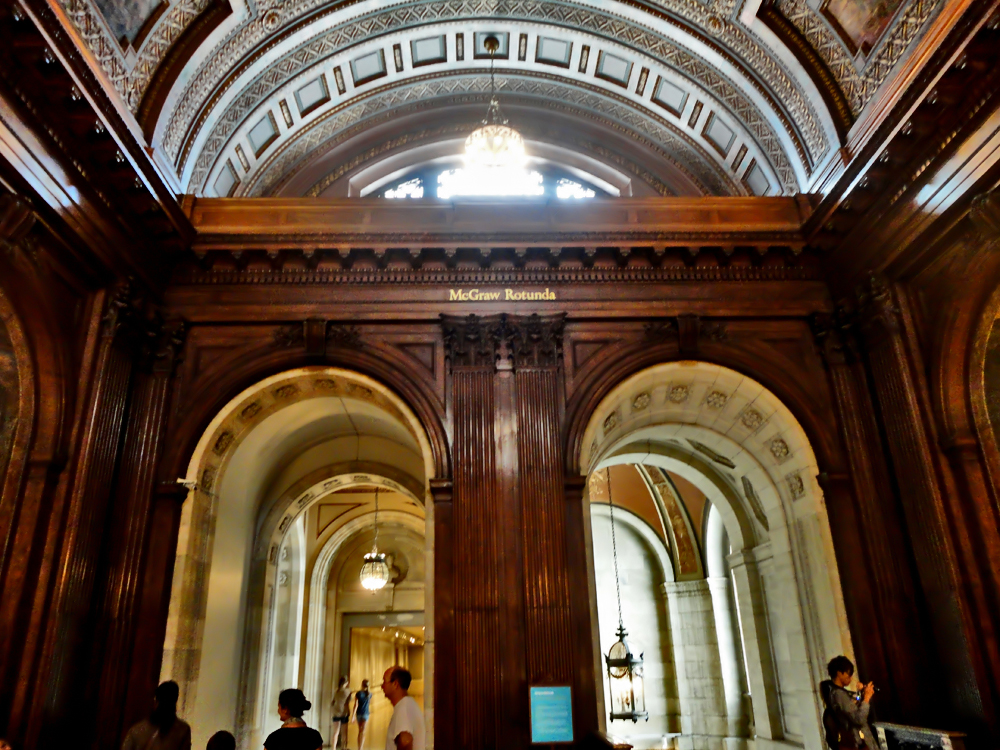 McGraw Rotunda with its high ceiling and wooden panels.
This is the magnificent 90.5m long Rose Main Reading Room where we used internet, mostly to find information about the threat from hurricane Irene unfortunately. It is also featured in some sci-fi and disaster movies, such as "The day after tomorrow" and "The adjustment bureau". It has large chandeliers and a huge painting on the roof.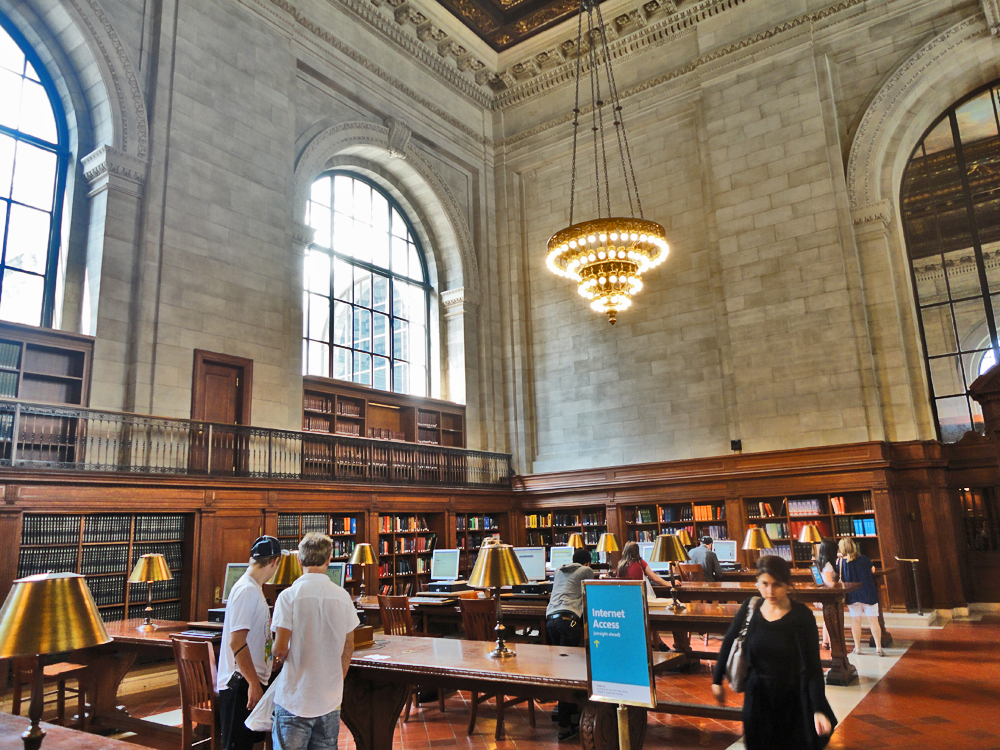 Rose Main Reading Room has free internet access (though it is a bit slow).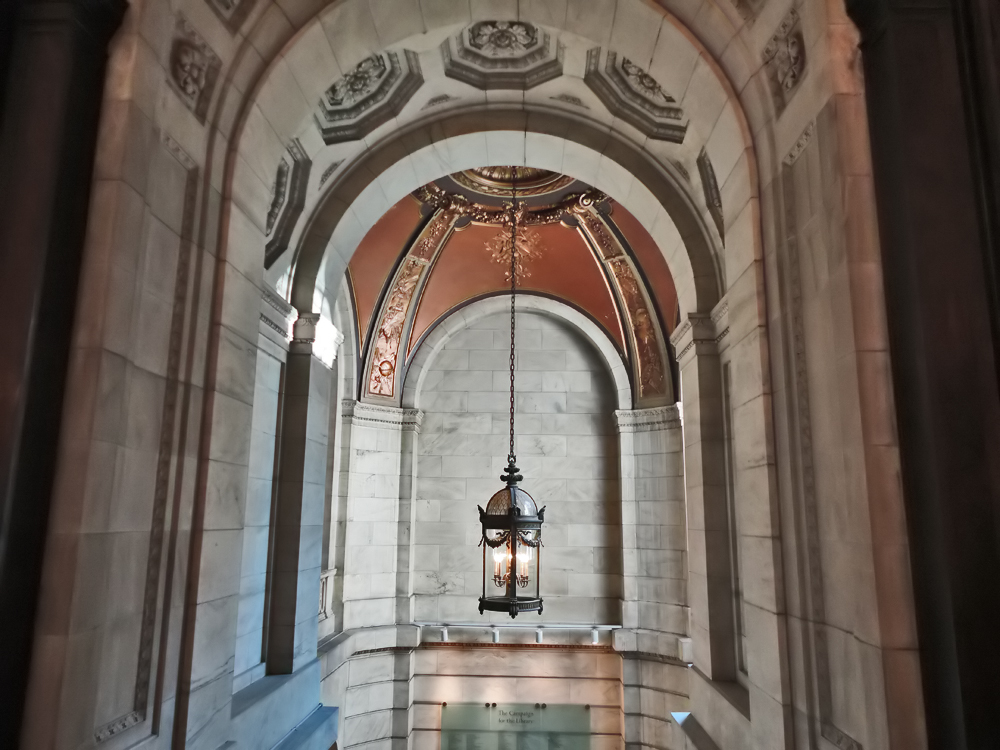 The library's Schwarzmann Bldg has been a National Historic Landmark since 1965. This is the stairway hall.
Looking towards Fifth Ave/E 42nd st highrises from the entrance to Public Library.
Bank of America Tower: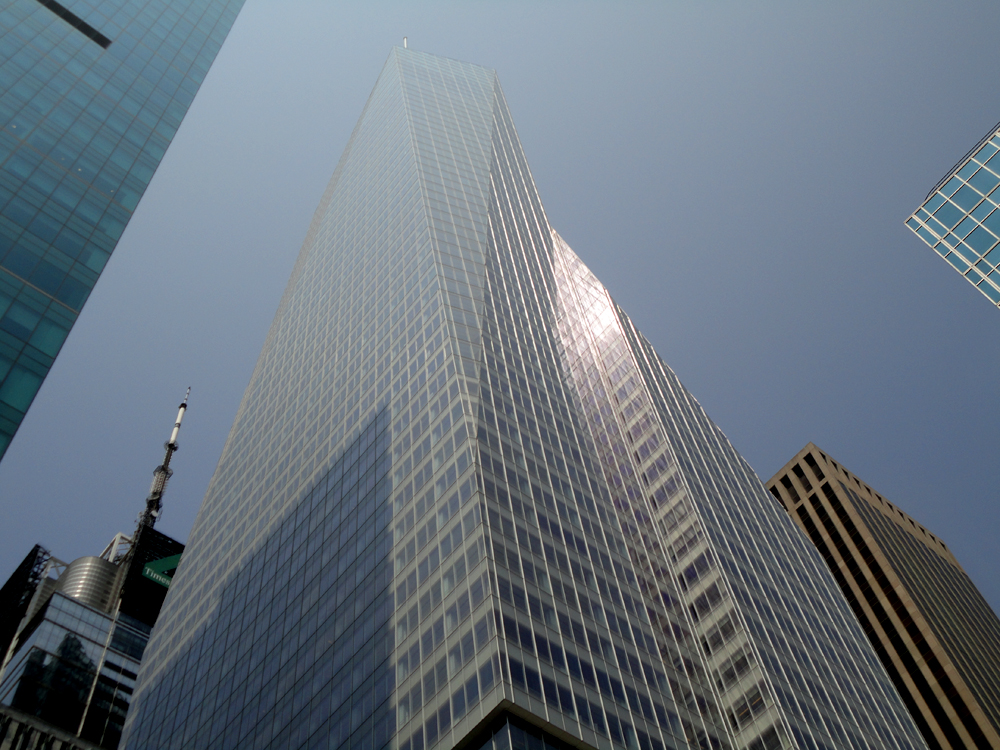 Bank of America Tower, or One Bryant Park as it initially was called is one of New York's newest, and tallest skyscrapers. It was completed in 2009. It is currently (2011) the 2nd tallest building in New York, that reaches a height of 365m. It is also the 2nd tallest counting roof height (288m).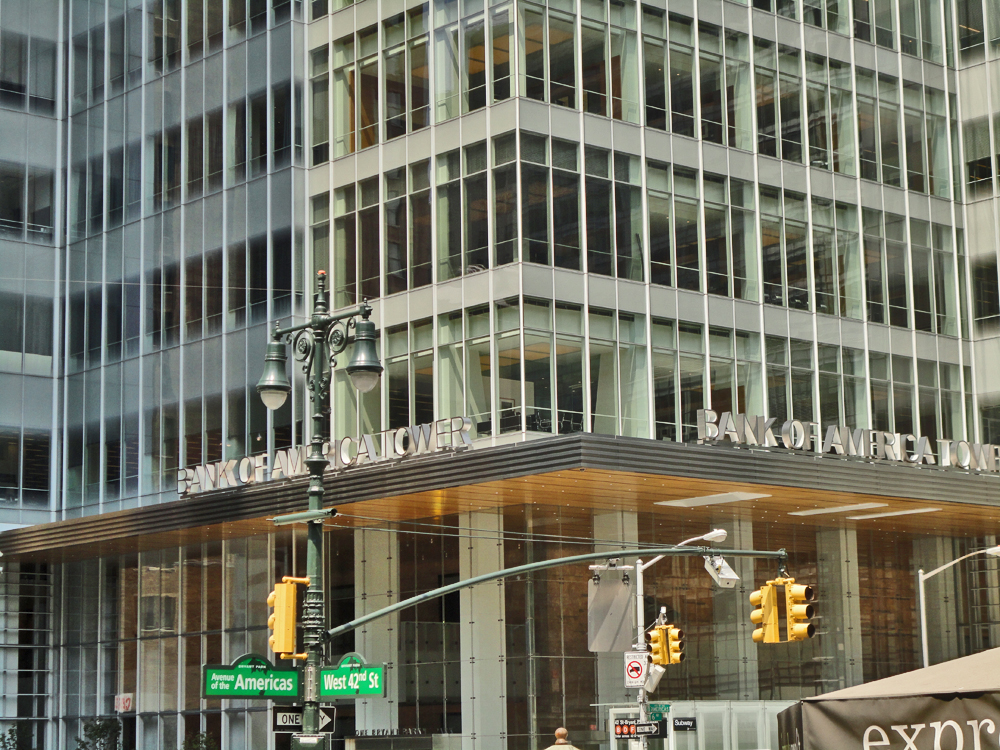 Only Empire State Bldg is taller, but when the new WTC is completed at least 2 of the new buildings will be taller. The architects were Cook+Fox and Adamson Associates. It is LEED certifiated, that means it is considered to be the world's greenest skyscraper! A wind turbine on top generates electricity. The glass facade is lightly green toned.
Bank of America Tower and WR Grace Building.
Spotting Empire State Bldg through the summer leaves of Bryant Park.
Chrysler Building seen from Bryant Park.
The Great Lawn. Looking towards Times Square.
People relaxing on the backside of the beautiful Public Library in Bryant Park. The statue is of William Cullen Bryant, the journalist and romantic poet that the park is named after.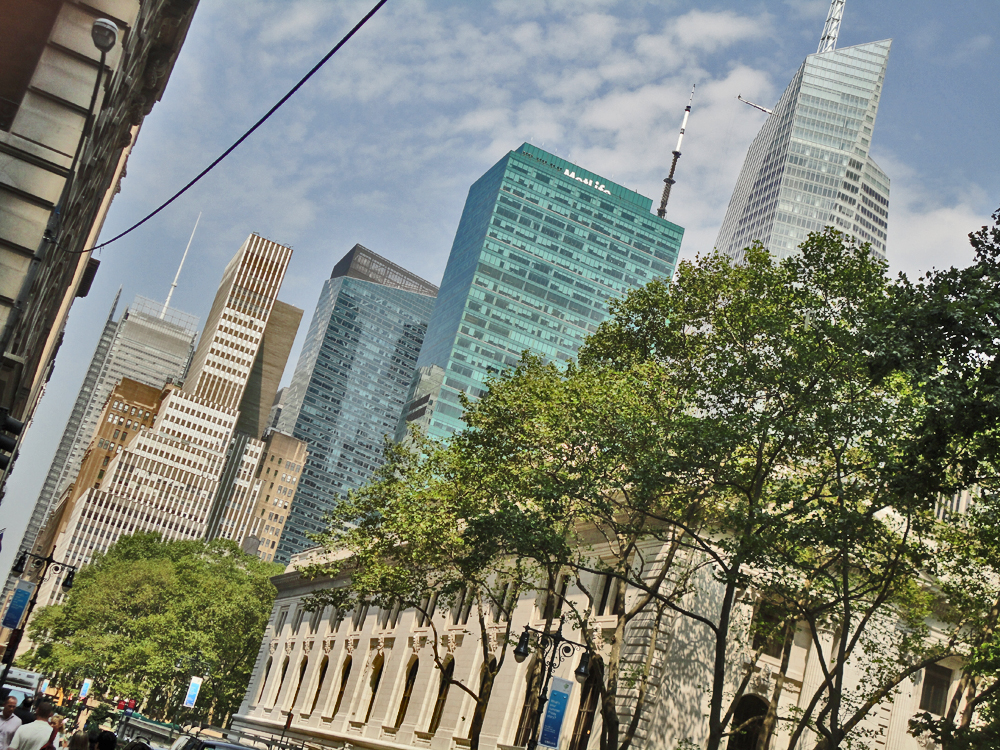 Bryant Park from Avenue of the Americas.
Fifth Avenue: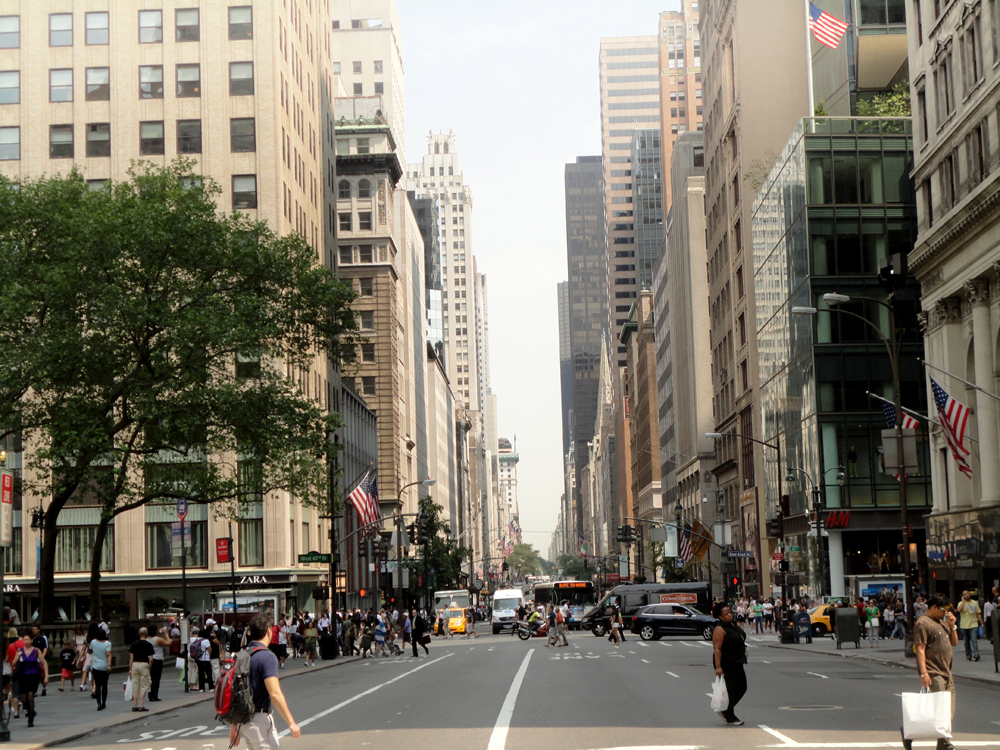 Fifth Ave, looking North towards Central Park. This is the border between East and West 42nd St. H&M and Zara has their stores in this intersection.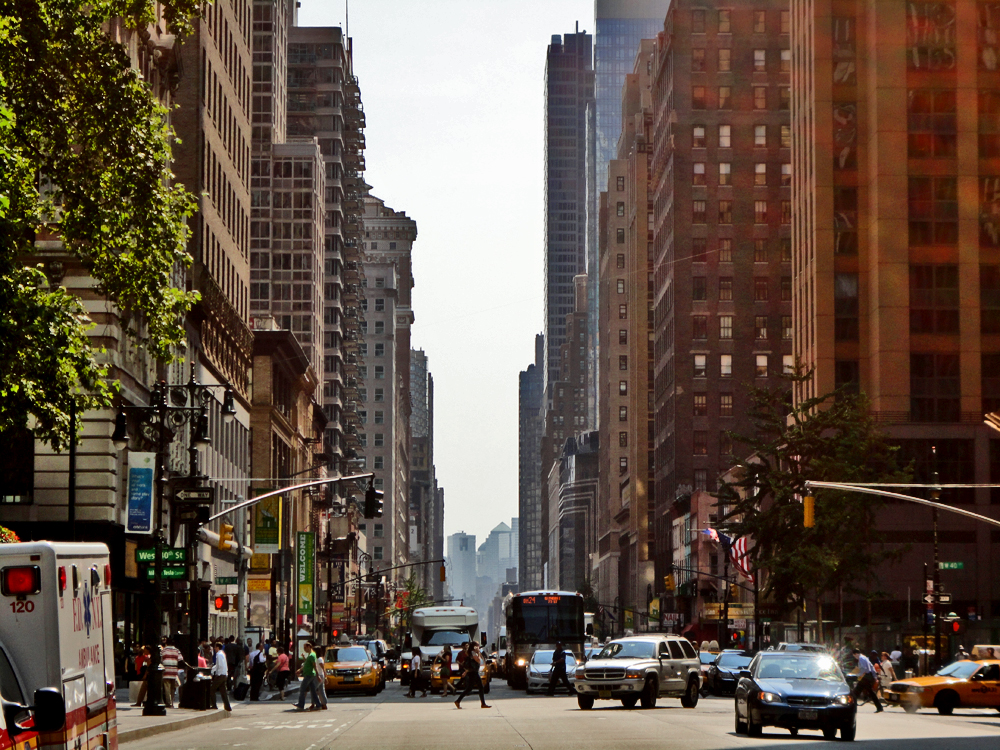 Fifth Avenue, looking South towards World Trade Center and World Financial Center (visible in the distance) in Lower Manhattan.
Fifth Ave/E 42nd St with a Swedish H&M flagship store.
The park:
The sloping base of the white H.R. Grace Building.
H.R. Grace Building (left) is 190m tall and was built in 1974.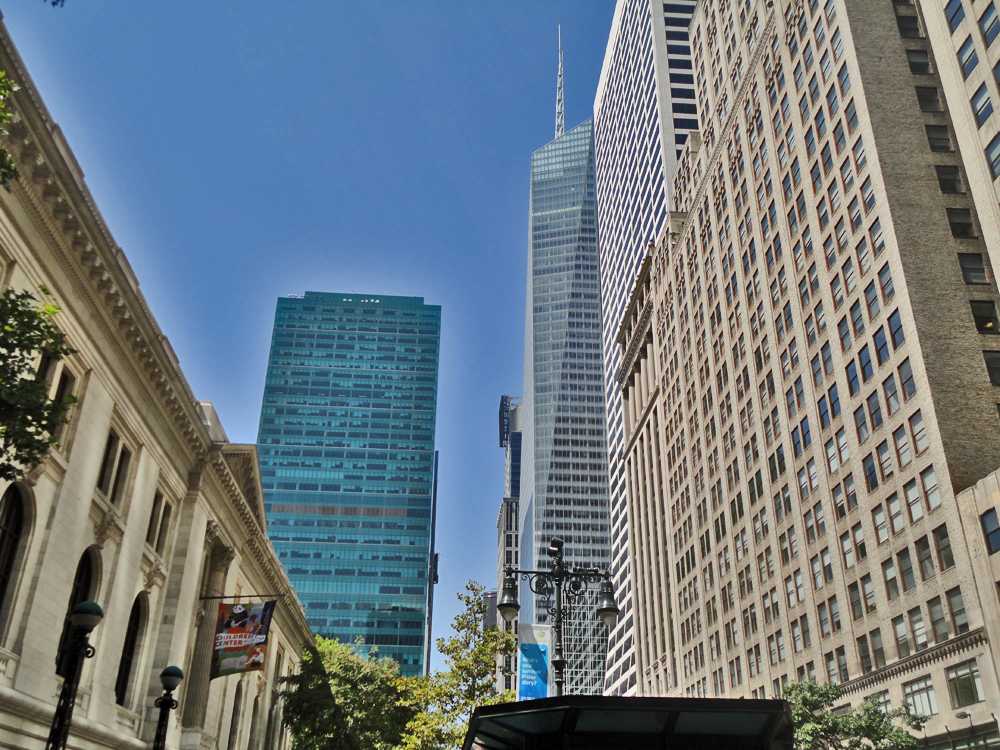 The 40-storey green building between the library and Bank of America is 1095 Ave of the Americas from 1974. To the left is the classic building Bryant Park Studios.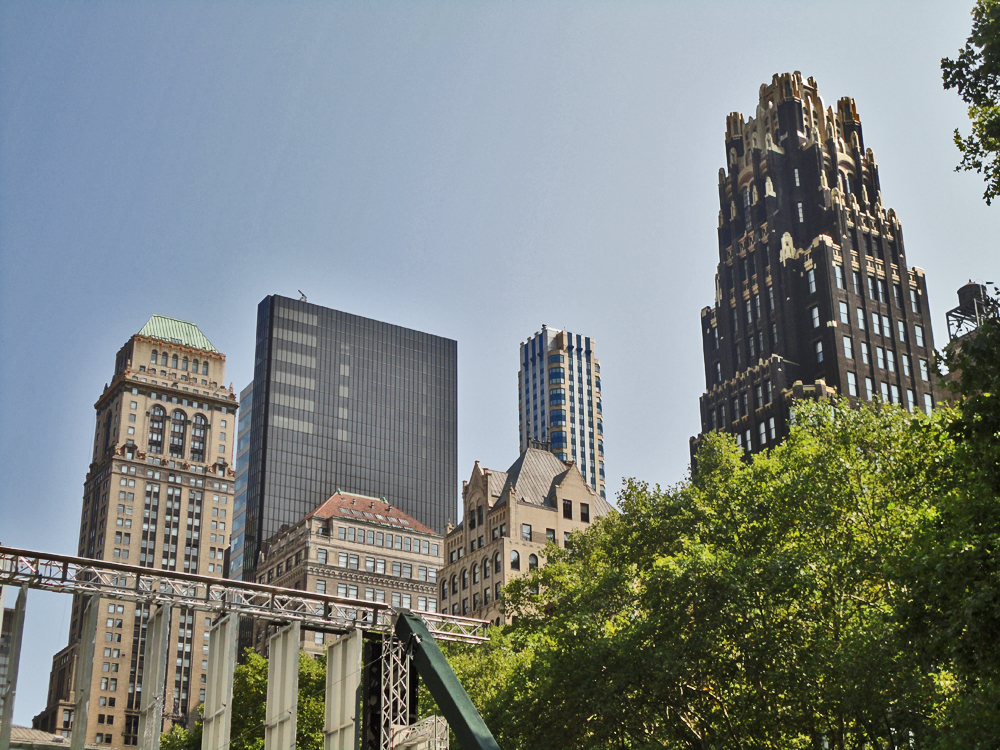 American Radiator Building.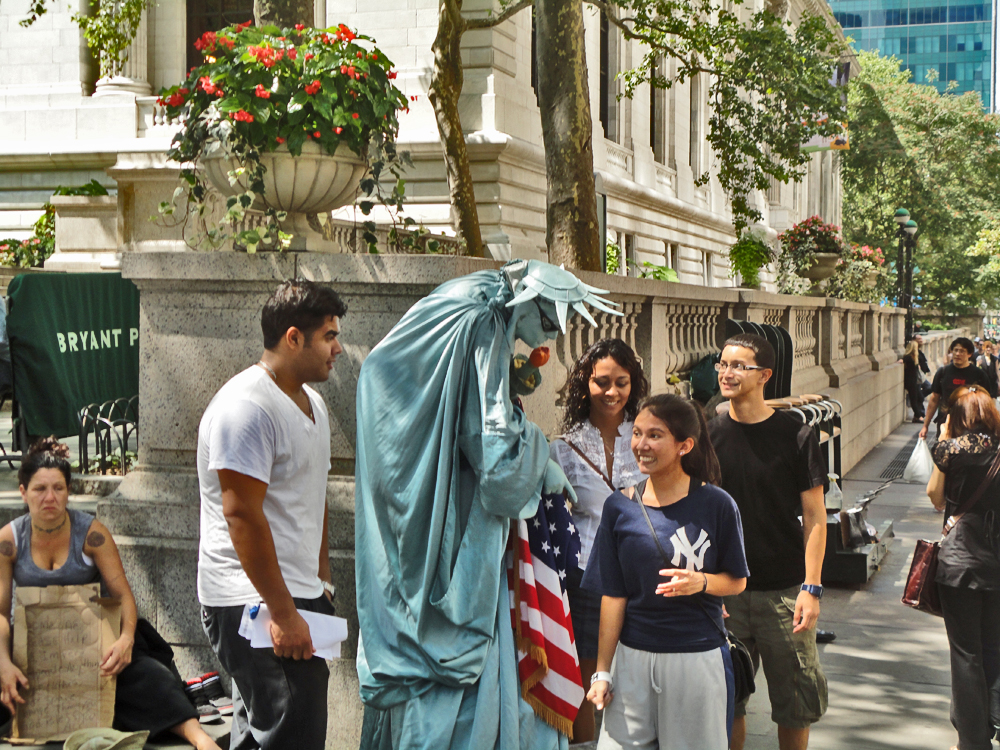 One of several living Statue of Liberties.
The Great Lawn where people love to sit or lie and relax. The classic beige building with green roof is Mercantile Building from 1929.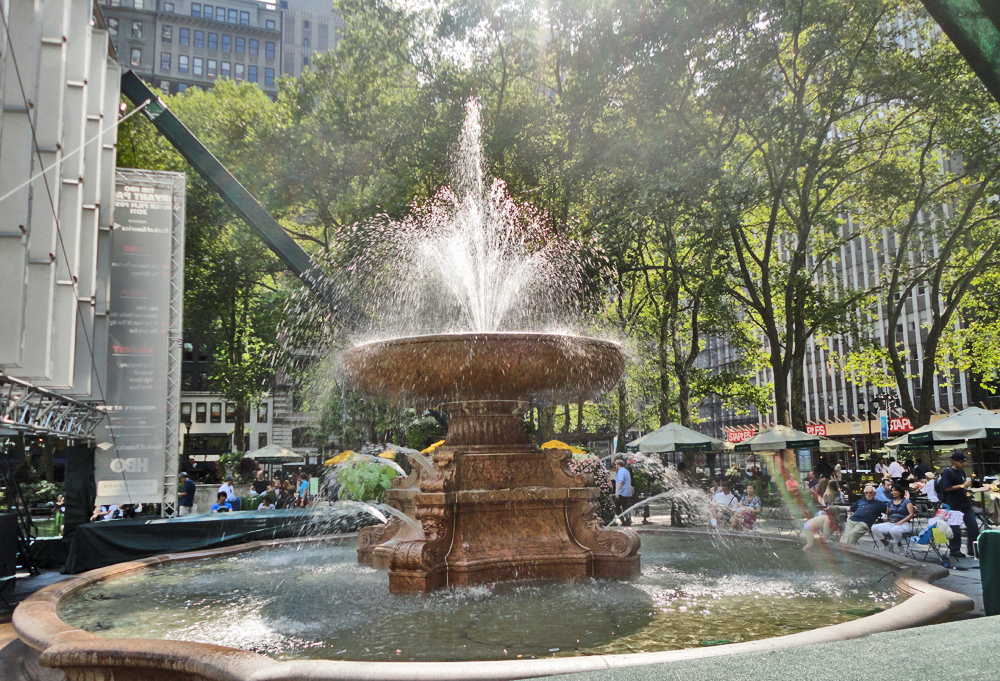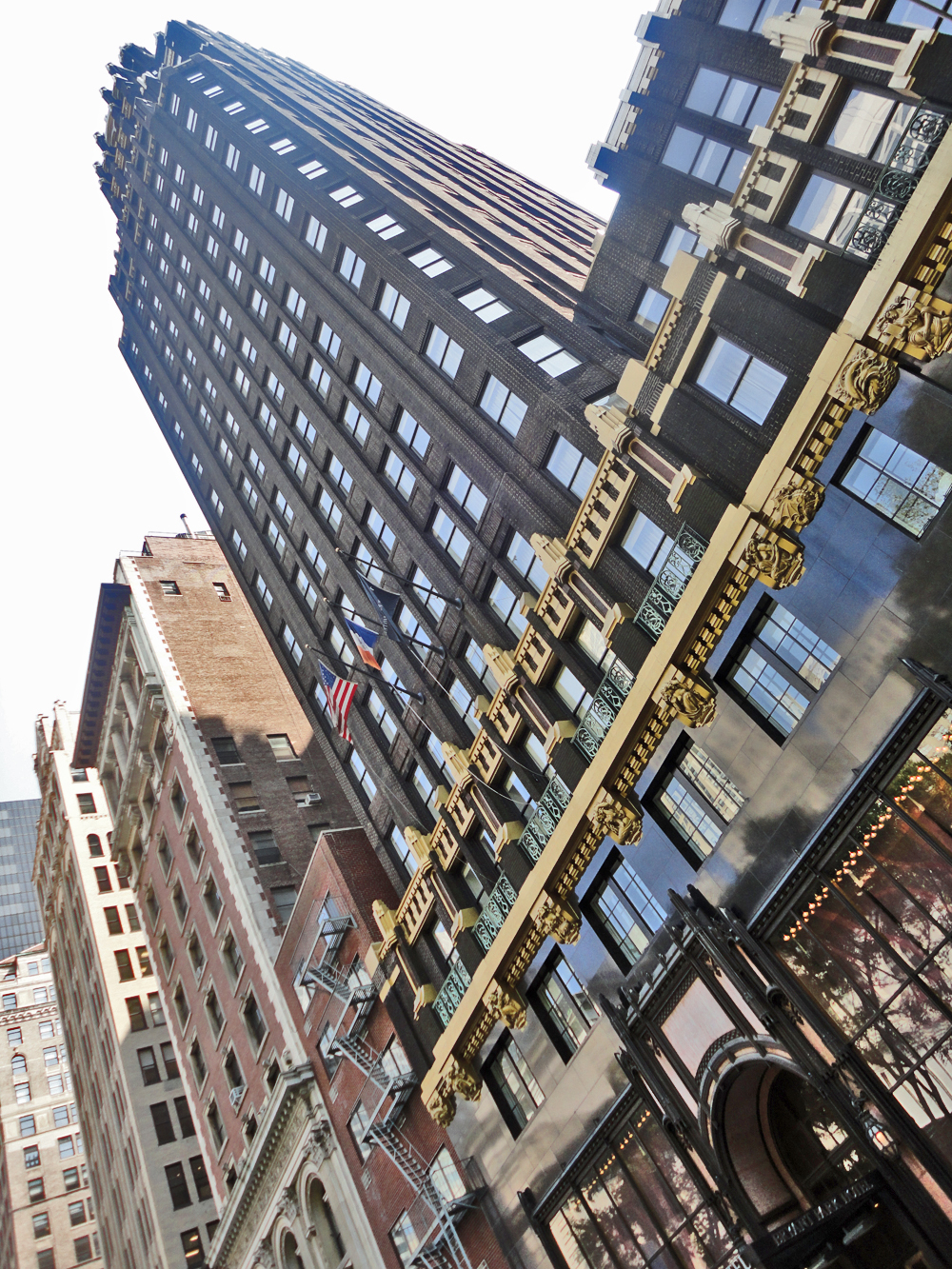 American Radiator Building from 1924 has only 23 floors, but is one of New York's most beautiful skyscrapers. Once known as American Standard Bldg, today it houses the Bryant Park Hotel. It was the first Art Deco skyscraper ever, and the first NY building to gain landmark status.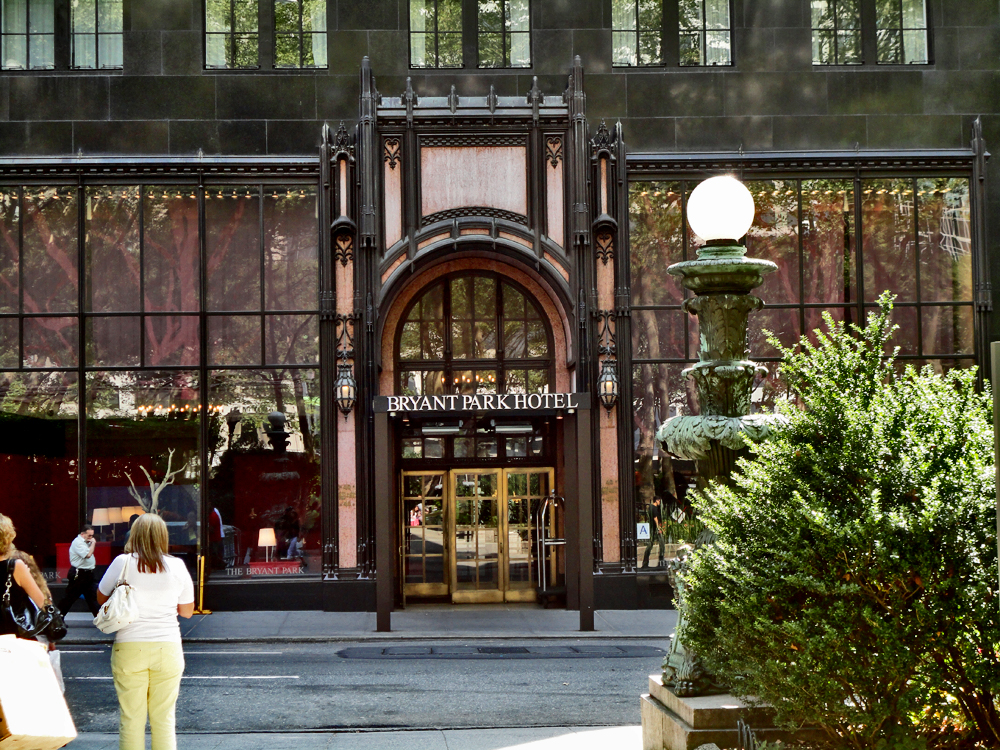 American Radiator Building, now The Bryant Park Hotel.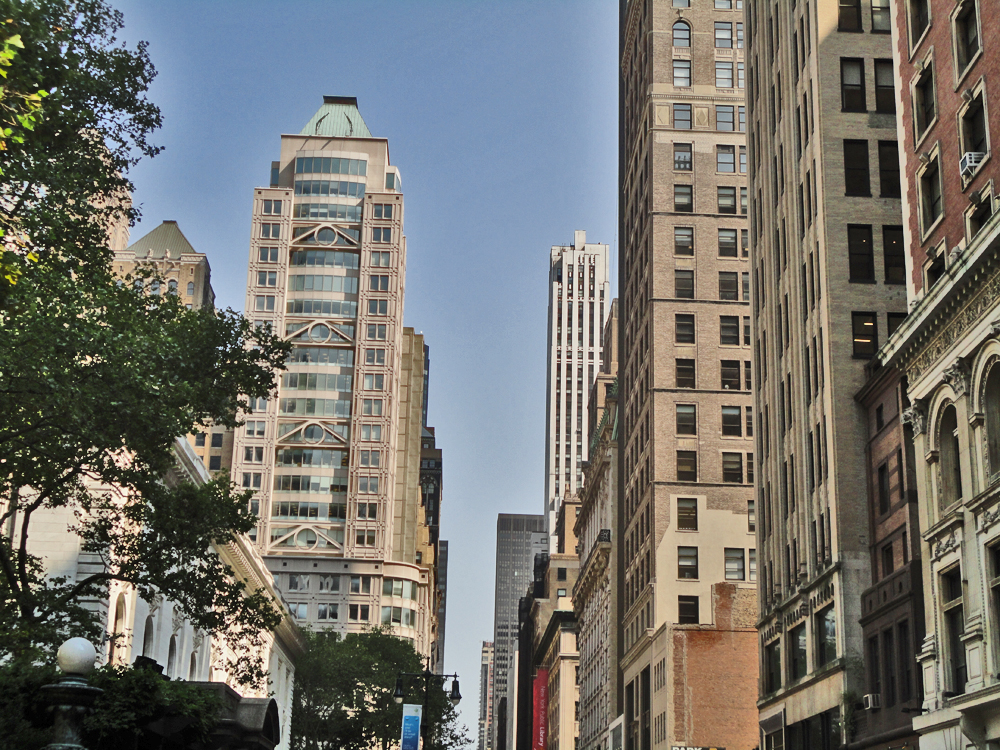 40th Street.
West 42nd Street:
W 42nd St seen from Times Square, towards HR Grace Bldg adn Chrysler Bldg with Bryant Park to the right.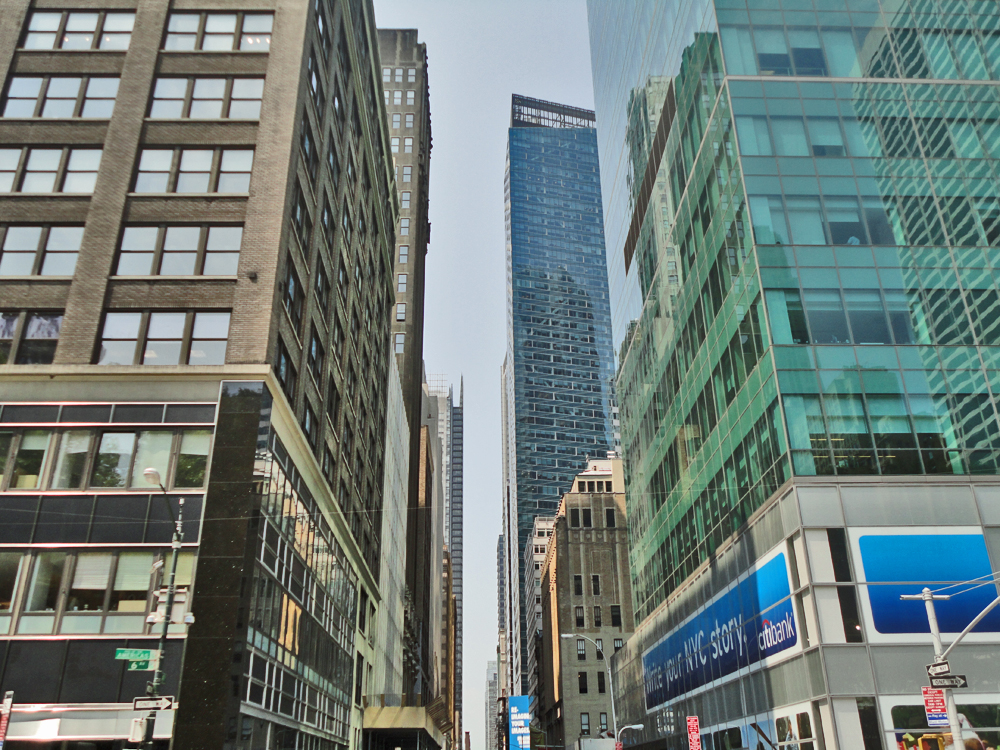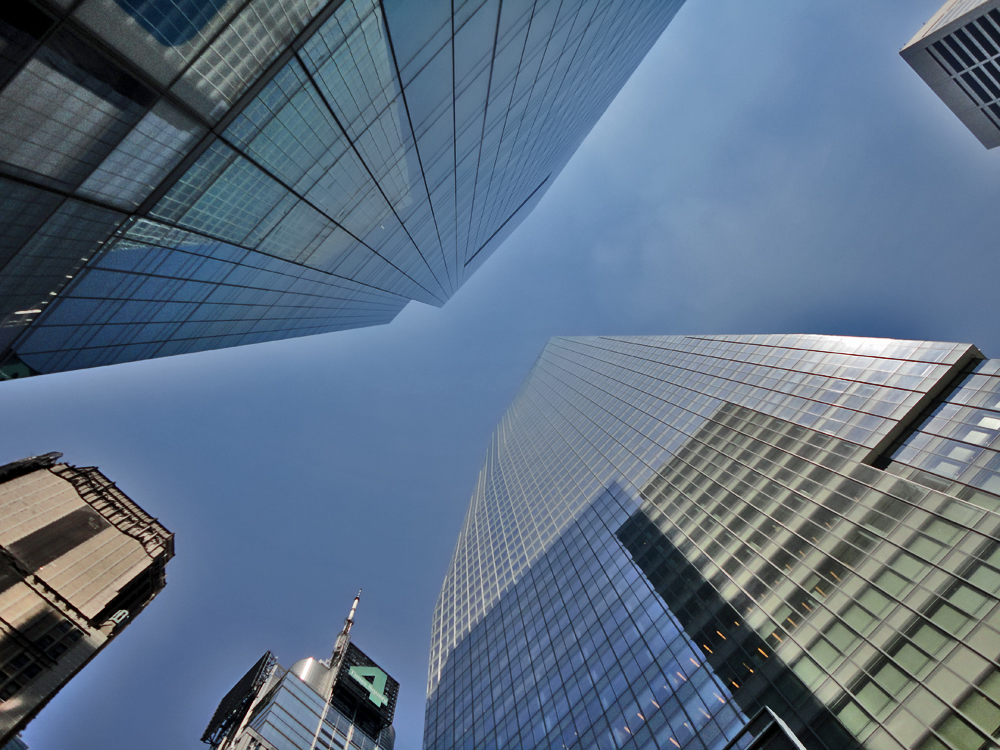 Bank of America Tower to the right, 4 Times Square to the left.