Northwest Midtown/SW Central Park and SE Midtown
- Columbus Circle, Central Park South, Madison Square Garden and Lincoln Center

Columbus Circle:
Columbus Circle is the traffic circle at the southwest corner of Central Park, where Broadway ends in Northwest Midtown. The area around it is also called Columbus Circle. Dedicated to Christopher Columbus, it has changed a lot since my visit in 1998 with new beautiful skyscrapers. It has changed from a boring thoroughfare to an exciting Manhattan meetingplace. The circle was completed in 1905 and designed by the businessman William P. Eno.
Time Warner Center, a complex with 229m tall glass twin towers. Completed in 2004, it was u/c during my visit in 1998. The complex was designed by Skidmore, Owings & Merrill features a shopping galleria, CNN TV studios, luxury apartments, Rose Hall (a theater complex that is part of Lincoln Center and features Jazz at Lincoln Center), l and one of New York's most luxorious hotels, Mandarin Oriental.
Time Warner Center has totally changed the face of Columbus Circle. Trump International Hotel is a bit older.
The Columbus monument in the middle of Columbus Circle was erected in 1892 and designed by Gaetano Russo. The bronze reliefs towering at the column represent Columbus 3 ships and and the angel at the podium holds a globe.
Time Warner Center with its angled twin towers seen from below. They were completed 3 years after the twin towers of WTC were detroyed.
The Shops at Columbus Circle is the 5-storey galleria inside Time Warner Center from 2004. It mostly contains upscale luxury stores such as Armani and Hugo Boss and expensive restaurants.
Odd sculptures inside The Shops at Columbus Circle.
Columbus Circle seen from the huge glass window at Time Warner Center's shopping galleria.
Whole Foods Store, an exclusive supermarket in the ground floor of Time Warner Center.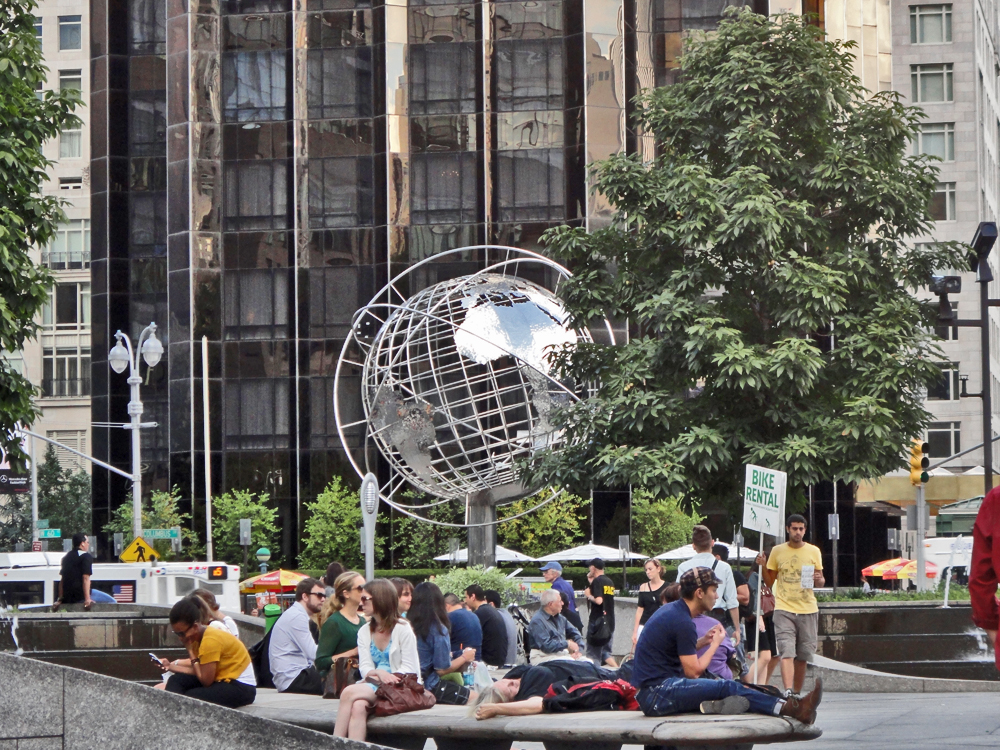 People relaxing in the middle of Columbus Circle.
Trump International Hotel with its steel globe was originally the Gulf and Western Bldg from 1976, but was stripped to its skeleton in 1997 and recladded by a glass facade, designed by Philip Johnson and Alan Ritchie. Now it features both a luxury hotel and condos. It is 176 m tall and has 44 floors.
The steel globe in front of Trump resembles the world.
Traffic of Columbus Circle. Some of the newer yellow cabs are smaller Toyotas, that are not so charming.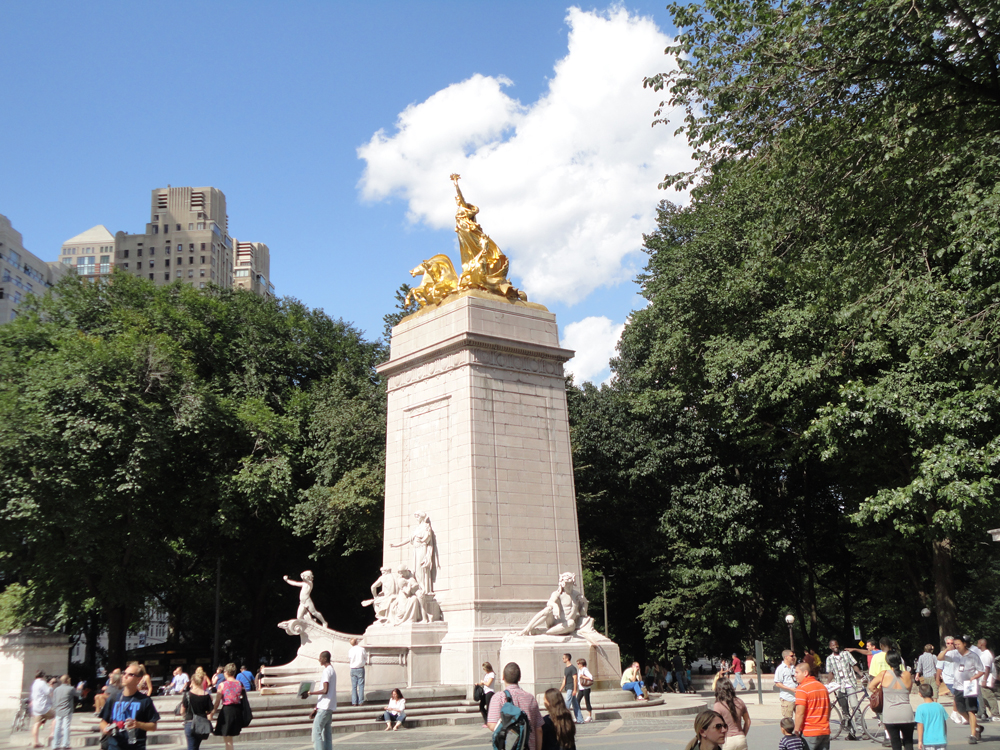 The Merchant's Gate sculpture at the southwest entrance to Central Park, on 8th Avenue next to Columbus Circle.
Broadway and 8th Avenue, South Columbus Circle:
Broadway towards Times Square is crowded with skyscrapers.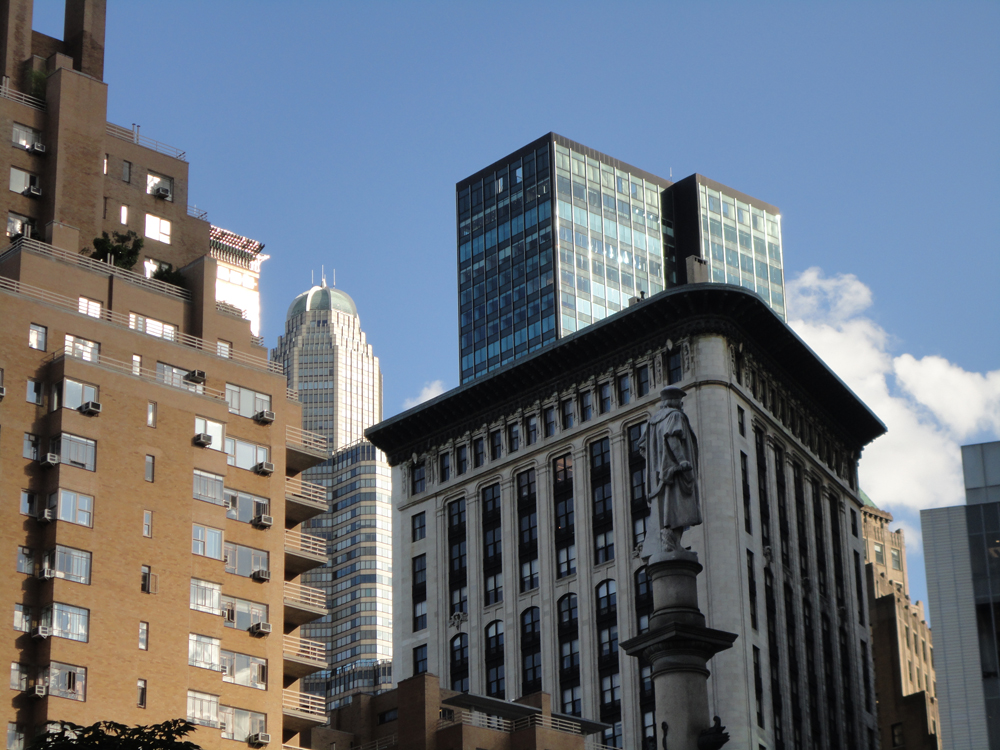 Columbus Statue, towards City Spire with a green top.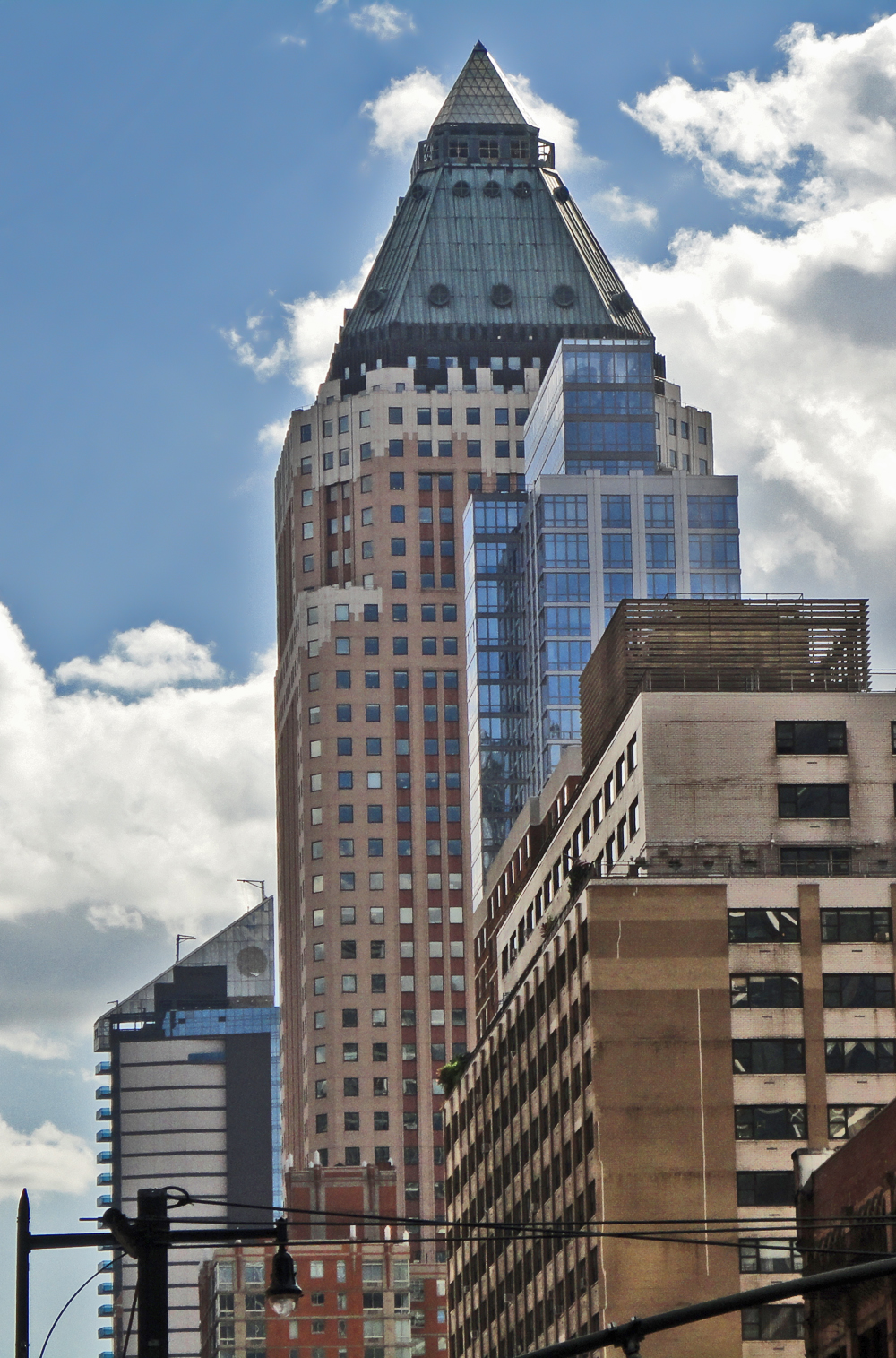 One Worldwide Plaza, a postmodern skycraper with a coppar pyramid on top.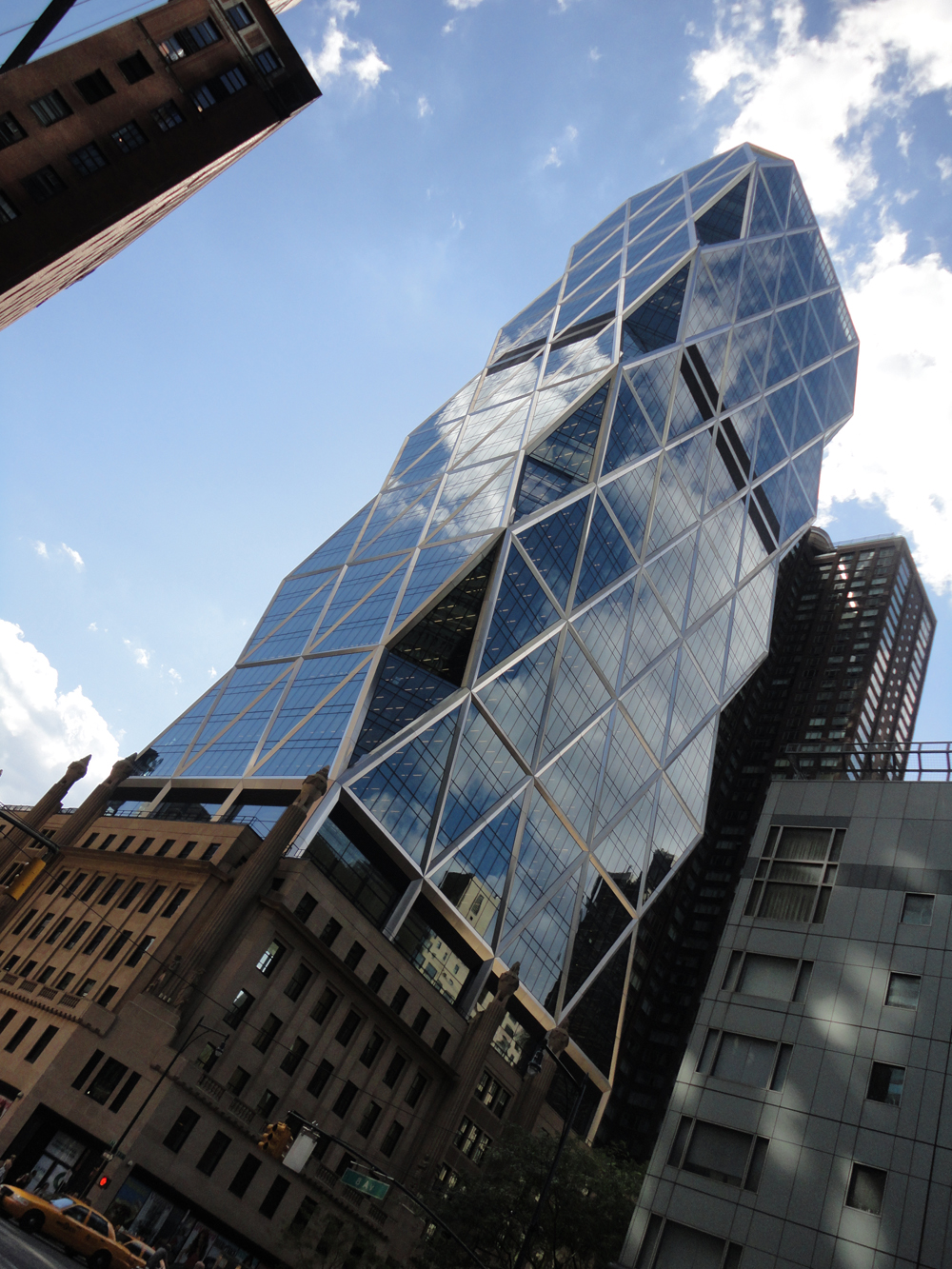 Hearst Tower, designed by the famous architect Norman Foster, was completed in 2006 and has 42 floors. It is 182m tall. It features elements of art deco and structural elementism.
Hearst Tower was built on top of this existing postmodern building.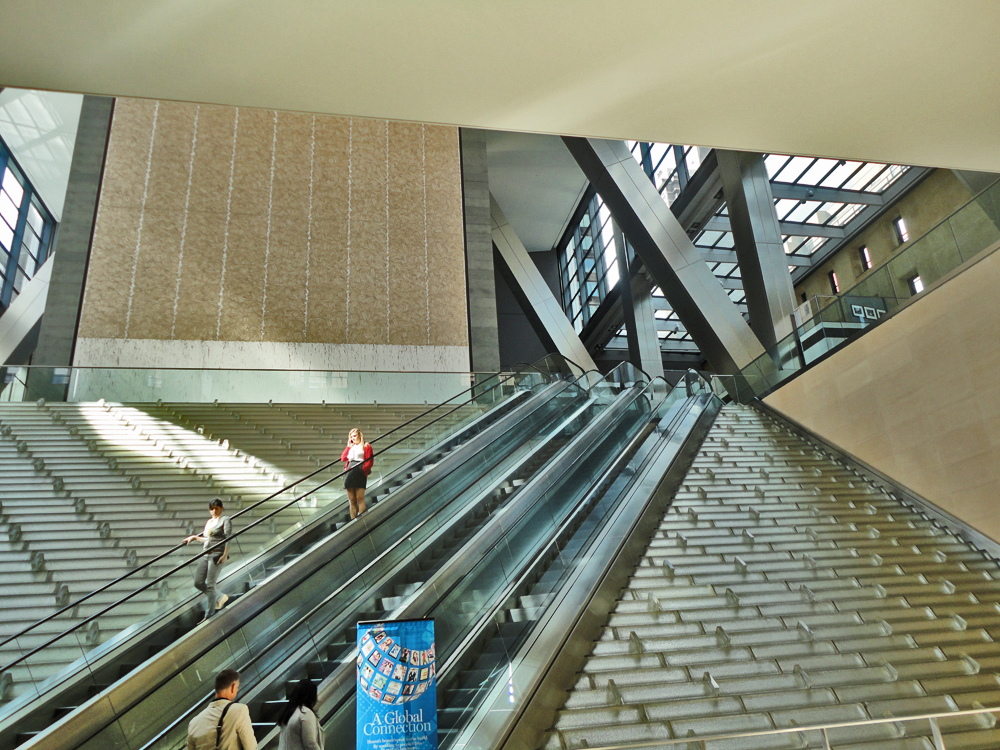 The atrium inside Hearst Tower is more futuristic with this sloping waterfall and escalator. Unfortunately you need a card to pass.
8th Avenue southwards towards Times Square.
Mirrorring exteriors of 8th Avenue!
8th Avenue near Columbus Circle. Many fastfood restaurants.
___________________________________________________________________
Lincoln Center:
Lincoln Center for the Performing Arts is a famous cultural complex on the south part of Upper West Side, at Lincoln Square near Midtown. The 2 main buildings were completed between 1962 and 1966. It is 6.6 ha large and was built by the initiative of John D. Rockefeller III and others. When we reached Lincoln Center it had turned dark. That is the time when this cultural complex looks the best with its illuminated facades.
The 3 buildings from the left are: 1. David H. Koch Theater, home of NYC opera and ballet. 2. Metropolitan Opera (The Met). 3.Avery Fisher Hall, the concert hall that is home of NY Philharmonic. There are also several other theaters in the complex, as well as cinemas, theater schools and restaurants.
I have a special relationship to Lincoln Center since it was the first famous building I saw whilte approaching the city by bus a dark evening on my first NY trip in 1998.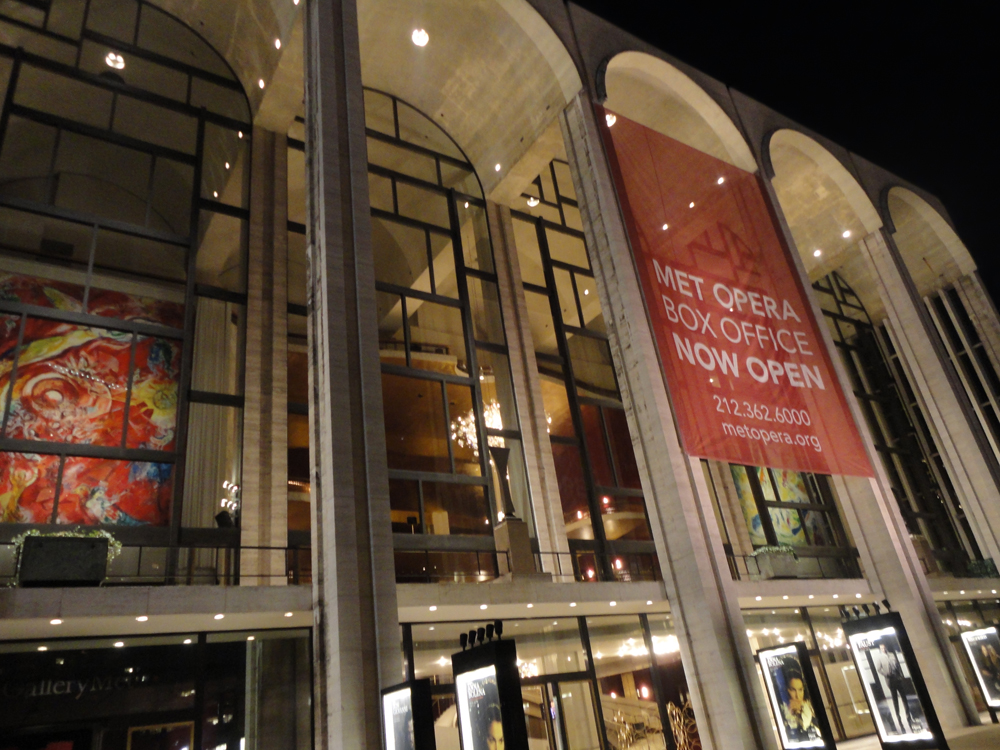 Close-up of The Met, that was completed in 1966.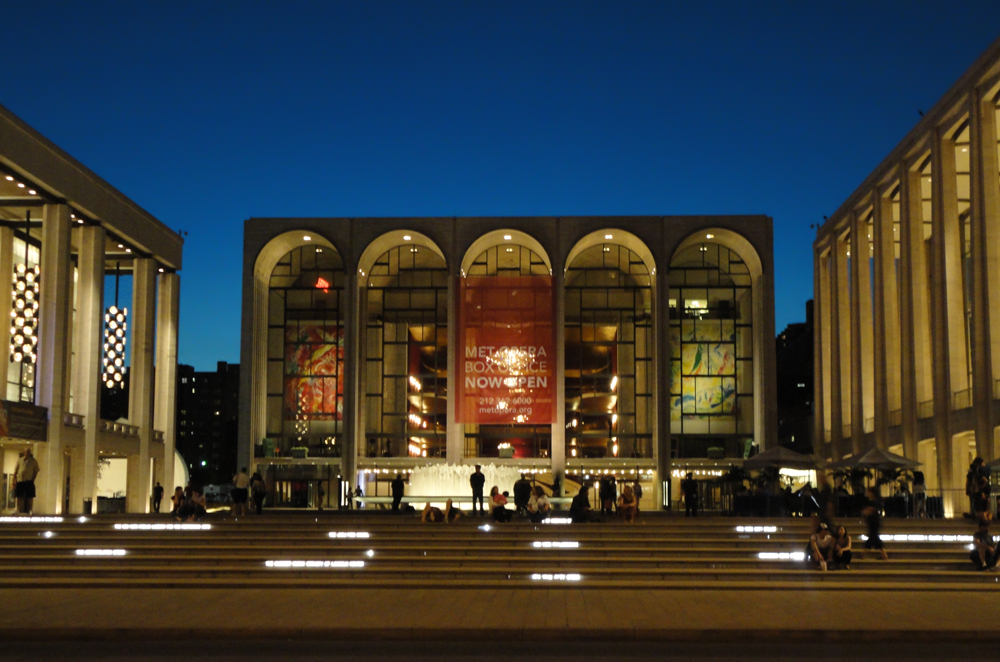 Metropolitan Opera, often simiply called "The Met".
The signs on the stairs say "welcome" in different languages.
The illuminated fountain in front of Lincoln Center.
Alice Tully Hall is a modern annex to Lincoln Center, that features a striking design with glass and sharp angles. It lies on Broadway and is also called Irene Diamond Building. It is a signifigant 2009 renovation of a 1969 structure designed by Pietro Belluschi.
_______________________________________________________________________________________________

Central Park South:
Central Park South with its many luxury hotels. This street leads from Grand Army Plaza to Columbus Circle.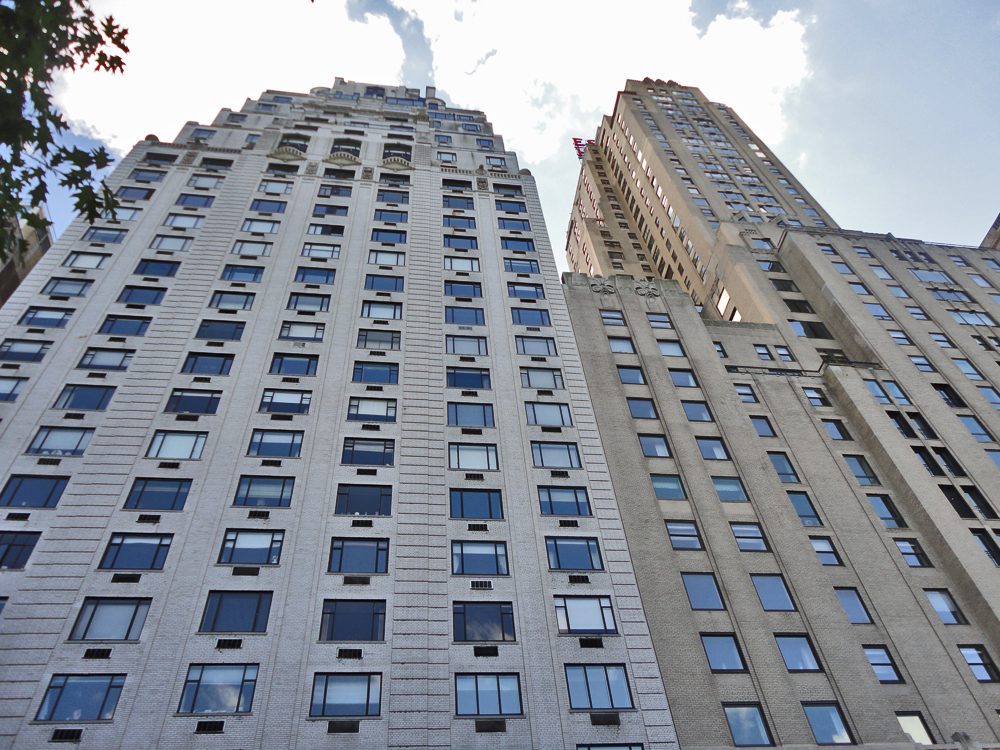 Hampshire House (left), a classical residential brick skyscraper. Nikko House is the hotel to the right.
The entrance to Hampshire House right after the 2011 August earthquake...
...and Essex House.
A horse carriage at Central Park South after the 2011 earthquake.
A horse and an ambulance in front of Gainsborough Studios, an unusual jugend residential building.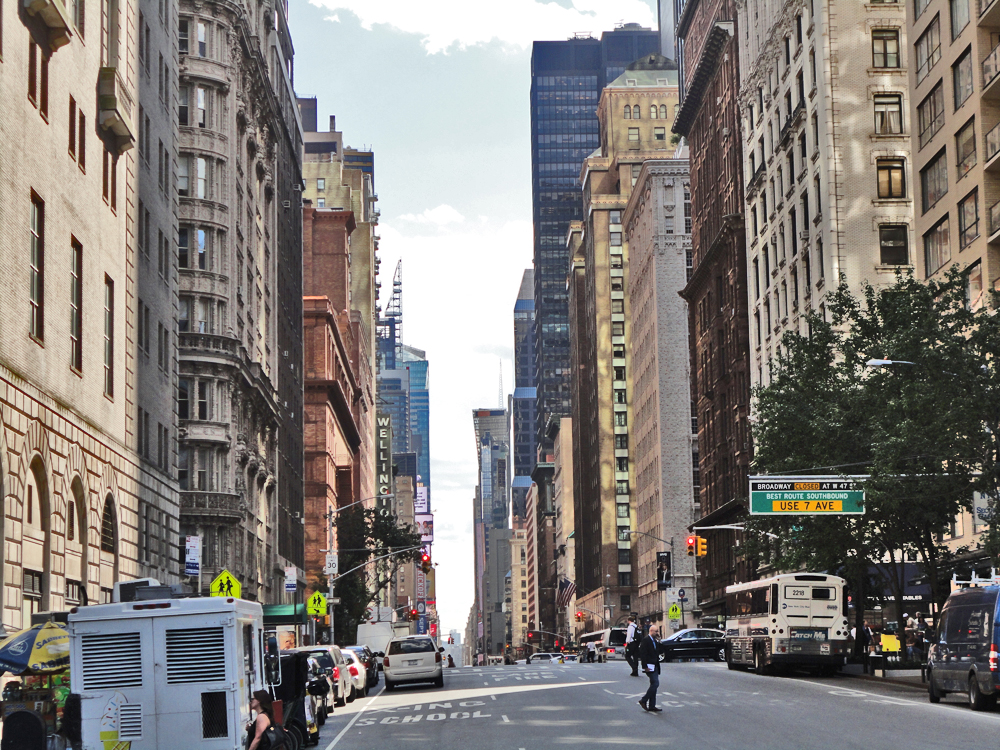 7th Avenue towards Times Square, seen from Central Park South.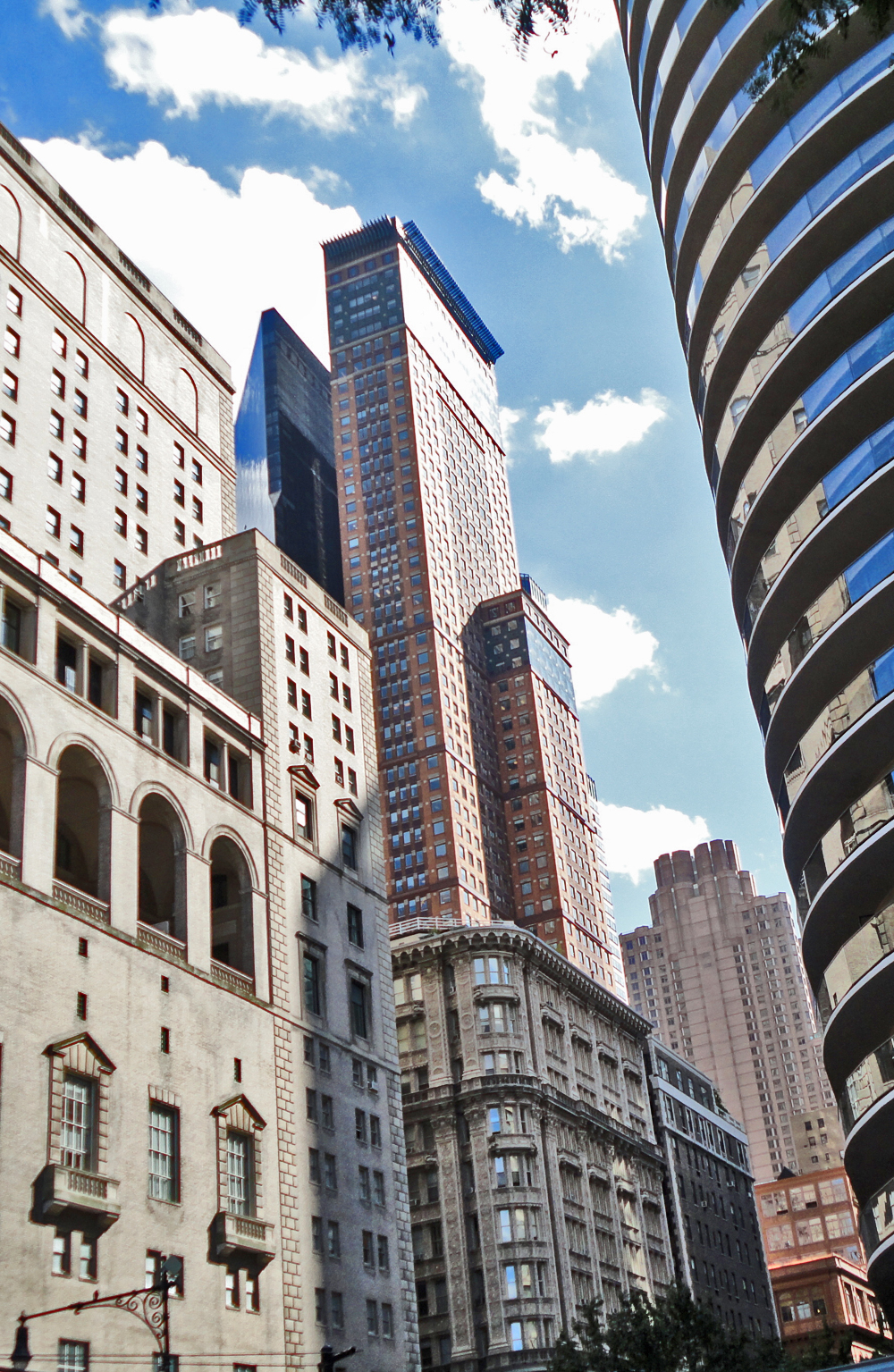 Carnegie Hall Tower is the name of the lightbrown thin postmodern skyscraper. It has as much as 60 floors, is 231m tall and was built in 1991.
Central Park South, looking towards Columbus Circle (read more about it on the top).
Madison Square Garden:
Empire State Bldg, one of the few foggy days during our visit, seen from Penn Plaza at Madison Square Garden.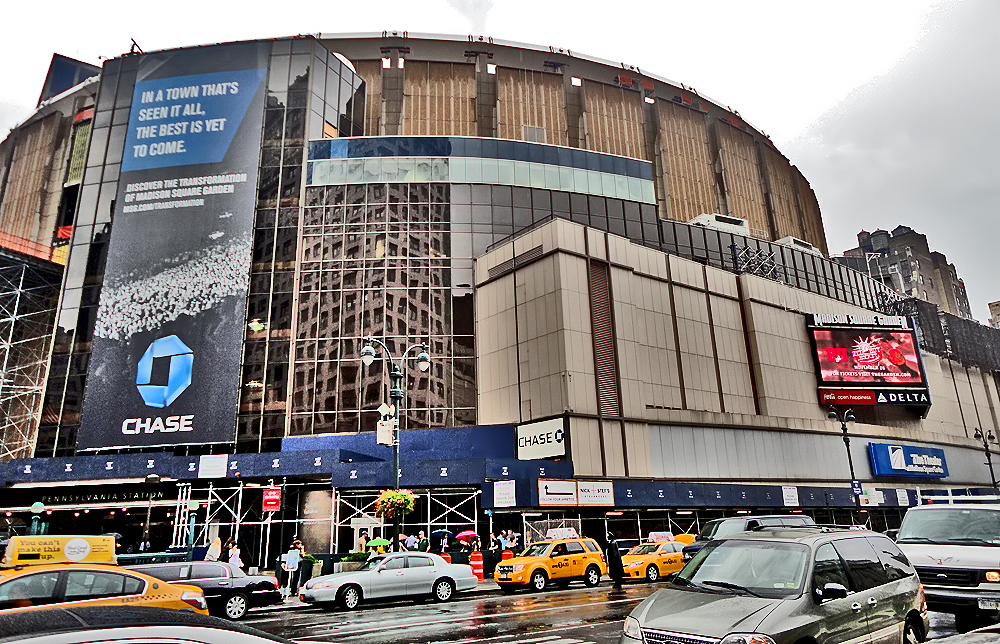 Madison Square Garden and Penn Station are both located inside this ugly circular building, built in 1968. "The Garden", located on top of Penn Station, is a world famous indoor arena that features hockey, basket, a threatre, circurs and large concerts. Jimi Hendrix held his last concert here. Led Zeppelin, Slipknot, Queen, Bruce Springsteen, Michael Jackson and Elvis Presley are just some of the world famous artists that have performed here. It can take up to 20 000 seated visitors. It is the busiest music arena in America, and 3rd busiest in the world counting number of sold tickets.
Despite its name it is neither located on Madison Square, the building is not square shaped and it is not a garden. But it used to be located at Madison Square Park, hence the name. The current building is the 4th to house Madison Square Garden. Pennsylvania Station is New York's largest intercity train station.