Broadway (right) and 5th Avenue (left) meets here. The famous Flatiron Building is in the middle.
Flatiron Building
This is a classic New York highrise in beaux-arts style that got the name that got the name from a flatiron because of its shape. It was built in 1902 and has 22 floors.
It is just 87 m tall, so it is not very tall, but when it was completed it was one of New York's tallest buildings. Many people think it once was world's tallest building, but that is not true. It is featured on many posters and famous movies such as the Spiderman (as the Daily Bugly Bldg). It is designated a National Historic Landmark.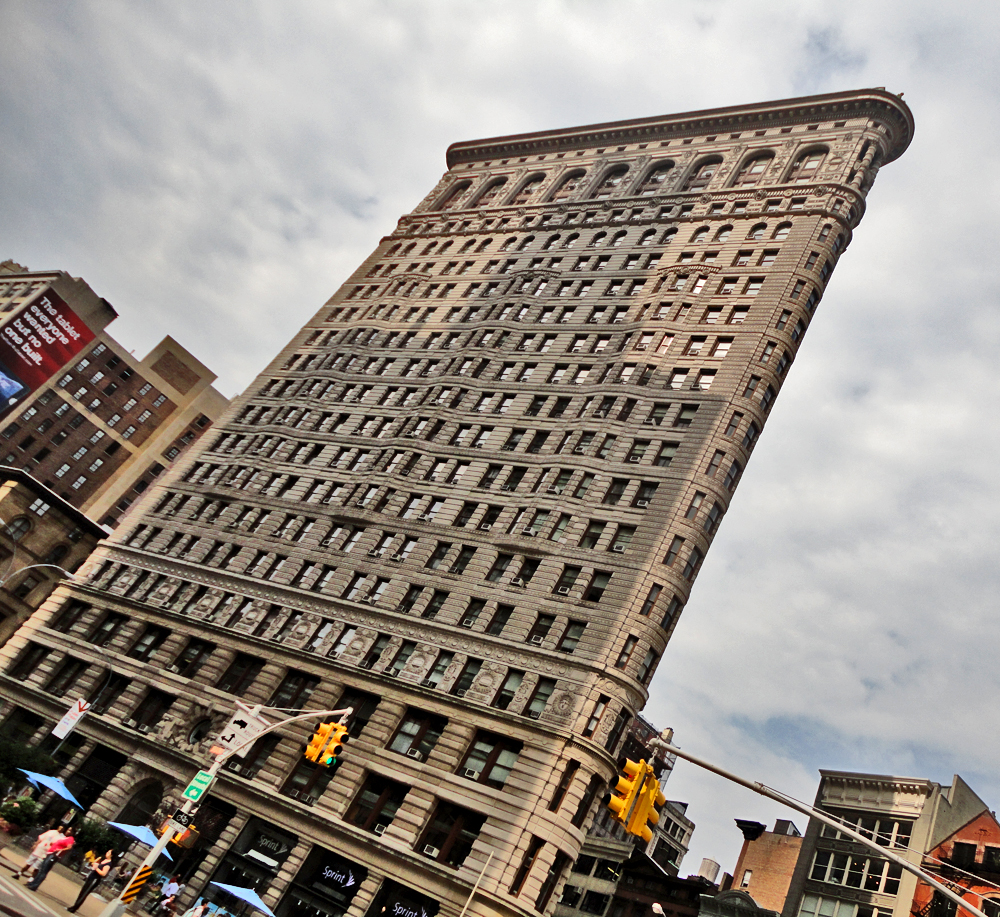 Flatiron Bldg seen from 5th Ave.
Flatiron Building from the long side at 5th Ave.
Madison Square Park
Madison Square Park is the beautiful square park that is surrounded by many classic skyscrapers and occupies most of Madison Square. It is situated at Madison and the intersection of 5th Ave and Broadway. Several classic skyscrapers, such as Flatiron Bldg, New York Life Bldg and Metropolitan Life Tower, once the world's tallest building, are situated around the square. Empire State Bldg is also visible from the square. It has fountains and many sculptures. The sports arena and concert hall Madison Square Garden were located at the square until it was moved in 1925.
Madison Square Park with Flatiron Bldg and the Echo sculpture.
Metropolitan Life Tower with its goldspire and famous clock. This classic skyscraper was built already in 1909. It has 50 floors and is 213m tall. Metropolitan Life was the world's tallest building between 1909 and 1913. It was modeled after the Campanile in Venice and designed by Pierre LeBrun.
One Madison Park is a very cool skyscraper since it is so thin, that is really rare to see. It was completed as late as in 2010, was drawn by Dan Kaplan and is 188m tall. It has 50 floors, all residential.
New York Life Building. A classic gothic skyscraper from 1928 that is featured on the insurance company New York Life's logo. It is 188m tall and has 40 floors.
From the left: New York Life Bldg, New York Merchandise Mart, Metropolitan Life North Bldg, Met Life Tower.
From the left behind the trees: Met Life Tower, One Madison Park.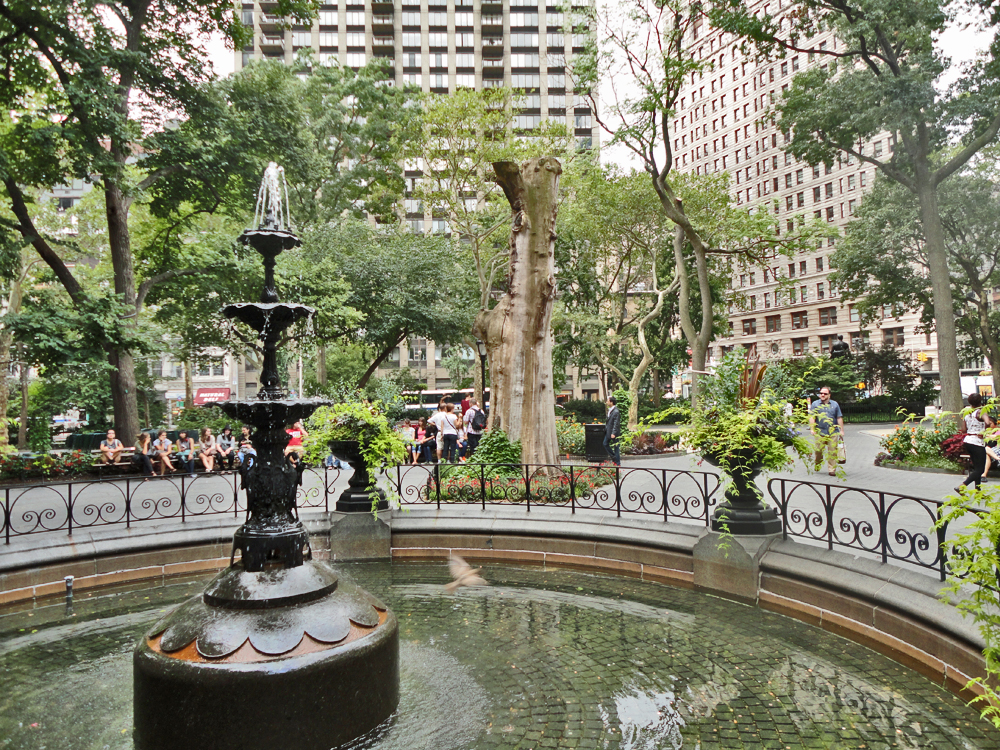 Madison Square is indeed a nice park with its fountain...
...sculptures and squirells. This splendid odd face sculpture is Echo by Jaume Plensa.
The squirells are very social, it feels like they are tame!
Flatiron from Madison Square.
Empire State Building from Madison Square Park.
Union Square Park
This is where we begun our walk the first day after a short subway ride from Chelsea. It is one of New York's many square parks that is just what the name says; a mix between a square and a park. Union Square is the area where Andy Warhol performed for 3 years before his death in 1987. Union Square borders Chelsea, Greenwich Village, Gramercy and Flatiron District.
The equestrian stuate of George Washington. Union Square is a big subway hub, as well as home to a very rude homeless man!
The Greenmarket Farmers Market, held 4 days a week, on the 5th Ave side of Union Square.
Zeckendorf Towers with Met Life in the background.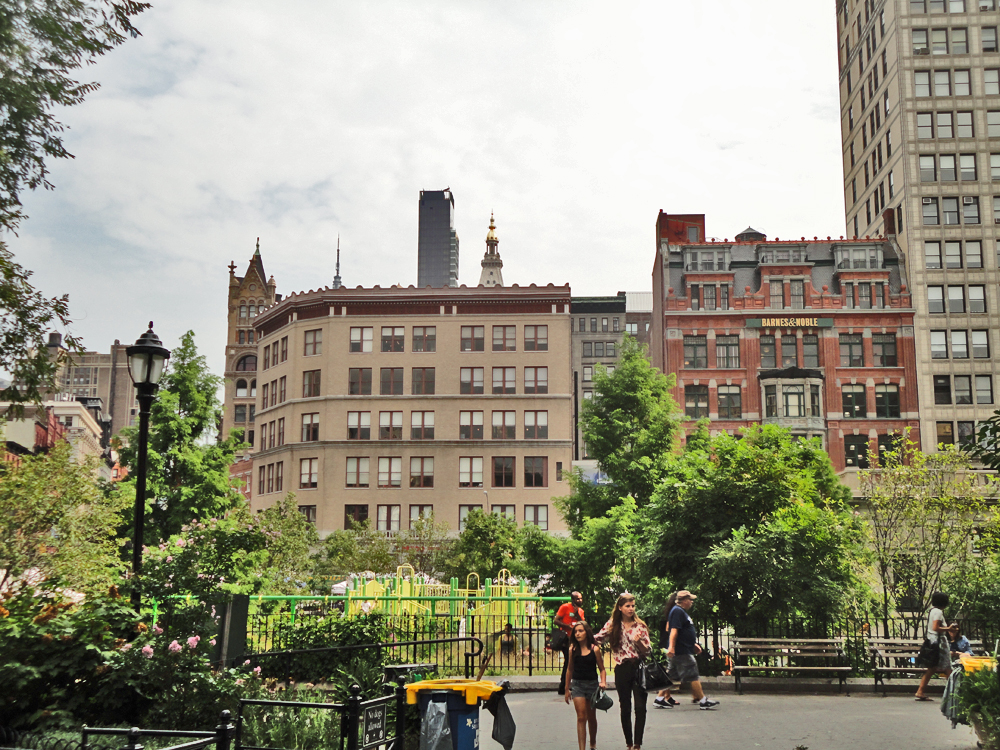 Bank of Metropolis (left) with Decker Building where Andy Warhol had his "Factory" 1968-73 to the immediate right of it. In the Decker Bldg the attempted murder of Warhol took place in 1968. All in the west side of Union Square.
The northern end of Union Square, at 5th Avenue.

A chrome monument by Rob Pruitt dedicated to Andy Warhol. The Decker building is where he had his studio. He was active in the Union Square area.
Fifth Avenue near Madison Square Park:


In the end of this picture you can see Flatiron Bldg from a different angle.
A New York souvenir store.
5th Avenue towards Flatiron Bldg.
New York Life Bldg with its golden spire. It was designed by Cass Gilbert.
The Gershwin Hotel. A designer hotel at 27th St.
B&W of NY classics.