Park Avenue
Midtown Manhattan, incl part of Madison Avenue
- Waldorf Astoria, MetLife Bldg, Helmsley Bldg, Lever House, General Electric Bldg
Park Avenue runs from Union Square Park in the south to north of Central Park, but despite the name it never reaches Central Park (the avenue goes 2 block to the east of it). The construction of Grand Central Terminal, where the railway tracks were covered underground, made way for the construction of the north part of Park Avenue. North Park Avenue, the most famous part, is divided from the south part by Grand Central Terminal. Park Avenue passes the station on 2 bridges above E 42n Street, passing by Grand Central, so it is complicated to continue to the north side when reaching Grand Central as a pedestrian. The north part is where most of the skyscrapers are, many of them in 60s modernist style such as MetLife Bldg but also some older more beautful towers such as The Helmsley Bldg and General Electric Bldg. The famous de luxe hotel Waldorf Astoria also lies there, as well as the Swedish consulate that we visited to get information about evacuation orders for the Irene hurricane (read more about it on the New York main page). In the middle of N Park Ave there are trees and flowers.
Park Avenue is one of the few avenues that is not a one way road (you can drive in 2 directions). The brown skyscraper with the triangular top is the 171m tall Park Avenue Tower.
Park Avenue buildings: Waldorf Astoria, St Bartholomew's Church, MetLife Bldg and more.
Grand Central with Metlife and Chrysler Bldgs. North Park Avenue begins here, passing by Grand Central by a heavily trafficated bridge.
MetLife Building, formerly Pan Am Building from 1963. It is 246m tall, has 58 floors and is connected to Grand Central Terminal. The reconstruction of Grand Central lead to the construciton of Pan Am Bldg, that was bought by MetLife in 1981 (but didn't replace the Pan Am logo until 1993). It is the tallest building with the address Park Avenue. There used to be a helicopter pad on the top, but it was closed after a fatal accident in 1977.
MetLife Bldg is counted as brutalist international style, a bit uncommon in New York. It is the first building on the north part of Park Avenue, direclty followed by Helmsley Building.
The Helmsley Building from 1929, the second building on North Park Avenue, is today overshadowed by the much larger MetLife Bldg, but it is still 172 m tall and has 35 floors and a classic architecture that features art deco, beaux arts and gothic elements. There are 2 gates that cars pass through.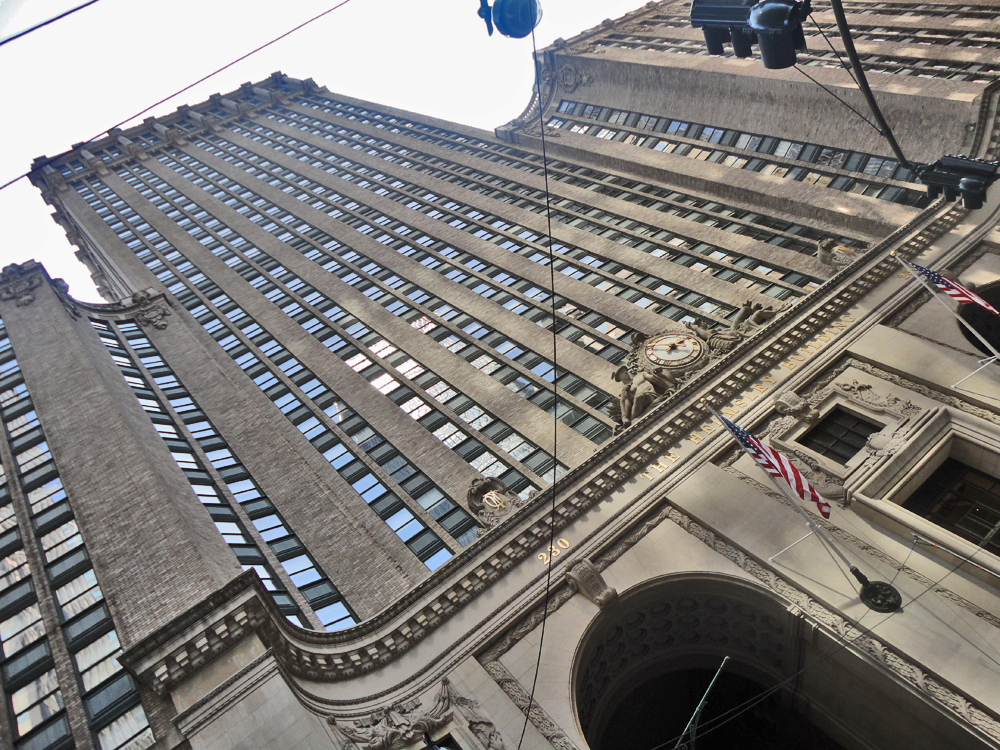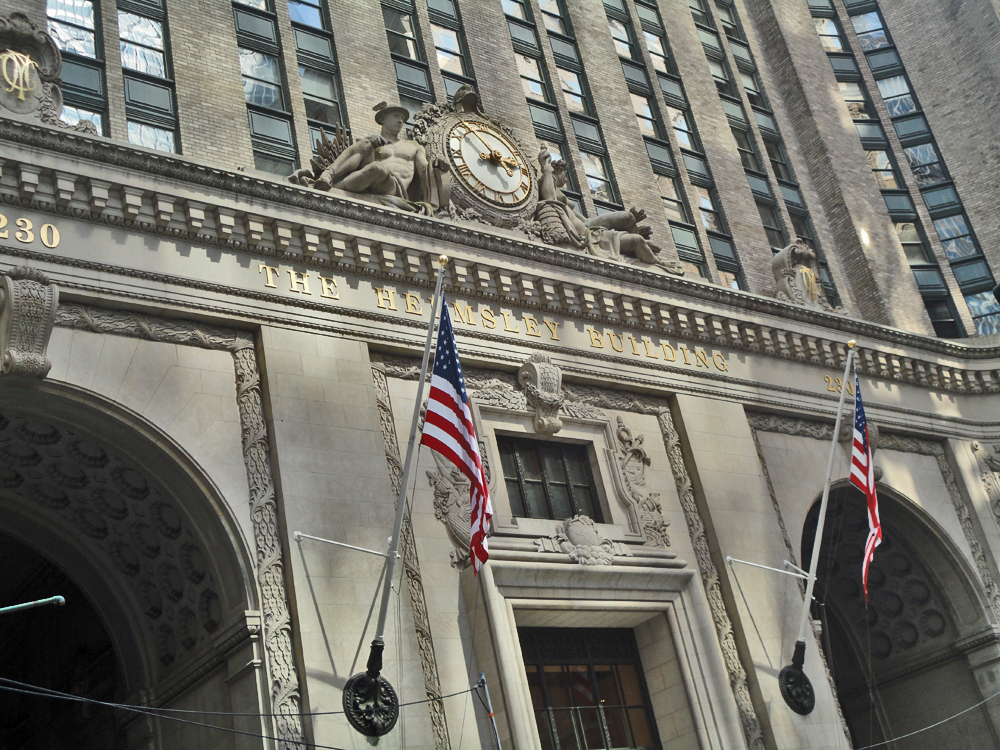 Helmsley Building with its 2 passages for traffic. It was designed by Warren and Wetmore.
Waldorf Astoria
Waldorf=Astoria was built in 1931 and is considered one of the most famous and luxorious hotels in New York. It was the first hotel in the world to use room service! The hyphen = stands for the fact that Waldorf and Astoria was 2 separate hotel, later built together. The original Waldorf Astoria stood at the site where Empire State Bldg is today. Numerous famous movies, TV shows and important events have been taking place at the Waldorf Astoria, that has about 1700 rooms.
It is famous for its Waldorf salad and that presidents like Reagan and Hoover have stayed there. There is a train platform underneath the hotel that was built to be secretly used by president Franklin D Roosevelt and is part of Grand Central Terminal! It features an elevator big enough for the president's limousine The reason for that was to prevent showing that the president got polio.
Waldorf=Astoria Hotel is 190m tall and has 47 floors. It was the world's tallest hotel for 20 years.
The grandiose, dark art deco lobby of The Waldorf=Astoria. The hotel's 3-storey ballroom was the world's largest when completed. Its name comes from Walldorf in Germany and Astor is a family that lives there. John Jacob Astor, who invented the Astoria Hotel, died in the Titanic disaster.
The art deco hotel is like a city of its own with its own luxorious shopping galleria.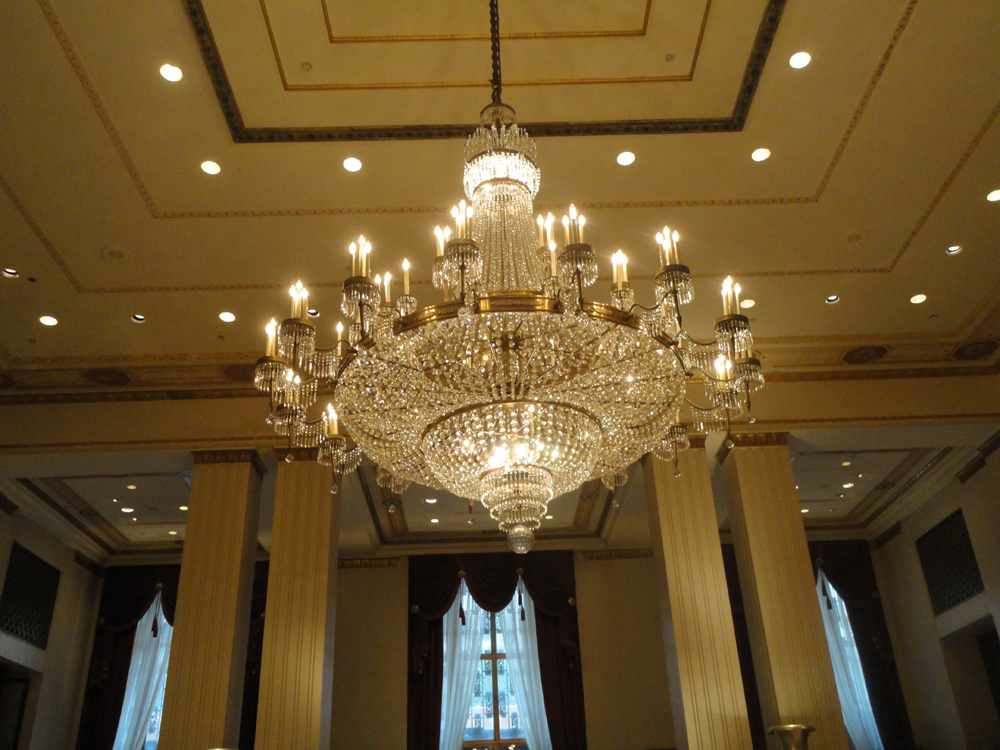 ____________________________________________________________________________________________________________________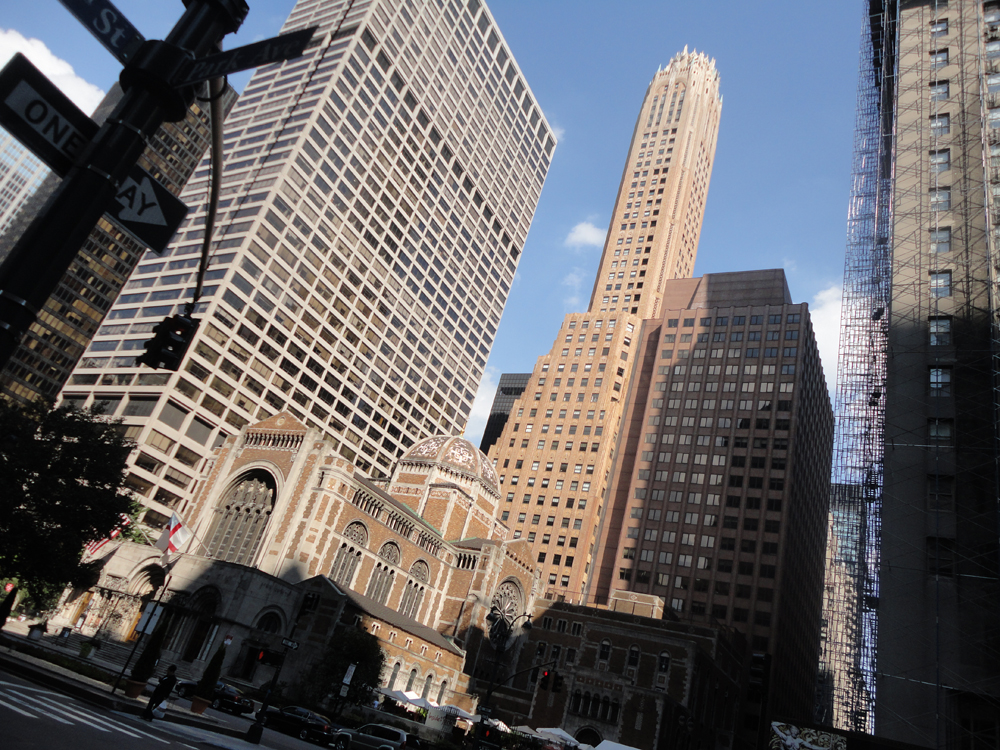 General Electric Building (not to be confused with GE Bldg) is a beautiful 50-storey thin skyscraper from 1931. It is also called 570 Lexington Ave, but here it is seen from Park Ave.
St Bartholomew's Church in front of it is from 1917, is often nicknamed St Bart's and features a simplified byzantine design.
The gothic crown of the General Electric building is designed to resemble electric waves.
Greenery is visible in the middle of Park Avenue.
The modernist skyscraper to the right is JP Morgan Chase World HQ, the 2nd tallest building on Park Ave. It is 215m tall and has 52 floors. The skyscraper to the left in the background, 383 Madison Avenue, was built as late as in 2001.
A big yellow bear with a lamp playing with toys (cars and dolls)! A recently placed sculpture by Urs Fischer just outside the famous modernist Seagram Building.
Modernist skyscrapers of North Park Avenue. To the left is Seagram Building from 1958, an early example of international style modernism.
One Park Avenue. Prestigous address!
Lever House. It doesn't look tall today (93m, 21 floors), but it was one of the first modernist international glass highrises in the world when it was completed in 1952. The green glass building was designed by the famous firm Skidmore, Owings and Merrill and has won many prices.
Seagram Building Plaza at Park Avenue with the new bear sculpture.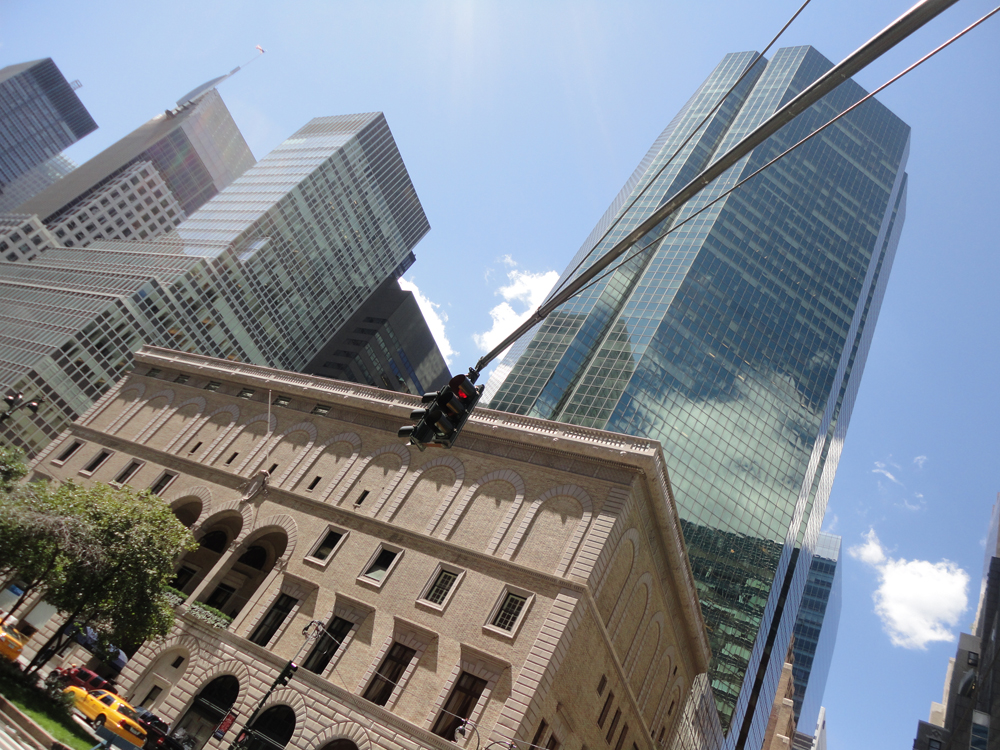 Just so you know, this is Citigroup World HQ from 1961 and not Seagram Building that I thought when taking the picture. Seagram Bldg is famous for being one of the first modernist skyscrapers and reminds of Citigroup, but is darker and 3m shorter (157m).
Coca-Cola truck on Park Ave.
Four Seasons Hotel seen from Park Avenue.
MetLife and Grand Central seen from South Park Avenue.
The Big Apple!
Park Avenue on Upper Eastside.

Madison Avenue:
East 50 Street at Park Ave towards Rockefeller Center with New York Palace to the right.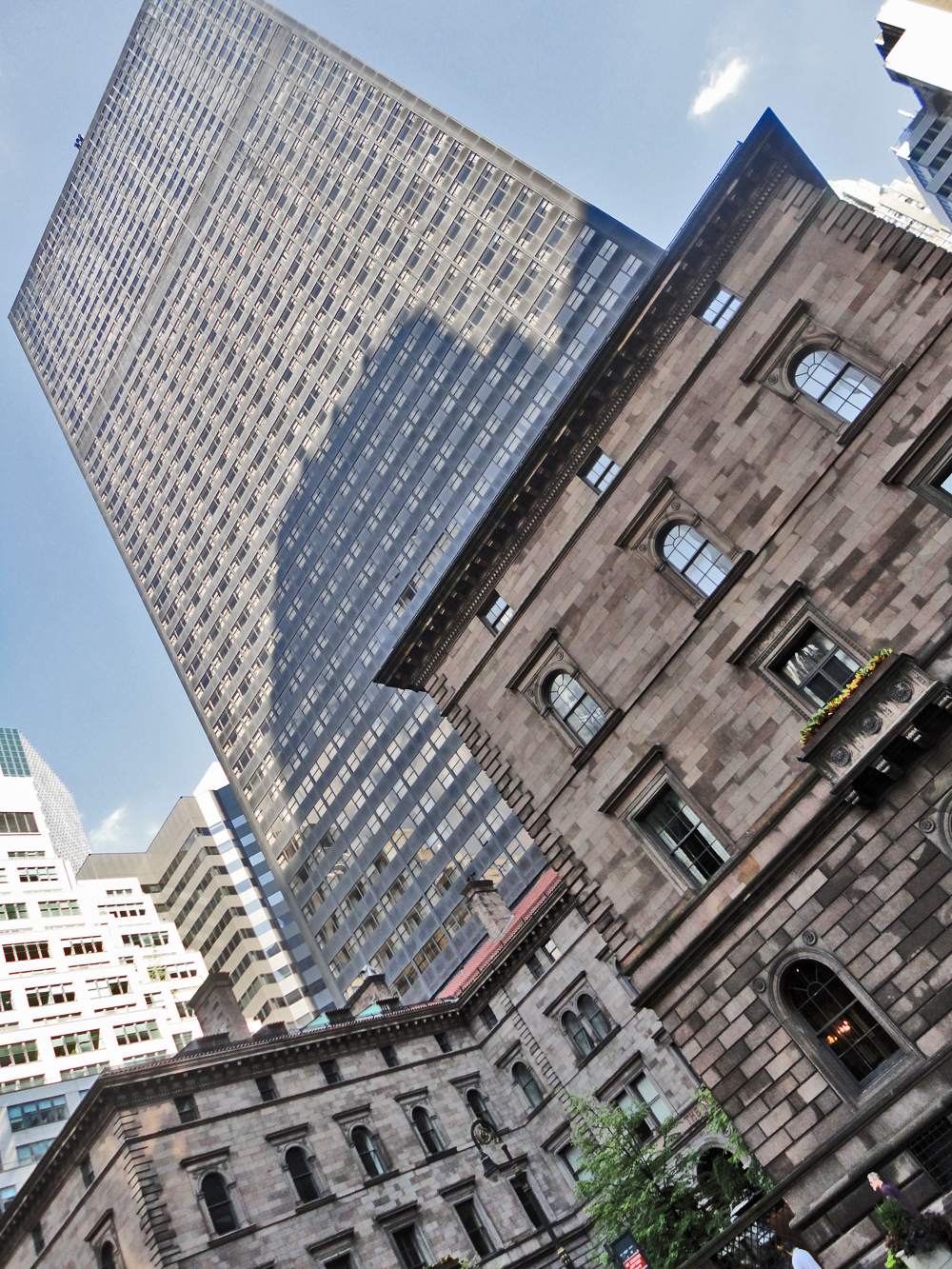 New York Palace on Madison Avenue was New York's tallest hotel upon completion. The skyscraper was built above the old palace.
The New York Palace lower floors.
St Patrick's Cathedral from Madison Avenue.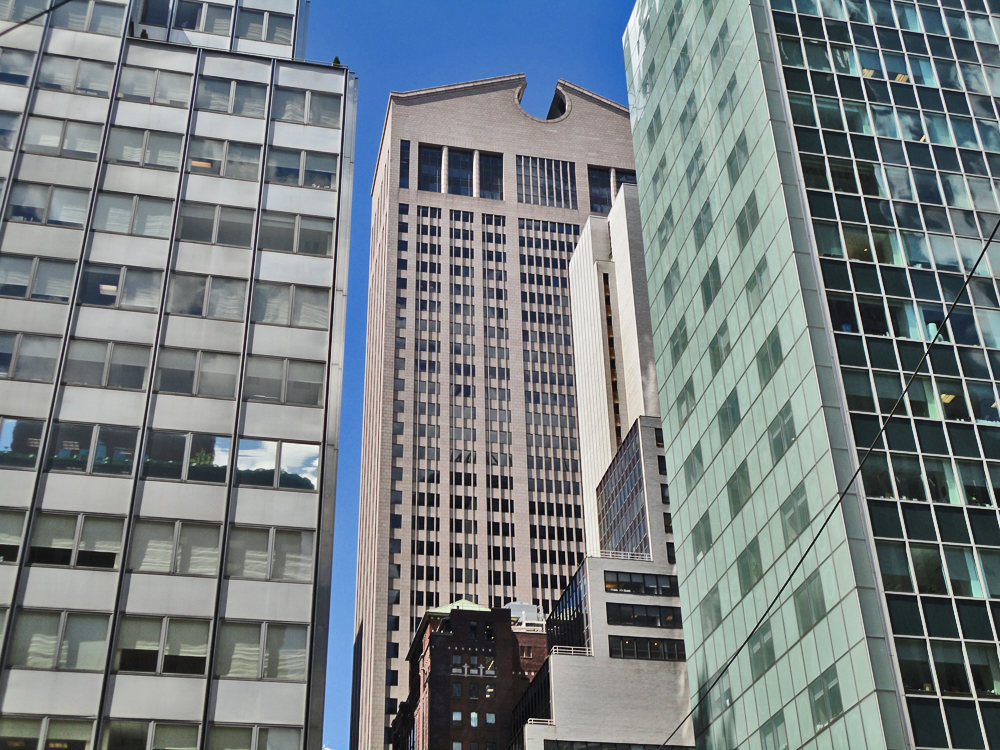 Looking towards Sony Bldg from Park Ave.
Looking even further, towards Cityspire, an iconic skycraper with a dome on the top.
A newspaper stand on Madison Avenue. The placard is about the hurricane Irene, that was threating to hit New York! This picture was taken 2 days before it hit New York, but it was downgraded to a tropical storm.