Click here to go to directly to JFK Airport
Queens is the largest in size second most populous of New York's 5 boroughs, after Brooklyn. It is also the easternmost borough, situated just to the North of Brooklyn and East of Manhattan. It is divided from Manhattan by East River and part of Long Island. The name is an honour for the Queen of England. Queens is divided into 5 different city areas: Long Island City, Jamaica, Flushing, Far Rockaway and Floral Park. JFK, New York's largest airport, and the airport where we landed, lies there as well as La Guardia Airport. The largest majorities of Queens population is 44% whites (predominantly Italians and Irishmen), 20% blacks and 18% Asians. Parts of Queens reminds of apartment blocks in Bronx, while other parts consist of wealthy middle class suburbs.
The only time we visited Queens was when going to the airport. It would be interesting to visit more of Queens, but unfortunately Manhattan takes too much time when staying just a week in New York.
Population: 2 230 000. Area: 462km2.
Click here to go to directly to JFK Airport
Queens skyline seen from United Nations HQ on East Side Manhattan. The blue skyscraper to the left is One Court Square, Queen's and Long Island's tallest building. It is 200m tall and was built in 1990. The building to the right is Citylights.
New skyscrapers are under construction in Queens, just next to East River. Here seen from East Side Manhattan. The blue building to the left is Queens tallest building, the 50-storey One Court Square from 1990. It is 200.5 m to the top of the roof. Except for near the riverfront, there are very few skyscrapers in Queens.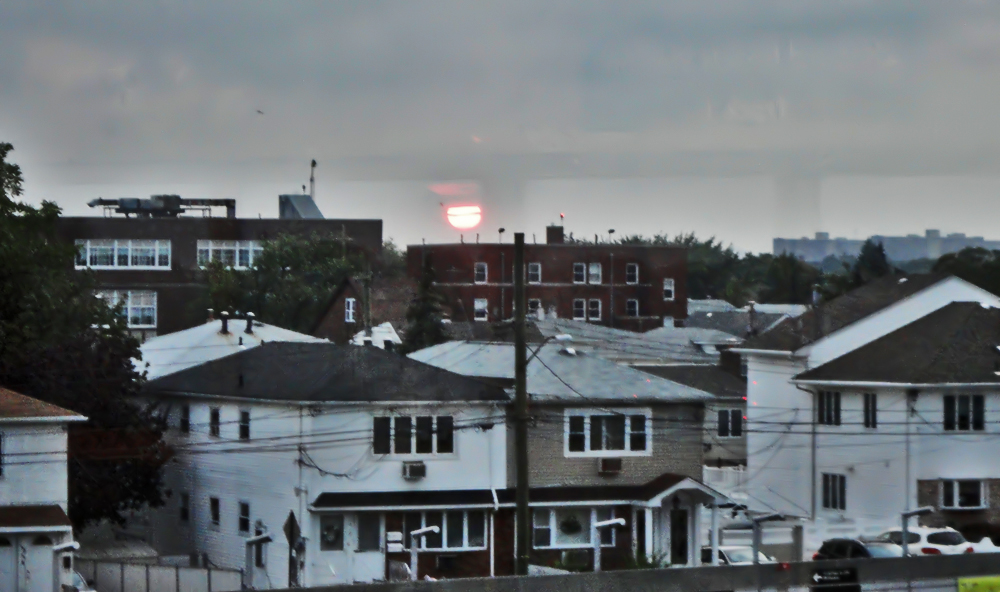 Residential neighboorhoud in Queens, near JFK Airport, at sunset.
John F Kennedy Airport (JFK):
This is where we landed and took off, the largest airport of New York's 3 airports and the airport that handles the largest number of international traffic in the USA. It opened in 1948. This is were our American Airlines plane from London Heathrow landed, after the flight from Copenhagen. JFK is situated 19 km southeast of Lower Manhattan. In 2010 it was the 16th busiest in the world. It has 8 large terminals and is the major gateway hub for American Airlines and Delta Airways. The most famous terminal is Terminal 5, designed by Eero Saarinen. It was originally known as Idlewild, but was renamed after president Kennedy a month after he got killed in 1963. We had to take an early flight because of the threat from the hurricane Irene.
Terminal 8 where we arrived and departed, seen from the sky train, an elevated computer driven, driverless train that connects the 8 terminals and took us to the nearest metro station.
Terminal 8 is American Airlines offical terminal and the only terminal we visited. There is a huge drawing of a skyline on the wall, that resembles famous towers and skyscrapers all over the world.
Terminal 8 with the skyscraper drawing to the right.
The drawing is called "Skyline of the world" and there are displays that explains information about each building.
"A Silhouette of Manhattan", another skyline painting inside Terminal 8.
Our AA flight from London Heathrow, where we arrived from Copenhagen.
The first sight of New York, a bit blurry actually.
Typical American elevated highway just outside the entrance to JFK:s Terminal 8.
TWA Flight Center, also known as Terminal 5, was designed by the famous Finish architect Eero Saarinen. It opened in 1962 and was very futuristic at the time. The monorail train passed by it briefly and unfortunately my picture of it was destroyed so I had to use a royalty free photo here. Photo: Wikimedia Commons.
Terminal 4, JFK Airport. Photo: Wikimedia Commons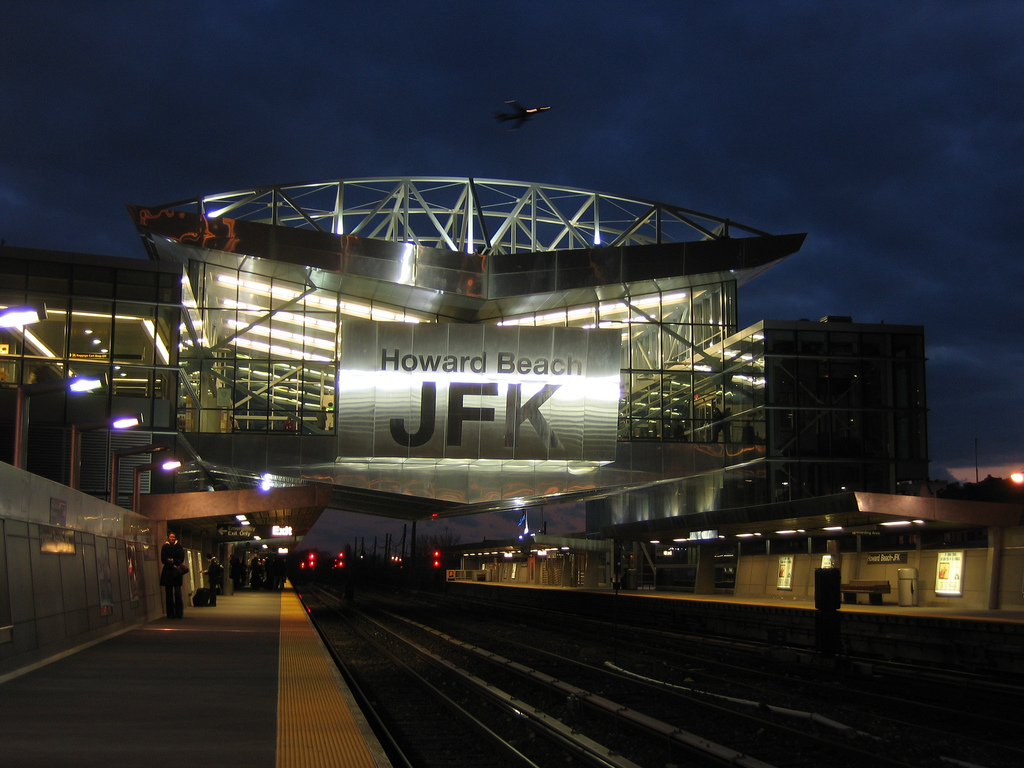 JFK:s Howard Beach subway station. This station at the suburb Howard Beach, a short monorail ride from the airport, was where we had to wait for half an hour before we could catch a train to Manhattan! Really unexpected for a connection between New York's largest airport and the financial hub of America!
While we were waiting we saw the lightening in the sky. Photo: Wikimedia Commons