Upper West Side and Upper East Side
Upper West Side is the area to the west side of Central Park and Upper East Side the area to the east of the park. Both these neighbourhoods are considered very fashionable. Many tall residential buildings from the early 20th century with celebrities residing there are located there. On Upper East Side the 5th Avenue goes along Central Park, a part that is called the Museum Mile because of the many famous museums located there. If you look for Lincoln Center, that is part of Upper West side, visit this section.
Upper West Side: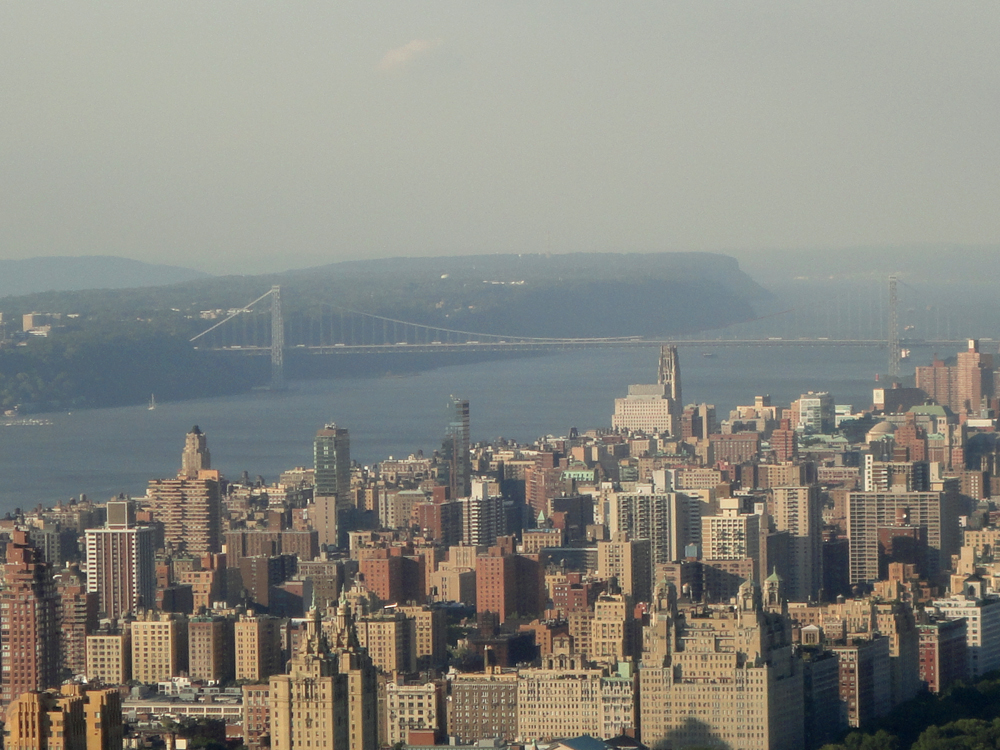 Upper West Side seen from GE Building in Midtown. You can also see Central Park, Hudson River, New Jersey and the Appalaches.
The Dakota Building seen from West Central Park. This is the building where John Lennon lived, and Yoko Ono and many other celebrities live there today. It is also outside this building where Lennon was shot to death. The Dakota, built in 1884, is also famous for being the setting for the horror movie "Rosemary´s Baby". Other prominent residents through the years are Lauren Bacall, Boris Karloff, Judy Garland, Sean Lennon and many more. It was drawn by Henry J. Hardenberg in a sort of German Renaissance style. It is a National Historic Landmark since 1976. See more pictures of it in the Central Park section.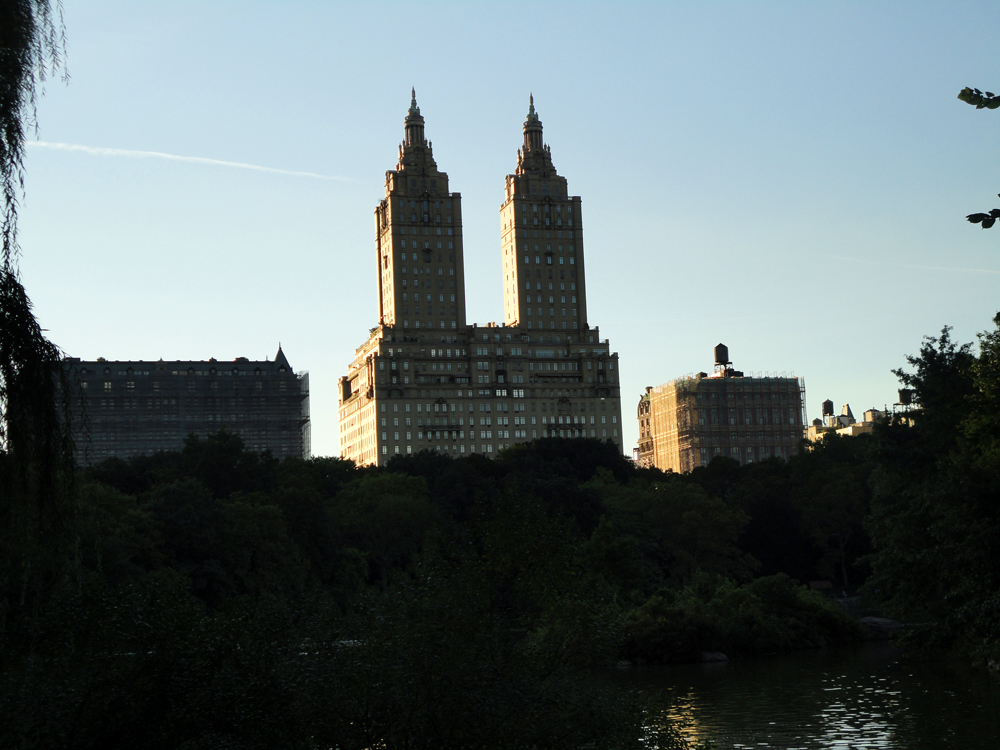 San Remo Apartments seen from The Lake. This 27-storey twin tower building from 1931 has famous residents like Steven Spielberg, Demi More, Bono, Dustin Hoffman, Tiger Woods, Glenn Close, Aaron Spelling, Rita Hayworth, Steve Jobs and Bruce Willis, just to mention a few of them that live there now or in the past.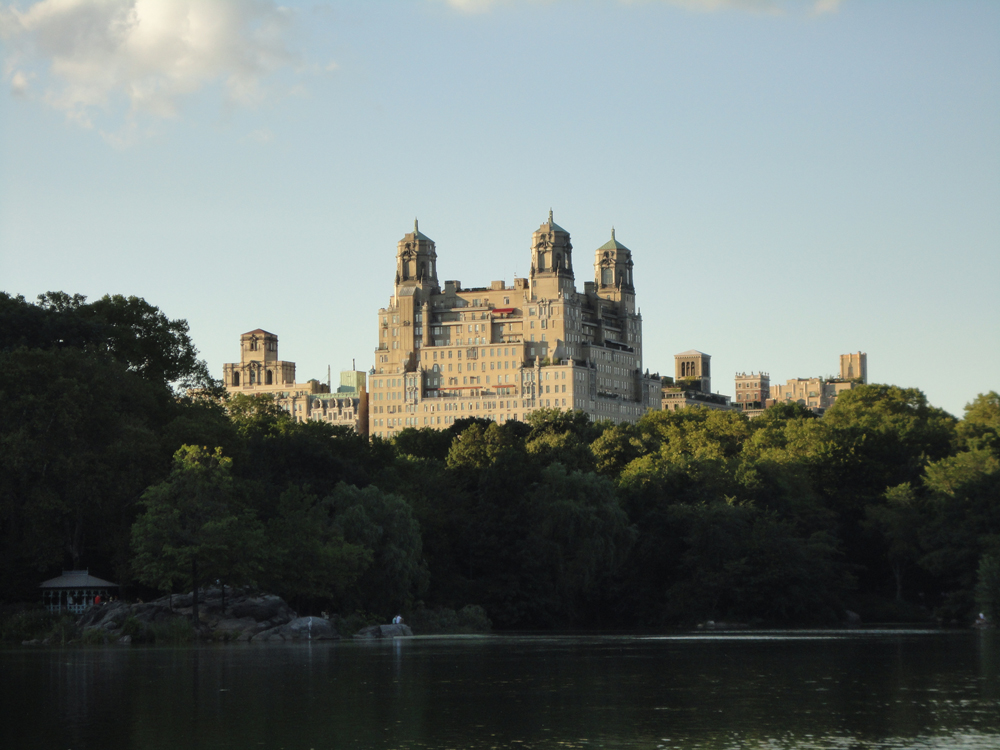 Exclusive residential buildings on Upper West Side seen from the Lake in Central Park.
The Dakota at Central Park West, in the end of Strawberry Field.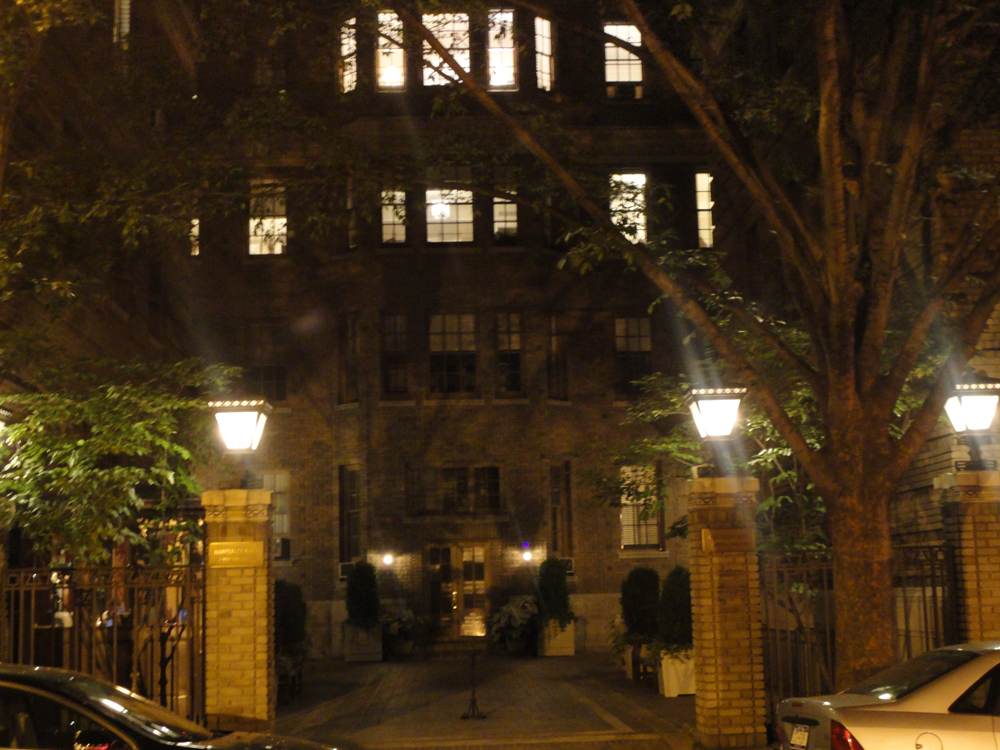 Harperley Hall is an exclusive residential building on 41 Central Park West, Upper West Side. It was built in 1910. Madonna owns an apartment here.
Harperly Hall. Madonna had a conflict with the property company since they refused to let her buy an additonal apartment on the 7th floor.
If you look for Lincoln Center, that is part of Upper West side, visit this section.
Upper East Side:
Park Avenue on Upper East Side.
Park Avenue Synagogue.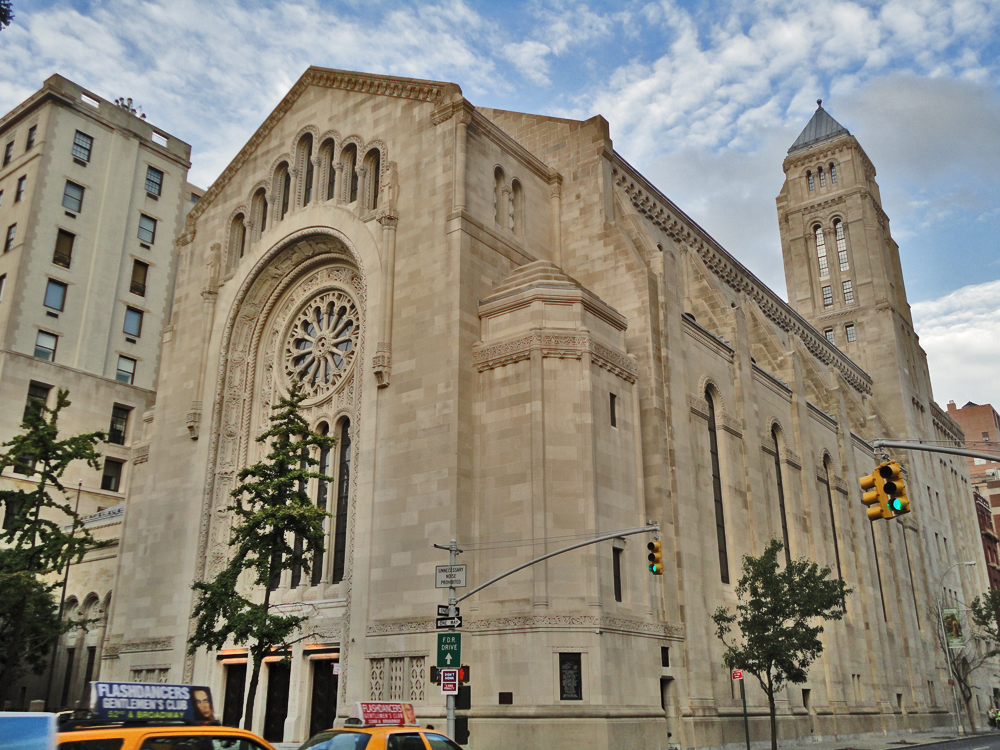 A great church on 5th Avenue, Upper East Side.
The Carlyle, a classic New York hotel on 5th Avenue, Upper East Side. This Art Deco building is a combined residential building and luxury hotel. It has 35 floors and opened in 1929.
The Carlyle seen from a distance on Madison Avenue. Note the spruces, they are rare summertime in New York.
Along Madison Avenue.
A newspaper stand on Madison Avenue. The placard is about the hurricane Irene, that was threating to hit New York! This picture was taken 2 days before it hit New York, but it was downgraded to a tropical storm. Read more about it in the main section.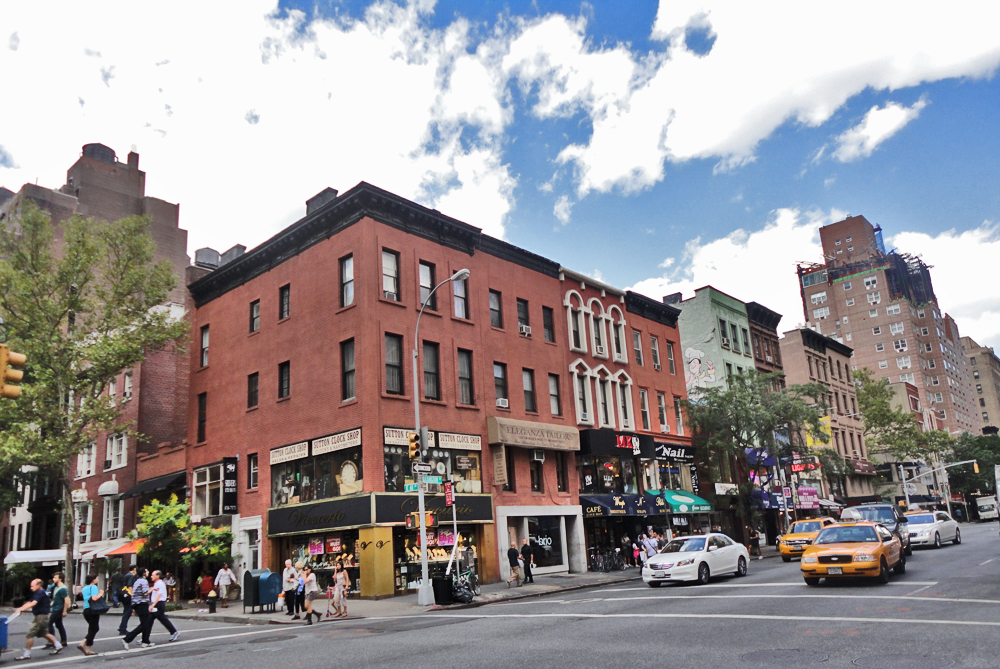 Art at at subway system. The "money sculptures" are a bit fun to look at while waiting for the train.
Charming townhouses on a plush Upper East Side street.
A street many residential buildings, between Park Avenue and Fifth Avenue. Central Park can be seen in the end.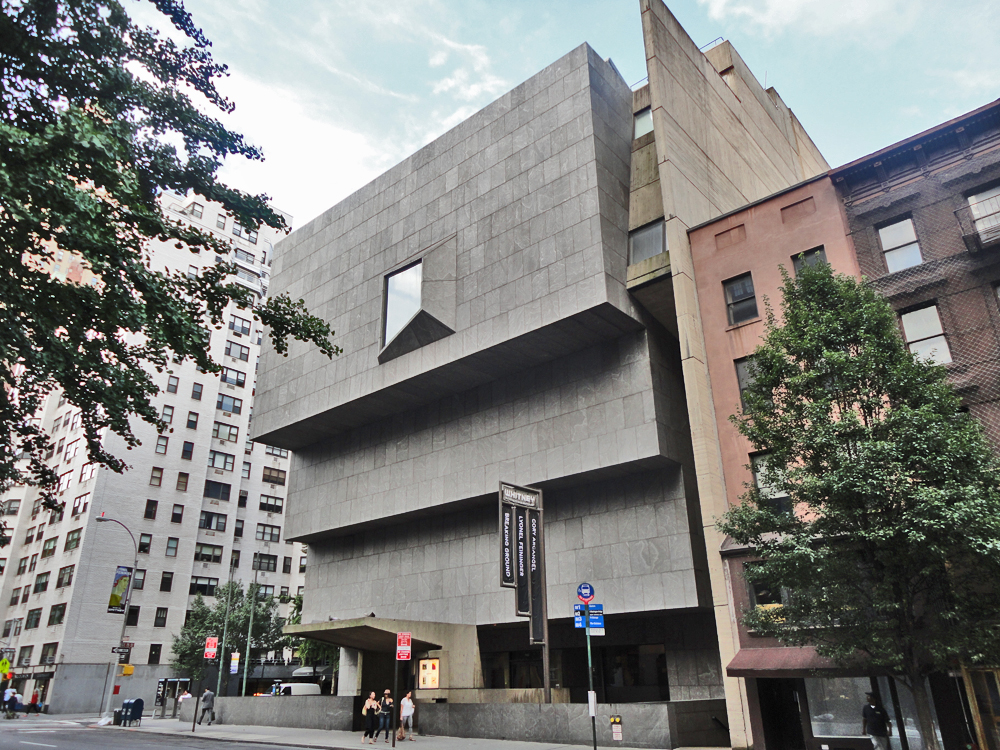 The Whitney Museum, an art museum with focus on American art.
Metropolitan Museum of Art, often just called "The Met", is New York's largest museum. Here it is seen from the Musuem Mile part of 5th Avenue on Upper East Side. It was inaugurated in 1872 and it has today over 2 million pieces of art.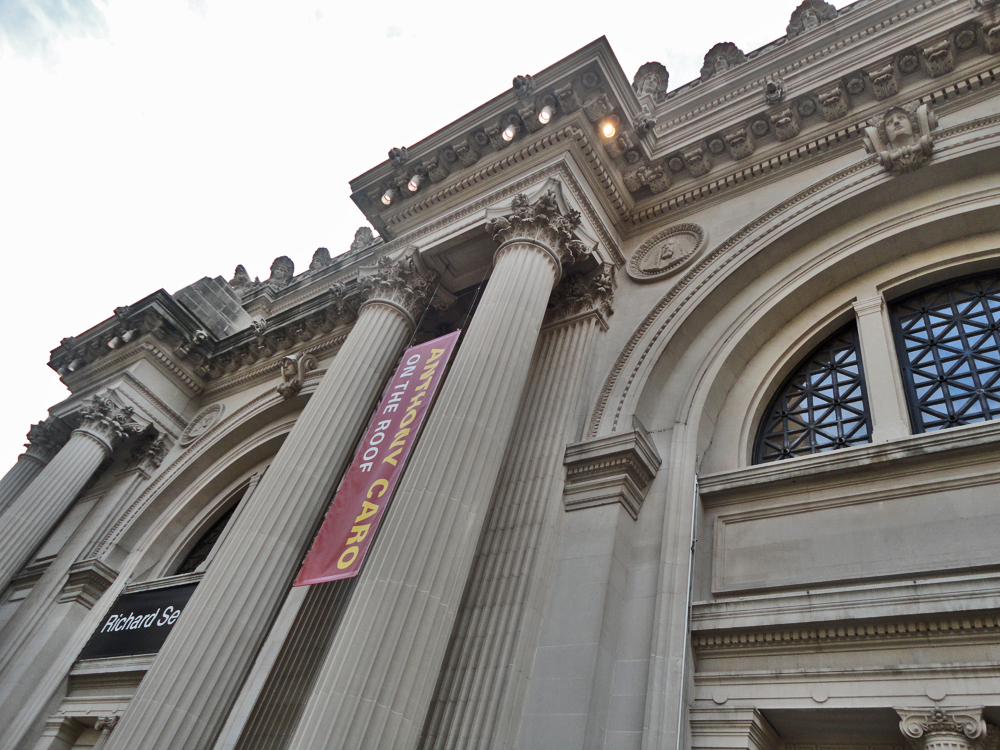 Close-up of The Met.
The fountain outside the museum. Note the joggers!

The Solomon R. Guggenheim Museum is a futuristic looking modern art musuem, built as early as in 1959. In 1992, a rectangular and more traditionally looking expansion was added.
The Guggenheim is one of Wright's most famous works.

The skylight atrium with floors that soars like a spiral around the building. When reaching the top, the exhibition is over.
Outside The Carlyle on Madison.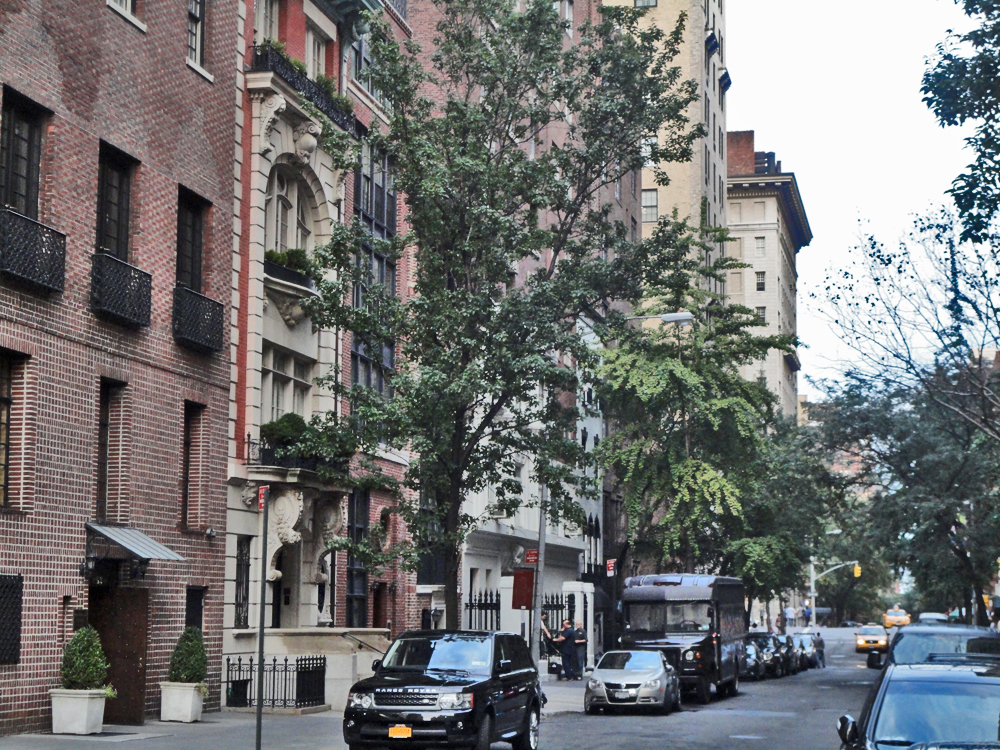 Bobby Short Place.
Many Mercedes here.
E 79th Street with its many beautiful European style consulates and embassy services, ending at Central Park.
This gothic castle like mansion houses the Ukrainian Institute and the Cultural Services for the French Embassy. It lies at the crossing 5th Ave/E 79th St opposite Central Park.
Townhouses in European style.
To the left: Metropolitan Museu of Art´s office annex.
Transverse Road, one of 3 roads that goes across and underneath Central Park.
1035 Fifth Avenue, a luxury apartment building where Jackie Kennedy Onassis lived. She used to jog in Central Park, that is situated right opposite this building and the reservoir in Central Park is named after here.
The entrance to 1035 Fifth Avenue.
This 16-storey building is where Jackie Kennedy lived. 1035 Fifth Avenue was built in 1926, designed in Italian Renaissance Palazzo style.