SKYLINE FROM CENTRAL PARK:
SHEEP MEADOW:

Midtown Manhattan skyline seen from Sheep Meadow in Central Park. Skyscrapers from the left: Bloomberg Tower, Hotel Pierre, Four Seasons Hotel, General Motors Bldg (Sherry-Netherlands Hotel, in front of it), 590 Madison Ave (formerly IBM Bldg), Sony Building, Trump Tower, Solow Bldg, Park Lane Hotel, Ritz-Carlton Hotel, GE Bldg, Hampshire House (Burlington House behind), Essex House Hotel, 108 W 57St (Cityspire behind), Carnegie Hall Tower, 888 7th Ave, Random House Tower, Central Park Place, Hearst Tower, Trump International Hotel, Time Warner Center.
Click on the picture for a larger version!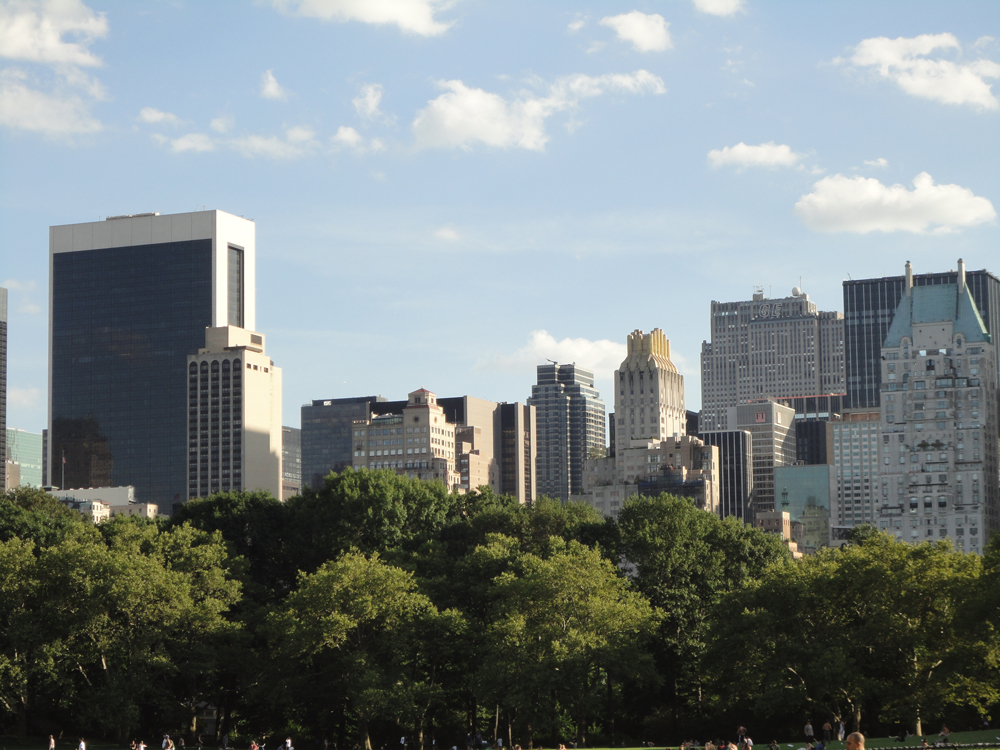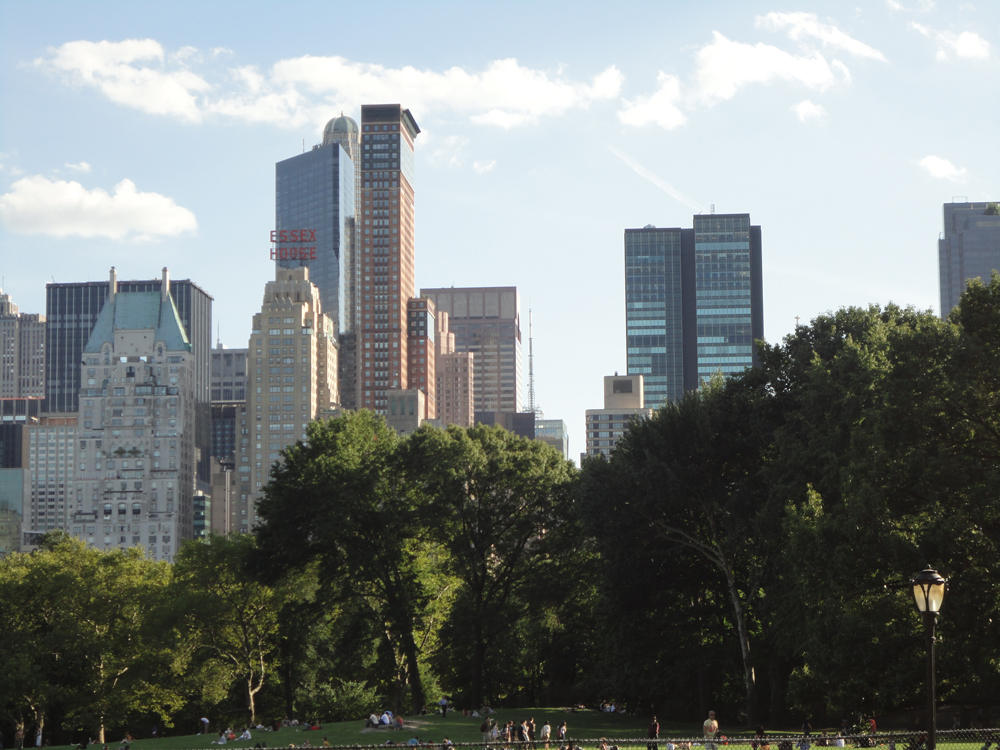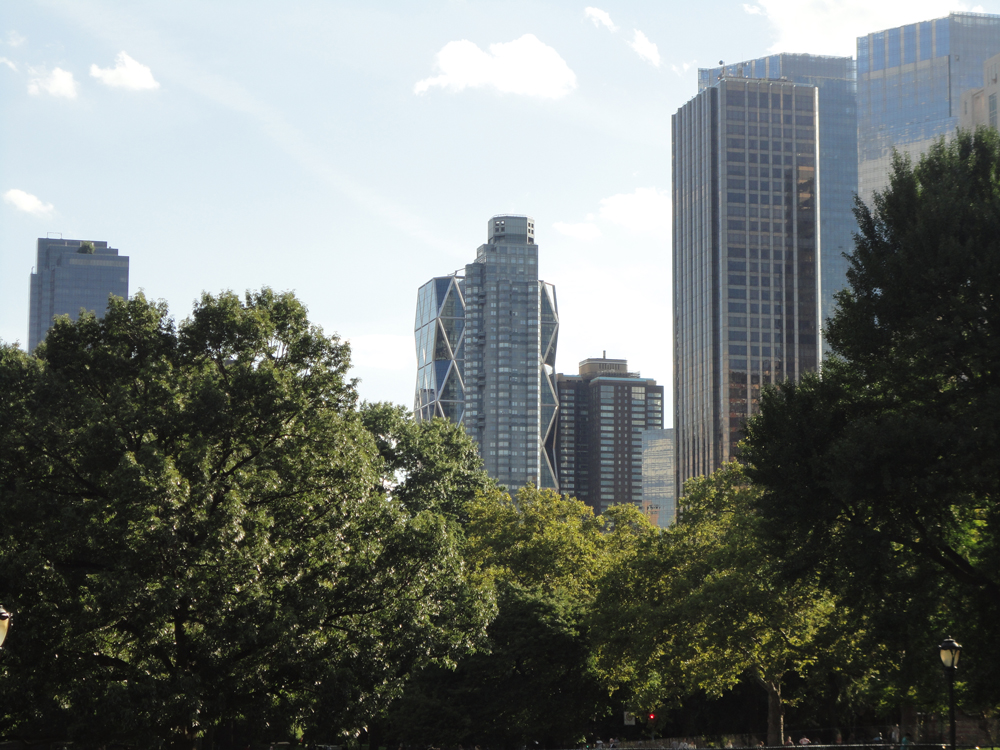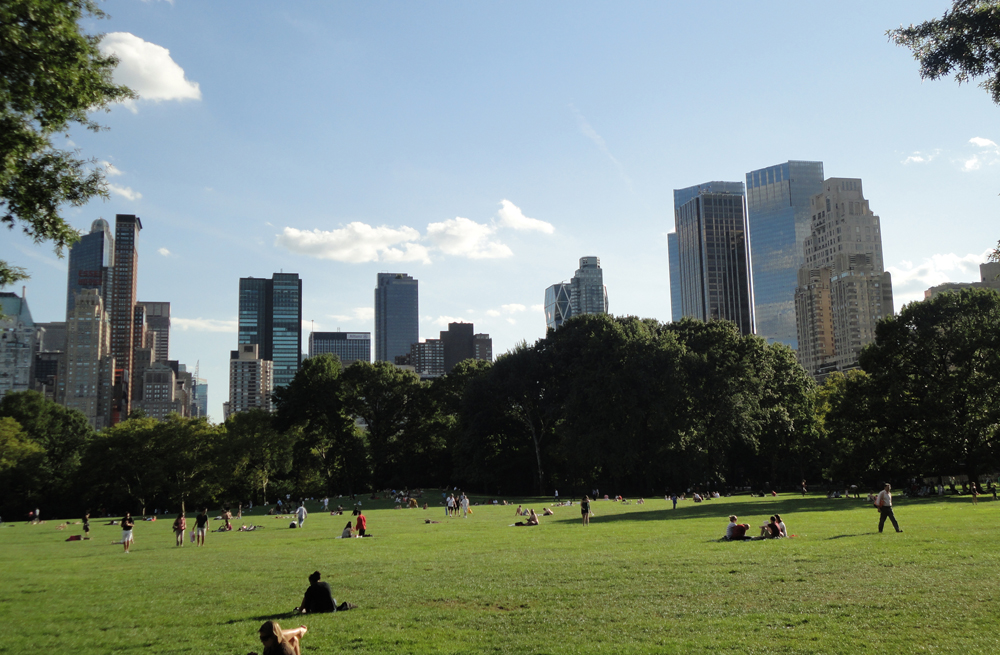 Meadows Green is a nice place to have picnic with stunning views of Manhattan skyline.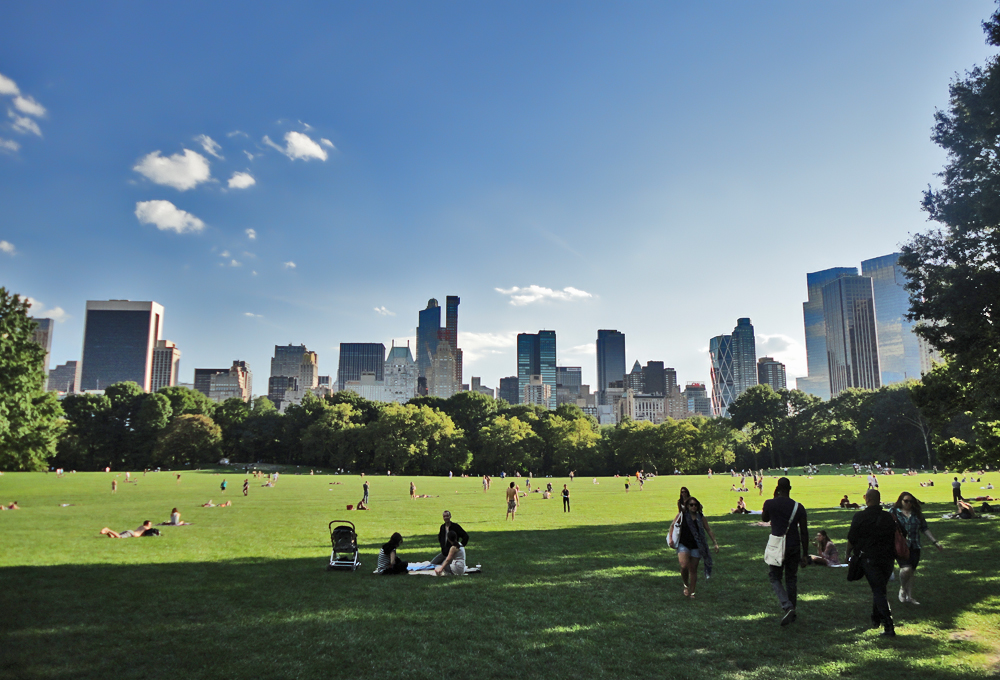 Meadows Green offers one of the best views of the Midtown skyline, the buildings appear closer then they do from the top of skycrapers.
Upper West Side seen from The Lake.
Central Park South skyline on sunset. Almost all towers here are luxury hotels.

Midtown skyline seen from the Great Lawn in North Central Park.
Skylines from street level, Midtown Manhattan: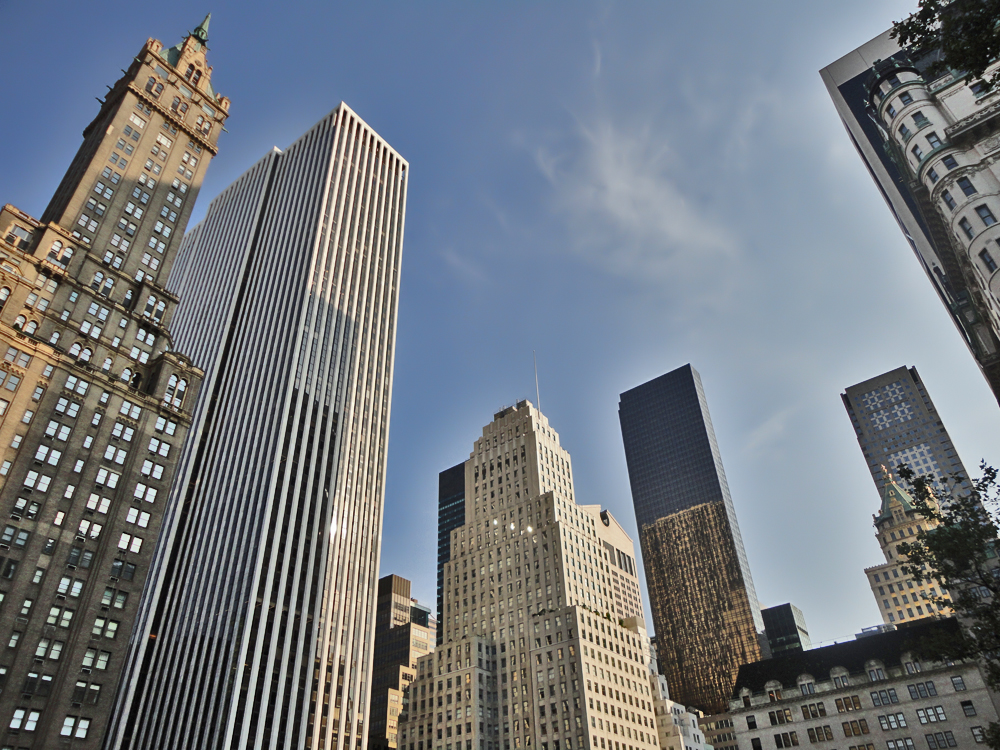 Grand Army Plaza: Sherry-Netherland, GM Building, Trump Tower and parts of Hotel Plaza and Solow Building are visible in this photo.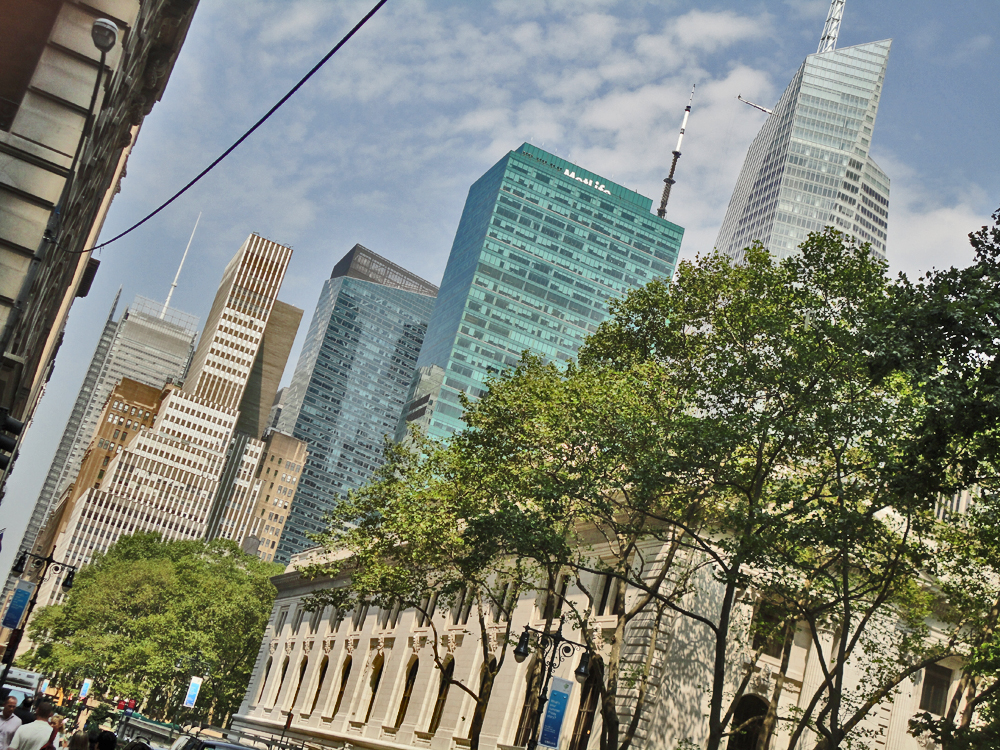 Bryant Park from Avenue of the Americas.
Bryant Park: The Great Lawn where people love to sit or lie and relax. The classic beige building with green roof is Mercantile Building from 1929.

The south part of Times Square's heart at Broadway, filled with flashing neon advertizement. Note the crystal ball on top of the middle section, where you can see it is 2011! It will be dropped on New Years Eve. The building it is placed on is called One Times Square (formerly New York Times HQ that the square is named after), in front of the taller Times Square Tower.
The north part of Times Square's heart, officially called Duffy Square, also filled with flashing neon advertizement on Renaissance Hotel. Especially recognizable is the Coca-Cola sign.
Looking towards Bryant Park from Bryant Park.
Park Avenue buildings: Waldorf Astoria, St Bartholomew's Church, MetLife Bldg and more.
Modernist skyscrapers of North Park Avenue. To the left is Seagram Building from 1958, an early example of international style modernism.
Rockefeller Center: The 70-storey GE Building seen from 5th Avenue. Rockefeller Center was the largest project financed by only one person in modern times.
Rockefeller Center's extention with its 4 international style skyscrapers built in the 1960s-70s on the west side of Avenue of the Americas. They consist of Time-Life Bldg, McGraw-Hill and News Corp/Fox News Bldgs and look similar to each other.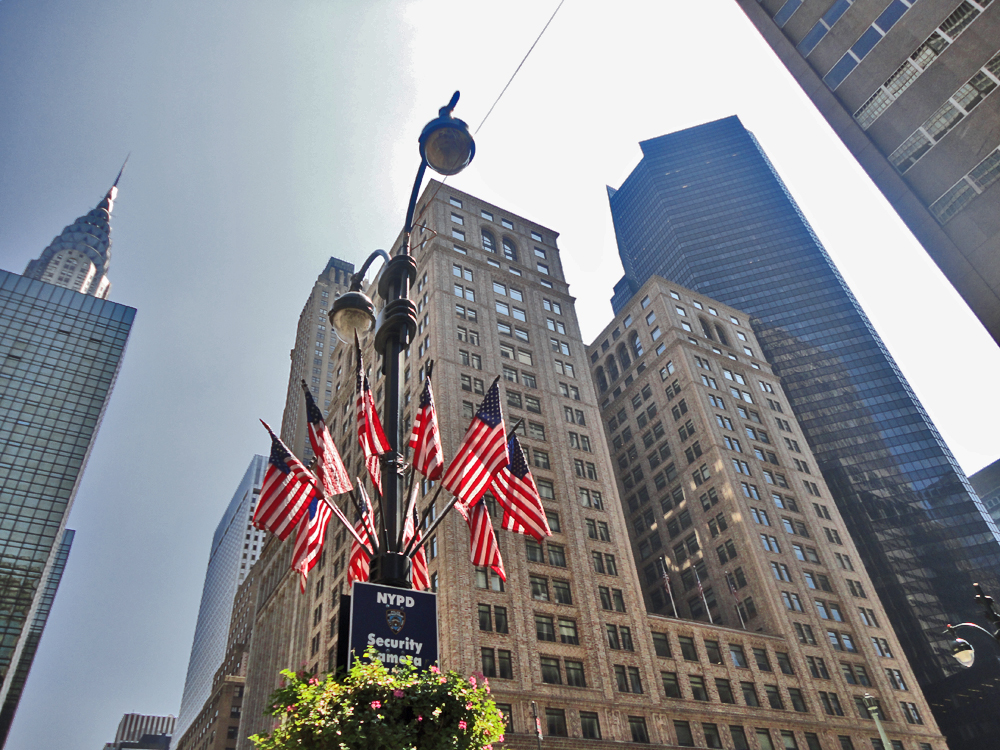 East 42nd Street: Chrysler Bldg and more.
East 53rd Street: Small townhouses with Citigroup Center in the background.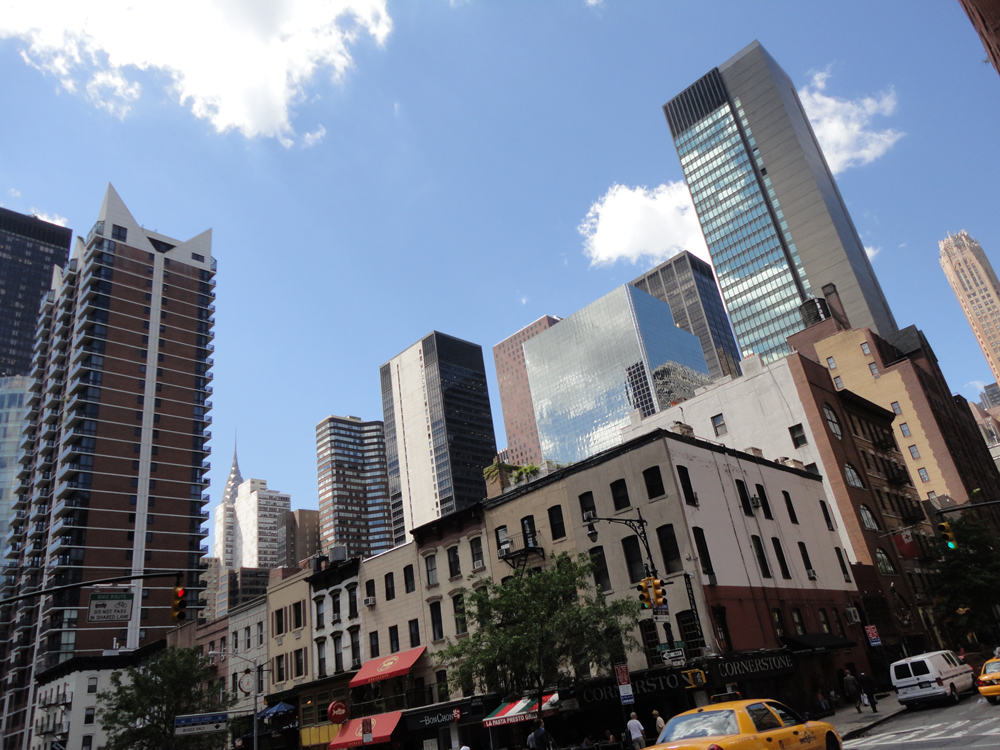 East 53rd Street: More contrasts with townhouses and highrises.
Columbus Circle: Time Warner Center from 2004 has totally changed the face of Columbus Circle. Trump International Hotel is a bit older.
Broadway towards Times Square is crowded with skyscrapers.
Near Columbus Circle: Mirroring exteriors of 8th Avenue!
Madison Square Park, from the left: New York Life Bldg, New York Merchandise Mart, Metropolitan Life North Bldg, Met Life Tower.

Madison Square Park: Broadway (right) and 5th Avenue (left) meets here. The famous Flatiron Building is in the middle.
Skylines from street level, Lower Manhattan:
World Financial Center, World Trade Center (1, 4 and 7).
One World Trade Center (formerly Freedom Tower) is the skyscraper u/c in the middle that will be 541m tall to the top of the spire, and have 105 floors, when completed. It is the only property that will be owned by Port Authority. To the right is the already completed 7WTC, that replaced the old 7WTC that collapsed on 10/11 (the day after, leading to expectations that there was bombs inside by conspiracy theorists). The reasons it was completed already before the other ones were built it is that there was another owner, that didn't have to wait. The brown buildings with green roofs in the background belong to World Financial Center, a complex that was heavily damaged during 9/11, but have been repaired.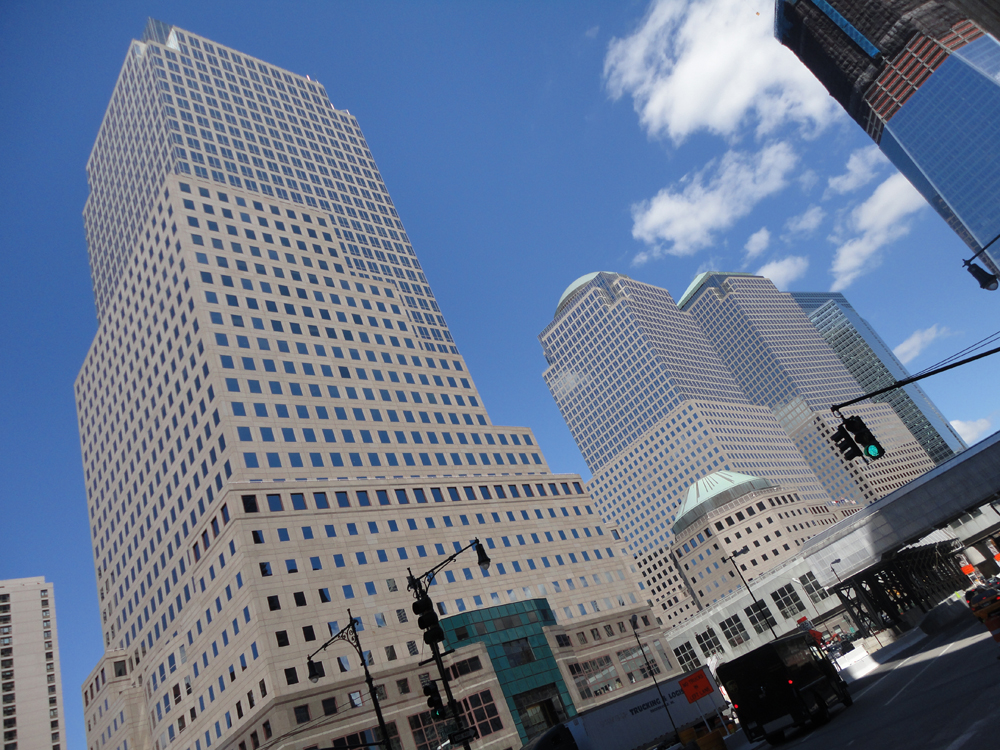 World Financial Center. Here you can see 3 of the 4 towers, designed by Cesar Pelli. The tallest one is Three WFC from 1986 to the left with 51 floors and 225m height. The towers are connected with light glass atriums and skybridges.
Four WTC and Millenium Hilton seen from WFC.
Ground Zero, now the WTC construction site, seen from Three WFC. One WTC can be seen to the left.
West Street, looking to the South towards Battery Park.
Skyscrapers from the left: Goldman Sachs HQ, 7 WTC (with older bldg in front), 1 WTC, 1 WFC. This is were the Tribeca neighbourhood begins.
City Hall Park: Woolworth Building is a 57-storey Gothic masterpiece. Upon completion in 1913 it was the world's tallest building (until 1930). It is still one of the most recognizable skyscrapers in New York, and is situated just next to WTC (the glass bldg behind is 7WTC), but was not severely damaged. It is still one of the 20 tallest buildings in New York.
Battery Park: view of classic buildings. The Whitehall Building in the middle was built in 1904, but the 30-storey tower, seen in the back, was added in 1910. It was the largest office building in the world when completed.
Part of Lower Manhattan skyline, seen form South St Seaport.
Beekman Tower, or New York by Gehry, and Woolworth Building, seen from Brooklyn Bridge.
State Street is the short southern tip of Broadway, situated between Wall St and the harbour.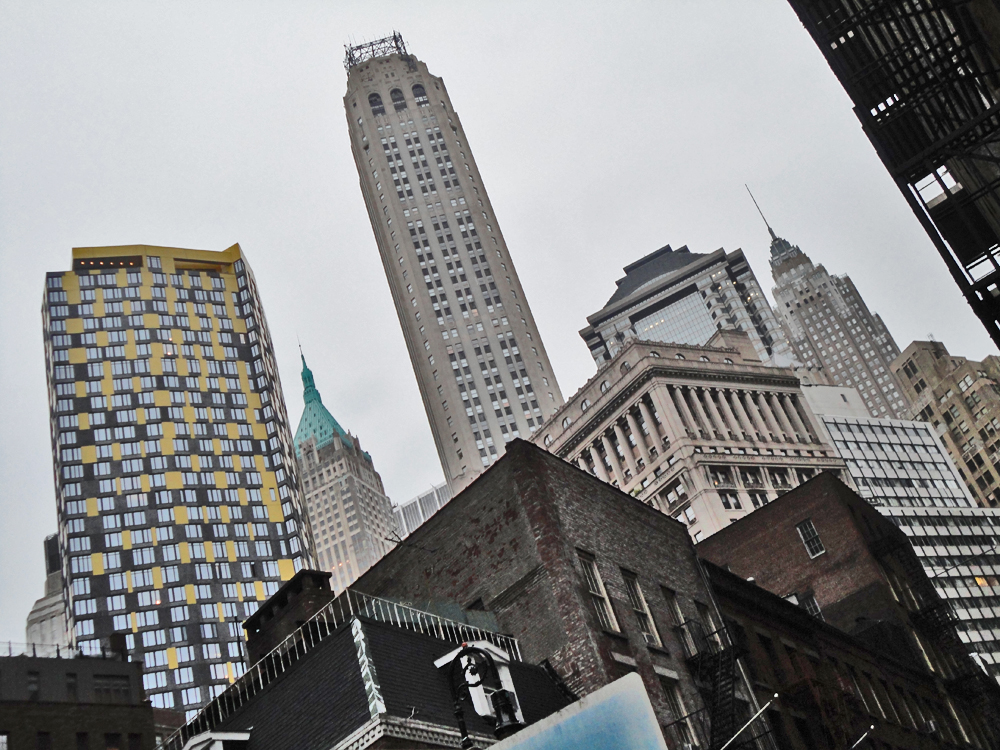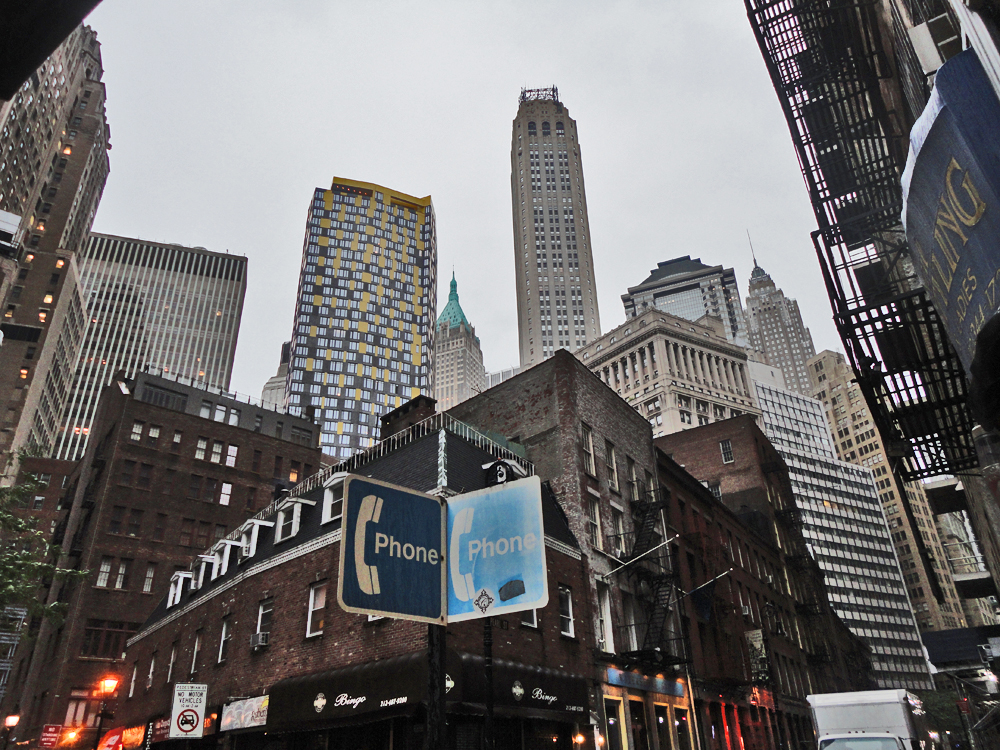 A mix of Wall Street and other buildings in the Financial District. The picture is domintated by 20 Exchange Place.
Looking up at the old school skyscrapers above the stock exchange.
Greenwich Village and SoHo:

Washington Square Park with its arch and fountain in the heart of Greenwich Village. It has a tradition of non-conformity. New York University consider the park a part of their campus.
The SoHo part of Broadway, with silhouettes of mostly lower buildings.
West Midtown:

Hell's Kitchen: Silver Towers are new 58-storey residential skyscrapers from 2009, part of the Hell's Kitchen vitalization.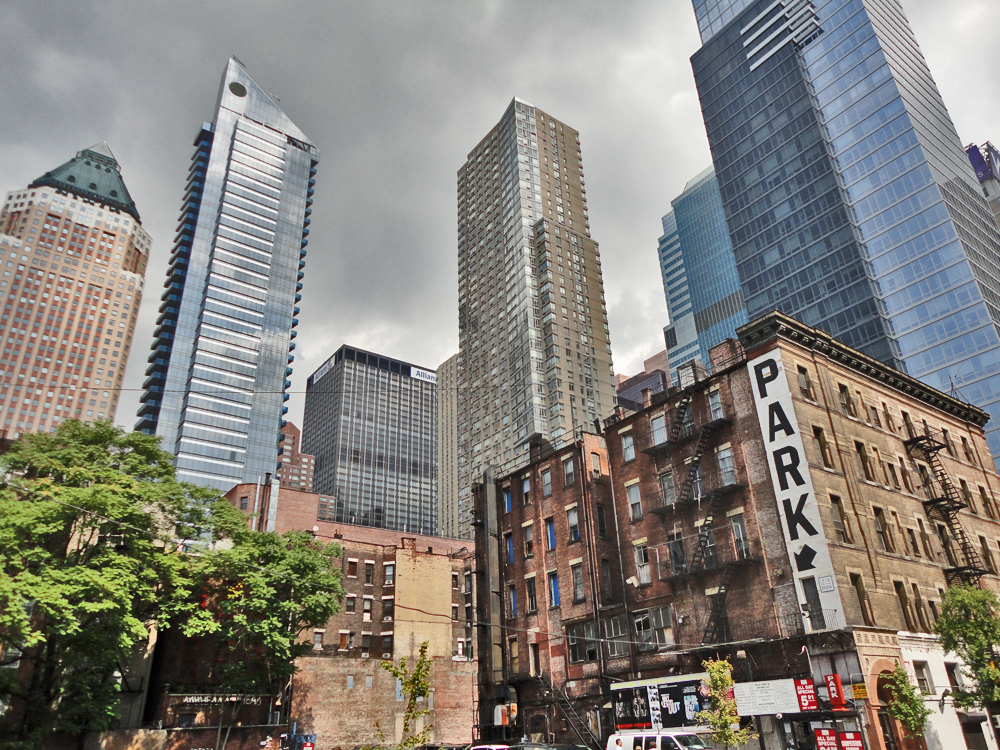 Hell's Kitchen: Postmodern skyscrapers contrast to the gritty facades.
12th Ave, Hell's Kitchen and Jersey City skyline can be seen in the distance.
View from Intrepid Sea Air and Space Museum: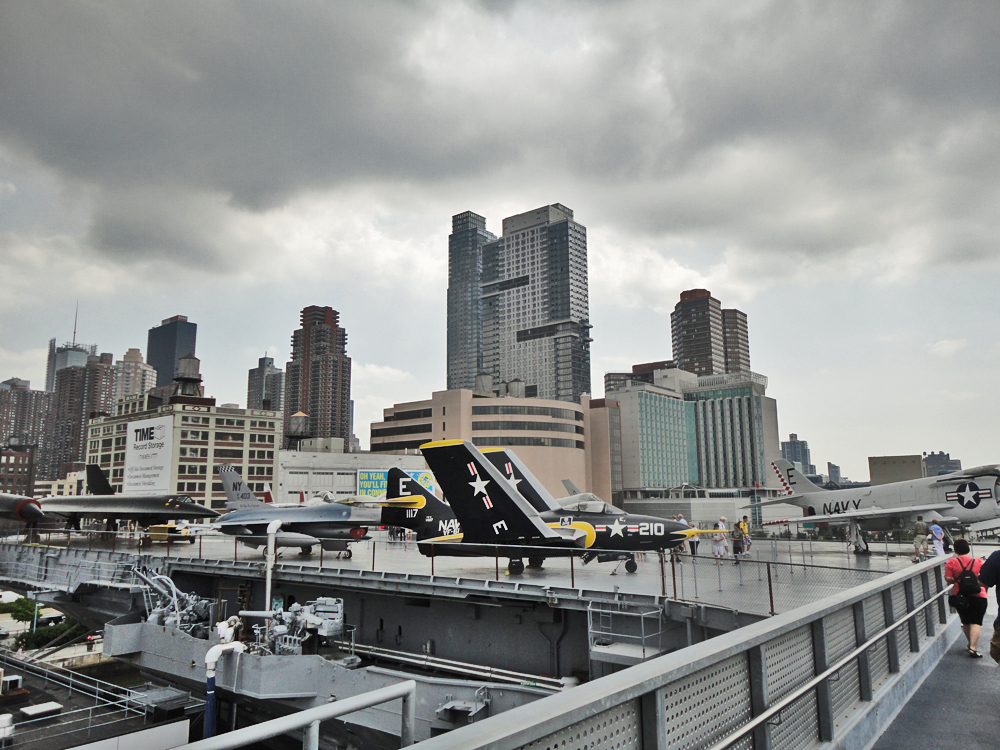 Aircraft and Hell's Kitchen skyline, dominated by Silver Towers.
Midtown Manhattan skyline.
Looking towards Empire State Building.
Concorde in direction towards Midtown skyline, here dominated by One Worldwide Plaza. To the right is its RR engine.
The black clouds above the skyline and airplanes, the day before the hurricane Irene was about to strike. We left earlier that day!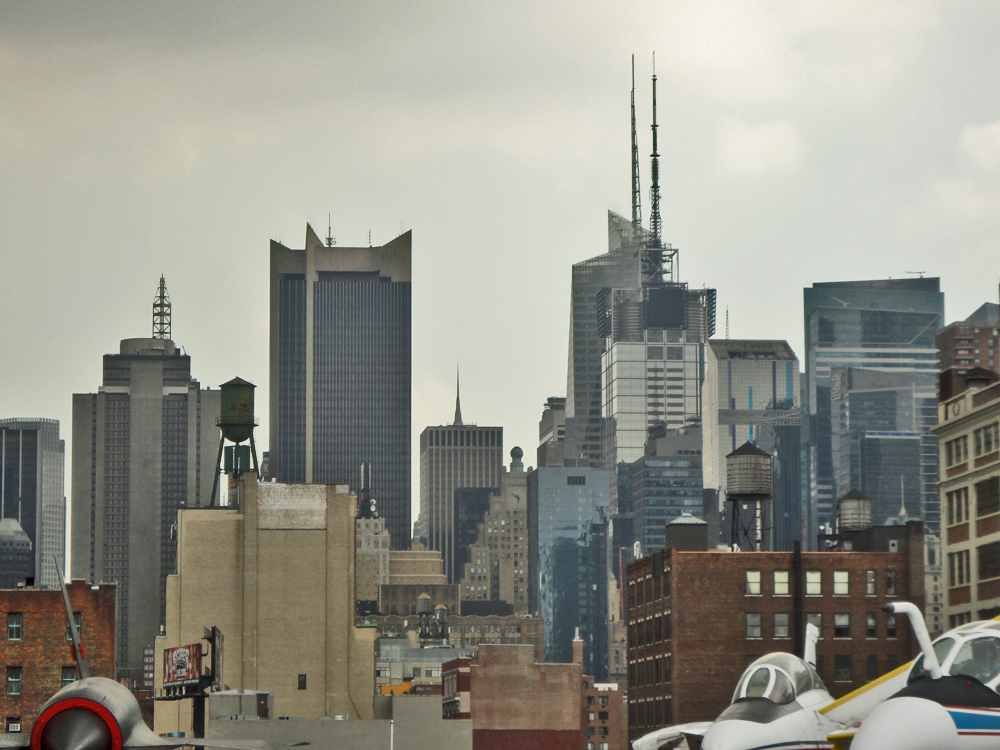 Skyscrapers around Times Square, tallest from the left: Marriott Marquis, One Astor Plaza, Bank of America Tower. In the near left you can see part of the Blackbird.
Skyline views from in and near our hotel in Meatpacking District:
View of the busy West Street in Chelsea with Lower Manhattan (with WTC), Hudson River and Jersey City in the background, seen from The Jane Hotel.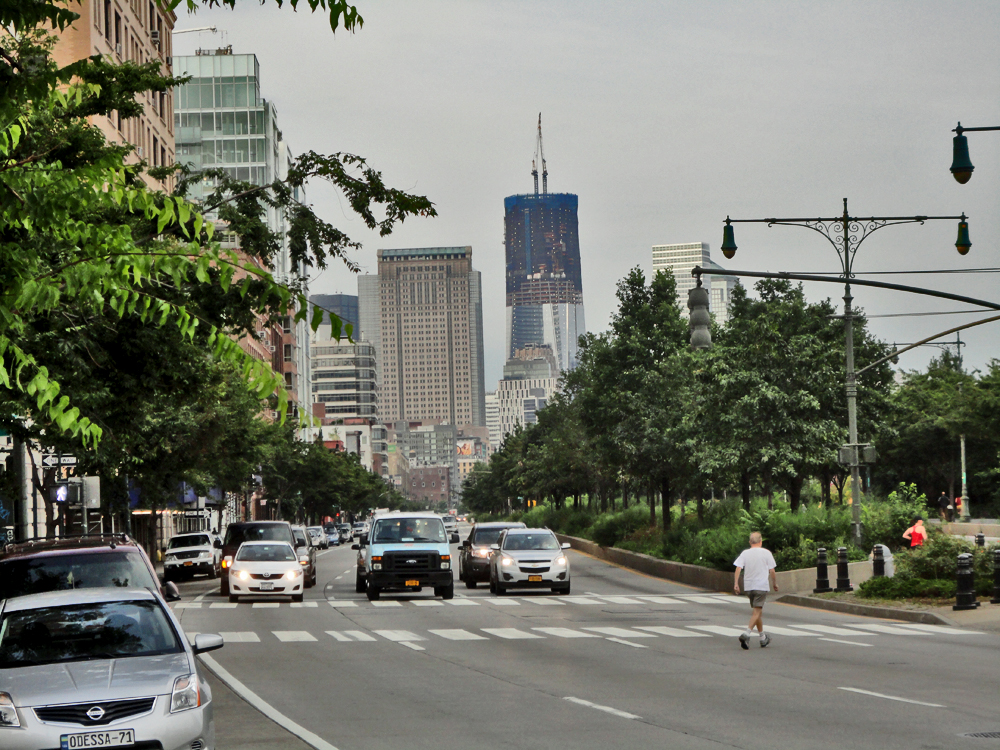 West Street towards WTC. Just next to our hotel.
NEW JERSEY: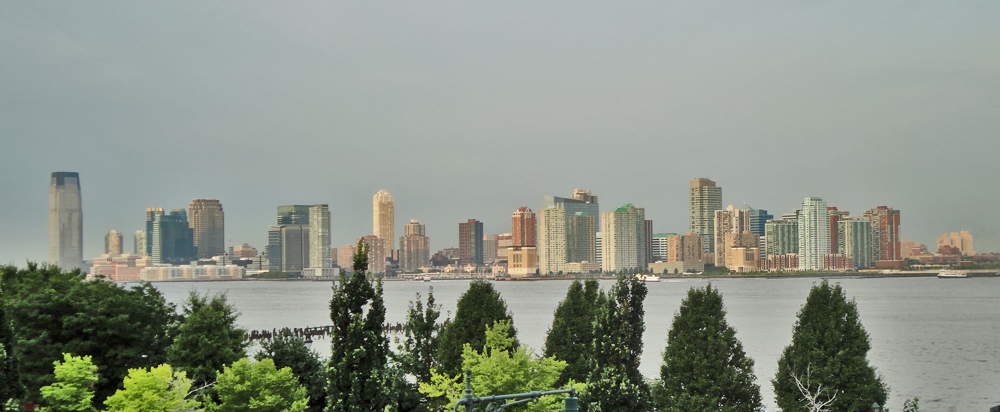 Jersey City skyline seen from our Chelsea Hotel, across Hudson River. You can find Goldman Sachs Bldg (New Jersey's tallest building), Trump Plaza and Exchange Place, Harbourside Plaza and Hudson Greene Towers on this photo. The skyline is still growing, new skyscrapers are planned.
Ugly highrises in commie block style on the New Jersey side, across Hudson River. Seen from Intrepid Sea Air and Space Museum.
Views from Staten Island Ferry:
Lower Manhattan skyline, will in the near future once again be dominated by World Trade Center.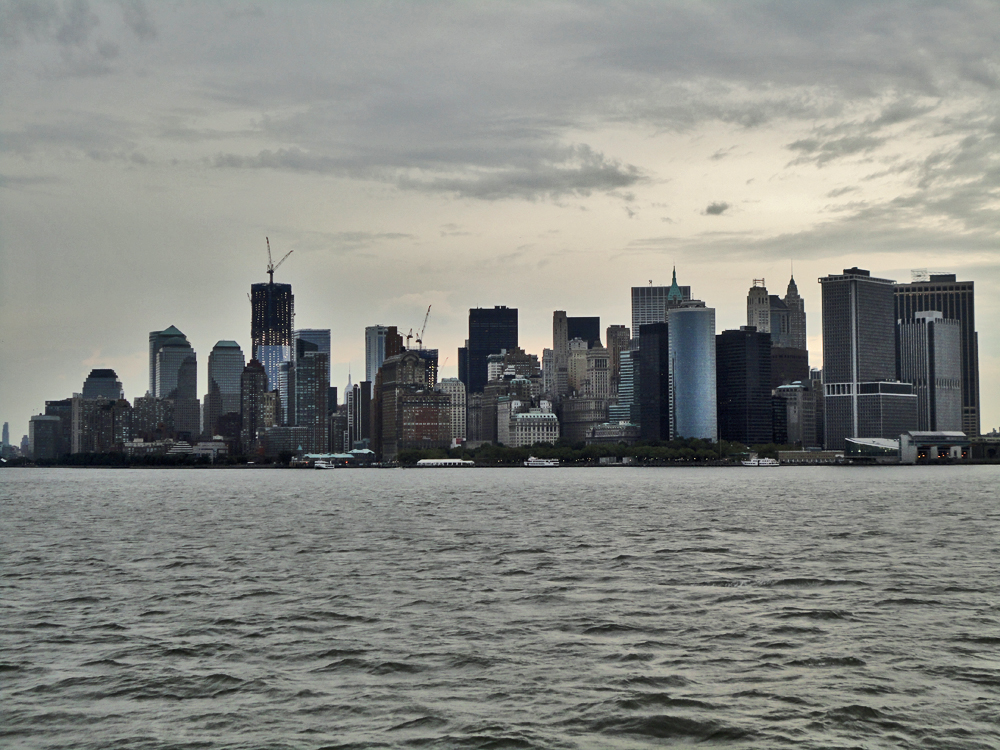 Lower Manhattan skyline seen from Staten Island Ferry, including Battery Park, World Financial Center, some classic skyscrapers and the new World Trade Center.
In the far distance to the left, to the right of WTC, you can see the top of Empire State Building.
New York skyline seen from Staten Island, from the left: Jersey City, Liberty Island (Statue of Liberty), Midtown Manhattan, Lower Manhattan, the bridges and Brooklyn.
Lower Manhattan skyline.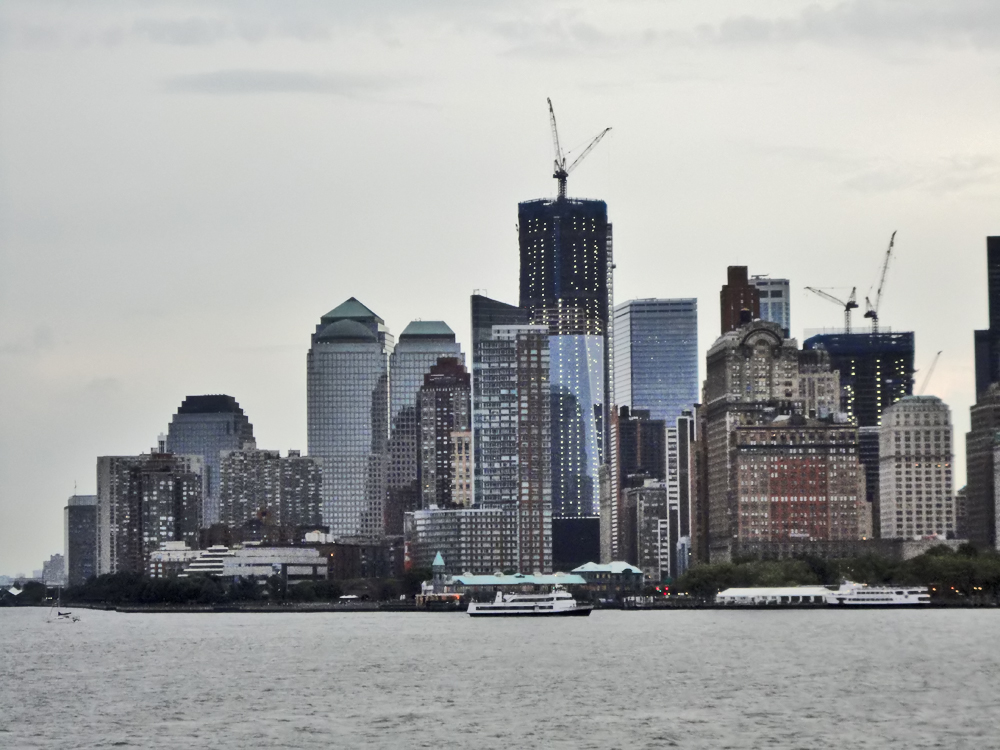 The new WTC and WFC.
World Financial Center, WTC, Battery Park and more.
The most recognizable buildings from the left: One WTC (u/c), One New York Plaza, 17 State Street, Two New York Plaza.
Brooklyn skyline, seen from Manhattan:
Downtown Brooklyn and Brooklyn Bridge, seen from South Street Seaport across East River.
Downtown Brooklyn, close-up. Note the roads that goes in 4 different levels. The highest level has a promenade with views of Manhattan.
View towards Brooklyn Heights.
Watchtower's headquarters next to the Brooklyn Bridge.
Downtown Brooklyn has some classic looking skyscrapers, but many new ones are under construction. The beige older building in the middle is the 30-storey St George Hotel from 1930.
Downtown Brooklyn seen from Lower Manhattan.
Staten Island: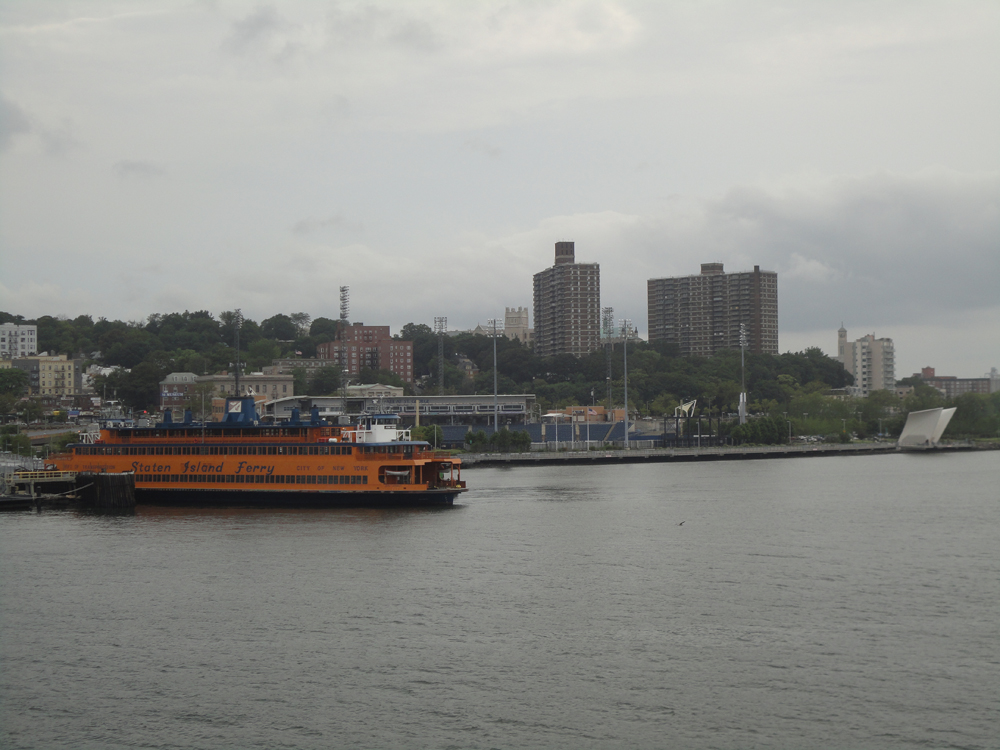 Staten Island skyline from the ferry.
Queens:
Queens skyline seen from United Nations HQ on East Side Manhattan. The blue skyscraper to the left is One Court Square, Queen's and Long Island's tallest building. It is 200m tall and was built in 1990. The building to the right is Citylights.
New skyscrapers are under construction in Queens, just next to East River. Here seen from East Side Manhattan. The blue building to the left is Queens tallest building, the 50-storey One Court Square from 1990. It is 200.5 m to the top of the roof. Except for near the riverfront, there are very few skyscrapers in Queens.
JFK Airport, Queens: Terminal 8 is American Airlines offical terminal and the only terminal we visited. There is a huge drawing of a skyline on the wall, that resembles famous towers and skyscrapers all over the world.
JFK Airport: "A Silhouette of Manhattan", another skyline painting inside Terminal 8.