Het Binnenhof
LAKE HOFVIJVER, BUITENHOF, RIDDERZAAL
Binnenhof is a complex of buildings in central Den Haag that has been the Dutch parliament since 1446. Binnenhof literally means "inner court". There is an inner court in the middle of the monumental old buildings. The "little tower" (het Torentje) is the office of the prime minister since 1982. Binnenhof is situated righ to the lake Hofvijver. In 1229 Count Floris IV of Holland built a mansion on the place, and later more buildings were constructed, such as the famous Ridderzaal (Great hall) where the queen holds her annual speech at Prinsjesdag. The square in front of Binnenhof is called Buitenhof.
Lake Hofvijver is situated right in front of Binnenhof, the historic complex that hosts the Dutch government.
The skyline of Den Haag's skyscrapers can be seen in the back of Binnenhof.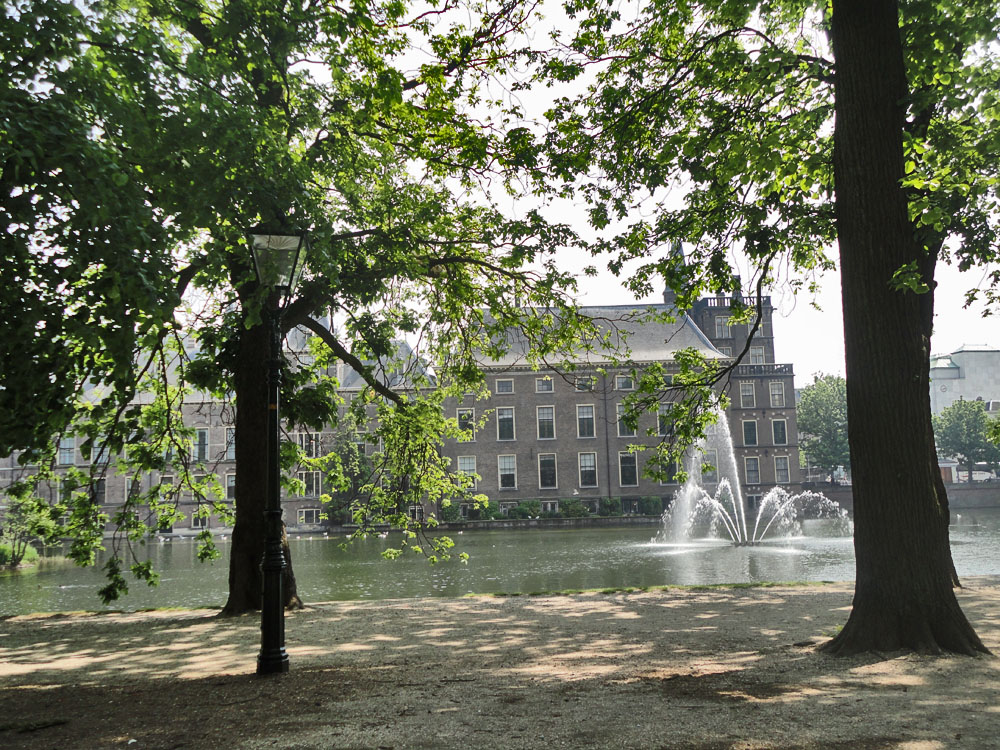 Binnenhof seen from Lange Vijberberg.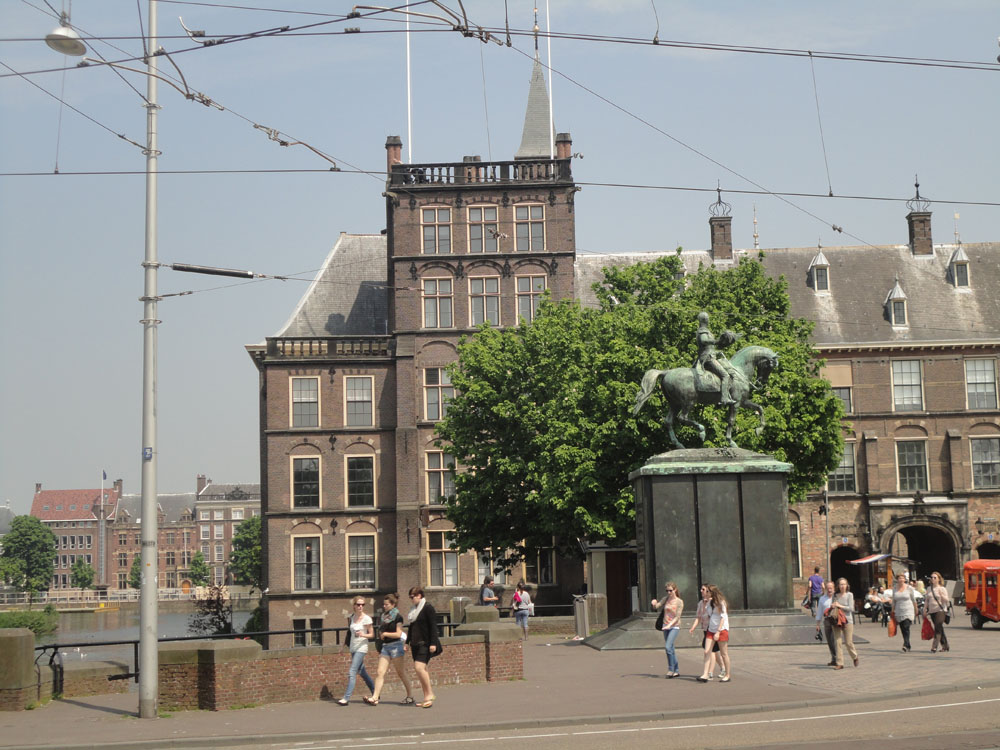 The equestrian statue at Buitenhof, the square in front of Binnenhof.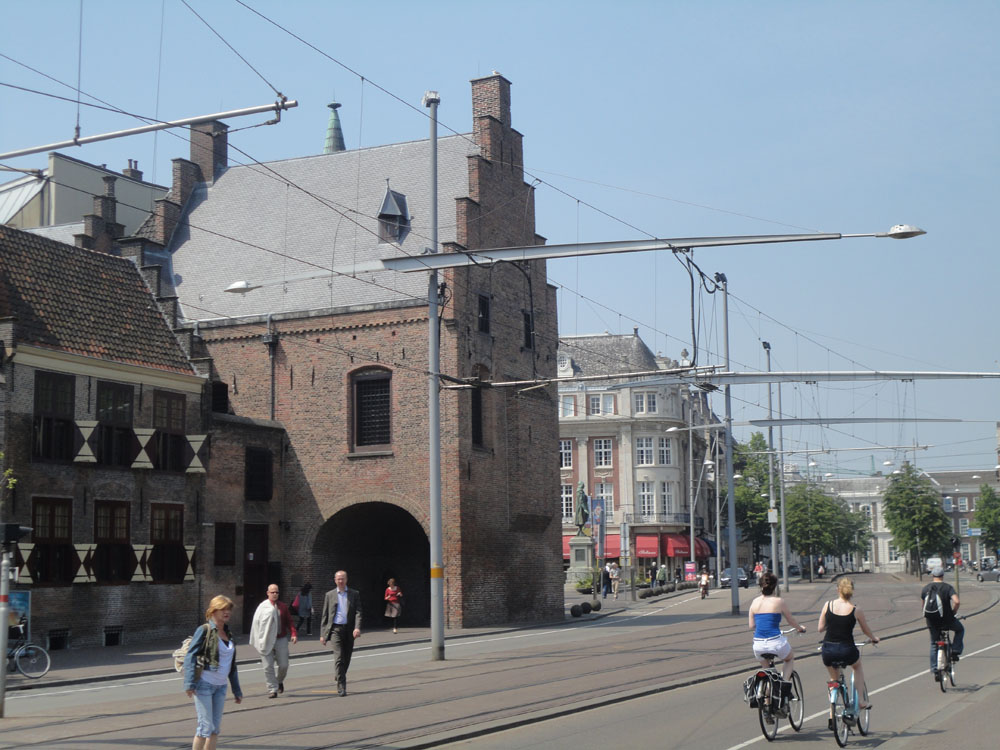 Buitenhof, looking towards Kneuterdijk.
Flags at Buitenhof.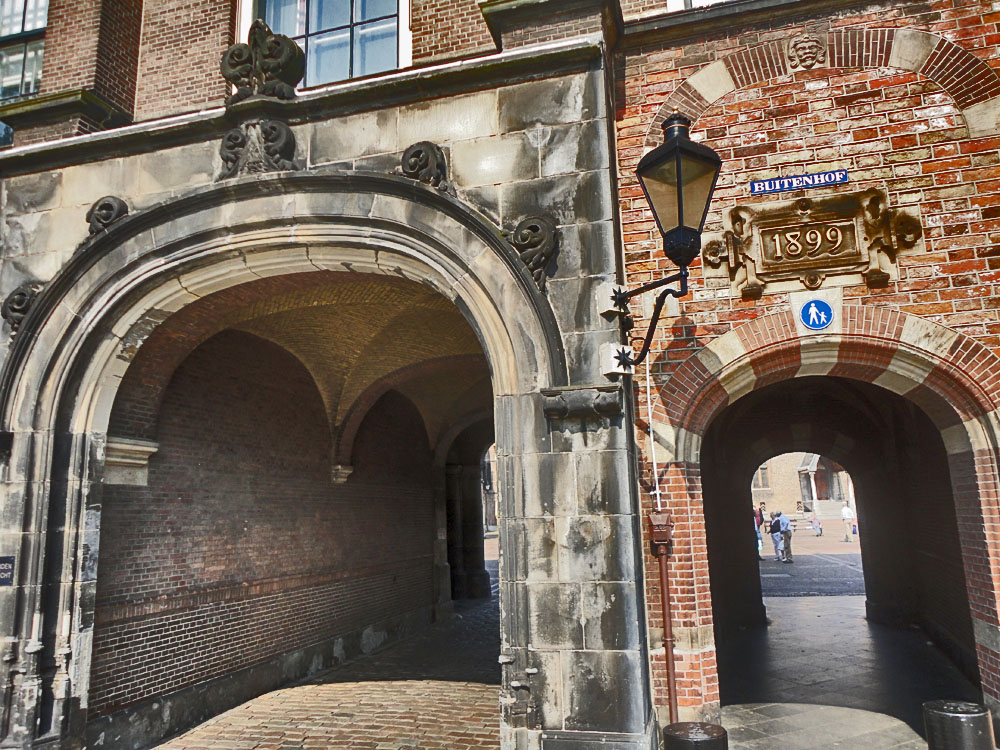 Port Buitenhof, the main entrance to Binnenhof at Buitenhof square.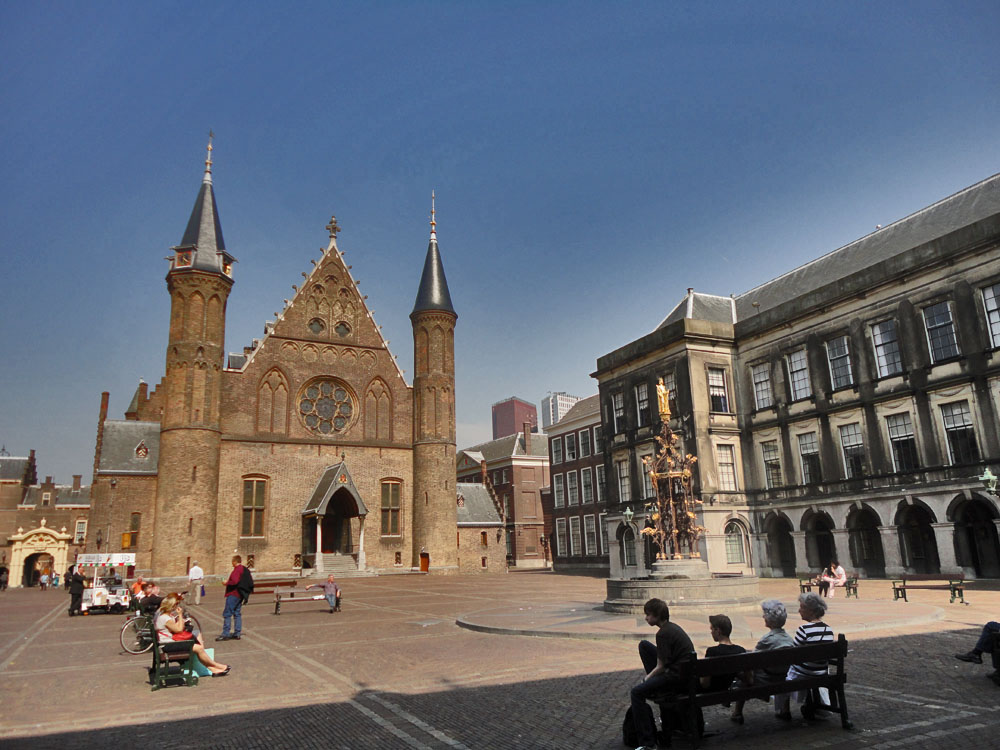 The Ridderzaal (Knights' Hall) is the Gothic main building at the Binnenhof in The Hague, Netherlands, which is used for the state opening of Parliament on the third Tuesday in September, Prinsjesdag, when the Dutch monarch drives to Parliament in the Golden Carriage and delivers the speech from the throne. It is also used for official royal receptions, and interparliamentary conferences. In the 13th century Floris IV, Count of Holland bought a piece of land next to a small lake to build a house on. The Ridderzaal, the manorial hall of Floris V, grandson of Floris IV, was built on this estate in the 13th century. Over the centuries, the government buildings developed around this lake and incorporated the Ridderzaal. From the early 17th century, the Ridderzaal became an important trading place for booksellers, as Westminster Hall was in London. In later centuries it served a variety of purposes - as a market hall, a promenade, a drill hall, a public record office, a hospital ward, even the offices of the state lottery. It was restored between 1898 and 1904 to serve its present purposes. The Ridderzaal was also the venue for the Dutch-Indonesian Round Table Conference, in 1949. Source: Wikipedia
A police car guarding the Binnenhof.
Ridderzaal. This 40 by 20 metres (130 × 66 ft) large Gothic hall has magnificent stained glass windows depicting the coats of arms of Dutch towns; particularly fine is the rose window with the arms of the principal noble families of the Netherlands. The heavy timber roof structure with its 18-metre-long beams (59 ft) has the appearance of an upturned ship. Wooden heads symbolizing eavesdroppers from the higher powers are supposed to deter members of the assembly from lying. Source: Wikipedia
Binnenhof means "inner court".
Security at Binnenhof in new BMW cars.
This 'Inner Court' is studded with monumental old buildings testifying of eight centuries of governing in the Low Countries, but it also has several ample open spaces, all freely open to the public. A gilt neogothic fountain adorns the main square and one of the few Dutch equestrian statues (of King William II) guards the main Stadtholder's Gate, that dates from around 1600. Source: Wikipedia