OUTSKIRTS
This page contains districts in the outskirts of Vienna that has interesting sights. In the outskirts there are mostly modern architecture and not so many historical buildings that are of significance.
Simmering - 11th district
Simmering is a desolate suburban area with cold and uninviting streets, but there are 2 interesting places to go if you are interested in modern architecture: the Gasometer and T-Center.
T-Center, an unconventional office building from 2004. Since I only saw this building form the bus, I don't have more photos of it. It is a 250m long lying skyscraper by Günther Domenig. It has won 3 big architecture prices.
Gasometer. This is a famous complex where gas tanks from 1899 have been converted to apartments and a shopping galleria that stretches through the four tanks, that are connected with each other by skybridges. The Gasometers were retired in 1984, after a change in technique. They remained unused until 1995, when 4 famous architects drew there designs for gasometers A-D: Jean Nouvel, Coop Himmelblau, Manfred Wehdorn and Wilhelm Holzbauer. They were completed between 1999 and 2001. The Gasometers were featured in the James Bond movie "The Living Daylights".
This highrise office building where also added to the complex.
The Gasometers are each 70m tall and 60m in diameter.
The green residential blocks outside Gasometer also have a strange architecture.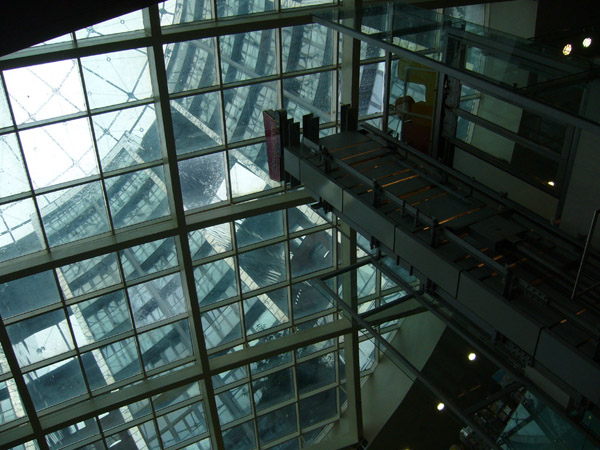 Gasometer A by Jean Nouvel. From the glass roof of the galleria you look up to the glass dome. On the sides there
are apartments.
The handprints of the members of the hardrock band Deep Purple can be seen in the mall. It is one of
several Walk of Stars handprints in the galleria.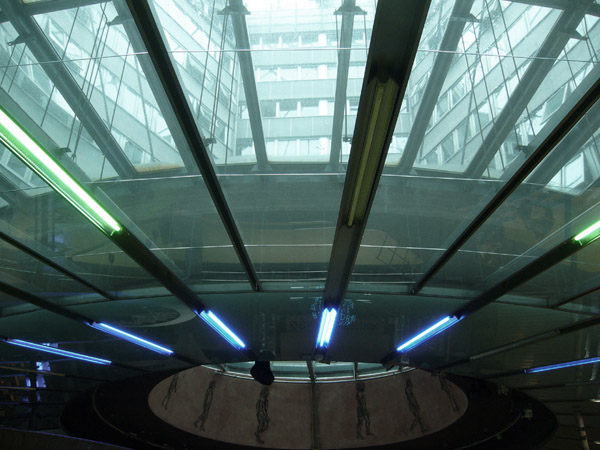 Gasometer C, also a glass roof towards a glass dome and apartments. There are totally 800 apartments
in the gasometers, that works as a city within the city.
The gas meters.
Hollywood Megaplex is a large cinema complex that is connected to Gasometer by a skybridge.
The interior design is funky.
You can see the Gasometers through the strange coloured windows of Hollywood Megaplex.
Alsergrund - 9th district
The only reason I included this district is because Hundertwasser's famous incineration plant lies there.
Alsergrund is close to Brigittenau and its Millennium Tower (in the background).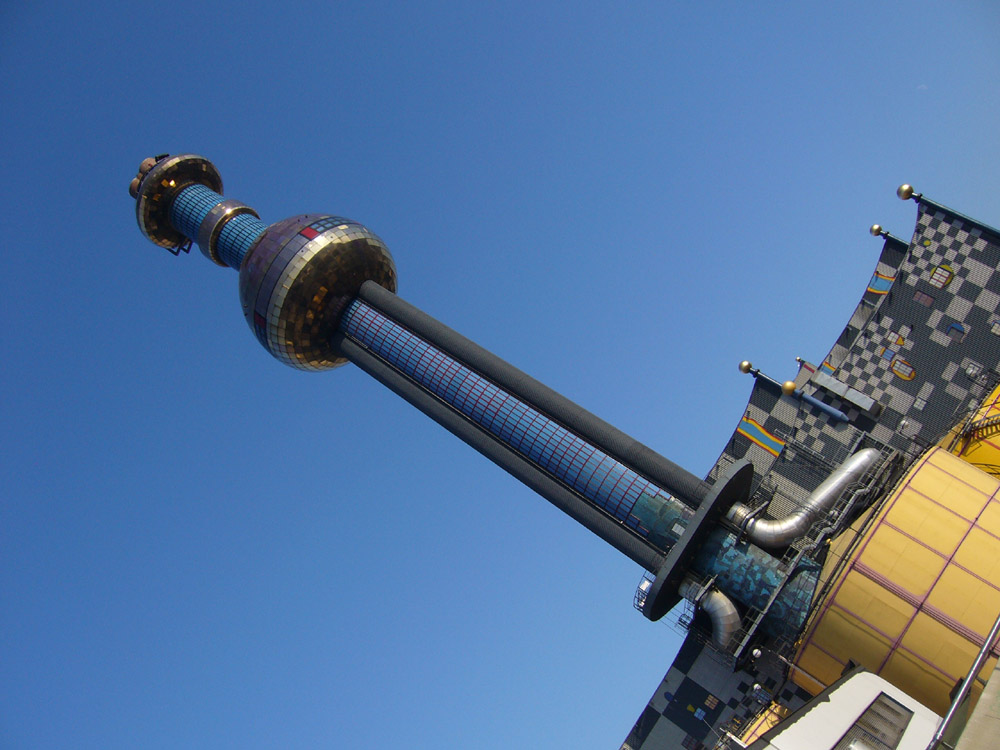 Spittelau Incineration Plant is the tallest of architect/artist Friedensreich Hundertwasser's works. It is a waste-to-energy incinerator that was built in 1971 with a common design, but when it was damaged by fire in 1987 the elevations where redesigned by Hundertwasser.
It is by far the nicest looking plant in the world.
The tower.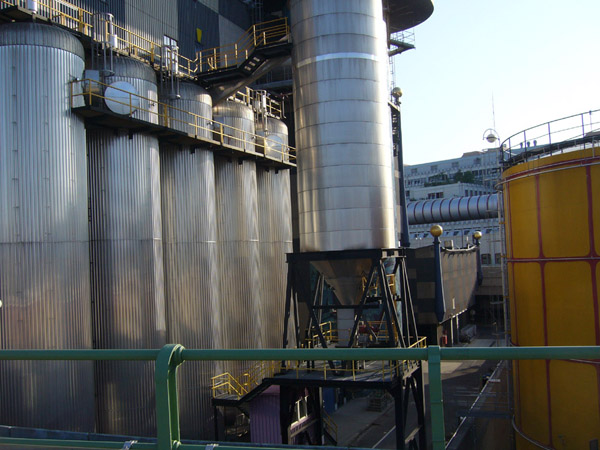 It can heat 60 000 households.
Details of Hundertwasser's artistic works on the building.
Floridsdorf - 21st district
Floridsdorf, that merged into Vienna in 1904, is a district I happened to get to by coincidence. I was going by bus from Donaustadt to Millennium Tower and via U-bahn, but forgot to get of at the right stop. So I happened to see Floridsdorf. That was interesting, since it looked like a normal, but nice area and it features the tall landmarks Florido Tower and Donaufeld Parish Church.
Floridsdorf seen from Donauturm. The church is Donaufeld Parish Church from 1914, the 3rd tallest church in Vienna (96m). It is also called Kirche zum Heiligen Leopold.
Floridsdorf seen from Brigittenau, dominated by Florido Tower.
The railway station at Floridsdorf.
Florido Tower is 113m tall and has 31 floors. It is totally dominating the area since it was completed in 2001 and is one of Vienna's tallest buildings.
An unexpected sight: Donaustadt skyline and the mosque of Vienna Islamic Center.
The nature outside Vienna
The landscape east of Vienna is mostly flat, while there are mountains in the North. The Alps are so close that they can be seen from the city.
Rural district in south Vienna.
Fields and mountains East of Vienna.
Sunset over Kitsee, a small town at the Slovakian border.
A field with a huge amount of wind power stations between Vienna and Bratislava.